How to Start a Buffet
Last updated on 3/23/2021
Buffets are a popular type of restaurant in the United States and can be found across the country in a variety of forms. The amount of food they need to produce presents many unique goals and challenges, differentiating them from other types of restaurants. As a result, there are some differences when opening a buffet as opposed to opening a traditional restaurant. Below, we'll break down everything you need to know about buffets, such as how they make money, the different types of buffets, and the steps you need to follow to open your own.
What Is a Buffet?
A buffet, also known as an "All You Can Eat" restaurant, is a type of restaurant where customers pay a fixed price to fill their plates with as much food as they'd like. Most buffets also have a theme that they use for their menus, such as buffets that specialize in barbecue or seafood. Furthermore, some buffets are affiliated with hotels, and this type of buffet is especially popular in Las Vegas or casinos.
Shop All Buffet Supplies
---
How to Start a Buffet Restaurant
Starting a new restaurant can be difficult and time-consuming, especially if you're unfamiliar with the ins and outs of restaurant ownership. So, we've broken down opening a buffet restaurant into eight simple steps to guide you through the process.
Click any of the tips below to read the section that interests you:
1. Write a Buffet Restaurant Business Plan
The first step in opening any type of business is to create a solid business plan. A business plan lists important information about your potential business, such as a company overview, what food you'll serve, your location, market analysis, and financial projections. Your business plan not only gives you a guideline for opening your buffet, but it also can help you garner interest from potential investors or get loans from a bank.
There are seven main parts to a business plan that you should be sure to include:
Executive summary: This is a one-to-four-page summary of your business and everything else in your business plan. It should be the last thing you write, although it will go at the front of your business plan.
Company overview: Your overview should further develop the information in your executive summary and outline and answer questions like what your target audience and market niche is.
Market analysis: The market analysis is where you break down the demographics in your target area and what your competition is in that area.
Business offerings: This section is where you'll list out what type of food you'll be stocking your buffet with and where you'll be sourcing your ingredients.
Management plan: Outline the management structure you're going to have and how many employees you'll need at your business.
Marketing strategies: Explain to potential investors how you will market your restaurant, including advertising, coupon marketing, and grand opening discounts.
Financial projections: Project your buffet's expenses and revenue using previous restaurant experience or through competitor analysis and market research.
Back to Top
2. Identify a Commercial Space
Once you've established the framework for your restaurant and you have investors, you can start looking for a space to lease. While some new restaurant owners may be tempted to buy a commercial space, we recommend leasing because it provides more flexibility in case you need to expand or have any business issues once your business is up and running.
When looking for a rental property for your buffet, you want to think about the demographics in a given area, and if they match your target demographic. You will also want to consider space for parking, if you can count on foot traffic, or if you're in a popular neighborhood.
Back to Top
3. Apply for Permits and Licenses
There are various permits and licenses that new buffet restaurants need to obtain at the federal, state, and local levels before they begin operation. Some of these forms are very technical and can be hard to navigate, so it's best to have legal counsel help out when filing for restaurant permits and licenses to ensure that you complete everything correctly.
Additionally, if you're planning on serving alcohol at your buffet, there are other special licenses that you'll need to obtain.
Back to Top
4. Determine What Equipment You'll Need
A lot of the equipment that you'll need in your kitchen will depend on what type of buffet you're opening and what specific recipes you'll be making. Still, there are a few pieces of equipment that every buffet will need. To make stocking your buffet's kitchen and dining space easy, we created a comprehensive list of the different types of equipment your buffet will need. Click the button below to find the downloadable PDF.
Download Equipment List PDF
Back to Top
5. Decide on a Buffet Restaurant Layout
After you've decided on the layout for your kitchen and ordered all of your heavy equipment, you can focus on front-of-house areas and designing your dining space and actual buffet line. When choosing a design and layout for your dining space, you should consider the color scheme you're going to implement, how you're going to light the space, and what type of furniture you want to use.
Once you've decided on how many steam tables you'll need, you should decide how you're going to configure them and organize the dishes on your buffet. When designing the layout of your buffet, you should put your cost-effective and filling items, like vegetables and rice, at the front of the line, so customers fill their plates up with those before getting to the high-ticket items like seafood and meat.
Back to Top
6. Hire a Staff
Hiring a competent staff is integral for ensuring your business is successful. If you don't already have someone in mind, the first person you should hire is an executive chef. The executive chef typically manages the cook staff and creates recipes to use in the buffet, so you must bring them on early in the process.
After finding your executive chef, you can look to hire a general manager, line cooks, wait staff, dishwashers, and other personnel. It's important to remember, though, that buffets can operate with a smaller wait staff since customers serve themselves. Additionally, once you've hired your staff, you need to keep them interested and invested in your restaurant to prevent employee turnover. Employee turnover is very common in the foodservice industry, but constantly hiring, training, and firing employees can end up draining your profits. Instead, invest in your employees and keep them happy by listening to their concerns and providing them with bonuses and perks.
Back to Top
7. Advertise Your Buffet Restaurant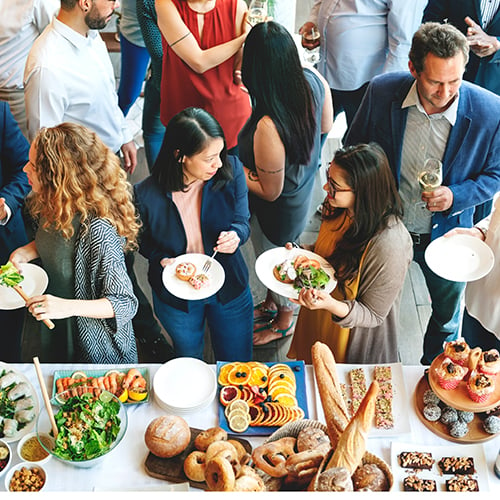 When your buffet is almost ready to open and your staff is trained, you need to advertise your business and get people in your area excited for your grand opening. There are many ways to advertise your business that don't involve showing advertisements on TV or buying ad space in the local newspaper. We've listed two of the most popular options below:
Back to Top
8. Open Your Buffet Restaurant
The final step in opening a buffet restaurant is opening the buffet to the public. There are two main ways that you can open your business: a soft opening or a grand opening.
Hosting a Soft Opening
A soft opening is a test run of your business. It involves opening your restaurant to the public for a single night or dinner service. This will give your staff some experience and allow you to find any potential problems or weaknesses and get feedback from customers. After your soft opening, you can make adjustments to your service, menu, or atmosphere. Plus, if your soft opening goes well, you can build some excitement among customers for your grand opening.
Hosting a Grand Opening
After ironing out any issues with your service or menu, your buffet restaurant is ready to start hosting guests. A grand opening is also a great marketing opportunity, so you'll want to advertise your opening on your social media accounts or potentially reach out to local journalists and food bloggers.
Tips for Opening a Buffet
Here are some tips when opening your buffet to ensure that you get off to a good start:
Back to Top
---
Types of Buffets
If you've decided that you want to open a buffet, you must choose a concept for your establishment and a theme for your food. There are many different types of buffets, but some are more popular and profitable than others. Here are some of the most popular types of buffets:
---
How Do Buffets Make Money?
Because buffets have to produce so much food, you may be wondering how buffets make money. Staying profitable as a buffet owner involves cutting costs where possible, choosing ingredients carefully, and using psychology to structure your buffet's layout. Here are a couple of other examples of how buffets can make money:
Tips to Increase Your Buffet's Profits
There are also a many clever tactics you can implement to help reduce food costs in your buffet and boost your profits. We've listed some of the most efficient tactics below:
Buffets can be profitable business ventures, but opening one requires a lot of planning and expertise. But, with some careful consideration, you can get your new buffet organized and outfitted. Additionally, if you have a strong business plan and strategy, it will help ensure that your business becomes profitable and succesful.
---
---