Social Media Marketing for Restaurants
If you own a restaurant, you know the importance of communicating with your customers and creating a relationship with them. We now live in an era when constant communication is made possible through digital channels like social media, websites, emails, and text messages. With these new technologies comes both new opportunities (to reach customers directly and cultivate relationships with them) as well as new responsibilities (to represent your brand and create a positive presence for your business). Of all the communication outlets you can choose, social media offers a few benefits above the rest.
If you learn to use social media well, you'll open up new avenues for your business that might not have otherwise been available to you. Conversely, misuse of social media can be detrimental to the success of your business.
| | |
| --- | --- |
| Strong Social Media Presence | Misuse of Social Media |
| Communicate events and closings | Spamming customers may annoy them |
| Help customers engage with your brand | Crossing the line can cause scandal and drive people away |
| Use social media as customer service | Failing to reply to comments can lead to misrepresentation |
One of the biggest appeals of social media marketing is that, if you use it right, your social media presence can act as free advertising for your restaurant. So, let's explore in depth some things to keep in mind while establishing and managing your online presence, including:
Setting Up Your Social Media Channels
Before you even begin posting online, take some time to decide what you want to accomplish and how to go about doing it. Things like tone of voice, responsiveness, and focus are all big factors to consider as you begin your social media journey. Even if you already have a profile set up, you may want to revisit some of these basic beginning steps to make sure you're representing your business in the best way.
Social Media Etiquette
Treat your interactions on social media as if they were interactions you'd make in person. So, basically, try to behave online with the same etiquette you'd use with a customer visiting your restaurant—be courteous and responsive. Treat your online presence as a professional space.
Bring Value
Avoid promoting yourself too much on social media. Instead, focus on providing your followers with valuable content that's related to your brand. This approach will keep your customers more engaged.
Stay Focused
Don't try to be an expert in EVERYTHING. Instead, zero in on one area of expertise and excel at it. This will bring a sense of focus and clarity to your brand.
Know Your Audience
If you spend a lot of time at your restaurant, you should have a pretty good idea of who your customers are. Keep that in mind as you make content for your social media platforms—deliver content they'd want to see. This is a helpful starting point. Then, you can try taking it a step further and branch out to create posts that focus on your goals as a business. Consider ways of showing what you'd like your business to become and the reputation you'd like to achieve.
Have a Personality
Of course there are varying degrees of what's appropriate for every type of business, but chances are, you can bring a little bit of personality to your social media presence. If you have a staff that's been with you for years, putting them in the spotlight is a great way to show that you're proud to have them as employees. This shows that you recognize the hard work they put in every day to keep your business running smoothly, and that you treat your staff well enough to keep them around! For example, if one of your employees has an art show or concert outside of work, promoting it on your social media shows that you're invested in the passions of your staff and that you have interesting people working for you. This can go a long way towards building a sense of comradery among your staff and helping customers develop a relationship with your brand.
Keeping Track of Activity on Social Media
You probably don't have time to monitor all of your social media activity all day. And you likely can't hire someone to do it for you, either. Social media management tools are ideal for monitoring and managing all of the social media activity for your business. While there are some great paid services out there, you can find free ones, too. One of the most popular is HootSuite. These tools allow you to schedule posts ahead of time to create a consistent schedule. You can even measure the success of your activity and enjoy many other helpful features.
Another great way to keep track of what people are saying about your brand is to set up Google Alerts, so you can monitor any activity that directly relates to your business. Being aware of conversations surrounding your business gives you the ability to address any concerns directly, rather than leave it in the hands of people who don't have the whole story.
Best Practices for Each Social Media Channel
Just like brands, every social media channel is different. They each offer unique opportunities to include different kinds of information and reach people in different ways. Because every channel lends itself best to a particular type of content, it's usually a good idea to maintain a strong presence on as many channels as you can. Let's explore some of the strengths you'll find on each social media outlet.
Yelp
Arguably, the most important social media outlet for restaurants is Yelp. Unlike other channels, Yelp was specifically designed to rate and review restaurants. While there's no surefire way to control what people write, there are ways you can address bad reviews when they happen.
Set up your own Yelp page. Because if you don't, someone else will.
Always reply to reviews—good or bad. If a review is very negative, you may want to reach out to the reviewer privately, too.
Ideally, you can prevent bad Yelp reviews by addressing any concerns before a customer leaves your restaurant. Comping an unsatisfactory meal and offering a free dessert or drink coupon is a great way to turn a bad experience into a second chance. But if a customer leaves before you can remedy the concern in person, Yelp can offer you an opportunity to right any wrongs. By reaching out to the reviewer privately, you can get a better understanding of what the problem was and work together towards a solution.
Use negative reviews as a learning tool for your staff. Without singling anyone out, try sharing negative reviews at staff meetings as a way to open a dialogue about ideas for improvement. Discuss any process or communication issues that may have caused the negative review and brainstorm scenarios that may have led to a more positive outcome, so your staff can keep it in mind for next time.
Facebook
Pretty much everyone has a Facebook account, making it an excellent place to promote your brand and share your location and hours. Since Facebook profiles are set up to include a lot of information, you can even explain details about how your business was founded, what your goals are, and really anything else that sets your business apart from all the rest.
Use multimedia. Photos, videos, and even links make your posts more interesting.
Facebook gives priority to "live" posts, so take advantage of this feature, when appropriate.
Consider using paid ads to amplify your posts.
Instagram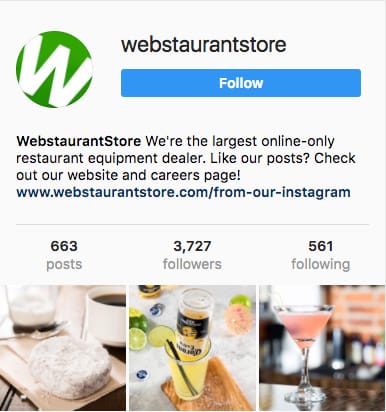 If you don't have a way with words, use pictures! Instagram is a favorite among foodies because it makes it so easy for customers to snap a quick pic of their food before enjoying it. By putting your business on Instagram, customers can check in at your location, followers can see where they enjoyed the delicious food in their photo.
We reached out to one restaurant owner who explained why Instagram is his social media platform of choice:
"We prefer IG as it allows us to bring our products and messaging to life in mere seconds. We believe the outreach is also greater to our followers and allows them to really see the essence of the brand. With some of the new features, it really is a great tool for us. Just take a look at some of our recent posts at www.Instagram.com/HipPOPs." – Tony Fellows
This channel focusses heavily on images, so take the most interesting and beautiful photos possible. Try to maintain a cohesive look, if you can.
New features are popping up all the time. Keep up with all the latest updates and take advantage of new capabilities (like story & live video).
Try using popular and concise hashtags that are appropriate for your brand to maximize your reach. #NoOneLikesYourLongObnoxiousHashtagThatMakesNoSense
Twitter
Like Instagram, Twitter lends itself well to quick bits of information. The real-time nature of this channel makes it perfect for food trucks or pop-up events because you can tweet out your location for customers to find you instantly.
A great example of a successful restaurant Twitter account is White Rabbit Truck, which uses enticing photos and location announcements to make a buzz and drum up business.
It's easy to interact with your customers through concise messages.
Use GIFS to help bring attention to your tweets for people just scrolling through.
Get information out quickly because people tend to use Twitter in real time.
Snapchat
If you're looking for an even more real-time outlet, Snapchat delivers instant information that disappears after a few hours, helping to eliminate confusion about the timing of your location or promotional offer. Think of Snapchat just like any other video channel, only more direct.
Behind-the-scenes posts are great for Snapchat because it's meant to be used in a quick and temporary context.
Show your fun side by making quick photos, videos, and gifs.
Take advantage of filters. While there are a handful of filters that come standard, this outlet also allows you to create your own filters that are linked to a location. So, if you're hosting an event, consider setting up a filter with your business name, and encourage guests to share it with their friends.
YouTube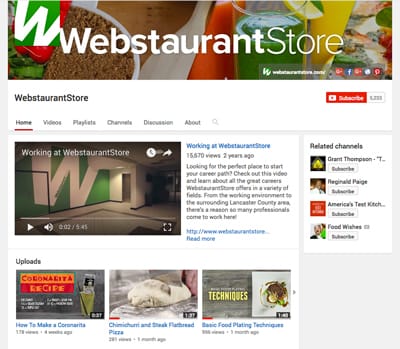 Video is becoming an increasingly important mode of communication. By setting up a YouTube channel, you can house all your videos in one place and easily share them on Facebook or Twitter. And just like other social media platforms, your fans can subscribe to your channel to receive notifications every time you post updates and engage in a dialogue with you via comments.
How-to videos are a great way to provide valuable content to your customers and help them feel more engaged and invested in your business.
YouTube live videos are designed to bring attention to your message in real time.
Videos from cellphones or webcams are common, so you don't need any kind of special video equipment to post content on YouTube.
Google+
Even if you've never set up a Google+ account for personal use, this platform is great for businesses. Posts are pulled into search results if you are a follower. This means your business will be one of the first to show up in the search engine sidebar if your business has a Google+ account. This helps more customers find you more easily through a google search.
It's set up as communities, which can help you connect with other business owners that have similar interests or goals.
Google+ directly effects search results, making it easier for new customers to discover you.
Customers receive email notifications when you post new content.
Periscope
You may not have heard of Periscope before, but you can think of it as "video twitter." Periscope is a live streaming video mobile app that basically takes the "go live" feature from Facebook and Instagram and creates a truly interactive, real-time experience. And just like so many other social media platforms, you can use hashtags to reach new viewers.
Blogs
While a blog may not be social media, per se, it's a great platform to create valuable content and give your customers an inside look at your business. Creating your own blog is an excellent way to establish your brand voice even further and connect with your customers through stories and even recipes. Plus, a well-maintained blog can go a long way towards improving the SEO (search engine optimization) of your website.
Measuring return on investment (ROI)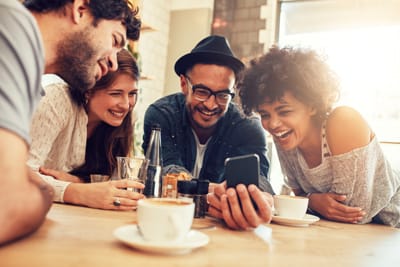 So, you've put all this time and effort into managing your social media. But how do you know it's working? How can you measure the success of your social media efforts?
Use coupons or promotion codes to identify how many people recently visited your social media site.
Lucky for you, there are tools you can use to track your traffic, if you want to dive deeper than just monitoring likes, shares, and follows. A few options include Simply Measured and True Social Metrics
Social media is more about building brand recognition and ongoing relationships with customers than measuring monetary conversions. So, don't get too discouraged if you find it difficult to make a direct connection between your social media output and the money coming in.
If you find that your organic reach is not gaining traction, paid social media ads can support your efforts in a big way. PPC (pay per click) advertising makes it easy to target potential customers by geographic region or other factors, so you can reach the people who will find your content most relevant. Additionally, it's easy to track the success of paid social media ads, which can give you a lot of useful insight into future messaging tactics.
As you can see, there's a lot to learn about social media marketing. It can be challenging to learn the differences between the social media channels while keeping your knowledge current. Staying up to date on all the latest features, creating content, and monitoring the success of that content can be a full-time job. The good news is that you don't need to be constantly active on every channel. Devoting just a small amount of time to your online presence can still have a positive impact on your ability to reach new customers and create a great relationship with them. So, whether you're rolling out a brand new social media presence or refining the content you already have, take a few moments to examine the bigger picture, pinpoint your goals, track those goals, and adjust accordingly. Social media marketing is an ongoing commitment that takes time and determination, but can really pay off in the end.