How to Hire a Chef
Last updated on 2/15/2021
Hiring a qualified chef for your restaurant is a challenge, but despite the obstacles, it's a vital part of your business's ability to succeed. A chef assists in training new staff, oversees cooking processes, develops menus, and provides input in marketing decisions that affect the restaurant. Below, we'll explain how to find a chef for your restaurant, give sample chef interview questions, and suggest some qualities that could be beneficial for your chef to possess.
Shop All Restaurant Training Books
Click the links below to learn more about the hiring process:
Where Can I Find a Chef for Hire?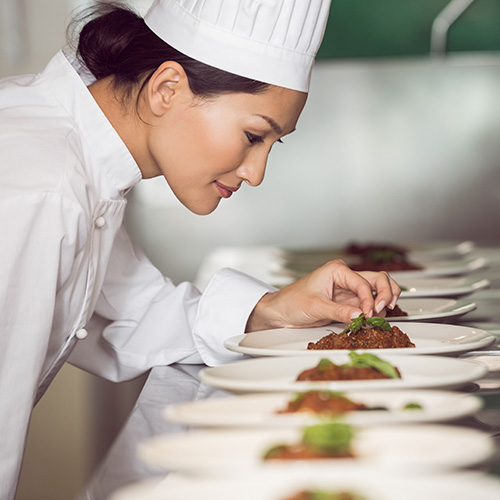 If you're wondering how to find a chef, we've created a list of some common recruiting methods you can use to hire a chef for your restaurant.
Use a recruiting agency. Agencies are great at finding new chefs with minimal effort and replacements with discretion. If you are looking to replace your current chef, using an agency can help to keep your search quiet until you are ready to make the transition. As an added bonus, many recruiting agencies do not collect payment until a replacement is found and hired.
Hire internally. Oftentimes, sous chefs have the necessary degrees or qualifications to be a head chef. As an added benefit, hiring within often boosts company morale because of two reasons: employees like the prospect of upward mobility and having room for growth, and hiring a known person within the company lessens the fears that can come with having a new boss.
Use word-of-mouth advertising. Talk to your suppliers; they may know someone who is looking for a change. While this isn't necessarily discreet, word-of-mouth can be one of the best ways to hire a chef.
Post an ad online. Job posting websites are great for tossing a wide net to try and catch potential applicants. You can even post anonymous job listings called "blind ads" if you are looking to maintain discretion. By posting a blind ad, you gain the advantage of accessing a large pool of applicants without alerting current staff or competition.
Chef Interview Questions
After you have located a potential chef for your restaurant, you'll want to run interviews to ensure they are a good fit for your business. Here are some general interview questions for chefs when you're looking to find the right chef for your restaurant:
How many years of experience do you have working in restaurants?
Did you attend culinary school? If not, how did you receive training?
Do you have management experience? If so, how many employees did you oversee?
How do you like to run a kitchen?
Give an example of how you handled a stressful situation at work in the past.
What role do you believe a chef plays in relationship to the front of the house?
What are your career goals?
What do you do to continue improving your skills?
Why do you want to leave your current position?
Why are you interested in working here?
You may want to ask additional questions that are specific to your restaurant. If you serve a cultural cuisine, ask the chef if they have any experience making your type of food. If your restaurant has an extensive wine list, ask the chef what their favorite wine is. You may even wish to ask them what their favorite entree on your menu is to ensure that they have interest in the food you're serving.
Chef Skills and Qualities to Look for When Hiring
While they may have great cooking skills, not every candidate will hold the leadership skills necessary to run a successful kitchen. Here are some qualities of a chef to look for when interviewing applicants.
Even temperament: Restaurants have days when everything goes wrong. How your chef reacts in these scenarios will play a part in how the rest of the staff responds. Having someone who is calm and collected under pressure will help keep your kitchen running smoothly on high-stress days.
Ability to train staff: Experienced and qualified chefs should also be good educators and trainers. They are responsible for showing new hires the ropes. They know how to use all the restaurant's equipment and can teach a new employee how to properly use this equipment as well.
Eye for quality: Chefs set the standard in a restaurant kitchen. Hire a chef that wants to put only the best food up for serving. Regardless of how great the ambiance, presentation, and atmosphere of your restaurant is, if the food is not prepared properly, the customer will have a negative impression of your restaurant.
Attention to detail: On top of everything else, your chef is responsible for being detail-oriented. They write specials, contribute to menus, and need to read and order inventory correctly.
Computer skills: Going hand-in-hand with attention to detail, chefs must have good computer skills. Proficiency in Excel spreadsheets will allow them to cost recipes and check menu profits. Also, knowing how to use social media would enable them to become a valuable part of the marketing process for your restaurant.
Experience and shared philosophy: Having someone who graduated from a reputable culinary school or has many years of experience is fantastic! However, a chef should have similar views as the owner on what qualifies as good customer service.
What to Know Before You Replace Your Current Chef
There are a few risks associated with hiring a new chef for your restaurant. Namely, your chef may decide to quit if they find out that you are trying to replace them. Here are some consequences that could come with your current chef quitting abruptly:
Food quality deteriorates
Preparation speed decreases
Competitors capture your patrons as a result of your changed food quality and service speed
Food waste costs may increase as a result of lower food quality and decreased preparation speed
Sometimes it's necessary for you to change your staff, but deciding to replace your chef should not be taken lightly. If it does not go smoothly, the transition period could cause serious repercussions for your restaurant's bottom line and reputation.
If possible, retain your current chef and help them become the employee your restaurant needs. A lot of time and effort goes into hiring a chef. Taking strides to show appreciation, giving incentives, or promoting your chef's name can go a long way in keeping that valuable employee on your payroll. By retaining your chef, it is possible to avoid the headaches and costs of trying to hire and train a replacement.
Back to Top
---
Hiring a new chef for your restaurant can make a large impact on the performance of your restaurant, positively or negatively. Make sure that you're prepared for the transition period by deciding how you'll go about your search, knowing what you're looking for in a candidate, and nailing down your interview questions ahead of time.