How to Reduce Your Restaurant Employee Turnover Rate
Last updated on 5/24/2018
Restaurants are notorious for having a high turnover rate. Of course, sometimes saying goodbye to employees is inevitable, but there are a couple ways you can keep your staff happy to be a part of the team. In this article, we'll discuss some of the most common reasons why employees tend to leave their restaurant job and some strategies you can use to keep people happier longer.
Why Is Employee Retention Important?
Every time an employee leaves your business — even if they've only been there for a day — it winds up costing you about twice that employee's salary to replace them, meaning that a simple bad hire is money down the drain.
Tips for Reducing Employee Turnover in Your Restaurant
Every member of your staff is an individual with their own unique strengths and weaknesses. Pay close attention to where each person struggles and excels. There's no one-size-fits-all solution to keeping everyone happy, but there are a handful of common reasons why people tend to leave their jobs. By making an effort to address some of those things before they become a problem, you have a better chance of building a team that sticks around.
Address Every Person's Unique Needs
Whether it's their very first day or their tenth year at the restaurant, try to show every member of your staff that they are a valued part of the team.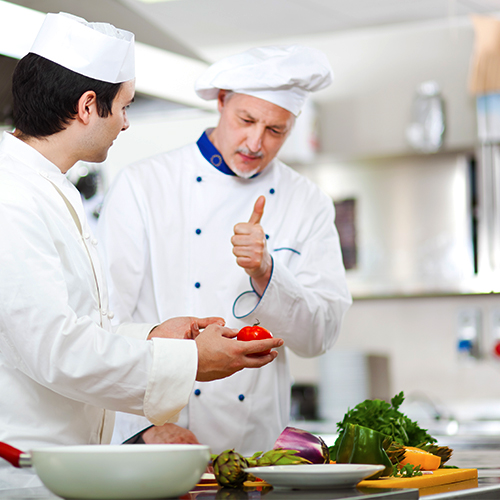 Get Off to a Good Start - Not everyone responds well to a "sink-or-swim" introduction. Try to get a feel for which employees will benefit from detailed training vs. people who learn best from figuring things out themselves
Nurture Long-Term Goals - Provide opportunity for growth and advancement.
Pay for Classes and Trainings - Not only is paying for your employees to gain outside knowledge and experience (like ServeSafe certifications) a great incentive for them to stick around, but your business also benefits from having more knowledgeable people on your team.

Invest in Your Staff

Most people's reason for moving on from a given position is financially motivated. By paying your staff a competitive wage and increasing their earnings over time, you're less likely to see high turnover. However, there's more to a workplace than just a paycheck. Encouraging learning and growth as well as creating a safe and fun atmosphere goes a long way towards the happiness of your staff.

Of course, your employees will be happier and more motivated if they feel like their job is making good use of their time. Gaining new skills that they can apply to their daily tasks can help people find value in their work. Earning more money, even if it's just a small raise each year, is a great way to reward your loyal staff and help them see how much you value the time they've devoted to your business. And if raises just aren't in the cards for you, try investing in small group activities or holiday celebrations, even if it's as simple as closing shop on Labor Day to take your staff on a picnic in the park. These gestures can go a long way towards making your employees feel appreciated. To summarize, here's a quick checklist:

Wage increase
Training / classes
Fun group activities / holiday celebrations

Offer Free Incentives for Your Employees

There's more to a good job than making money. Creating a safe and happy work environment where people feel heard and appreciated goes a long way towards improving your company culture. Some of the easiest and most common incentives include:

Open Conversations - Check in regularly with each member of your staff to make sure they're happy at work. You should always make an effort to resolve any issues they bring to your attention.
Shift Meal - Okay, so feeding your staff isn't necessarily "free," but it costs pennies compared to losing good employees. Free food can improve morale and, as an added bonus, will make your staff familiar with the menu so they can have informed conversations with customers. Providing each person with one free meal per shift is really a win-win.

Why Does My Restaurant Have a High Turnover Rate? What Can I Do About It?

While every work environment is different, there are a few things that are especially prevalent among restaurants that lead to employee turnover.

Challenge: Teenage or Student Employees

Restaurants, especially fast casual establishments, are many people's first job. A lot of servers are simply doing the job to support themselves while they finish up school or to supplement other income. So when many of your staff members are students, you'll just have to accept that they're going to have irregular schedules with limited availability. And sometimes moving on is just part of their personal growth.

Solution: Respect Their Personal Lives

While there's no possible way you can convince everyone to continue working for you, encouraging people's personal goals fosters mutual respect. Also keep in mind that sometimes, life gets in the way, so try to be flexible and understanding if one of your loyal staff members needs to leave work early or requests extra time off to study for an exam. As long as people don't start taking advantage of your generosity, it's completely fine to provide a little leeway.

Challenge: High-Pressure Environments

Foodservice is tough work! And customers aren't always kind. If your restaurant serves hundreds of patrons each day, you're bound to encounter some unpleasantness at some point.

Solution: Schedule Times to Talk

Ideally, you'll be able to pick up on your staff's frustrations and can deal with problems as they arise, but having check-ins scheduled once or twice a month gives you the perfect opportunity to have open conversations with each person individually.

Challenge: Unsatisfactory Wages

The most common reason people seek new employment relates to monetary concerns. While you can't always compete with whatever new horizons your employee is destined for, you can keep track of changes in appropriate compensation in your area.

Solution: Offer Appropriate Raises

An increase in salary should be made available to every employee, as appropriate. Typically, you'll address pay increases annually. Just make sure that any increase in salary reflects exemplary work performance—that way, your staff will stay motivated to go above and beyond in order to earn more.

Challenge: Inadequate Management

If your manager is inexperienced or simply doesn't have the support they need, the effects of dysfunctional management can trickle down to the rest of your staff.

Solution: Management Training

Without a well-equipped manager, your whole restaurant will struggle. Provide your managers with the tools they need to run your operation as smoothly as possible. See our section on retaining restaurant management for more information.

Challenge: Not a Good Culture Fit

Typically, restaurant employees get to know each other pretty well through time spent cleaning after a shift or hours spent chatting while doing prep work. It's important to make sure your new hires don't feel like outsiders entering a clique.

Solution: Consider Culture Fit When Hiring

Asking your existing staff to recommend their friends for vacant positions is one good way to ensure that all the personalities will meld well. Another good option is to ask candidates about their personal interests—things like hobbies or favorite movies can help give you a sense of whether or not that person will fit in well.

Retaining Restaurant Management

Your manager is the key to a happy and successful staff. So make sure you're doing all you can to help them succeed. A few examples include:

Help them prioritize - Understand that a management role can be overwhelming. Instead of adding more pressure, make sure you hear their side of the story and help your manager reach a solution that will work for everyone.

Set clear expectations - Managers can't do their job if they don't know what's expected of them. Similarly, they can't help your business succeed if you constantly change your mind. Take a logical approach to your business goals and make sure your expectations are clear and attainable.
Listen to their suggestions - You don't need to put all their ideas into action, but if you decide that one of their suggestions won't work for your business, make sure you explain why.

How Can I Hire the Right People in the First Place?

There's an art to interviewing prospective employees. It's partly intuition and partly just practice. But there's a third part: strategy.

Ask for references. And check them!
Does their resume indicate that they job hop often?
Be strategic about your interview questions.
Don't settle for the first person to apply—try to get a feel for whether or not they'd be a good fit for the culture of your business and if they have the skills and responsibility necessary to tackle all the daily tasks.




While there's no surefire way to get people to stay, these solutions can help your staff feel invested in your business. Listen to your staff. Treat each person as an individual with unique needs, especially during their training period. Provide fair compensation, giving raises as appropriate. And don't forget that the little extras (like staff meals and holiday celebrations) can improve staff loyalty and happiness. It's never too late to start implementing techniques to keep your best employees content.