Attract Diners with Your Outdoor Restaurant Sign
When it comes to attracting diners, you're given just a small window of time for patrons to pass, read your restaurant sign, and decide if they'll eat at your establishment. So how can you capture customers in those precious seconds? We've got the signage tips and tricks to attract - and win over - customers at your dining venue.
1. Stay Visible
First and foremost, your sign should be visible at all times. That goes for patio easels, business logos, sidewalk and roadside signs, neon restaurant signs, and more.
2. Keep Text Short, Simple, and Savory
Use Words Sparingly.
Did you know that six seconds is the industry average for reading a billboard? Keep your message under 10 words if your sign is aimed to catch the attentions of drivers and those quickly walking by.
Humor Them.
A little humor can go a long way when it comes to attracting diners. Assess your crowd and choose the best variety of comedy, whether that humor is self-deprecating, food-pun related, or even a bit cheesy.
Don't Underestimate Nostalgia.
If you're looking to stand out among a row of restaurants, "Family owned and operated since 1958" can speak volumes more than "$3 Pizza Slices." Sentimental text could be the factor that helps you beat out nearby competition with comparable prices.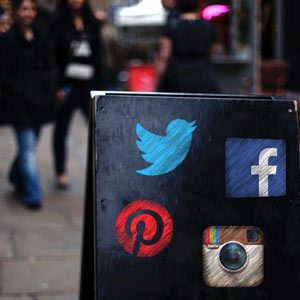 Utilize Social Media.
A simple tag like "Follow us @Kitchen_on_Main" allows customers to easily check your restaurant on smart phones as they walk by. Post your unique restaurant signs on Facebook, Twitter, and Instagram to catch the attention of those following you.
Promote On-the-Go.
A message like "We do carry out!" is a great way to attract the rushed lunch crowd.
Buy an Adaptable Sign.
Purchase a chalkboard or write-on menu board so you can easily erase and change your sign to stay current and fresh.
3. Promote your Brand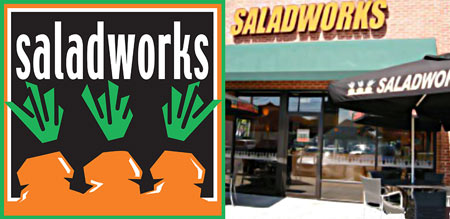 Choose a few signature elements and work them into your signage. Saladworks, for example, features four logo colors (black, white, orange, and green) and a simple yet effective carrot design.
Make sure your restaurant logo is an easy to recognize design.
Prominently display your logo outside of your restaurant.
Choose a signature color scheme and be consistent in your use of it.
Windows, menus, and even outdoor table umbrellas are all fair game for displaying text and logos.
4. Post an Easy-to-Read Outdoor Menu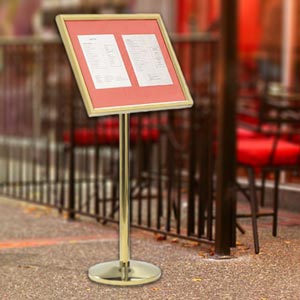 The last thing you want to do is lose a potential diner because your menu isn't easily accessible. Post a free standing menu holder in an easy-to-read location for those passing by.
If space doesn't allow for a full menu, promote signature dishes near your restaurant entrance to at least give customers a taste of what you offer.
Promote a daily item - such as "Fresh Catch of the Day" or "Soup du Jour" - to create an impulsive "only available today" opportunity for diners.
It doesn't hurt to have a few traditional favorites on display for less adventurous diners.
Check out Menu Psychology resources for more tips and tricks to write the best menu. For example: Don't use dollar signs, as diners spend significantly more on menus without them.