Restaurant Sign Ideas
Last updated on 7/3/2023
If you own a restaurant, drawing attention to your business can be a difficult task in a busy industry. Whether you're posting signs in your window or finding unique ways to display your menu, there are many techniques you can use to attract customers and drive sales. We'll introduce common types of restaurant signage below so that you can make informed decisions about how you'll advertise your business.
Shop All Restaurant Signs
Click any of the links below to skip to the restaurant sign tip that most interests you:
Menu Signs
When it comes to displaying your menu for a crowd, there are three ways to do so: traditional menu boards, digital menu boards, and menu stands. Each method offers unique benefits and lends itself to a different type of restaurant. It's important to note that in some settings, like fine dining, customers may expect to be given a menu at the table rather than reading off a display. Continue reading to learn about each type and how you can utilize them:
Menu Boards
Traditional menu boards allow you to display your menu in an aesthetically pleasing manner. They can be found in the form of a chalkboard or a dry-erase board and are available in many different shapes and sizes, giving you several options to present your foods. Menu boards are often used by small businesses, cafes, and mobile food businesses like food trucks because of their versatility. We'll examine some common benefits associated with menu boards below:
Easy to read: Whether you're using a chalkboard or a dry-erase board, a menu board allows you to create eye-catching displays that are easy to read.
Easy to adjust: If something on your menu needs to be adjusted or you've run out of ingredients, you can simply erase your menu board and update it as needed. You'll also have the flexibility to change your menu daily and highlight special items as you see fit. It's important to note that you should clean your dry-erase board periodically for the best results.
Digital Menu Boards
A digital menu board can be displayed on televisions and other digital screens in your workplace, typically behind the counter or in a central area where all customers can see it. It's common to find these displays in quick-service restaurants and fast-casual chains. The benefits of using a digital menu board include the following:
Reduced wait times: By displaying all of your menu options in an organized and eye-catching way, you can help customers make decisions faster. Making them active participants in the ordering process can also reduce perceived wait times.
Design flexibility: Displaying your menu in a digital format gives you the freedom to get creative with your menu's design. Not only can you experiment with different colors and patterns, but you can add animations to your display and feature rotating promotions. You can also quickly update your menu if you sell out of an item.
Brand consistency: If your restaurant has several locations, digital menu boards make it easy to maintain consistent branding. You can share your digital menu concept with other locations and make changes to the menu as needed.
Menu Stands
Sign frames and menu stands allow you to display your menu and promotional materials at eye level with customers, instantly grabbing their attention. Sturdy and versatile, these stands give you the option to place your menu at any location throughout your restaurant. They are typically used in sit-down restaurants and at catered events and should be positioned strategically throughout your workplace to ensure maximum visibility. Some advantages associated with sign frames and menu stands include the following:
Professional appearance: Most menu stands feature an upscale design that can elevate your restaurant's decor. They add a sense of professionalism to your business, presenting your menu in an organized and eye-catching way.
Durable: Many menu stands are made from durable materials like aluminum, metal, or acrylic. Because of this, they can withstand frequent use and represent a long-term investment for your business.
Saves space: Menu stands can be placed virtually anywhere in your establishment and take up minimal space, giving you flexibility as you decorate your restaurant.
---
Restaurant Advertising Signs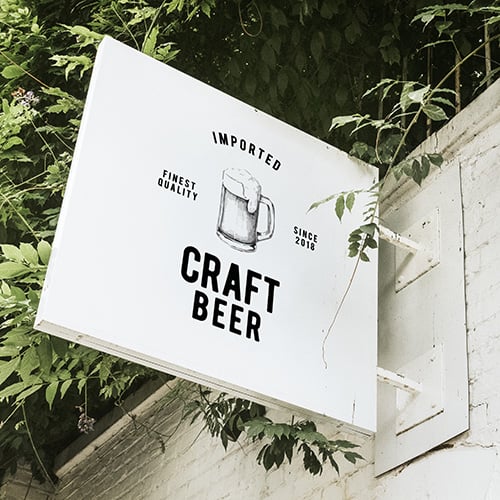 Restaurant advertising signs and boards come in many forms and can be used for a wide range of applications. Whether you're looking to highlight certain foods or promotions, connect with your community, or invest in your restaurant's branding, there are many options to choose from. We'll investigate some popular advertising signs and boards and their benefits below:
Bulletin Boards
Whether you manage a small business or a regional chain, bulletin boards are an excellent way to connect with your community and provide guests with updates on your business. You can designate a bulletin board to list your specials for the day or post one in your lobby for residents to post on themselves. The benefits of implementing bulletin boards in your restaurant include the following:
Easy maintenance: Bulletin boards are easy to install and maintain. Invest in push pins and make sure the board is organized for the best results.
Customer engagement: Whether they're looking over the board as they wait for a table or posting content on a community board, customers will be more engaged with your restaurant.
Flexibility: You can display a wide range of content on your bulletin board. Use it to advertise promotions, what foods you are serving, or even inform your guests of upcoming promotional events.
Concession Signs
Displaying a concession sign in your window or at your counter allows you to signal to pedestrians what kinds of food you offer. These signs come in a variety of shapes and sizes and can be used to advertise a wide range of foods. They are suitable for both indoor and outdoor use and lend themselves well to a variety of businesses including fast-casual chains, food trucks, and concession stands. The advantages of displaying concession signs in your workplace include the following:
Increased impulse purchases: A concession sign allows you to grab a customer's attention by highlighting a specific food that you sell, such as hot dogs, pizza, or cotton candy. By doing so, you can encourage impulse purchases from your customers.
Branding opportunities: Some concession signs can be customized with your company's logo, giving you the ability to personalize your display.
Cross-selling: Display multiple concession signs to highlight foods that complement one another. For example, you could feature a hot dog sign and a french fry sign.
Neon Restaurant Signs and LED Restaurant Signs
Displaying a neon or LED restaurant sign in your window is efficient and effective. These signs can signify what kind of business you are, what foods you sell, or even whether you are open or closed. Most of these signs feature a combination of bold graphics and bright lighting, instantly catching the eye of potential customers. Some key benefits of displaying a neon or LED restaurant sign include the following:
Identifiable: Because of their bright colors and designs, these signs are easy to notice and are quick to communicate their message.
Longevity: Both types of signs are recognized for their long lifespans, making them a smart long-term investment for your restaurant.
Energy-efficient: Both LED and neon signs are relatively inexpensive to operate and consume minimal electricity, saving you money.
A-Frame Sign Boards
An A-frame sign board, sometimes called a sandwich board, is an excellent tool for grabbing customers' attention outside of your restaurant. They lend themselves well to indoor and outdoor use. Display them on the sidewalk or just outside of your restaurant to advertise menu specials, upcoming promotions, or live events that you may be hosting. Advantages associated with A-frame sign boards include the following:
Portable: Because of their fold-up design, these signs are easy to transport to different locations. They can also be moved throughout your workplace with ease.
Cost-effective: Since A-frame sign boards typically feature an affordable price, they are a cost-effective advertising option.
Customer engagement: By placing an A-frame sign board outside of your restaurant, it can grab customers' attention and entice them to visit you.
---
Restaurant Sign Design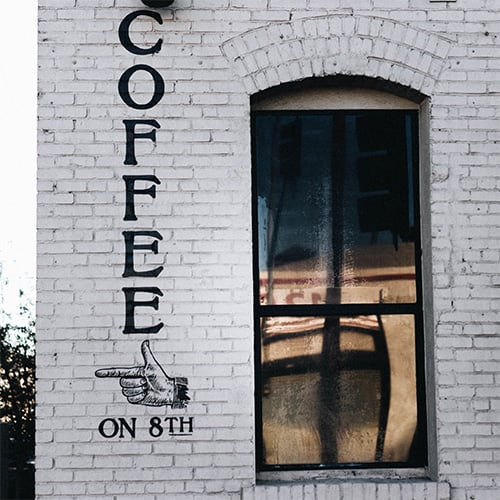 Deciding on what to display on your restaurant sign is an important task, and there are several factors you should take into account for the best results. In general, a good restaurant sign is easy to read, easy to notice, colorful, and reflects your brand identity. Continue reading to learn about the various details you should focus on as you design your restaurant sign:
Visibility
First and foremost, your sign should be visible at all times. That goes for patio easels, business logos, sidewalk signs, neon signs, and all other restaurant signs. Factors that can affect the visibility of your sign include:
Size: The bigger the sign, the more people will notice it. If you're displaying a sign for foot or drive-by traffic, make sure that it is big enough for people to read. If you're displaying a sign inside, be sure to choose one that is big enough to notice but not too big that it distracts from other displays.
Alternate viewpoints: Cars, foot traffic, and foliage can obstruct the view of your sign. Consider placing another form of signage at eye-level height or higher on your windows, awning, or rooftop.
Available space: If you can't post a sign in front of your restaurant, consider alternative options. Use colorful markers on your cafe or ice cream parlor windows or paint your awning, entrance steps, and other architecture with eye-catching colors and an appealing design.
Time of day: Marketing doesn't stop when the sun goes down. Purchase a lighted sign to advertise your restaurant when it's dark out. LED signs glow brighter than traditional lights, yet can still be seen in direct sunlight and behind glass windows.
Animation: Catch customer attention with a sign that moves. Modern technologies allow for programmable signs that show scrolling messages. Many LED signs offer multiple display modes that prompt text to blink, flash, or crawl. You can even purchase light-up, write-on boards that alternate between different colored fonts.
Text
Once you've decided what type of sign is best for your business and advertising needs, consider what text you want to display. Here are a few tips for your display:
Use words sparingly: If your goal is to catch the attention of car or foot traffic, keep your message under 10 words.
Don't underestimate nostalgia: To stand out among a row of restaurants, "Family owned and operated since 1958" can speak volumes more than "$3 Pizza Slices." The sentimental text could be the factor that helps you beat out the nearby competition with comparable prices.
Utilize social media: A simple tag like "follow us on @Kitchen_on_Main!" allows customers to easily check your restaurant on their smartphones as they walk by. Post unique signs on social media to catch the attention of those following you.
Promote on-the-go: A message like "We do carry out!" is a great way to attract the rushed lunch crowd.
Buy an adaptable sign: Purchase a chalkboard to easily erase and change your sign to stay current and fresh.
Color Composition
Keep these tips in mind when choosing color and composition for your sign text:
Contrast a light color font on a dark background or a dark font on a light background.
Keep the font legible and uncomplicated.
The background or graphic should never overpower or distract from the actual message.
Choose colors that identify with your restaurant theme.
Keep in mind that most restaurants lean towards a warm color pallet. Think reds, oranges, and yellows.
Contrasting colors also pack a punch. While red/green is a holiday-specific pairing, a blue/orange or yellow/purple combo stands out.
Brand Identity
Choose a few signature elements and work them into your signage. Saladworks, for example, features four logo colors (black, white, orange, and green) and a simple yet effective carrot design.
Make sure your restaurant logo is unique.
Prominently display your logo outside of your restaurant.
Choose a signature color scheme and be consistent in your use of it.
Windows, menus, and even outdoor table umbrellas are all fair game for displaying text and logos.
Back to Top
---
By choosing the right restaurant signs, you can set yourself up for success in a competitive industry. Consider the types of signs available to you and what you'll need them for, and remember to take considerations like visibility, text, color, and brand identity into account. With the information above, you'll be able to make sure your restaurant signs effectively draw attention to your business.
---