Attract Diners with Your Outdoor Restaurant Sign
Last updated on 4/02/2022
While there are many sophisticated ways that you can advertise your business, using signs can be very effective and cost-efficient. This is especially true if your restaurant is in a high traffic area. In this article, we'll explain the best ways your business can utilize your outdoor signage for the best impact as well as what types of signs are best for advertising.
Shop All Restaurant Signs
1. Stay Visible
First and foremost, your sign should be visible at all times. That goes for patio easels, business logos, sidewalk signs, neon signs, and all other restaurant signs. But, here are a few other things you can consider when choosing signs to advertise your business.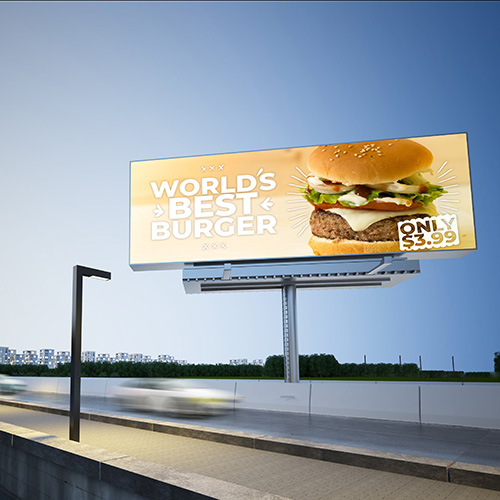 Bigger is Better
Keep your restaurant sign tall and large so it can be spotted by those walking or driving by. If you're located in a tourist-heavy area, consider investing in billboards, roadside signs, or car-top signs to pique the interest of hungry travelers. Be sure to include easy directions on your billboard or roadside sign that even an out-of-towner can follow. For example, "Right Off of Exit 20" or "Turn Left on Main Street."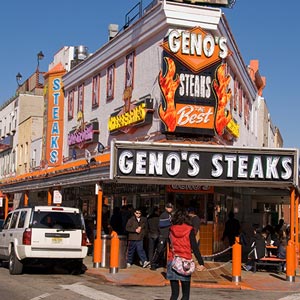 Consider Alternate Views
An A-frame sidewalk sign is great for those walking by, but if you're at a busy roadside area, cars will block the view of customers walking across the street. Trees and even curbside plants can obstruct views as well. Consider placing another form of signage at eye-level height or higher on your windows, awning, or rooftop. And if you're located on a corner, don't forget to work all angles! Be sure to comply with local regulations regarding fire codes and blocking rooftop views.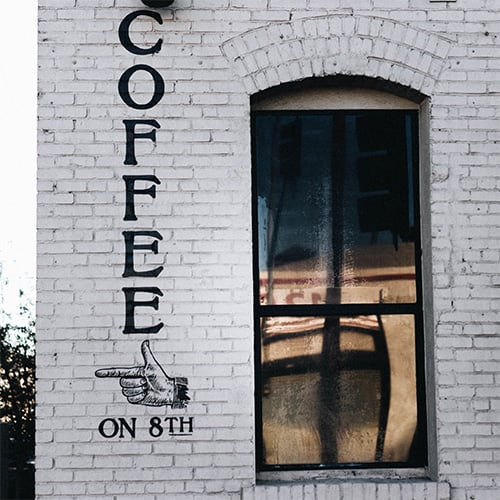 Work with the Space You've Got
If your storefront doesn't lend itself to signs, consider other creative routes. Use colorful markers on your cafe or ice cream parlor windows. Place a memorable and iconic object in front of your restaurant (an old car painted with your logo, a mascot, a unique landscape, a unique lamp, or a rooftop decoration). Paint your awning, entrance steps, and other architecture with eye-catching colors and an appealing design.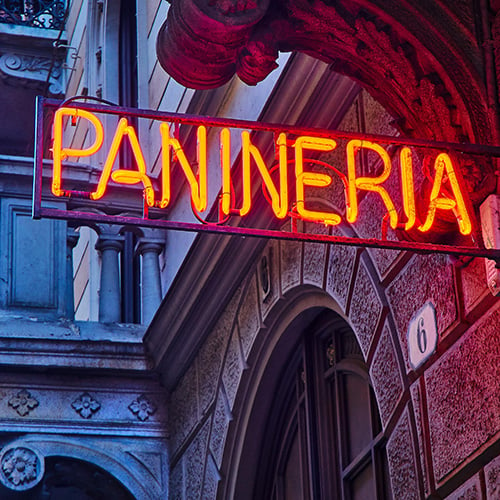 Advertise Day and Night
Marketing doesn't stop when the sun goes down. Purchase a lighted sign to advertise your restaurant when it's dark out, and even after closing. LED signs glow brighter than traditional lights, yet can still be seen in direct sunlight and behind glass windows. Plus, they use half the energy of standard neon signs and are safer because they don't have a high-voltage transformer. If you don't use a lighted sign, be sure to illuminate signage with overhead lighting.
Use Animation and Action
Catch customer attention with a sign that moves. Today's technologies allow for programmable signs that show scrolling messages. Many LED signs offer multiple display modes that prompt text to blink, flash, or crawl. You can even purchase light-up, write-on boards that alternate between different colored fonts. Even a basic swinging sidewalk sign or hanging porch sign draws more attention than a standard stationary sign.
Say It and Show It.
Let your products do the talking! Use window space to advertise freshly made bread loaves, bakery displays, or even show meals being made. Check out Pinterest for the latest trends in storefront decorating.
2. Display Simple and Effective Text
Once you've decided what type of sign is best for your business and advertising needs, you can begin thinking about what text you want to display. Here are a few tips for your display:
Use Words Sparingly
Did you know that six seconds is the industry average for reading a billboard? Keep your message under 10 words if your sign is aimed to catch the attention of drivers and those quickly walking by.
Humor Them
A little humor can go a long way when it comes to attracting diners. Assess your crowd and choose the best variety of comedy, whether that humor is self-deprecating, food-pun related, or even a bit cheesy.
Don't Underestimate Nostalgia
If you're looking to stand out among a row of restaurants, "Family owned and operated since 1958" can speak volumes more than "$3 Pizza Slices." The sentimental text could be the factor that helps you beat out the nearby competition with comparable prices.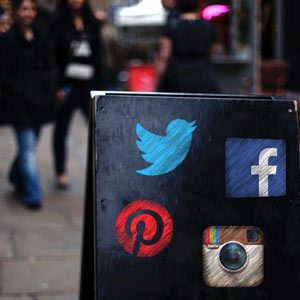 Utilize Social Media.
A simple tag like "follow us on @Kitchen_on_Main!" allows customers to easily check your restaurant on their smartphones as they walk by. Post unique signs on Facebook, Twitter, and Instagram to catch the attention of those following you.
Promote On-the-Go.
A message like "We do carry out!" is a great way to attract the rushed lunch crowd.
Buy an Adaptable Sign.
Purchase a chalkboard so you can easily erase and change your sign to stay current and fresh.
Color Composition.
Keep these tips in mind when choosing color and composition for your sign text:
Contrast a light color font on a dark background, or a dark font on a light background.
Keep font legible and uncomplicated.
The background or graphic should never overpower or distract from the actual message.
Choose colors that identify with your restaurant theme.
Keep in mind that most restaurants lean towards a warm color pallet. Think reds, oranges, and yellows.
Contrasting colors also pack a punch. While red / green is a holiday specific pairing, a blue / orange or yellow / purple combo stands out.
3. Promote your Brand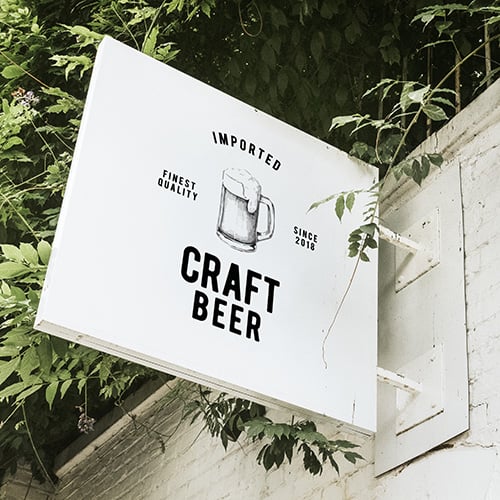 Choose a few signature elements and work them into your signage. Saladworks, for example, features four logo colors (black, white, orange, and green) and a simple yet effective carrot design.
Make sure your restaurant logo is an easy to recognize design.
Prominently display your logo outside of your restaurant.
Choose a signature color scheme and be consistent in your use of it.
Windows, menus, and even outdoor table umbrellas are all fair game for displaying text and logos.
4. Post an Easy-to-Read Outdoor Menu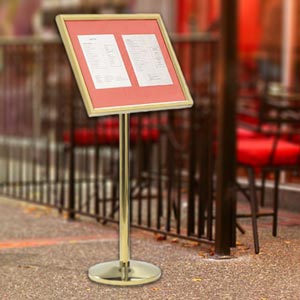 The last thing you want to do is lose a potential diner because your menu isn't easily accessible. Post a free-standing menu holder in an easy-to-read location for those passing by.
If space doesn't allow for a full menu, promote signature dishes near your restaurant entrance to at least give customers a taste of what you offer.
Promote a daily item - such as "Fresh Catch of the Day" or "Soup du Jour" - to create an impulsive "only available today" opportunity for diners.
It doesn't hurt to have a few traditional favorites on display for less adventurous diners.
There are also ways that you can re-design your menu to make customers more likely to make a sale. For example: Don't use dollar signs, as diners spend significantly more on menus without them.