What Is a Springform Pan?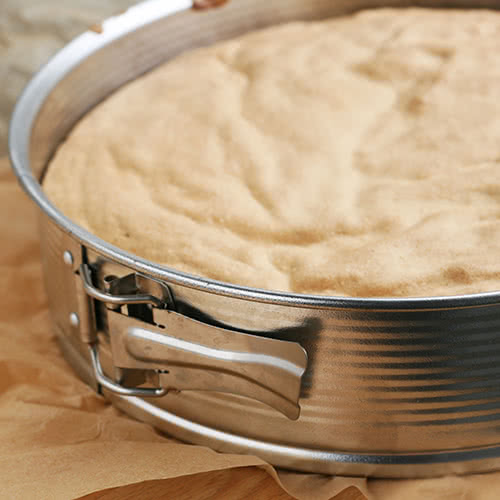 Springform pans feature a removable bottom and adjustable sides meant to eliminate the risks associated with removing cakes from traditional pans.
Springform pans are a kitchen essential for producing flawlessly smooth cheesecakes, perfectly crusted tarts, or intricate ice cream cakes without damage to their tops, bottoms, or sides. Removing your product from the pan is the final step before placing your delicate treats on display, serving to the customer, or packaging them to go.
How to Use a Springform Pan
Springform pans are easy to use and can be rewarding when it comes to producing a flawless final product. Follow these easy steps to effectively use your springform pan.
First, ensure your bottom and sides fit together securely. This can help reduce or eliminate leakage.
Once the sides and bottom are put together and the clamps are shut, fill the pan with your desired ingredients.
Bake your dish to completion and let cool.
If you are not using a nonstick pan, use a butter knife to loosen the edges around the sides. For nonstick pans, use a small rubber spatula or scraper.
Unhinge the clasp and remove the sides.
Serve as is, or remove the bottom by carefully sliding the cake onto a tray or lifting with a spatula.
What Can I Bake in My Springform Pan?
Springform pans are designed primarily for use with delicate desserts such as cheesecake, ice cream cake, and bread pudding. It is recommended you choose recipes with thicker batters, as the thin batter of desserts such as flan can easily leak. Its removable sides and bottom ensure these treats stay intact while being prepared for service.
Modern bakers and restaurateurs are finding new and creative ways to put these important pans to use. For example, these pans are perfect for sweet or savory pies made with press-in crusts because they won't stick to the sides of your pan. Or, some chefs create show-stopping specials by preparing pasta dishes such as rigatoni pie in springform pans. From cheese tarts to frozen cakes, you can make memorable presentations that are outside of the norm to impress your guests.
How to Keep a Springform Pan from Leaking
Due to their convenient, breakaway design, springform pans are prone to leaking. Here are a few tips to help reduce or eliminate leaking.
Choosing a higher quality pan for your commercial kitchen is recommended to avoid immediate leaking issues or to help reduce the chance of a problem developing in the future.
Opt for a traditional, non-springform pan if you plan on baking items with thin batters that may easily leak out of the pan.
When cooking baked goods in a water bath, place your springform pan inside a slightly larger cake pan to both prevent leakage and protect your batter from excess moisture.
For cooking baked goods without a water bath, place a layer or two of aluminum foil along the entire outside of your springform pan. Crimp the foil over the top of the sides to ensure it stays in place.
What Springform Pan Sizes are Available?
Most springform pan sizes have a depth of 3 inches, which can be significantly taller than traditional cake pans. The top diameter typically ranges from about 6 to 12 inches. Plus, some pans include interchangeable bottoms for maximum versatility.
What Can I Use as a Springform Pan Substitute?
You may use a traditional cake pan wrapped in aluminum foil or a disposable pan as a springform pan substitute.
While it's best to use a springform pan with delicate baked goods such as cheesecakes or ice cream cakes, the following methods have the potential to mimic its effects. Keep in mind, however, that these may not be as reliable or produce such consistent results as using a springform pan.
If you're in a pinch but have a traditional cake pan lying around, you may be able to get similar results by lining the pan with parchment paper or aluminum foil. It's important to leave plenty of material hanging outside of the pan. This will allow you, with the help of another employee, to hold the pan down and lift the edges of the paper out from the pan. This will create a sling for your baked good and hopefully keep it intact as it's removed from the pan. Keep in mind, however, if you are using a traditional cake pan, the size may vary and you'll need to adjust the time or temperature of your oven.
Another option would be to bake your batter in a disposable cake pan. Again, you may need to adjust the time or temperature of your oven because these tend to be shorter in height than springform pan. With disposable pans, once your product is cooked and cooled, you can use a knife and scissors to cut the pan away from your dessert. This method, however, can be time consuming for commercial kitchens. In addition, you'll need to stock a large number of disposable pans, which can create problems in establishments with smaller storage areas.
Springform pans feature an innovative design for effectively extracting your delicate cakes, pies, tarts, and pasta creations. Keeping your product intact from start to finish ensures an enticing and professional presentation, whether it's served right away or put on display in your bakery or restaurant.