How to Pipe a Rose with Buttercream Icing
If you run a bakery or other foodservice business that makes its own cakes, chances are you've created a few roses with buttercream icing. These decorations are an attractive addition to wedding and birthday cakes and can also be used to top cheesecakes or chocolate chip cookie cakes. Regardless of where you place your buttercream roses, the step-by-step instructions below will help you pipe perfect icing flowers every time.
Step by Step Instructions: How to Make Buttercream Roses
1.

Put the coupler into the pastry bag and slide it towards the tip of the bag.

2.

Cut the bag to size and dry fit the coupler.

3.

Attach the rose tip to the coupler and secure it with a coupler screw.

4.

Fold down the edges of your pastry bag.

5.

Add buttercream icing to the bag with a pastry spatula, making sure not to overfill the bag.

6.

Pipe a base for the center cone of the rose onto the pastry nail. The larger the rose, the larger the base will need to be.

7.

While twisting the nail counter-clockwise, begin creating your flower petals. Start with the first row and work your way out to the edge of the nail.

8.

Continue creating small arches for each individual petal. Repeat this process until you have achieved the desired rose size.

9.

Once your rose is finished, gently remove it from the nail with an offset baker's spatula.

10.

Carefully place the finished rose on your cake.

11.

Repeat Steps 1-5 to prepare to pipe the rose leaves. You'll need to use a small leaf tip and green buttercream icing. Then, pipe leaves around your roses.

12.

Serve!
Frosting roses are an attractive addition to a variety of desserts, but piping the perfect buttercream rose can seem difficult. However, following these simple step-by-step directions will help you create elegant and colorful frosting flowers for your bakery's signature cakes.
How to Make a Coronarita
If you're looking for a refreshing cocktail to celebrate with this Cinco de Mayo, a Coronarita is the perfect choice. This delicious drink is an interesting spin on the classic margarita that is sure to quench your customers' thirst on a hot day. Coronaritas are also very simple and only require a few bar supplies to make, so your staff can quickly crank out drinks during happy hour. Whether you own a Mexican restaurant, tequila bar, or tropical cafe, this Coronarita recipe is an excellent addition to your menu.
How Does a Coronarita work?
The Coronarita is a drink that seems to defy gravity. You would expect that, when you flip the beer updside down in your cocktail, the mixture would overflow and spill all over the place. But curiously, it all stays in place.
How the Coronarita works has to do with pressure. If you flipped a bottle of Corona upside down normally, the beer would fall out and be replaced inside the bottle by air. But, in a Coronarita, the mouth of the bottle is surrounded by liquid, which prevents air from entering the bottle. The air that is inside the bottle creates pressure that keeps the beer from spilling out into the margarita. But, when you sip on the margarita with a straw, the liquid level in the glass will go down, and the beer inside the bottle will then flow into the glass to make up for the missing liquid.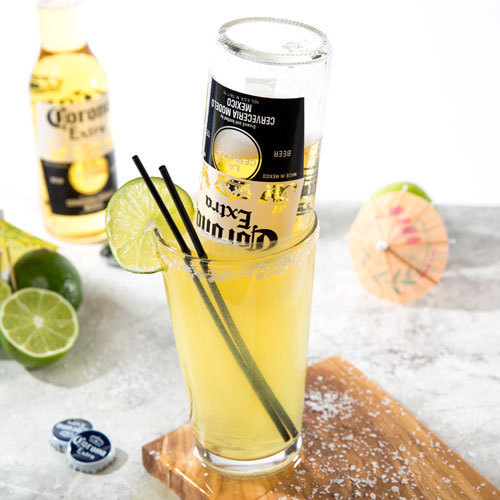 Coronarita Ingredients
Ice cubes
Rimming salt
1 1/2 oz. silver tequila
3/4 oz. triple sec
3 oz. lime sour mix
1, 12 oz. bottle of Corona, Dos Equis, Pacifico, Tecate, Carta Blanca, Modelo or any Mexican beer
How to Make a Coronarita
Pour ice cubes, tequila, triple sec, and lime sour mix into a cocktail shaker.
Shake the mixture and strain it into a salted pint glass.
Quickly flip the beer upside down and place it into the drink, so it dispenses slowly as you drink your delicious Coronarita from a straw.
Whether you call it a Coronarita, a Mexican Bulldog Margarita, or a Mexican Car Crash, this tequila-inspired Mexican drink recipe is sure to be a hit with your customers. And, make sure to stock up on cocktail supplies for Cinco de Mayo here:
How to Host a Mother's Day Brunch at Your Restaurant
Taking Mom out for brunch on Mother's Day is a beloved tradition for many families across the U.S.; one that's becoming more popular each year. Mother's Day is a great opportunity to show your mom (or any female role model in your life) just how much you appreciate everything she's done to help you grow into the person you've become. And if you own a restaurant, the chance to celebrate this holiday extends to include more than just your own mom, but many mothers in your community as well. It's important to plan ahead and prepare your business for a busy day of showing moms how much you care.
Why is Mother's Day Important for My Restaurant?
Mother's Day is the busiest restaurant day of the year, according to the National Restaurant Association. With more than half the country's population planning to dine out on Mother's Day, it's important for restaurants to go all out and make a fuss over moms. If your business typically only opens for lunch and dinner, consider opening a little earlier on Mother's Day to take advantage of the number of diners who will be searching for a great place to eat in the early afternoon.
Brunch items cost very little to make because many basic ingredients (like oats and eggs) can be purchased for pennies a piece. By preparing delicious brunch specials with raw ingredients, you can offer dishes at a price that's affordable for customers, while still making a decent profit for your business. So, by choosing to make a brunch rather than a lunch or dinner, there's a greater opportunity to earn more money, which is of course vital to the success of any business.
How Should I Prepare My Restaurant for Mother's Day?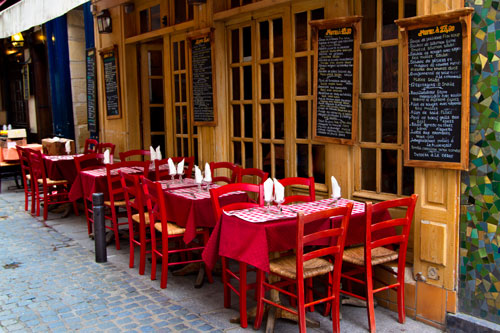 It's important for your business to prepare for the increase in traffic by purchasing more ingredients than you normally would, so there are ample supplies to last all day. Similarly, you'll want to make sure you have enough staff coverage to maintain a smooth service. It should be all hands on deck for the busiest day of the year.
Planning a special menu for the day is one way to strike up a buzz, while simplifying the process for kitchen staff, too. Choose recipes that can be mostly prepped ahead of time, so you'll only need to spend a few minutes completing each dish as orders come in. You can even opt to set up a buffet to simplify things even more.
If you have any extra space that isn't ordinarily used for seating (like a patio), you may want to purchase some folding tables to set out for the day and then store them away once your customer volume returns to normal. While folding tables may not look impressive on their own, you can easily dress them up with table cloths, vases of fresh cut flowers, and even unscented candles to create a beautiful presentation that makes the day feel even more special for your guests.
Another idea to consider is purchasing small gifts for all the moms who visit your business throughout the day. It doesn't have to be anything fancy. Even something as simple as a carnation can go a long way towards showing your appreciation to your patrons.
How Should I Promote Mother's Day in My Restaurant?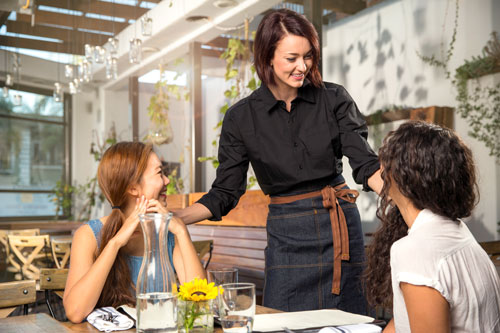 So, you have your plan in place of all the ways to make this Mother's Day great. Now how can you tell people about it?
Social media is obviously a great tool for reaching customers, on Mother's Day and every day. If you have a sizable number of followers, posting announcements on Facebook, Instagram, and Twitter is an effective way to get the word out about any events you may be planning at your restaurant. You can even create a Facebook event so that customers can easily see all the details, including your location and hours of operation.
Don't worry if you haven't built up a big social media following. Good old fashioned word of mouth and flyers can work just as well. Have your servers build hype in the weeks leading up to Mother's Day by encouraging customers to come back for your special brunch. Print out flyers and hang them in a visible place inside your restaurant. If you have a good relationship with any local community groups, ask if you can post your flyers on their bulletin boards. If you have a customizable sign outside your business, post an announcement there for passersby. Every little bit helps.
What Should I Include on My Mother's Day Menu?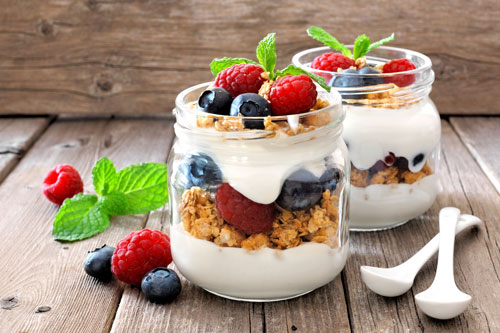 Anything that can be mostly prepared ahead of time is great for keeping up with the fast pace of your busiest day of the year. As you're coming up with ideas for items to include on your menu, it's also important to think of options that will help to make the day feel more special than an ordinary day. Additionally, all your menu items should have a cohesive tone overall. For example, if your restaurant has a liquor license, offer special prices on brunch cocktails like mimosas and bloody marys. Other great Mother's Day menu ideas include:
Baked French toast- This dish is quicker than making pieces of French toast individually because it can be assembled in big pans. It can even be reheated to order. Fresh berries and cream cheese baked right in make this a sweet choice that's a twist on traditional brunch faire.
Frittata- Quicker than quiche, frittatas can be prepared with many different ingredients to satisfy customers' cravings for savory foods. Additionally, you can get creative with your toppings, offering anything from salmon and dill to tomato and cheddar. Almost anything tastes great when baked into fluffy eggs. And, similar to the French toast idea, frittatas are often easier to execute than single omelets.
Moroccan poached eggs- Offering something a little different can help set your brunch apart from all the rest. This North African dish, also called shakshuka, is a nod to the up-and-coming trend of ethnic cuisine taking center stage and will entice your more adventurous moms. Make the robust sauce ahead of time and gently cook your eggs directly in a single portion of sauce as it simmers. Served with a simple flatbread, this dish is a showstopper.
Parfait- A lighter option of yogurt, berries, and granola is a healthy choice that's as pretty as it is delicious. Parfaits also make a great side dish or dessert that's perfect as an add-on item.
No matter how you choose to celebrate Mother's Day this year, make sure you don't lose sight of the most important part: celebrating moms! Encourage your staff to take the time to wish a happy Mother's Day to all the moms who visit your business and do your best to maintain an energy of thankfulness as your service goes on. By going all out for your Mother's Day brunch, you can can get the most profits out of the busiest restaurant day of the year. But through all the hustle and bustle, make sure you find the time for your own mom, too.
Chimichurri and Steak Flatbread Recipe
Flatbread is appearing on more and more menus around the nation, and with so many advantages to this dish, it's easy to see why. Flatbread costs just pennies to make and can be offered to customers at a price that's affordable to them while still earning a profit for your establishment.
Many types of flatbreads can be grilled ahead of time and simply reheated in the oven with toppings added as orders come in. They can even be kept fresh in the freezer until it's time for the toppings to go on. Any recipe that can be prepped ahead of time and assembled in a matter of minutes is a great choice for a fast-paced restaurant or catering environment.
In addition to the practical advantages of this dish, the main reason it's become so remarkably popular is because it's delicious! The wonderfully satisfying texture of flatbread and the limitless combinations of toppings make it a favorite menu item among a wide variety of eateries.
We chose to use chimichurri and steak as toppings on our flatbread because chimichurri is a simple sauce to make that is commonly served with steak. Also, the steak is a filling component to this dish that makes it even more satisfying for customers.
How to Make Chimichurri Steak Flatbread
All you need to make a great chimichurri sauce is some garlic, herbs, oil, spices, and a food processor to mix it all together. We decided to use our sauce both as a steak marinade and as an ingredient on top of our flatbread. By combining this flavorful sauce, steak, flatbread, and some provolone cheese, we created a complete appetizer or lunch item that is both satisfying for your customers and cost-effective for your restaurant. Check out our recipe video to see how it's done-
Ingredients
Flatbread Dough
Yield: (4) 10-inch flatbreads
4 c flour (plus more for dusting)
1 ½ c warm water
1 envelope (2 ¼ tsp) dry active yeast
1 tsp. sugar
1 tsp. salt
1 tsp. garlic powder
1 tsp. ground cardamom
Chimichurri Sauce
Yield: 1 ½ cups, enough to marinate 5 oz. meat and sauce 1 flatbread
2 c fresh Italian parsley
1 c fresh oregano
4 peeled garlic cloves
1 c extra virgin olive oil
¼ c red wine vinegar
1 tsp. crushed red pepper
1 tsp. salt
1 tsp. black pepper
Steak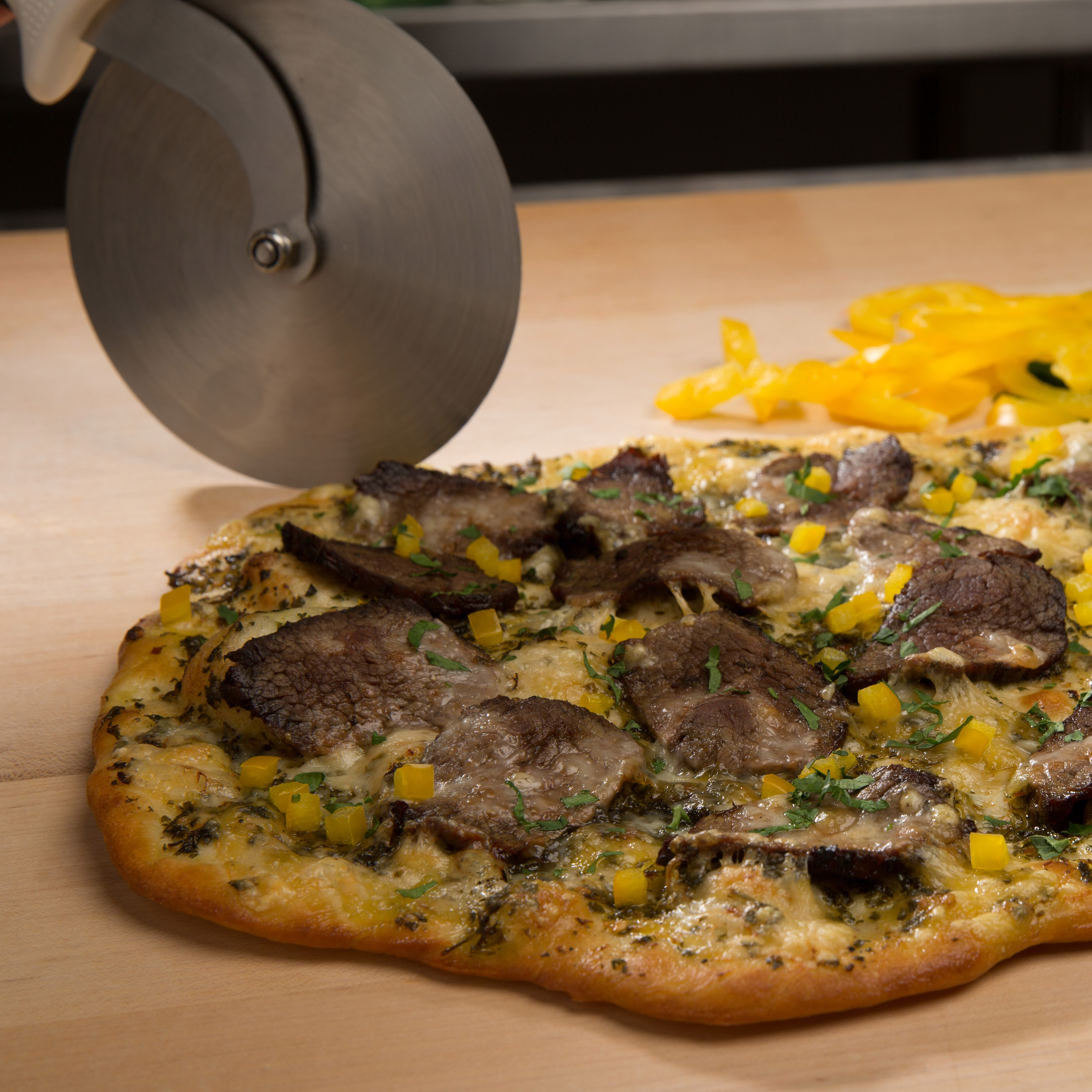 Yield: 5 oz. steak, enough for 1 flatbread
5 oz. beef shoulder tender
Cheese
Use about 2 oz. of shaved sharp provolone cheese for one flatbread.
Directions
Chimichurri Sauce and Marinade
1. Place all the ingredients in your food processor. Blend for about a minute until everything is mixed well.
2. Cover the beef with some of the chimichurri (about 3 oz.) and place it in a plastic bag to marinate. Refrigerate for at least an hour. Reserve the remaining sauce for flatbread drizzle.
Flatbread Dough
1. While the steak marinates, assemble your dough.
2. In your mixer bowl, combine the water and yeast. Let it sit for 10 minutes.
3. Add the remaining ingredients and mix with dough hook on medium speed until dough forms into a ball. About 5 minutes.
4. On floured workspace, punch dough down for a few minutes and return it to the bowl.
5. Cover the dough in plastic wrap and set it in a warm place for an hour until it doubles in size.
6. Remove your dough from the bowl, and portion it into 4 equal balls.
7. Roll out one portion of the dough into your desired shape.
Steak
1. While your dough rises, cook the meat.
2. Grill or roast the beef until its internal temperature reaches 125 degrees Fahrenheit.
3. Allow the beef to rest for 10 minutes before cutting into ¼ inch slices.
Chimichurri Steak and Sharp Provolone Flatbread
1. Preheat the oven to 450 degrees Fahrenheit.
2. Distribute the rest of the sauce over your flatbread (about 3 oz.)
3. Top with steak and provolone cheese.
4. Bake for about 4 minutes or until cheese is melted and edges of the dough are golden brown.
5. Garnish with finely chopped yellow bell pepper or parsley, if desired.
Cost Breakdown of Chimichurri Steak Flatbread
Per Serving
Dough $0.10
Chimichurri $0.32
5 oz. Beef Shoulder Tender $1.52
Sharp Provolone $0.57
TOTAL COST: $3.50
MENU PRICE: $10.00
PROFIT PER ORDER: $6.50
What is chimichurri?
Chimichurri is a simple sauce consisting mainly of fresh herbs, garlic, and oil. Traditionally, parsley and oregano are the main ingredients of this sauce, but different herbs can be used, as well. You may also see renditions that incorporate lemon or lime juice, but we used red wine vinegar as our acidic component. Chimichurri is a forgiving sauce that allows for a lot of improvisation, so you can adjust your sauce to suit your unique tastes and use whatever ingredients are most readily available to you.
In addition to being a flexible sauce to make, chimichurri sauce offers a lot of flexibility in the ways it can be used. For example, we chose to use our sauce in two ways — as a marinade and a sauce for the flatbread itself. Both of our uses happened to be cooked, but chimichurri can be consumed uncooked, too. In fact, it's commonly served raw with grilled steak as a way to bring wonderfully fresh flavors to heavier cuts of meat.
History of Chimichurri
Chimichurri is widely accepted as an Argentinian creation. Historians believe that this sauce may have been invented by cowboys who cooked meats over open fires and needed a sauce to go with it. It is believed that the original chimichurri sauce likely consisted of dried herbs, instead of fresh ones, to make them easier for cowboys to transport. You'll likely find some traditional recipes that still recommend the use of dried herbs in chimichurri. However, if fresh herbs are available to you, they give the sauce a beautiful green color and a more dynamic flavor.
As for the origin of the word, "chimichurri," there are a few different speculations about this. The most common theory is that the name came from a mispronunciation of an English nickname for the sauce: Jimmy Curry. It's thought that this nickname was brought over to South America by European settlers.
If you're looking for a new addition to your lunch menu or appetizer list, chimichurri and steak flatbread is a great choice. The flatbread dough has a texture that's a perfect combination of chewy and crispy. Chimichurri is fresh and savory, while steak and provolone are hearty toppings that will leave customers happy and satisfied.