4th of July Menu Ideas for 2018
With guests traveling to the beach, family reunions, fireworks, and other festive gatherings, the 4th of July may be a slow time for your restaurant or bar. Luckily for you, we've put together 4 menu ideas for July 4th, including a tasty entree, side, dessert, and cocktail, that will attract guests and make them feel like they're dining with the founding fathers.
4th of July Menu and Recipes
Serve this 4th of July food to get your guests into a patriotic spirit. These easy recipes are simple to incorporate into your menu, and their patriotic names help to create a festive theme for the holiday.
Cocktail: The George Washington
At the time of his death in 1799, George Washington owned the largest whiskey distillery in the country, so a whiskey drink is a natural choice for your selection of 4th of July cocktails. We honor our first president with this tasty 4th of July drink that uses cherry syrup for a patriotic red color.
Ingredients
1.25 oz. white rye whiskey
1 oz. Dolce cherry syrup
1 whole lime
Instructions
Measure 1.25 oz. of whiskey and add it to your shaker.
Measure 1 oz. of cherry syrup and add it to your shaker.
Using a lime squeezer, extract juice from one whole lime into your shaker.
Cover your shaker and shake together the ingredients.
Pour the ingredients over a glass of shaved ice.
Garnish the cocktail with a cherry.
Entree: The Betsy Ross Burger
To celebrate the woman who sewed the first American flag, we created the Betsy Ross burger. This festive alternative to a traditional burger features red peppers, white onion, and blue cheese toppings to mirror the colors of Old Glory.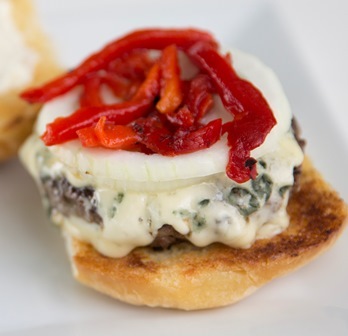 Instructions
Prepare burgers on a griddle or commercial outdoor grill according to guests' temperature requests.
Toast and butter the bun.
Place a slice of blue cheese on the burger. You may also use blue cheese crumbles for this recipe, though the crumbles may not melt as well as a slice will.
Add sliced vidalia onions.
Top the burger with slices of roasted red peppers.
Spread mayonnaise on the top half of the bun.
Side Dish: Red, White, and Blue Potato Salad
This delicious twist on a classic summer favorite is sure to satisfy your guests' desire for traditional American cookout food. Made with red, white, and blue potatoes, this salad is the perfect accompaniment to the Betsy Ross burger.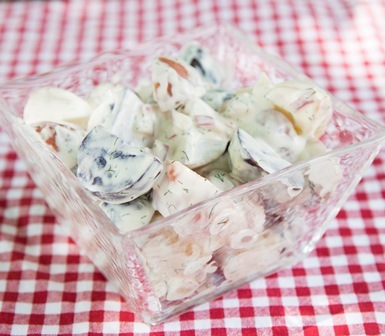 Ingredients
1 lb. white potatoes, peeled and chopped
1 lb. red potatoes, unpeeled and chopped
1 lb. blue potatoes, peeled and chopped
1 medium red onion
1 cup sour cream
1/2 cup mayonnaise
2 teaspoons mustard
1 tablespoon dill
Sprinkle of celery seed
Sprinkle of apple cider vinegar
Instructions
Boil the red and white potatoes for about 15 minutes or until easily pierced with a fork. Boil the blue potatoes separately for about 10 minutes. Let them cool.
Mix the sour cream, mayonnaise, mustard, and dill in a separate bowl. Add the celery seed and apple cider vinegar.
Combine potatoes into one large bowl.
Pour ingredients onto potatoes, mix, and season to taste. If you would like the red, white, and blue hues of the potatoes to stand out more, use less sour cream and mayonnaise.
Dessert: Boston Tea Party Earl Grey Cupcakes
Not all 4th of July desserts have to focus on summer berries or be red, white, and blue. The Boston Tea party, when Samuel Adams and the Sons of Liberty threw 45 tons of tea into Boston Harbor to protest the British tax increase on tea, is our inspiration for this unique dessert. This recipe makes about 24 delicious Earl Grey cupcakes.
Ingredients
For Cupcakes
1 cup milk
1 1/2 tablespoons loose Earl Grey tea
2 large eggs
1 egg yolk
2 1/2 cups flour
1 tablespoon baking powder
1/2 teaspoon salt
1 1/4 cup sugar
3/4 teaspoons finely ground Earl Grey tea
12 tablespoons unsalted butter, softened
1 1/2 teaspoons vanilla extract
For Strawberry Filling
1 large jar of strawberry preserves
1/2 orange zest
2 tablespoons orange juice
For Earl Grey Syrup
1/2 cup water
1 Earl Grey tea bag
1/2 cup sugar
For Earl Grey Icing
3 egg whites
1 cup sugar
1 1/2 cup unsalted butter, softened
1/2 vanilla bean, seeds scraped
about 1 tablespoon Earl Grey syrup
Instructions
For Cupcakes
Preheat oven to 350 degrees Fahrenheit.
Lightly boil the milk over medium heat and add loose Earl Grey tea. Reduce heat and simmer for 10 minutes.
Remove the milk and tea mixture from heat and steep for 5-10 minutes. Strain and set aside.
In a separate bowl, whisk together the eggs and egg yolk. Set aside.
Mix the flour, baking powder, salt, sugar, and finely ground Earl Grey tea. Add the butter, vanilla, and tea-infused milk and beat with a mixer on low until the dry ingredients are moist. Mix for one minute on medium-high.
Add in the egg mixture. Do not overmix.
Pour batter into the cupcake liners. Bake for 15-18 minutes or until a toothpick inserted in the center comes out clean.
Once the cupcakes are cooled and your filling and icing are complete, use a piping tip to create a hole in the top of each cupcake. Spoon strawberry filling into the hole, and then ice the cupcake.
For Strawberry Preserves
In a sauce pan over low-medium heat, cook a jar of strawberry preserves, the orange zest, and orange juice for about 10 minutes.
Set aside to allow the flavors to mix together.
For Earl Grey Syrup
In a small sauce pan, bring water to a boil over high heat.
Once the water reaches a boil, turn off heat and add the Earl Grey tea bag.
Allow the tea to steep for 4 minutes.
Add the sugar and turn the heat back on.
Stir occasionally, and cook until the sugar melts completely.
Remove from heat and allow the syrup to cool.
For Earl Grey Icing
Whisk the egg whites and sugar in a large bowl.
Using a double boiler or a similar method, heat the egg-sugar mixture over boiling water.
Whisk constantly and heat the mixture to 155 degrees Fahrenheit, or until it's hot to the touch. Transfer the bowl back to the mixer.
Whisk on high for about 10 minutes or until the outside of the bowl returns to room temperature. You should have glossy peaks.
Use a paddle attachment to mix in butter and vanilla bean on medium-low until smooth. Add the Earl Grey tea syrup and mix until combined.
From drinks to desserts, we have 4th of July recipes for every part of your meal. With these patriotic menu items, your guests can celebrate Independence Day while enjoying some delicious food! Plus, these classic recipes can easily become permanent parts of your menu if they are a hit at your 4th of July event.