Best Summer Beers 2019
At the first sign of warmer weather, preferences in beer styles start to lean towards lighter, crisper beers with lower alcohol content. An industry term used to describe the perfect summertime beer is crushable, which means that a beer is easy to drink and the ABV is low enough that you don't have to feel bad for having seconds or thirds. Most of all, the ideal summer beer should be well-balanced and thirst-quenching. We've made a list of some of the best summer beers to serve at beer festivals, outdoor weddings, and barbecues this season:
Shandies or Radlers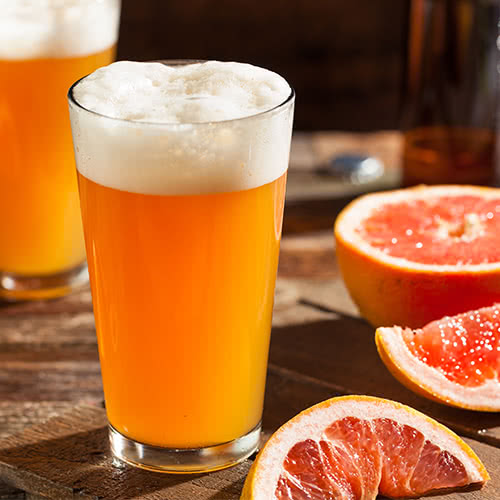 Both of these beer cocktails are made by blending a blonde lager with either juice or soda. The result is a citrusy, flavored beer with a low alcohol content. Ginger beer, ginger ale, lemon-lime soda, lemonade, or grapefruit juice can all be used to create a refreshing, sessionable beverage that's easy to drink on a hot summer's day.
Give These a Try:
Boulevard Ginger Lemon Radler (Kansas City, MO), 4.1% ABV
UFO Big Squeeze (Boston, MA), 4.5% ABV
Victory Brewing Company Cage Radler (Downingtown, PA), 3% ABV
Leinenkugel Grapefruit Shandy (Chippewa Falls, WI), 4.2% ABV
Saisons
When the first saisons were brewed in Belgium, they were made with local, seasonal ingredients that were available in the winter months. Then they were stored until the seasons changed and given to field workers, known as saisoniers, to quench their thirst as they worked under the summer sun. This style of beer has a lot of variation but the key characteristics are that it is highly carbonated and often fruity or spicy.
Give These a Try:
Ommegang Brewery Hennepin (Cooperstown, NY), 7.7% ABV
Funkwerks Saison (Fort Collins, Colorado), 6.8% ABV
Boulevard Brewing Co. Tank 7 Farmhouse Ale (Kansas City, MO), 8.5% ABV
Side Project Brewing Framboise Du Fermier (St. Louis, MO), 8% ABV
Gose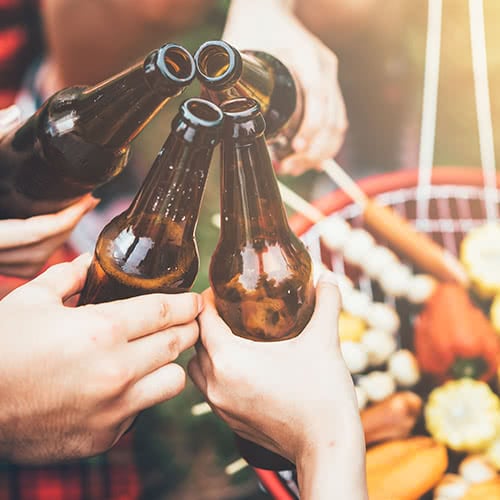 Gose, pronounced goes-uh, is a German sour wheat beer with added salt and coriander. These beers are tart, crisp, and often have notes of lemon or grapefruit. The saltiness shouldn't overpower the flavor but instead complement the sour quality of the beer. Low ABV and the minimal presence of hops make sour beers highly drinkable and refreshing.
Give These a Try:
Lost Nation Brewing Gose (Morrisville, VT), 4.8% ABV
Duclaw Brewing Company Gose O's (Baltimore, MD), 5.5% ABV
Westbrook Brewing Company Lemon Cucumber Gose (Mt Pleasant, SC), 4% ABV
Dogfish Head Brewery SeaQuench Ale (Rehoboth, DE), 4.9% ABV
Milkshake IPAs
Milkshake IPAs are getting their time in the sun. A type of New England IPA, this beer style contains lactose or milk sugar, which gives it a creamy mouthfeel. It might also contain fruit, oats, and vanilla to enhance the flavor and texture. You'll find milkshake IPAs in flavors that sound like they belong in an ice cream shop, like strawberry, peach, and mango.
Give These a Try:
Westbrook Brewing Company Pineapple Shake IPA (Mt Pleasant, SC), 7% ABV
Odell Brewing Co. Cloud Catcher (Fort Collins, CO), 6.8% ABV
Full Sail Brewing Company Malted Milkshake Style IPA (Hood River, OR), 6.8% ABV
Weldwerks Brewing Company Pina Colada Milkshake (Greeley, CO), 8% ABV
Kolsch Beers
Kolsch-style beers are brewed with a unique process that was developed in Cologne, Germany in the 17th century. The brewing style combines elements of ales and lagers, which allowed the Kolsch beer to be stored without becoming sour. Traditionally, the proper beer glass for serving Kolsch beer is the stange glass, a narrow, straight-sided glass. This glass encourages the drinker to enjoy the highly carbonated beer quickly and in small servings. The mouthfeel of Kolsch is light and crisp, while the flavor balances sweetness with notes of bitterness.
Give These a Try:
Huss Brewing Company Koffee Kolsch (Tempe, AZ), 4.75% ABV
Mother Earth Endless River (Kinston, NC), 4.96% ABV
COAST Brew Company 32°/50° Kolsch (Charleston, SC), 4.8% ABV
New Belgium Passion Fruit Kolsch (Fort Collins, CO), 4.3% ABV
Session IPAs
The history of session beers goes back to England during WW1, when factory workers were allotted two drinking sessions per workday. While it's not recommended to drink on the job today, the session beer was created out of a necessity for a beer with low alcohol content that wouldn't impede the ability to operate machinery. The current criteria for a session beer is an ABV of around 3 to 4 percent, though some will reach closer to 5 percent. Session IPAs combine the fruity, hoppy flavor of an India pale ale with a low ABV that makes them a perfect choice for a drinking session at a summer barbecue.
Give These a Try:
Lagunitas Daytime Session IPA (Petaluma, CA), 4% ABV
Golden Road Brewing Company Wolf Pup Session IPA (Los Angeles, CA), 4.5% ABV
Oskar Blues Brewery Pinner Throwback IPA (Longmont, CO), 4.9% ABV
21st Amendment Brewery Down To Earth Session IPA (San Francisco, CA), 4.4% ABV
Pilsners
Pilsners are the quintessential summer beer. In addition to being light and refreshing, they also pair well with a lot of summer foods. High carbonation, a delicate aroma, and a dry finish make pilsners one of the most popular beer styles in the world. On a humid day, a crisp pilsner is the perfect beer to keep you cool.
Give These a Try:
Deschutes Brewery Da Shootz Pilsner (Bend, OR), 4% ABV
Peak Organic Brewing Company Fresh Cut Pilsner (Portland, ME), 4.6% ABV
The Post Brewing Company Howdy Beer Western Pilsner (Boulder, CO), 4.5% ABV
Ardent Craft Ales Pilsner (Richmond, VA), 5% ABV
Wheat Beers
Wheat beers encompass a few different styles, including hefeweizen and Belgian witbier, but all feature low bitterness and the increased presence of fruity esters. Aromas like bananas, clove, or bubblegum are common. These beers are light, effervescent, and have a light, tart finish. The delicate flavor of wheat beers pairs well with summer foods like seafood, salads, and dishes flavored with citrus.
Give These a Try:
Revolution Brewing Sun Crusher Hoppy Wheat Ale (Chicago, IL), 5.3% ABV
Three Floyds Brewing Company Gumballhead (Munster, IN), 5.6% ABV
Oskar Blues Brewery Priscilla Wit (Longmont, CO), 5.2% ABV
Allagash Brewing Company White Belgian-Style Wheat Beer (Portland, ME), 5.3% ABV
With such a wide selection of beer styles to choose from, your summer tap list will be filled with drinkable, thirst-quenching beers that will keep your customers cool and refreshed. Try serving these crisp, sessionable beers at outdoor weddings, barbecues, and picnics.