Designing Your Restaurant's Dining Room Layout
Your restaurant seating layout sets the scene for your guests' dining experience and separates you from competitors. However, it's not all about aesthetics. Does it follow all regulations? What is your seating capacity? Can your furniture handle constant use? Consider the following four important factors before opening or renovating your venue.
1. Regulations and Capacity
Before considering potential restaurant dining room design ideas, you need to determine whether you'll be using one or multiple rooms and then allocate all available space. Local code requirements could determine how much square footage you need per customer, as well as aisle width. Contact your local fire department or other government agency to inquire about these measurements. Their decision will be influenced by the number and size of exits available at your venue.
Once you've reviewed any regulations, you can decide how many square feet you want to allot per customer. Available space in your restaurant seating layout determines the comfort of your guests. According to the North American Association of Food Equipment Manufacturers (NAFEM), the following chart lists the average allotted square feet per customer by service type.
| Type of Operation | Space Allowance - Per Seat (Sq. Ft.) |
| --- | --- |
| School Lunchroom / Cafeteria | 9 - 12 |
| Banquet Room | 10 - 11 |
| Table Service (Minimum) | 11 - 14 |
| College or Business and Industry Cafeteria | 12 - 15 |
| Table Service at a Hotel, Club, or Restaurant | 15 - 18 |
| Commercial Cafeteria | 16 - 18 |
| Counter Service Restaurant | 18 - 20 |
You'll also need a passage area of 18" between tables and chairs. However, you might want to create wider aisles to accommodate wheelchairs. The Americans with Disabilities Act (ADA) requires at least 36" wide aisles.
Also, consider your venue's needs. Fine dining restaurants need to allow adequate room for meal carts for tableside service. Meanwhile, family-style restaurants may use bussing carts to clear tables. Both need enough space to easily maneuver around the dining room.
Remember to be flexible. You may realize what works on dining room design blueprints may not be comfortable in reality. To experiment with your venue, check out the American Tables & Seating Online Space Planner.
2. Furniture
Furniture Quality
As you consider different furniture, reflect on your business's long-term plans and goals. Your furniture is an investment; therefore, you should avoid buying non-commercial furniture. The price of commercial restaurant furniture reflects its ability to handle everyday wear and tear for years.
For quality sanitation, purchase tables, chairs, and booths that can be easily wiped down and cleaned. Plus, all fabric furniture should be stain resistant and colorfast. Don't forget to consider materials and fabric patterns that will complement your décor and desired environment.
Furniture Shape
Furniture shape can also affect your customers' dining experience. Round tables encourage conversation, but square or rectangular tables are space-efficient. However, for cafeterias or fast casual venues, you'll need to consider tray size. The tables must be large enough to accommodate the intended size, shape, and number of trays. To explore table shapes, review the seating capacity recommendations diagram in our Table Tops and Bases guide.
Many venues have added two-person tables, as they are perfect for dining couples and prevent leaving two empty seats at a four-person table or booth. Plus, these small tables are great for sliding an addition onto another table or the end of a booth to accommodate larger parties.

Furniture Style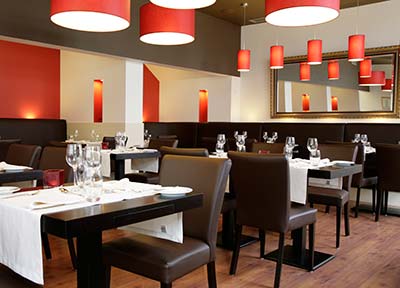 When brainstorming dining room design ideas, consider the two different styles of furniture placement: anchored and portable. Anchored seating refers to any furniture attached to the wall or floor. Booths are the most popular type of anchored seating.
Commonly referred to as "floating tables," portable tables and chairs can be placed anywhere. These seats are typically seen in the middle of dining rooms, away from walls or other structures. There are benefits to both styles; however, the best approach for a high-revenue business is a balanced combination of booths, as well as large and small tables.
According NAFEM, a minimum of 5% of total seating should be accessible to those in a wheelchair. This can be accomplished through both styles of furniture depending on table height.
Anchored Booths
Pros
Cons

Allow optimal leg room
Fill nooks and spaces between columns

Space-efficient and can accommodate more people for higher profits during peak hours

Create a secluded dining area

Cannot be easily renovated

May not accommodate larger or elderly guests

Guests are more likely to linger at anchored seating, minimizing table turnover
Portable Tables and Chairs
Pros
Cons

Mobile option that can be rearranged to accommodate large parties or during renovations

Guests are less likely to mingle, creating a high table turnover and more profit per table
Accommodate larger and elderly guests

Not as space-efficient as anchored booths

Table base can constrict guests' leg room

Tabletops and chairs may rock due to uneven or broken legs or bases
3. Room Layout
Before beginning your restaurant dining room design, decide whether you want one open space or several smaller rooms. Some restaurant styles may excel with one large room, while others need additional dining areas to accommodate private parties.
Multiple Rooms
Pros
Cons

Easier to anchor tables for consistent restaurant seating layout
Perfect for positioning tables along walls or windows
Allow for room décor themes or customization
Create private dining options with controlled volume
Option to host private parties in a secluded room with controlled volume

Potentially more challenging for wait staff to navigate or hosts to gauge available tables

May be less likely to accommodate very large parties or events

Permanent walls limit future renovations
Open Rooms
Pros
Cons

Ideal for portable tables, away from fixtures and walls
Anchored seating possible against walls, windows, or columns
Enable customers to enjoy the entire room, visually and acoustically
Can accommodate very large parties
Temporary partitions or dividers on casters can break up the room as needed

Can become a loud environment, not conducive for conversation
D

écor

and ambiance could be lost in the large room
Could create aisle traffic, making it difficult for wait staff to navigate
Bar Seating
If your venue has a bar, you need to leave sufficient room for furniture and patrons. Here are a few considerations:
Allot a strip of floor space along the bar, ranging 3 1/2' to 4' wide, for barstools and potential guests

Leave 2' per barstool

Divide the bar length by 2 to see how many barstools you can fit comfortably

Remember to leave a comfortable amount of space between the bar and tables

—

at least the width of your aisles

4. Overall Experience
Prior to opening your restaurant, sit in every seat to learn about potential customer complaints. As you try different seats, you may notice a direct view into the kitchen, wait staff congregating at a service station by your table, or a draft from the front door. If you realize these concerns before opening, you're more capable of revising your restaurant dining room design and minimizing your amount of unhappy customers.