Find the Best Carving Stations and Shelves for Your Business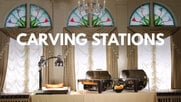 A carving station is the perfect addition to any buffet-style restaurant or upscale catered event. Cut, carve, hold, and serve turkey breast, roast beef, ham, and other specialty meats directly on the cutting board base, while maintaining food safe temperatures with the attached heat lamps. You can also select from bases made of durable materials like granite, wood, and stainless steel, so you'll have no trouble finding the perfect product for your needs. Additionally, choose how many heat lamps you want attached to your station depending on how much heating power your foods require and the length of your event. You'll also find stations with fixed arms, which keep lamps at a consistent distance from the food being served, as well as stations with flexible arms, which give the server more control over how much heat is applied to the food. We also offer carving stations with heated shelf bases to keep foods warmer for longer periods of time. To learn more about the differences between these products, explore the tabs above and the filters on the left side of the page.
Our selection of meat carving stations includes options for any style restaurant. Customers will love having the option of picking out fresh cuts of meat, and it will take their dining experience to the next level. Be sure to also offer complementary gravies to go with the evening's meat special. To drizzle these sauces over cuts of meat, be sure to check out our gravy and sauce boats. You'll also want to have meat carving knives and replacement heat lamp light bulbs on hand. If you're wondering where to buy carving stations / carving shelves, we have a large selection of carving stations / carving shelves for sale at the lowest prices.