WebstaurantStore / Food Service Resources / Blog
WebstaurantStore Reviews
WebstaurantStore has been serving foodservice professionals since 2004, and our focus on providing the best products and shopping experience hasn't gone unnoticed. We've earned thousands of reviews from verified customers both on our website and on reputable third party review sites. Check them out and if you've had an experience with us, consider sharing it!
Google Trusted Stores
Google Trusted Stores is Google's official seal of approval for merchants who consistently provide timely shipping, excellent customer service, and a high level of customer satisfaction. They are very selective about which merchants can obtain Trusted Store status, and they reserve the right to drop merchants for subpar performance. Take a look at some of WebstaurantStore's reviews on Google Trusted Stores.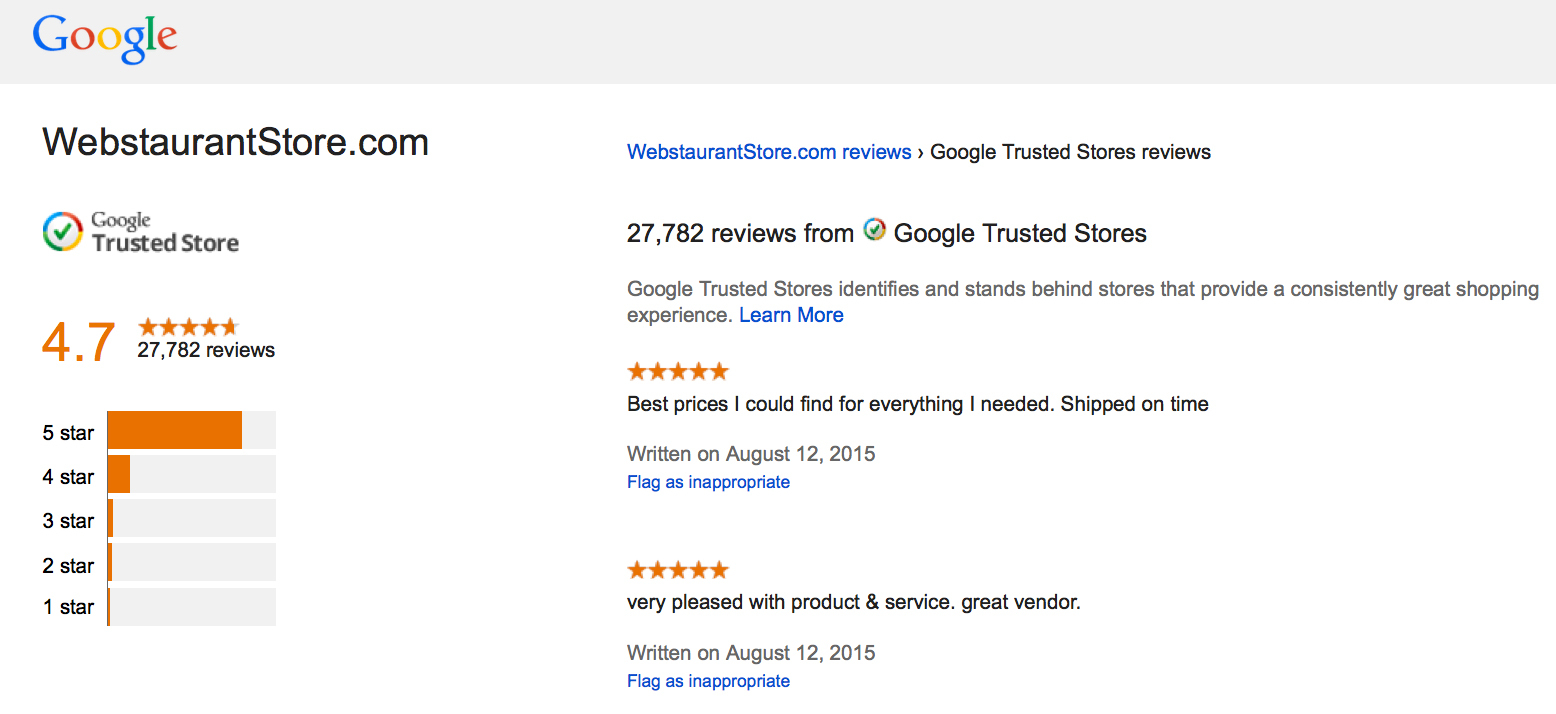 PriceGrabber
PriceGrabber is a price comparison site that uses PPC bids to order their listings. While this is a paid service, merchants can only pay for bids, not any type of review service. PriceGrabber does have a customer reviews section, but the reviews are unsolicited. PriceGrabber checks IP addresses and sometimes invoice numbers to verify that reviewers truly purchased what they are reviewing. WebstaurantStore is happy to maintain a high overall star rating on PriceGrabber.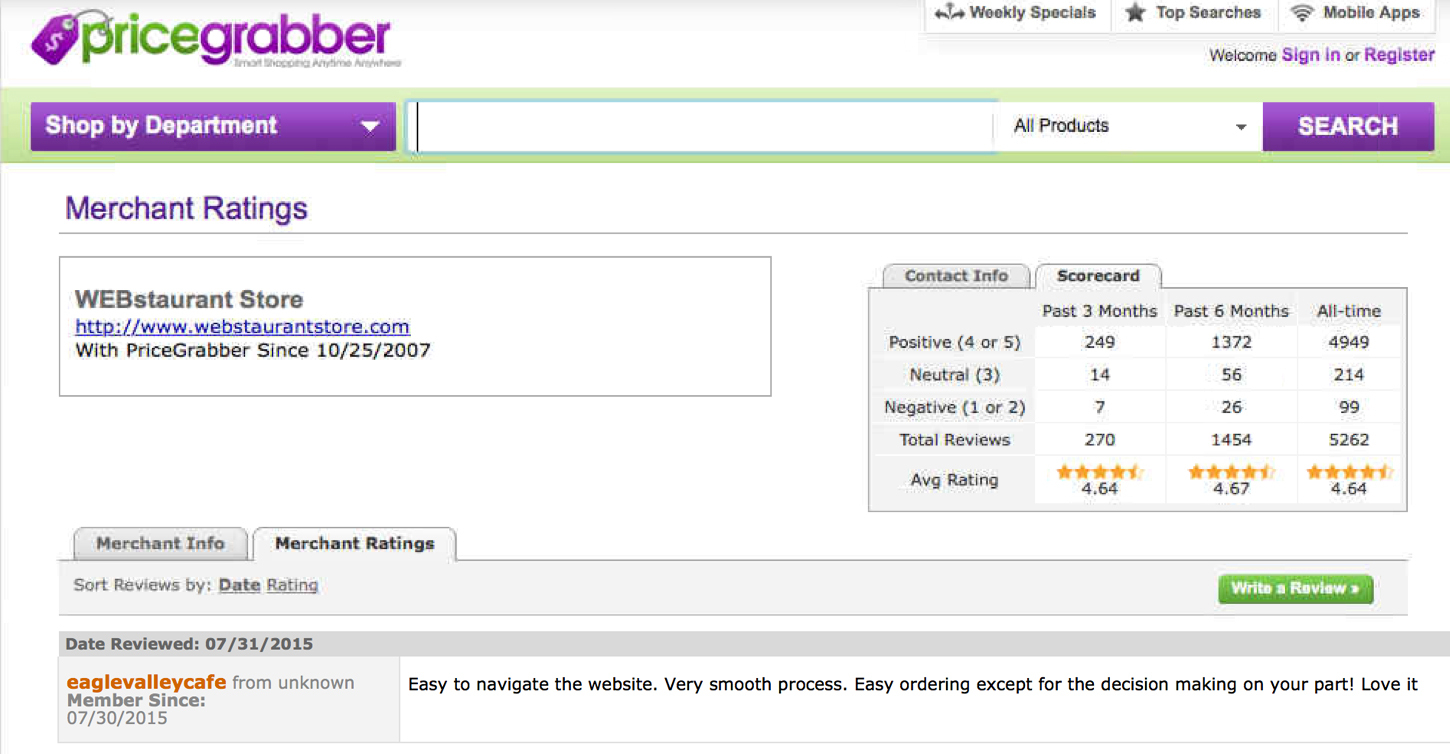 Nextag
Nextag is another price comparison website that works to bring customers the best prices from reputable brands. They also provide merchant reviews and a Trusted Seller badge for excellent service and top-rated reviews. We are listed as a Nextag Trusted Seller with over 4,000 customer reviews. Nextag shoppers can also find many of our products listed in the price comparison feature because of our low wholesale prices!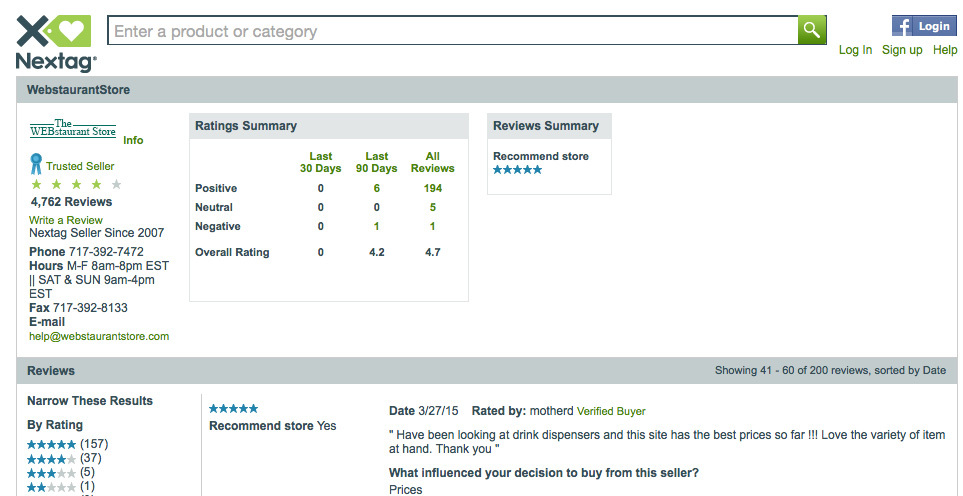 Conclusion
WebstaurantStore's reviews are a reflection of our dedication to customer satisfaction. The next time you're looking for restaurant equipment, consumables, or business supplies, check out our customer reviews on some of these third party sites. We also have thousands of individual product reviews on our site, so you can be sure that you're getting field tested and approved items every time.