WebstaurantStore / Food Service Resources / Blog
The Best Free Drinking Apps
Drinking apps are one of the most popular trends in the world of wine, beer, and spirits. Many customers are interested in trying new drinks, getting recommendations from friends, and finding complementary food and drink pairings, and drinking apps are a great way for patrons to compile must-try lists. Several of these apps also give bar, restaurant, or brewery owners the ability to claim a listing and manage their presence on the app.
The following list of the best free drinking apps (in no particular order) are all geared towards educating aficionados, helping them track what they've had and what they'd like to try, and allowing them to tell friends (and the world) what they're drinking. Learning more about what your customers are already drinking and what they want to drink in the future is a great way to increase your business's revenue and bring new patrons through your doors.
1. Untappd
Untappd is designed to allow beer lovers and their friends to explore the many different types of beer. Additionally, brewery owners can "claim" their brewery, which allows them to engage with fans, manage their beer list, and analyze consumer trends. Untappd also allows you to:
Explore nearby bars and craft beers while discovering what's on tap or in bottles and cans.
Create an account to share reviews, ratings, and photos with friends and learn what and where others are drinking.
Unlock achievement badges when you try new beers.
Available through Untappd.com, Google Play, and the App Store
2. Plonk
Plonk is designed to teach you how to choose wines you'll love based upon your unique tastes and can also help you build your restaurant's wine list. The app lets you choose from "Tried & Tested" wines with familiar grape varieties or "New & Interesting" exotic varietals. You can even learn more about which grapes are usually found in particular styles of wine. This app is also a smart choice for business owners because it shows you which grapes and wine styles customers are discussing via the app or on their Facebook and Twitter pages. Plonk allows you to:
Study grape varietals and wine styles in order to understand what you like and then provides expert suggestions.
Listen to pronunciations of different wines and learn which foods and wines go well together.
Rate and star your favorite wines and grape varietals and share with friends.
Available through Plonk.com and the App Store
3. Swig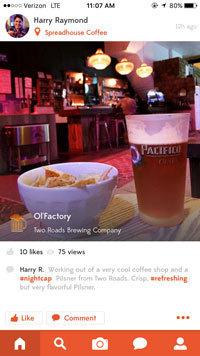 Described as the Instagram of alcohol, Swig is a community for drinkers looking to search and share their favorite libations. The app is essentially a photo journal of each beer, wine, or mixed drink you've sampled, and all pictures taken via Swig are available on your phone's camera roll. As customers visit or check-in at your restaurant, the app will drop a pin on their interactive map and add you to their bar listing to draw even more customers through your doors. Swig also allows you to:
Follow and be followed by friends and like-minded drinkers while connecting with others who share your tastes.
Search from a database of 70,000 beers, wines, and spirits, all of which feature information to help you learn more about what you're drinking.
Find specific drinks in your area via the search and map feature.
Available through Google Play and the App Store
4. Sommbeer
Sommbeer is an extension of Sommbeer.com and allows brew enthusiasts to build a personal inventory of the beers they have at home in order to prevent them from buying duplicates. Additionally, users can find new breweries near them within a 200 mile radius and see turn-by-turn directions for getting to those spots. The app is also very social media-friendly and allows customers to add friends from their contacts and Facebook to see their ratings and cellar inventory. Sommbeer also allows you to:
Keep up with the newest Sommbeer.com reviews, interviews, and articles.
Find detailed information about different breweries and their current tap lists.
Use a built-in UPC bar code scanner for easy beer lookup.
Available through Sommbeer.com and the App Store
5. Hello Vino
Hello Vino was founded to help non-connoisseurs pick the perfect bottle of wine. Whether you're looking for wine to match a particular meal, occasion, taste preference, or grape varietal, Hello Vino will always give you a recommendation for the perfect bottle of wine. Wineries or bars can also use the app to track their social media presence and learn which wines are currently popular via an extensive listing of community wine ratings. Hello Vino also allows you to:
Scan labels for tasting notes, ratings, and food pairings for any bottle.
Remember past purchases to make suggestions for similar wines.
Search for a particular wine in their large database.
Available through Hello Vino.com, Google Play, and the App Store
6. BeerMenus
BeerMenus was founded in 2008 and features over 23,000 beer menus with 107,000 beers at bars and restaurants around the country. The app and website allow you to search for up-to-date beer menus at bars and restaurants in your area, helping you find exactly which brews you're in the mood for. Each establishment's listing also includes specials, photos, and their address, phone number, and hours. BeerMenus also allows you to:
Enter your town, state, and zip code for beer menus of nearby participating bars and restaurants.
Access information on current beers on tap, in bottles, in cans, and what's coming soon.
Create an account to follow bars, beers, find beers near you, and read about craft beer-related events.
Available through BeerMenus.com and the App Store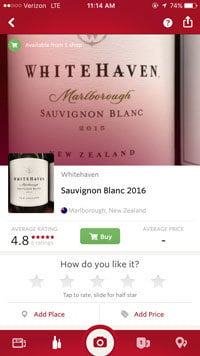 7. Vivino
Vivino is the world's largest online wine community and most frequently downloaded wine-related app. Over 15 million users provide ratings and reviews for millions of wines around the globe to form the largest wine library available. As users discover and try new wines, they can see how they match up against their friends and the larger Vivino community. Additionally, the app features interactive maps that allow customers to find nearby wine merchants or bars. Vivino also allows you to:
Snap a picture of any wine label to instantly learn its rating, review, and average price.
Scan a wine bottle to learn more information about each wine and pick the perfect bottle every time.
Organize and track wines you have scanned and rated in the past.
Available through Vivino.com, Google Play, and the App Store
8. Cocktails Guru
Cocktails Guru is the ultimate library of cocktail recipes for drink enthusiasts and bartenders alike. The app features over 15,000 cocktail and mocktail recipes from around the world. You can browse by ingredient or drink name, explore the Bartender Academy to learn basic skills and terminology, and build your own user profile to save your favorite drinks and photos in one place. Cocktails Guru also allows you to:
Follow other user profiles to see their favorite drinks and add comments to their posted recipes.
See what cocktail recipes are currently trending to keep your bar ahead of the curve.
Create a shopping list and keep track of the ingredients in your bar to ensure you have what you need for your customers' favorite recipes.
Available through CocktailsGuru.com and Google Play
9. Barly
Barly is designed to provide users with beer recommendations tailored to their personal preferences and taste. It allows you to choose flavor profiles you enjoy to create a list of beers that match your flavor palate. Each beer is listed with a thorough description and rating. You can then save your favorite beers to your account and keep track of what you have already tried. Barly also allows you to:
Write a review of beers you have tasted and view comments from other Barly app users.
Sort beer menus by different filters including alcohol percentage, calories, ratings, and more.
Find bars near you and see what they have on tap in real time.
Available through BarlyApp.com, Google Play, and the App Store
If you've overheard customers talking about their favorite drinking apps, it's probably a good time for you to check them out for yourself. In addition to managing your own presence on these apps, reading customer comments and learning which drinks they enjoy can also increase your sales and bring new patrons through the door.

Posted in:
Advertising & Marketing
|
Bars & Breweries
| By Janine Jones