WebstaurantStore / Food Service Resources / Blog
Oktoberfest Party Ideas for Your Restaurant
Oktoberfest is commonly recognized as a time to eat, drink, and be merry. This German festival is increasing in popularity all over the world, and it is a great opportunity for your restaurant to bring in customers as summer turns to fall. Hosting an Oktoberfest party is about more than pairing beer with food, however. Keep reading to learn about the history of this celebration, see our suggestions for party planning, and check out our sample Oktoberfest menu.
What is Oktoberfest?
Oktoberfest is a festival that originated in Munich, a city located in a region of Germany called Bavaria. This festival generally lasts just over two weeks, taking place from mid-September to the first week in October.
The first Oktoberfest was held from October 12th through 17th in 1810. It was a marriage celebration for the Bavarian crown prince, Ludwig, and Princess Therese von Sachsen-Hildburghausen. The festival was open to the public of Munich and continued each year to foster community. Eventually, Oktoberfest was elongated and moved earlier into September to take advantage of the warmer weather.
Oktoberfest Celebrations Around the World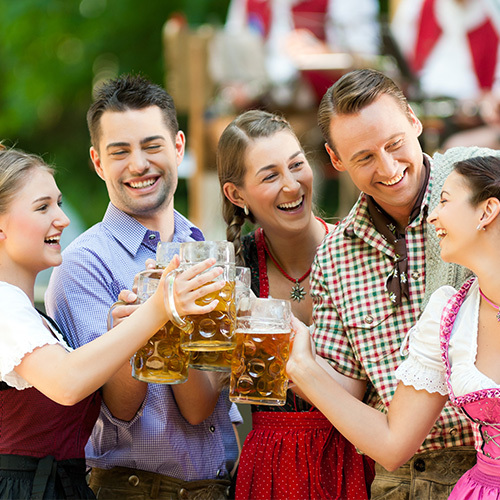 While the biggest Oktoberfest celebration remains in Munich, with over 6 million people attending annually, cities around the world have adopted this festival as a way to welcome the changing season. Some of the biggest Oktoberfest fairs in the United States are in Tulsa, Oklahoma; Cincinnati, Ohio; Fredericksburg, Texas; and Reading, Pennsylvania.
Oktoberfest Party Ideas
If you want to bring Oktoberfest to your restaurant, check out these ideas to help plan your event.
Start with Excitement
Germany's Oktoberfest can't begin until the mayor of Munich taps a ceremonial keg of beer and proclaims "O'Zapft is!" or "It's tapped!" Beginning with the same sort of spectacle builds guests' anticipation of your event.
Make Your Decor Festive
Make sure you get your Oktoberfest party supplies in the customary color scheme. Traditionally, Oktoberfest decor features a blue and white checkered pattern as seen on the flag of Bavaria. Decorate your tables with this classic combination, and switch out your usual napkins for black, red, and gold to represent the German flag for added flair.
Play Music
While many people associate Oktoberfest with old-fashioned Oompah music played by brass instruments and accordions, Germany's modern Oktoberfest plays music ranging from folk to top 40 hits. For your restaurant's celebration, play whatever genre is best to get your crowd ready for the festivities.
Oktoberfest Party Menu
Serving authentic German foods is an integral part to any Oktoberfest celebration. Check out our suggestions for your Oktoberfest party food.
Starters
Soft pretzels: As one of the most widely recognizable German foods, soft pretzels are a great way to start your Oktoberfest meal. Serve them with German mustard to complete this appetizer.

Cheese plates: Pair German cheeses like limburger, muenster, and butterkase with pumpernickel or rye bread.
Entrees
Sausages: For this classic main course, try serving bratwurst, bierwurst, or weisswurst with crusty rolls.

Schnitzel: This dish is made of pounded pork, veal, or turkey cutlets that are coated in breadcrumbs before frying.

Roast chicken: Each year, thousands of rotisserie-roasted chickens are eaten at Oktoberfest in Munich. If you don't have a rotisserie, oven-roasted chicken is a great alternative.
Side Dishes
Sauerkraut: This traditional German side is made of finely cut cabbage that has been fermented. Make your own if you want a fresher, more pungent flavor.

Potato salad: German-style potato salad is made using red potatoes, bacon, and mustard for richness.

Spaetzle: Similarly to pasta, you can make spaetzle from dough that is cut into small pieces and boiled.
Desserts
Apple strudel: This sweet dish contains apple slices, spices, and nuts that are rolled in pastry and baked until crispy.

Plum knodel: To make these dessert dumplings, plums are wrapped in a dough that is made from potatoes and flour, and then they are boiled and rolled in bread crumbs.
Beverages
Beer: As the cornerstone beverage of this festival, beer is a must-have for your Oktoberfest party menu. For added festivity, limit your offerings to German imports or bready and dark beers that are perfect for fall.

Orange Cola: Mimic a popular German soft drink by mixing equal parts of cola and orange soda.

Apfelschorle: Provide guests with another non-alcoholic option by combining equal parts of apple juice and sparkling water.
Hosting an Oktoberfest celebration at your restaurant allows you to be creative with temporary decor and menu items. When you bring this German festival to your establishment, you can also attract new customers who are looking to partake in seasonal events. Before you start looking for German recipes, refer to this blog for tips on how to celebrate Oktoberfest in your restaurant.

Posted in:
Seasonal
| By Christine Potts