Picking the Best Bar Food Menu
Picking out the items you want to list on your bar food menu can be a challenge. Customers demand a huge range of different tastes, some of whom just want a basket of fries and others who want a unique experience. To meet the needs of both, listing both typical bar foods and your own inventive recipes are great bar menu ideas, giving you a well-rounded bar food menu that has the potential to satisfy virtually any hungry customer.
The Classics
Everyone is familiar with the staples of the best bar food, many of which come with extra helpings of grease and salt. Whether you make them fresh on the spot or break them out of a pre-purchased bag is up to you, but these simple treats can be some of the best money-makers in your business (next to alcohol). However, with limited menu and storage space, picking the right foods is an important decision — and that's why it's so important to shoot for the money-makers. These are some of the most common bar menu ideas you can add to your business to satisfy your customers and maximize your profits.
There's always room for more, too. Throw in something typical that you enjoyed at a bar yourself, or add a regional or local favorite that your customers will love. Either way, you've started your bar food menu on the right foot.

The Eye-Catchers
This is the area of your menu where you can show off unique recipes that you've developed. They can be fresh takes on the classics listed above, new concepts you've developed, or any other signature you've developed. If you're still a fresh start-up and you haven't come up with your own recipes just yet, take some inspiration from some of the hottest spots in major cities.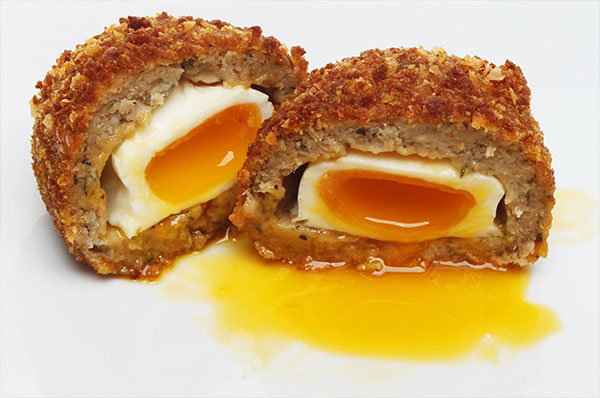 For example, Wexler's in San Francisco offers a dish called Scotch Eggs, consisting of a hard-boiled egg that has been wrapped in sausage, encased in a thin layer of brisket trimmings, and then flash-fried. The yolk inside stays liquid throughout the process, and the eggs are topped off with house barbecue sauce. It's a kitchen experiment that went right in every way possible to create a signature dish that customers love.
Another fresh take on bar food is wammerl from Kansas City's Grünauer. The dish is a combination of pork belly and semolina dumplings seasoned with shallots and other delicious additives served in a smart portion. While it might not sound like much, all it takes is a solid recipe and the right touch to turn a dish into something that is uniquely your own.
Restaurants and bars seeking a more upscale feel can try to set themselves apart with more intricate or aesthetically pleasing dishes that include exotic ingredients, like hot potato chips with blue cheese sauce. This bar specialty includes homemade potato chips that you prepare beforehand and a fresh-mixed specialty sauce that pairs excellently with the salty potatoes to make a delicious snack that your customers will remember.
Pairing Food and Beverages
It's a good idea to delve into your bar menu with some idea of foods that can complement your drink selection. Beer is a good all-around choice that pairs well with carbs, red meats, and heavier food in general, while cocktails can be tailored to specifically accent certain dishes. Wine, for the most part, has pairings that are already established and common knowledge, taking most of the guess-work and experimentation out of the menu already for the best possible results.
Pricing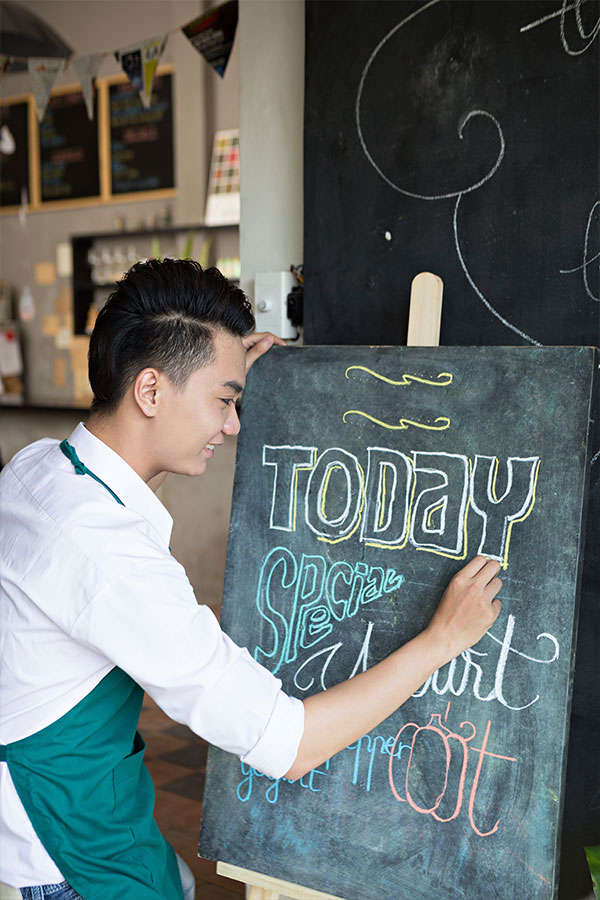 Traditionally, bar food is cheap. It's made fast, it's made heavy, and it's made tasty. Most of the foods that meet all of those criteria will be deliciously fatty and heavily salted, but they'll also cost you practically nothing to prepare. This makes your typical bar food a great menu feature for two reasons — it lets you keep your food affordable for virtually every customer, and you can turn a handsome profit even with low prices. For foods that are more complicated and require more prep work than simple batches of fries or quick burgers, you can still adjust pricing accordingly while meeting the budgets of your customer base. Although if you want to take prices even higher, nothing is really stopping you — especially when bar food is practically guaranteed to satisfy every time.
Then again, you could just throw all of that to the wind and come up with a unique idea to gauge prices, like The Exchange Bar & Grill in New York City. This bar has a constant ticker going behind the bar showing the fluctuating prices of drinks and foods based on customer demand inside the restaurant. For example — an increase in demand for one drink will send its price soaring while others slowly creep down in response, and when those drinks are purchased, the "market" will eventually level out again. Strangely enough, even with the fluctuations the owners bring in enough to stay open (and then some, we can assume), probably because the idea is so fresh, inventive, and culturally relevant that people can't help but check out the bar that works like the stock market.
If you're shooting for a more practical angle, you can check out some user-friendly formulae that teach you how to calculate the ideal costs according to your restaurant's needs and parameters. That way, you can satisfy your customers' appetites and their wallets at the same time. After all — the best bar food menus are all about striking that balance.