How to Create the Best Bar Food Menu
Last updated on 8/2/2023
Creating a bar menu with the best bar foods is daunting, especially considering your guests' taste preferences. Some customers enjoy a classic basket of fries, while others seek more unique food experiences. As you formulate the perfect bar food menu, include traditional bar food alongside creative menu items to appeal to all customers. We compiled some of our favorite bar food ideas and valuable tips to help you create the best bar food menu that will please any hungry customer.
Classic Bar Food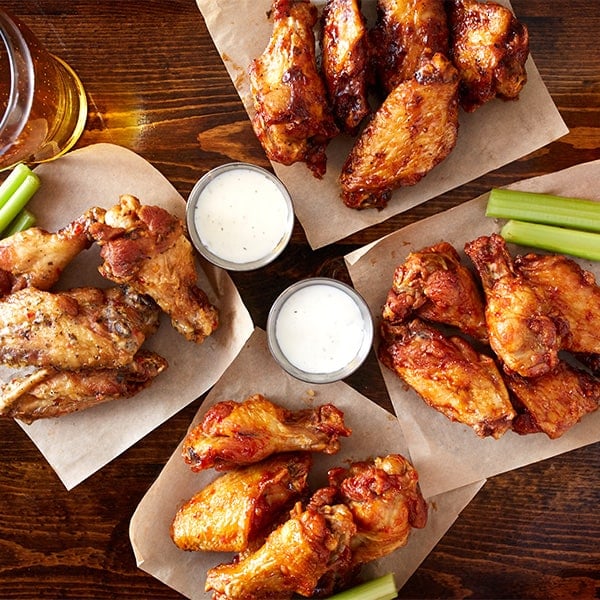 Among the changing bar trends in the industry, some of the best classic bar foods remain the same. Below are some common bar menu ideas to satisfy your customers and maximize your profits.
French fries
Onion rings
Nachos
Mozzarella sticks
Quesadillas
Burger sliders
Artichoke dip
Roasted cauliflower, Brussels sprouts, or other roasted vegetable assortment
There's always room on your menu for more classics. Add a regional or local favorite that your customers will love, like Philly cheesesteaks or Chicago-style hot dogs. Either way, you've started your bar food menu off right by including some classic options.
Bar Snacks and Appetizers
Offering bar snacks and bar appetizers is a great way to entice customers to order food and stay at your establishment longer. These options are typically finger foods in small portions, making them easy to pass around the table. An app platter or sampler with multiple snacks allows customers to sample your menu and order more of their favorites. Additionally, bar appetizers encourage customers to order food spontaneously, which increases your revenue.
Here are a few of our favorite bar snacks and appetizers to add to your menu:
Chips with house-made salsa or guacamole
Popcorn
Soft pretzels
Jalapeno poppers
Fried pickles
Coconut shrimp
Potato skins
Chicken fingers
Pepperoni rolls
Flatbread
Bar Menu Ideas
In addition to the classics, you can (and should) show off your unique recipes. If you can't think of new bar food ideas, try developing a fresh take on the classics above or form new concepts. If you are opening a new bar or are looking to reinvigorate your bar food menu, take some inspiration from some of the hottest spots in major cities:
Cheese fries with cheddar, Gouda, and chives: By including unique ingredients like Gouda cheese and chives, one establishment in NYC offers an upscale, new twist on a favorite bar food.
Roasted portobello with artichoke-truffle mousse and parmesan: This unique item originating in Miami combines complementary flavors and hearty finishing touches that create a fulfilling bar snack.
Cheesecake eggrolls: Most of us might be accustomed to savory eggrolls, but a bar in Los Angeles offers a rare version with this sweet snack sure to entice late-night guests.
House-made sausage plate: This plate from Chicago features seasonal accompaniments to go with the sausage. Try creating your own version to offer guests a variety of one type of food, like a cheese board, or make a platter that includes an assortment of house specialties.
Restaurants and bars can differentiate themselves with more intricate or aesthetically pleasing dishes that include exotic ingredients or combine uncommon flavors. By offering your guests something different, you can create a memorable experience for guests so they will look forward to returning.
Best Bar Food and Drink Pairings
The best bar food typically pairs well with the drinks served at your bar. When creating your bar food menu, it's always a good idea to consider foods that complement your drink selection. You can also use your drink selection as inspiration to come up with bar menu ideas.
Beer: A great versatile choice that pairs well with carbs, red meats, and heavier food, beer pairs well with spicy food, chocolate desserts, and Mexican food. However, light beers pair better with different foods than dark beers, so be careful when recommending pairings to customers.
Cocktails: Your bartender can tailor signature cocktails to accent certain dishes, such as a specialty margarita to pair with nachos or quesadillas.
Wine: Since many wine and food pairings are well known, cater your menu to accommodate your best-selling wines. White wines are great with seafood and poultry, while red wines often complement pasta and red meat. However, food can significantly alter the taste of the wine, so be sure to understand how your food and wine offerings interact when recommending pairings to guests.
Bar Food Menu Prices
Pricing your bar menu can be tricky if you serve food ranging from cheap, easy-to-make options to more complex items that might cost more and require more labor. Below are some suggestions for pricing your bar food menu.
Classic Bar Food Has a High Profit Margin
Traditional bar food, such as french fries, onion rings, and wings, can be made cheaply. You can find inexpensive bulk bar food that is quick to make and does not require much labor. This option makes your classic bar food excellent to feature on your menu by keeping your food affordable for virtually every customer, and you can turn a handsome profit even with low prices.
Scale Your Bar Food Prices Based on Labor
For foods that are more complicated and require more prep work than simple batches of fries or quick burgers, you should adjust the pricing accordingly to turn over a profit while meeting the budgets of your customer base.
Keep Track of Customer Demand for Your Bar Food
One innovative option for pricing your bar food menu is to gauge prices by keeping track of customer demand for specific items. You can raise the price of food and drink with high demands while lowering other menu options, mimicking the supply and demand mechanisms that affect the stock market.
If you're shooting for a more practical angle, you can check out some user-friendly formulas that teach you how to price items on your menu according to your restaurant's needs and parameters. That way, you can satisfy your customers' appetites and wallets while maintaining healthy profit margins for your business.
---
Whether you operate a high-end, sophisticated bar or a laid-back pub, offering an outstanding bar food menu is crucial to your success. The ideal bar food selection should include both traditional favorites and creative, original dishes from your kitchen to ensure a diverse range of options. Additionally, setting appropriate prices on your menu will not only please your customers but also contribute to the success and growth of your business.
---