Championship Football Game Promotion Ideas for Your Bar
The Championship Football Game, considered one of the biggest sporting events in the country, creates an excellent opportunity to run game day promos and make a big profit in your foodservice business. You can expect a lot of competition among nearby bars and restaurants on February 13, 2022, as well. The coronavirus pandemic does present some challenges for celebrating the big game, but we have some tips to help you navigate this year's kickoff. Keep reading to learn how you can make your business stand out from the rest, market this sporting event to potential customers, and ensure that your customers spend more at your restaurant on game day.
Football Promotion Ideas for Bars and Restaurants
Here are five easy ways that your restaurant or bar can bring in customers who place big orders while watching the game.
1. Offer Delivery and Take-Out Options
Although many customers would have preferred to go out to watch the big game, most will choose to to host their own small-scale Championship Game watch parties this year to properly social distance. These personal viewings provide a great setting for food delivery. One way to get the most out of your delivery or take-out service on game day is to offer special delivery-only discounts. Prepare platters of food, meal kits, and other meal combos that customers can take advantage of to easily feed their guests. Give customers a discount when they order a certain amount of food to help make delivery worthwhile.
If you don't have your own delivery driver on staff, you can take advantage of third-party apps and services like Uber Eats or Postmates.
2. Offer Discounted Rates
Offering discounts on your menu items can persuade customers to order more food and drinks while watching the big game. Championship Game promotions can set your business apart from your competitors and bring in more customers to your business. You can offer discounts on specific items, like taking 20% off beers or wings, or you can offer specials like giving customers a free beer with an order of two dozen wings. Be sure to look into the alcohol delivery and carry-out rules of your state to make the most of your game day promotions and sales.
3. Create a Sports-Themed Menu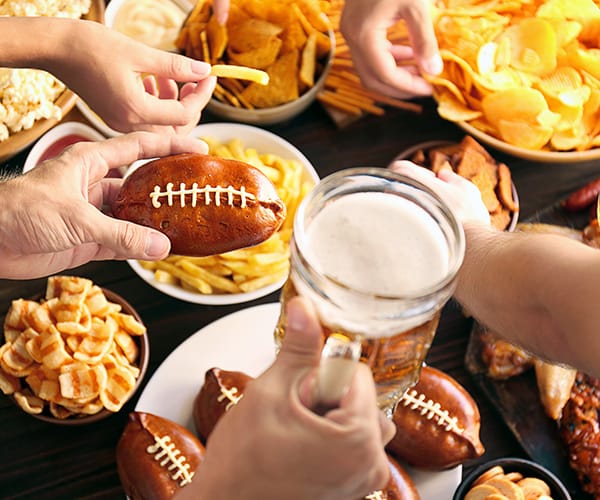 When planning your event, it's a good idea to adjust your menu. This is an excellent choice for two reasons: it won't overwhelm your customers, and it's more manageable for your staff. Creating a new big game menu for your restaurant or bar allows you to show off your creativity and design dishes and cocktails based on the teams that are playing. Traditional bar foods like french fries, onion rings, nachos, and wings are perfect football food specials because they are easy to eat while cheering for your favorite team.
4. Stay Interactive
Once you have customers in your bar or restaurant, it's important to keep them ordering more food and drinks, and one of the best ways to do this is to offer specials and halftime promotions based on what's happening in the game. If you are able to host a game day party in person this year, you can offer $2 beers for five minutes after a team scores a touchdown or a field goal. Another choice would be to sell discounted drinks and food during halftime.
Before game day, you'll want to ensure that your bar has working televisions with remotes that have access to the channel broadcasting the game. You'll also need to check that those TVs are clean and easy to see from around your establishment. Test the volume of the TVs before the game starts so that your customers can hear the game above the chatter and cheers.
5. Hold Giveaways
If you won't be hosting customers this year, stay interactive on your social media pages by hosting a giveaway. Post this information on your social media accounts in the weeks leading up to your football party. Giveaways are an effective tactic that you can use to bring attention to your business on game day.
You have a lot of options when it comes to deciding what to give away. Choose sports-themed decorations and souvenirs to give away to winners or other memorabilia like jerseys and signed pictures.
Football game day is a hectic time for bars and restaurants, but you can follow these five tips to take advantage of it. Advertise your game day and halftime promotion ideas to bring in more customers, and offer specials and discounts to ensure that customers place more orders and increase your profit margin. Offering game day promotions can help your business stand apart from your competition, and it can bring in repeat customers after the Championship Game is over.

Posted in:
Advertising & Marketing
|
Bars & Breweries
| By Richard Traylor