WebstaurantStore / Food Service Resources / Blog
How to Add a Game Room to Your Restaurant
Game rooms in bars are a lot of fun, and they're an excellent way to boost your sales and profits. But, many businesses don't think they have the space, money, or customer interest for adding arcade games or billiards to their space. Fortunately, adding games to your bar or restaurant can be easy, cheap, and space-efficient. But, before you decide to add a game room to your restaurant or bar, you need to consider your space, what game options you have, which ones will bring in the most profits, and how you can use those games to market your business.
Why Should You Offer Games at Your Foodservice Establishment?
Having dart boards, arcade games, pinball machines, and other games can bring in new business to your establishment, and it can help to boost your profits by keeping your patrons in your restaurant or bar longer, increasing the chance that they'll order more food and drinks. Additionally, you don't necessarily need a separate game room to add games to your establishment, which makes offering games more accessible. Keep reading to learn more reasons why you should have games in your restaurant or bar and how games can help your bottom line.
What Games Should You Offer at Your Bar or Restaurant?
There are endless options when it comes to board games, billiards, and social games that you can add to your business, but some options are better than others when trying to boost your profit margins. Here is a short list of popular options that can help your bottom line and bring in more customers:
Air hockey tables
Basketball arcade games
Pinball machines
Arcade games
Interactive board games
What To Consider Before Adding Games to Your Business:
While these are popular game options for bars and restaurants, not every type of game will fit your specific business. Here are three things to consider before choosing what types of games you want to offer at your foodservice establishment:
Your space: Before you decide what type of games to use in your business, you should consider what your restaurant has space for. Billiards, arcade games, and pinball machines can bring in a lot of business, but they take up a lot of space, so use them in large establishments like sports bars and large restaurants. Interactive board games are fun and take up less space, but they don't have the same earning potential as arcade games and machines.
Your customer base: While offering games at your restaurant or bar can seem like a good idea, you need to consider who your customer base is, and what types of games, if any, they would want to play. For example, billiards and arcade games will be popular with an older crowd, while interactive games, air hockey tables, and basketball arcade games are better for a younger audience.
Your restaurant or bar's atmosphere: In addition to your customer base, consider the atmosphere in your establishment. Nothing ruins a quiet and calm atmosphere more than loud pinball machines. On the other hand, it may be hard for guests to play board or card games in establishments that play music.
Which Games Are Most Profitable?
As a business owner, your main goal is to increase your profit margin as much as possible. Adding games to your business can increase your profits, but different games will affect your bottom line in different ways.
For example, some games like arcade games and basketball arcade machines will directly affect your profits because they cost money to play. Other games, like board games and billiards don't cost money, but they can encourage your customers to stay in your bar or restaurant longer, increasing the chance that they'll order more food and drinks and boosting your profits indirectly. As a result, there isn't one specific game that will make your business more money than others.
How Can You Make the Most of Your Game Room?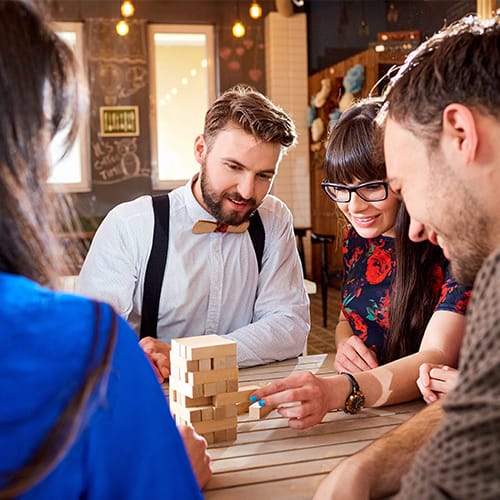 Once you've decided to add games to your business or to create a game room in your bar, there are some additional things you can do to boost your profits and market your bar. Here are a few tips for marketing your game room and bringing in more customers:
Have regular game nights on your typically slow days. For example, you can make every Tuesday Jenga night or invite a pool league to use your billiards tables on Sundays.
Offer competitions and promote them on social media. Having competitions like basketball championships or card game tournaments are an excellent way to bring in more business.
Having arcade games, billiards, board games, and other attractions can seem like a large expense, but they can help bring in more customers and boost your profits over time. Additionally, there aren't any games that are necessarily more profitable than others, so you can find the right games that fit your establishment's atmosphere and customer base. Plus, because there are so many different types of games to choose from, it's easy to find an option that will match your restaurant or bar's style.

Posted in:
Advertising & Marketing
|
Management & Operation
|
Bars & Breweries
| By Richard Traylor