How to Become a Bartender With No Experience
Last updated on 7/24/2019
The key to becoming a bartender is to position yourself in a role where you can watch, learn from, and assist a working bartender. Through seeking out entry level employment in bars and restaurants, you have the ability to create a learning environment where you can also get paid. You can supplement your on-the-job training with bartending school and other learning resources, but working in the service industry remains the best way to get close to the bar and to start building up knowledge. Keep reading to learn how to get started on the path to becoming a bartender without any prior experience.
1. Get a Bartending License
A bartending license isn't required in all states, but if you're competing for a bartending position against other candidates, having a license can give you the leverage you need to get hired. To receive a license, you'll also have to meet the minimum age for serving alcohol which differs from state to state. In addition to meeting state or local requirements, a bartender license course will ensure that you're familiar with the following topics:
Knowledge of laws and penalties regarding minors
Identifying the stages of intoxication in customers
How to handle and prevent disturbances
Online bartending certification is easy to find with a quick internet search, but make sure the course is state-approved. To pass the course, you'll need to show that you have an understanding of state laws. It's also important to note that a bartending license doesn't guarantee employment. You'll still need to earn the position by being the best candidate for the job.
2. Get Hired as a Barback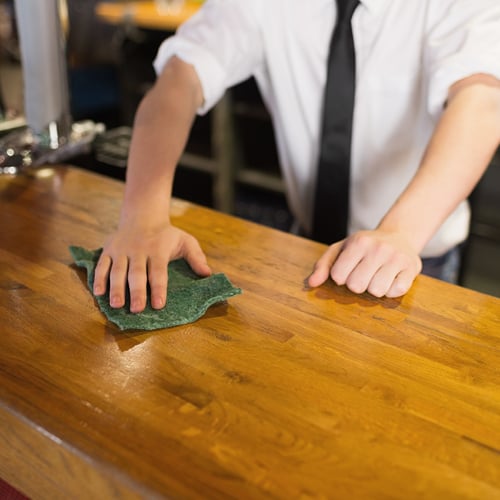 The most common advice you'll hear from actual bartenders is that you should start out as a barback if you want learn how to be a bartender. The barback position requires no experience, only a willingness to work hard. As a barback you'll be expected to do most of the manual work behind the bar, like cleaning, restocking, and a lot of heavy-lifting. The barback is essentially the bartender's assistant, which puts you in a great position to learn and observe.
Working as a barback isn't easy, but it provides a lot of benefits. If you're someone who has never worked in the bar or foodservice industries, you'll gain an understanding of how everyday operations work. Pay attention to what goes on around you and you can gain some useful knowledge:
As you stock beer and liquor for the bar, make a point to learn the different brand names
Watch the bartender as they make cocktails and make note of the most popular drinks
Get comfortable behind the bar and helping with customer requests
Memorize bartending terms like straight up and on the rocks
Learn when to prepare for the busy rushes and stock up accordingly
Become familiar with the different types of barware and garnishes
Provide support for your bartenders and in return they may teach you how to bartend
3. Start at a Restaurant Bar
Starting as a barback isn't the only way to get behind the bar. You could also start out as a hostess or server in a restaurant with a bar and work your way up. Restaurants that sell alcohol often have openings for bartenders and they will promote from within, especially if you've proven yourself to be an efficient and capable server. Another benefit of getting your feet wet at a restaurant bar is that restaurant chains usually have stringent training programs and they will train you to mix drinks to their standard.
Bars in restaurant chains are often smaller than and not as busy as the bars in lounges, nightclubs, or taprooms. They provide a gentler environment in which you can practice your skills and get experience under your belt. The hours are also different, as many restaurant bars don't operate as late as other bars. You won't find as much opportunity to experiment with cocktails, but a restaurant chain might be the stepping stone you need before branching out to a trendier locale.
4. Find a Bartending Mentor
As you seek employment in restaurants and bars, be on the lookout for a bartender who is willing to take you under their wing. If you're starting out as a barback, here are some tips to help you:
Always treat your bartenders with respect
Anticipate their needs and keep the bar stocked at all times
Don't bombard them with questions during busy hours
Wait for the calm moments to strike up a conversation
Look for the bartender who is willing to share their knowledge
As a server, the more time you spend around the bar, the more likely you are to find a mentor. Follow these tips:
Offer help to your bartenders whenever possible
Retrieve any items they need from the kitchen or storage
Run food orders out to customers at the bar
Keep the bar top clear by delivering any drinks that have been prepared for servers
Always make sure to tip your bartenders fairly and generously for any drinks they've made for you
5. Learn How to Pour Drinks
Anyone can pour rum and coke into a glass and call it a cocktail. If you want to become a good bartender, you need to learn how to pour correctly so you achieve balance between the liquor and the mixers. Invest in some bartending tools and start practicing your pours at home.
If you've already followed the previous steps in this article and have spent some time watching a bartender, you'll be familiar with an important tool of the trade, the jigger. Jiggers are small cocktail measuring tools that allow you to control the amount of liquor you're pouring. With practice, you may be able to skip using a jigger and free pour instead. Free pouring is the art of pouring liquor using a silent count. With either pouring method, accurate pours are essential for a couple reasons:
The right amount of alcohol yields a balanced drink that tastes great
Every time you over pour, you cost the bar money
Good pouring technique makes you more efficient at mixing drinks
6. Practice Mixology
When you've mastered the art of pouring, try experimenting by making your own cocktails. You can start out by practicing with standard well drink recipes like gin and tonics or screwdrivers and work your way up to more complicated cocktails that have multiple mixers. Learn about cocktail ingredients like bitters and syrups and how they change the taste of your drinks.
Not every bartender has to be a mixologist, but it does help to have an understanding of how to build cocktails. Through this process you might find that your interests are more geared towards the craft of mixing drinks, rather than serving customers.
7. Be Patient and Available
Your bartending skills won't develop overnight. You'll have to spend many hours and many shifts working at your barback position before you gain the trust of the bartender and bar manager. One of the most important things you can do is make sure they know you're available for whatever they need you to do. Before you know it, the bartender might feel comfortable stepping outside for a break and asking you to step in while they're gone. Always be ready for those types of opportunities. The more useful you can make yourself, the better.
8. Don't Rely On Bartending School Alone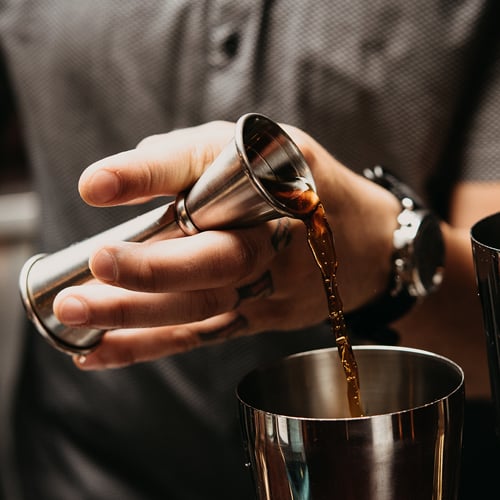 Bartending school might seem like a fast track plan to achieving your goal, but you'll still most likely need real world experience before a bar manager will take a chance on you. You can learn many things in bartending school, like how to pour and how to practice mixology, but you can't learn how to handle a tough crowd of thirsty customers.
Working behind the bar requires the ability to multitask and perform well under pressure. In bartending school you might learn how to make the perfect martini, but in the real world you'll have to make several different drinks at the same time, tend to your customers, and keep your bar area clean, all while wearing a smile.
Becoming a bartender isn't an easy road. When you first start out, you'll have to be humble. Beginning as a barback and learning from a mentor are two things you can do that require no experience. If you're willing to learn and work hard, you'll see your dream come true more quickly.