12 Live Event Ideas for Restaurants
As a restaurateur, you're in the business of food. To see more repeat customers, get into the business of fun by hosting weekly live events. As time goes on, Americans are increasingly interested in spending their money on entertaining experiences, and this is the perfect opportunity for your business to provide that entertainment. From running live trivia games to teaching a bartending class, these 12 easy live event ideas will bring guests back on repeat – without breaking the bank for your restaurant.
Shop All Event Planning Supplies
Host Live Trivia Games
Bring everyone together over a little friendly competition. Trivia games are popular everywhere from neighborhood restaurants to sports bars. Here's how to get into the action: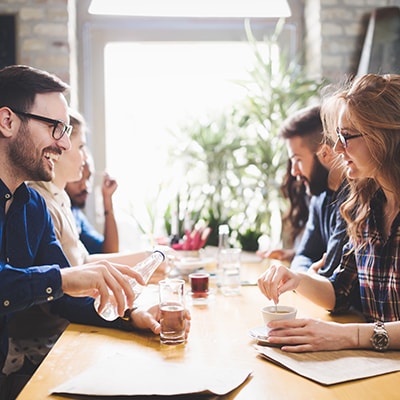 1. Live Trivia Tournament
You have several options when it comes to hosting live trivia games. Some restaurants hire an outside trivia host. Others do it all themselves, from creating the questions to the hosting. No matter which format you choose, there is one "secret" to success when running trivia: make it an ongoing tournament to ensure repeat business. Invite guests to form teams and compete for 6-7 weeks. Select a great prize, like a sizeable gift card or bar tab for the winning team.
2. Corporate Trivia Faceoff
Companies are always looking for team-building events and exciting off-site venues for meetings. Invite them to your restaurant and offer to run a game of trivia. You could also create a tournament where teams made up of employees from different companies compete against each other. The winning company can select a charity – and your restaurant makes a donation.
3. Trivia with a Tasting Twist
If you want to spotlight some of your beverages or new menu items, you can host trivia games that double as tasting events. To make the event even more engaging, create a special menu and incorporate trivia questions based on the dishes' ingredients.
Educational Entertainment Ideas
If your customers are eager for interactive fun, you can engage them with these educational events and workshops.
4. Craft Workshop
No, we're not talking about craft beer. The latest trend in restaurant entertainment is craft night: from painting a masterpiece to planting a fairy garden. (Although, if you have a killer craft brew list, why not call your event "Arts and Crafts?"). Like trivia, these workshops spark socializing among patrons – creating a lively atmosphere that everyone wants to be a part of:
Build a Terrarium: Provide guests who have signed up ahead of time with supplies like stones, plants, and soil in order to create their own terrariums. This interactive activity not only keeps your customers interested, but it gives them something to take home that they can associate with your event.
Paint and Sip: Hire an artist to walk your guests through a painting step-by-step as they sip your beverages and eat appetizers. Just like the terrarium event, your guests leave with something and have made memories at your business.
Pint Glass Painting: This event could be hosted by your own staff members. Provide pint glasses and painting supplies (look at your local craft store for paint that is specifically for painting glass). Then, let guests get creative!
5. Chef and Bartender Demos
Show off the talents of your team with live bartender and chef classes. You give patrons a chance to bond with your staff, which helps to foster loyalty. Once a week, try running these live events:
Mini Mixology Class: Ask your bartender to run a short, 15-minute class once a week. The class can be a short tutorial on how to make classic cocktails: from mojitos to whiskey sours. These classes can double as marketing moves. Use Facebook Live to live stream your class: you'll show everyone what they're missing!
Secrets of the Chefs: Similar to the mixology course, your chef steps outside the kitchen for a quick demo. She can reveal "secrets" like how to achieve perfect grill marks on steak and how to really know when pasta is al dente.
Musical Entertainment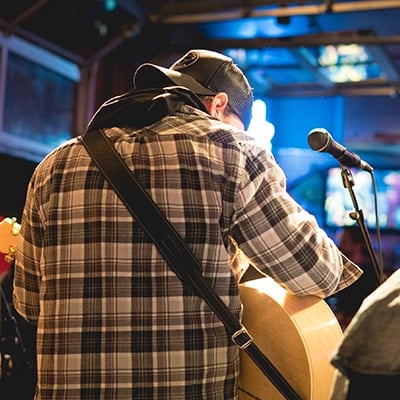 We've covered trivia and classes, but no list of live event ideas is complete without music. There's nothing wrong with bringing in a band or musician, but it can get expensive. You also run the risk of your live music becoming just background music. Instead, try these live music events to add excitement and an interactive element.
6. Open Mic Night
Invite local musicians or other creatives to take the stage with a weekly open mic night:
Make Music Competitive: Just like trivia games, open mic nights are best when prizes are on the line. You can run your open mic night like the hit TV show American Idol. Invite a professional musician or two to judge the performers. The winning musician becomes the next week's judge.
Stand Up Comedy: Already run an open mic night for musicians? Now, let aspiring comedians take the stage with a comedy open mic night. Create themes like "Best Dad Joke" and let the crowd vote on their favorite contestant.
7. Radio Station Remote Broadcast
Contact a local radio station that plays music which appeals to your target audience. Cater to millennials? Aim for Top 40. See more seniors at your restaurant? Contact the oldies radio station. Invite the DJ from the radio station to broadcast live from your restaurant. On top of the entertainment appeal, it's great exposure for the radio station and your establishment.
8. Dance Party
Dim the lights. Move the tables. There, you've got a dance floor. Just add music and these live event ideas:
Offer a Dance Class: Hire a dance instructor to teach guests at your restaurant. Vary the theme each week from salsa to the foxtrot, hip hop to line dancing.
Let Your Staff be DJs: DJs can be pricey to hire. Why not let a staff member create a playlist and emcee a dance party?
Have Decade Theme Nights: Each week, play tunes from a different decade. Invite patrons to dress up for that decade. What about a throwback prom night? Guests can rock that 1990s tux or dress (or find one at the thrift store).
Create a Club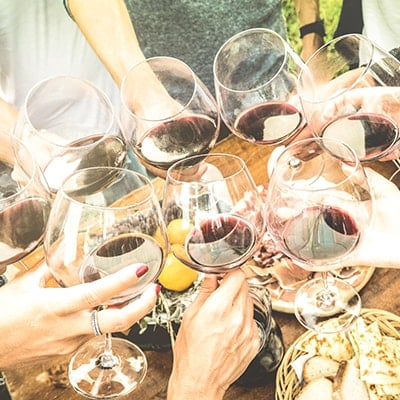 There's a reason bars and restaurants create "mug clubs." Clubs give patrons VIP status and a built-in community. You can even invite members of existing clubs to hold their weekly meetings and gatherings at your restaurant and then use these ideas for launching your own clubs.
9. Game Night Club
Invite patrons to get their game on at your place:
Trivia Club: Trivia lovers may not be satisfied with just one night of live trivia games! Invite the diehards back on a separate night for extra-challenging trivia. Or, they could be tasked with creating questions for your next night of trivia.
Classic Bar Games: Have a dart board, pool table, or shuffleboard? Ask the best players if they'd like to teach newbies how to play in a weekly bar games club. Offer them a small bar tab as a thank you.
10. Book Club
Book clubs are big with everyone from seniors to young adults. While book club members typically meet at a different member's home each week or month, you can bring them into your restaurant instead. You could even ask your bartender to create a cocktail based on the club's featured book.
11. Booze Club
Create a spirited club around a love of spirits, wine, or beer:
For Craft Beer Fans: Let craft beer fans be first to taste your new brews. On occasion, invite a local brewmaster in to share tasting notes.
Wine Wednesday or Whiskey Wednesday: Run specials on wine or whiskey on Wednesdays and offer exclusive tastings for club members.
12. Charity Meetups
Charities and non-profits need places to hold weekly and monthly meetings. Could you provide the space for free?
Charity Night: Take your charitable efforts a step further with a weekly "charity night." Donate 10% of the proceeds to the featured charity. Your heartfelt ways will pay off, because customers may remember your generosity and come back to support more charitable events.
Supplies for Your Live Event
Don't forget to stock up on helpful supplies for your live event! Check out some of the products that can help you say organized:
Wristbands - Identify the over-21 crowd or VIP customers with disposable wristbands.
Name Badges - Name badges come in handy for speed dating events or group meetups.
Coat Check Tags - If you're hosting a charity night or auction, you can make the event more special by doing a coat check.
After guests exit your restaurant, they should still be hungry…for their next visit. Entertaining events – like live trivia games and interactive workshops – send them home with great memories, and a reason to return for more.
Posted in:
Advertising & Marketing
| By Buzztime