WebstaurantStore / Food Service Resources / Blog
Top Bar Trends for 2018
Going out for a drink at a bar is a classic pastime and common way for people to connect. But while the purpose of these establishments hasn't changed, there are always new techniques and trends emerging that keep bars interesting and fresh. From cutting edge barware to new takes on classic cocktails, let's explore some of the hottest trends hitting the bars this year.
Bartender Trends
Customers are willing to pay more for artisanal drinks, but for top dollar, they'll also expect bartenders to fit the part. Whether that means a certain attire, banter, or even just a little frill in the way they shake the shakers, customers notice the extra details and can identify when a bartender is passionate about their craft.
This is not to say that all bartenders should wear uniforms or put on a persona, but they should be encouraged to dress and behave appropriately for the theme of the establishment. For example, if you own a prohibition-themed "speakeasy," perhaps your staff could sport suspenders and vintage hats. Or if your establishment has a laid-back hipster vibe, perhaps more casual dress is fitting. Similarly, interactions with guests should reflect the mood of the setting. But no matter what type of bar you operate, allowing some space for bartenders to showcase their genuine personality will help them make that personal connection that customers always appreciate, and will be expecting throughout 2018.
Barware Trends
The biggest barware trend we'll see in 2018 is metal! While some speculate that the metal barware trend stems from the urban industrial decor trend, there are some styles of metal that look perfectly at home in rustic settings. Hammered and brushed finishes help to soften the steely appearance of metal shakers, mugs, and even martini glasses. You'll also find that copper goes beyond Moscow mule mugs and adds a warm and welcoming glow to cocktail preparation and presentation.
Beer Trends
Most sources predict that IPAs will remain the most popular style of craft beer. Regional ingredients, inspiration, and styles will continue to shape the direction of craft brews. Celebrating hyper-local culture is a huge part of why the craft movement has found success. Local pride, heritage, and folklore are a great basis for brands, but the identity goes beyond brands to include flavor profiles as well. People love to drink beers that were brewed in their town, and tourists love to try the flavor of whatever town they're visiting.
Wine Trends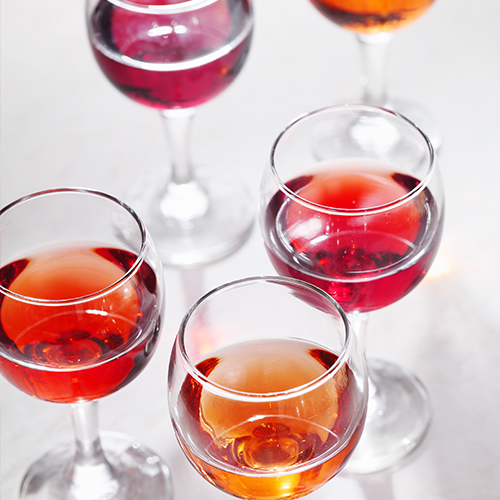 Rosé isn't just a warm weather drink anymore, and we've begun to see more diverse varieties of rosé that are appropriate for many different settings. Red blends have also become increasingly more desirable for a couple years, and there's no sign they'll slow down now. Sparkling wine, especially Prosecco, has also risen in popularity, particularly in some areas of Europe.
With the success of the craft brewery trend, independent wineries will follow. And, as with most locally-owned businesses, they will adopt unique and creative visuals for their label design to help set themselves apart from other brands on the shelves. Customers on the whole have become more invested in the story behind brands and appreciate unique approaches to familiar products. So, it makes sense that this would translate to wine labels as well.
Liquor Trends
Local distilleries are popping up around the country. Because the legal process is slightly different for liquor than it is for beer, it's unlikely that distilleries will see the same boom as breweries, but there has been great response to those that have opened. Independent distilleries will experiment with making things like "young whiskey" (A.K.A. whiskey that hasn't been aged in a barrel), and gin with subtler juniper notes. Local liquors infused with unusual fruit, spice, or floral flavors will become staples for fancy cocktails.
Cocktail Trends
In 2018, people who go out for cocktails will expect to be impressed visually. Bartenders are expected to put on a show, and the end results should have an artful, even dramatic appearance—from elaborate garnishes to flavored smoke. Conversely, drinks mixed at home will generally consist of no more than 3 ingredients, as people will save the mixology for the pros. As far as mixers, though, many grocery stores are starting to stock premium mixers, like tonic water and ginger beer, so that even simple, homemade mixed drinks taste great.
Some other cocktail trends include:
New Twists on Old Classics – You'll likely find renditions of familiar favorites that feature an added ingredient or two.
Vegetable Cocktails – This can be credited to the culinary cocktail trend where savory flavors are showcased. Juices and syrups made with carrot or beet juice have vibrant and enticing colors and earthy flavors.
Coffee Cocktails – Possibly as a response to the nitro coffee trend, you might find more coffee cocktails on the menu. A Manhattan made with coffee vermouth, for instance.
Paloma – While this drink isn't new, it may take the place of the margarita as America's favorite Mexican cocktail.
Tiki Revival – With the resurgence of all things vintage kitsch, comes a newfound appreciation for fruity drinks with tropical garnishes.
Fancy Ice – Spherical, clear, and hand-chipped ice are all common styles of ice that we'll see more of in 2018.
While there are some things that never change about the bar scene, there are always new and interesting trends that make their way into the limelight. With each year comes a new chance to explore a different side of the beverage scene, whether it be craft wine or culinary cocktails. Infused liquors, skilled movement, and artful garnishes are all part of the experience of enjoying a drink—with all our senses. So, what trends will you embrace for your bar this year?

Posted in:
Foodservice Trends
|
Bars & Breweries
| By Jessica Wieser