St. Patrick's Day Foods
Known as one of the top three drinking holidays in the nation, St. Patrick's Day is celebrated on March 17th by more than just Irish guests. The holiday honors the patron saint of Ireland, and it was originally called the Feast of St. Patrick. It is now a universally celebrated holiday, accompanied by shamrocks, Irish flags, and plenty of Irish food. If you're looking to celebrate in your restaurant, bar, or pub, consider using the following St. Patrick's Day food ideas to create a special menu for the occasion.
Shop All St. Patrick's Day Supplies
Most Popular St Patrick's Day Food
Help your customers celebrate this Irish holiday in style by creating a menu with these classic St. Patrick's Day meals. We created a list of some of the most traditional food to eat on St. Patrick's Day, from savory side dishes to delectable desserts, so you can make your restaurant or pub the go-to spot on March 17th.
1. Colcannon
Colcannon, or Irish mashed potatoes, is a traditional Irish dish that has been consumed in the country for generations. It is typically made from four simple ingredients: potatoes, butter, milk, and cabbage. These were the most attainable foods of common farmers in the 17th century.
Along with its four main ingredients, some recipes call for additional toppings such as scallions, onions, kale, and chives. It is most notably served with a pool of melted butter in the center. While it can be served with anything, this side dish is most often paired with popular entrees such as corned beef and fried cabbage.
2. Irish Soda Bread
Soda bread gets its name from one of its key ingredients, baking soda. Used as a leaving agent, baking soda (known as bicarbonate of soda in Ireland) could be added to simple ingredients like flour, salt, and buttermilk to make this signature Irish bake.
Though it can be prepared plain, many chefs bake other ingredients like walnuts, raisins, dried currants, orange zest, and caraway seeds into the bread to give it more flavor. Consider serving your Irish soda bread with butter, jam, or marmalade for the perfect side for your main St. Patrick's day entree.
3. Fried Cabbage
Cabbage is one of the most popular vegetables in Ireland, and it is served in a variety of dishes. Irish chefs often prepare fried cabbage as a side dish for St. Patrick's Day. Because cabbage has a mild flavor, it is usually paired with some of the following ingredients to make it shine:
Bacon
Diced onions
Carrots
Butter
Worcestershire sauce
Garlic
4. Corned Beef and Cabbage
Chances are that when you think of Irish cuisine, the first dish that comes to mind is corned beef and cabbage. Though families across the globe prepare this dish every St. Patrick's Day, the truth is that the dish originated in Ireland as bacon and cabbage. It wasn't until Irish immigrants in America substituted bacon for corned beef in the 19th century that the dish became what it's known as today.
This comforting dish is simmered low and slow either on the stove or in the slow cooker, making the ingredients soft and tender when ready. Irish corned beef and cabbage is usually served with horseradish or mustard to give it a bit of zest.
5. Shepherd's Pie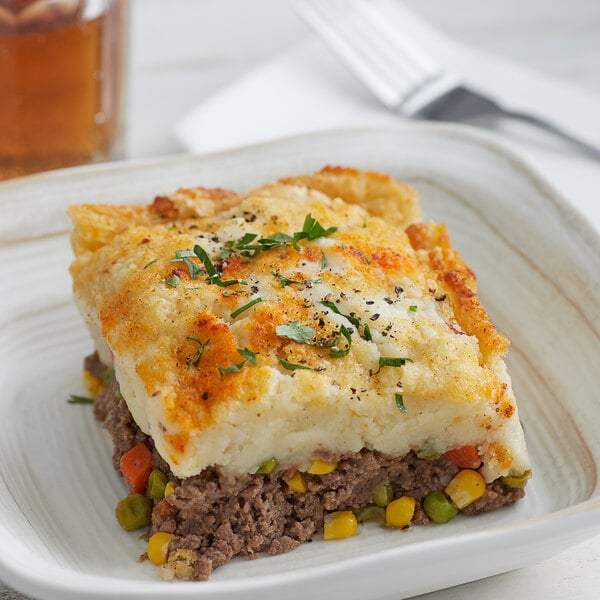 Shepherd's pie is prepared by baking ground meat, traditionally lamb, and topping it with mashed potatoes. Although it is believed the dish originated as a way to use up leftover food, it quickly grew to become a popular meal. The dish got its name from Irish shepherds, who would guide lamb throughout the countryside.
It's important to note that traditional Irish shepherd's pie recipes don't call for pie crust, but you can add it to the recipe if you prefer. When making Irish shepherd's pie, you can include vegetables like onions, carrots, peas, and corn with ground meat. Some chefs even prepare a rich and savory gravy for the dish as the perfect finishing touch.
6. Irish Stew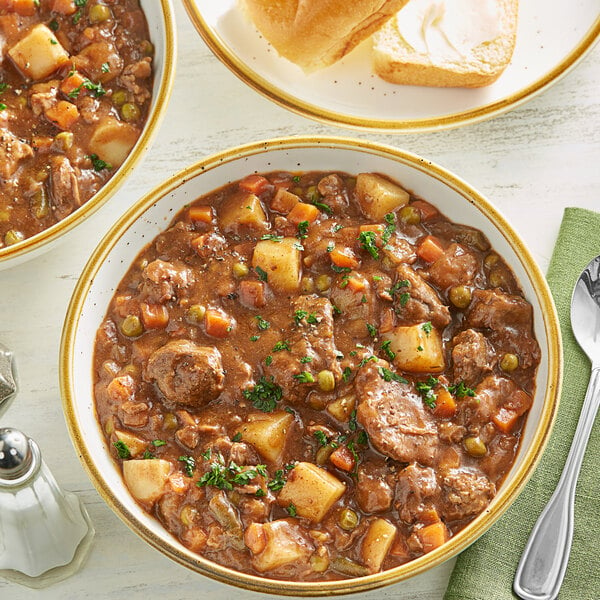 Although Irish stew doesn't contain many ingredients, it is still a robust and filling meal that represents some of the most common foods found in Irish cuisine. This dish typically consists of mutton, onions, carrots, and potatoes (typically Russet, Yukon, or red potatoes).
Mutton can be swapped out for beef if your customers aren't a fan of the gamier texture and flavor of lamb. This warming dish often features an Irish stout beer like Guinness as part of the broth, making it the perfect St. Patrick's Day meal for your menu.
7. Irish Apple Tart
This classic Irish dessert brings a sweet taste and crisp texture to your menu. Many apple tart recipes call for the same ingredients found in apple pie, which can make them difficult to distinguish from one another. The difference between apple pie and Irish apple tart is that Irish apple tart is prepared in a smaller, more shallow dish, which preserves the crisp texture but results in less filling.
This simple treat is the perfect dessert for St. Patrick's Day. To add an extra layer of sweetness to your apple tart recipe, consider serving it with ice cream, whipped cream, or custard.
8. Barmbrack
Though this dessert is typically prepared as a Halloween dish in Ireland, it can be enjoyed year-round and brings a unique Irish taste to your menu. Barmbrack, sometimes referred to simply as Brack, consists of sweet bread with dried fruit and sultanas baked into it. On some occasions, families will bake valuables such as rings and coins into the bread for one lucky person to find.
Though it can vary depending on one's preferences, barmbrack is typically served toasted and buttered. Some people even choose to enjoy it with a cup of tea. To add a more traditional Irish flavor to the dish, you can soak the dried fruit in whiskey overnight before baking it into the bread.
9. Soda Bread Pudding
If you've added soda bread to your menu as an appetizer, consider using the leftovers to prepare soda bread pudding. Not only is it a key ingredient in this delicious dessert, but it ensures that nothing in your kitchen goes to waste.
Soda bread pudding is traditionally prepared by mixing cut-up soda bread, raisins, and sultanas into a mixture of cream, milk, eggs, and sugar. The mixture is then baked in an oven, creating a rich and creamy St. Patrick's Day dessert your customers will love. Serve your warm Irish soda bread pudding with a decadent creme Anglaise made with Bailey's Irish Cream liqueur for the perfect finishing touch.
---
Most Popular St Patrick's Day Drinks
Pair St. Paddy's Day food with a well-stocked drink menu, perfect for those participating in a St. Patrick's Day pub crawl. Whether you're looking for something to pair with breakfast or plan on offering guests a classic way to celebrate the holiday, our list of popular St. Patrick's Day drinks includes a variety of choices fit for any occasion.
1. Irish Coffee
Wrap up your St. Paddy's day celebration with a drink that is both warming and delicious. Irish coffee consists of a mixture of hot coffee, brown sugar, and whisky topped with heavy cream, served in an Irish coffee glass. Add an extra Irish twist to this classic drink by swapping out the cream and sugar with Bailey's Irish Cream Liqueur.
While the drink is traditionally served with cream on top, its recipe is simple enough that it can be prepared and served any way you see fit. You can make this drink non-alcoholic by omitting the whiskey and liqueur entirely and adding Irish cream flavoring syrup instead.
2. Irish Whiskey
It's no secret that many people associate whiskey with Irish culture. Already a popular form of alcohol on its own, the drink has become emblematic of the holiday and is enjoyed by millions across the globe at St. Patrick's Day celebrations every year.
Whether you prefer to enjoy it on its own or as part of a cocktail, Irish whiskey is essential to include on any drink menu this St. Patrick's Day. With the various types of whiskey bottled in Ireland like Jameson, Bushmills, Teeling, and Redbreast, you can add a whiskey tasting as part of your St. Paddy's day drink menu.
3. Irish Cider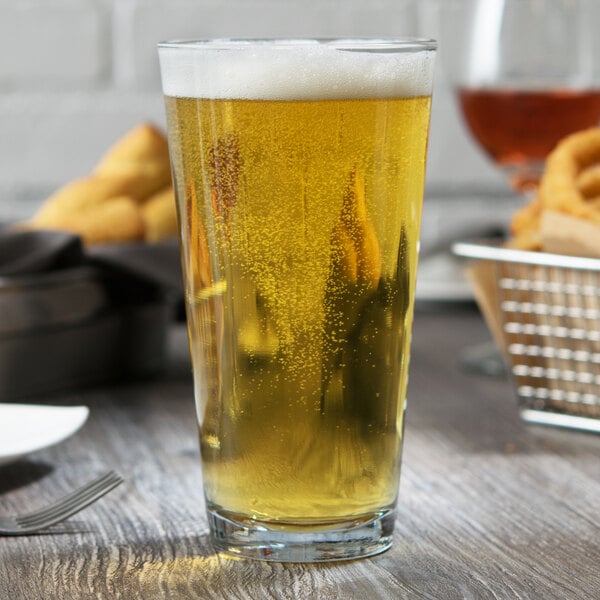 To add another flavorful Irish drink to your menu, consider Irish cider. Made from fermented apples, Irish hard cider offers a different flavor and texture than other types of alcohol and is popular in restaurants, bars, and pubs across Ireland. Depending on the brand and style you select, it can have a higher or lower alcohol content.
Although there are various brands of cider enjoyed in Ireland, you may need to go to a specialty distributor to locate them in the United States. Magners is the most popular brand of Irish hard cider available in the U.S., and it is offered in various flavors.
4. Irish Stout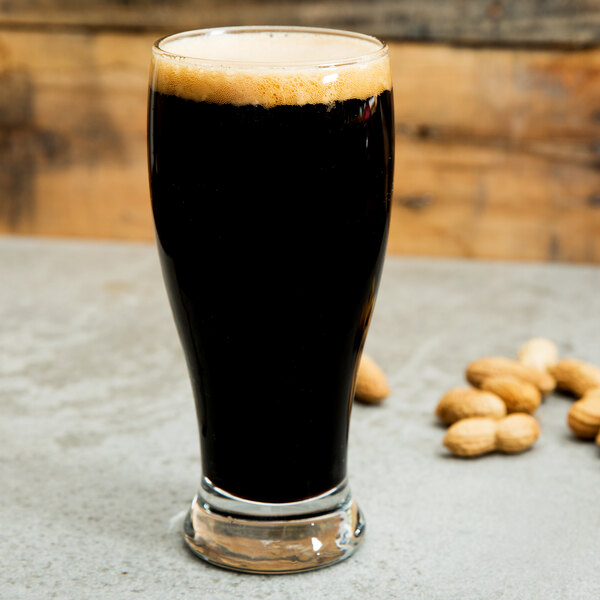 Irish stout is a dry, dark beer that, as its name suggests, is commonly brewed in Ireland. It is characterized by a smooth and creamy texture as well as strong malt flavors. Usually found in pubs and bars, this beer is an excellent addition to any St. Patrick's Day menu.
Guinness is the most popular brand of Irish stout beer served on St. Paddy's day. Pour a Guinness directly from the tap into a clear glass to showcase the eye-catching cascading cloud effect that makes this stout beer so famous. This social media-worthy moment is sure to have customers pulling out their phones to capture it as part of their celebration.
---
Whether you're looking to establish an impressive St. Patrick's Day menu or just want to make sure you have festive foods on hand, our list of St. Patrick's Day foods has everything you need. This March 17th, consider adding a variety of Irish foods and drinks to your menu to create the perfect St. Patrick's Day experience.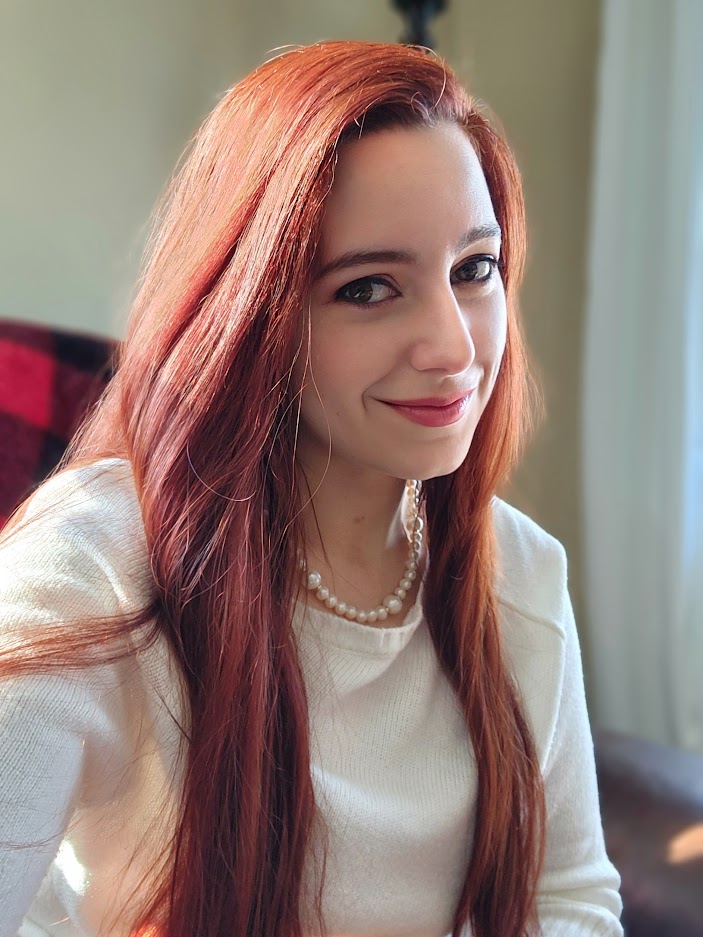 By Janine Jones
The information provided on this website does not, and is not intended to, constitute legal advice. Please refer to our
Content Policy
for more details.