Types of Restaurants
Last updated on 8/30/2018
From your white tablecloth restaurant featuring a three-page wine menu to your hip downtown vegan eatery that serves herb-infused cocktails, the range of different types of restaurants continues to expand. While each restaurant has its own unique ambiance and feel, it's still possible to distinguish restaurants based on common factors. Luckily, we've comprised a list of the various elements used to categorize restaurants as well as a list of the most popular types of restaurants.
Different Types of Restaurants
Below we detail the 11 most common types of restaurants.
1. Fine Dining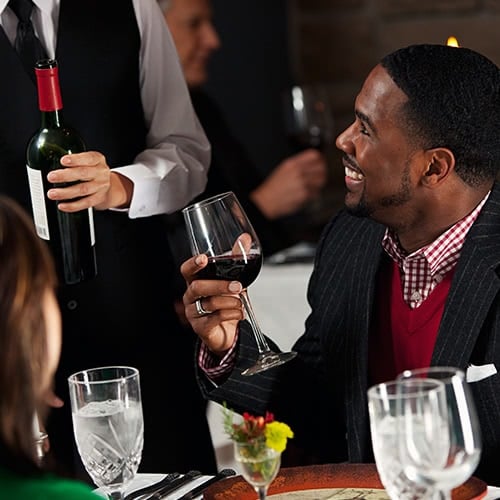 Most of the population might only visit high-end establishments for special occasions, such as an anniversary, birthday, or wedding. The majority of fine dining restaurants can be characterized by the following:
Formal dress code and fine dining etiquette
High-end decor and a formal atmosphere
Staff members are generally more attentive and follow certain etiquette for taking and serving meals
Menus may feature exotic or interesting dishes and ingredients
Some fine dining restaurants have sommeliers to help you with food and wine pairings
$$$-$$$$
2. Casual Dining
The ambiance of casual dining restaurants varies greatly based on the brand and intended customer base, but most share the following qualities:
Moderately-priced menus
Table service
Low-key atmosphere
Unique decor
$$
3. Contemporary Casual
Recently, contemporary casual restaurants have emerged. These types of eateries are modern and trendy with a distinct brand. Many follow eco-friendly protocols and serve unique, healthy food options featuring fusion cuisine.
Usually table service
Modern casual yet trendy atmosphere
Emphasis on visuals with Instagram-worthy decor and food presentation
$$-$$$
4. Family Style
Some family style restaurants only feature shareable platters. Other restaurants offer a family style option along with the option for individual dishes. Below are common attributes of a family style restaurant:
Food served on large platters for parties to share
Table service
Guests typically pass around the dishes and serve themselves
Many boast a casual atmosphere, though upscale family style restaurants exist as well
$$-$$$$
5. Fast Casual
There is a rising number of fast casual restaurants that cater to people looking for a quick bite that's healthier than fast food but more affordable than sit-down, casual restaurants. Most fast casual restaurants have the following characteristics:
Quality of food and prices are usually higher than fast food but lower than casual dining
Counter service
Casual, contemporary environment and decor
$-$$
6. Fast Food
You're likely familiar with the most popular fast food restaurants, like McDonald's and Taco Bell. Below are the characteristics shared by most fast food places:
Focus is primarily on quick service
Counter service or drive-thru
Usually a chain and serves standardized meals made of processed food
Casual ambiance
$
7. Cafe
Whether you need a quick cup of coffee on your way to work or are catching up with an old friend, cafes provide a versatile space for different purposes. Most cafes have the following attributes:
Usually serve coffee, tea, pastries, and small items for breakfast and lunch
Casual, relaxed atmosphere
Many people might work or socialize for periods of time at a cafe
$-$$
8. Buffet
Buffets allow guests to customize their dining experience by providing an array of options to choose from. Some are referred to as "All You Can Eat" restaurants, and most feature a theme, such as buffets that specialize in Chinese or Indian food. Below are common characteristics of a buffet:
A selection of food at a fixed price
Food on buffet bars from which guests serve themselves
Modest to extensive selection (might include salad, soup, appetizers, hot entrees, dessert, and fruit)
Could feature one cuisine or multiple
Usually a casual, yet elegant decor
$$
9. Food Trucks and Concession Stands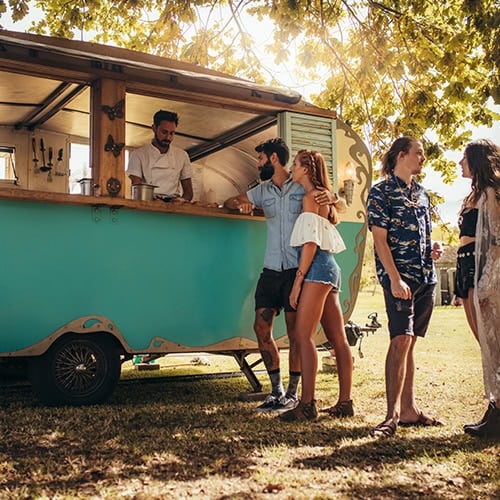 Food trucks and concession stands can take various forms. This might be your city street falafel food truck, your baseball game hot dog stand, or your organic burger food truck. Food stands and food trucks are convenient options, as owners purchase a small unit (food truck or stand) instead of a large brick-and-mortar space. While the range of food types and quality of food differs, most food trucks and concession stands share the following characteristics:
Normally serve a small menu of a singular type of food (hot dogs, ice cream, sandwiches, smoothies, etc.)
These are normally outdoors at sporting events, fairs, or on city streets
Food is partially or fully pre-made
$-$$
10. Pop-Up Restaurant
Pop-up restaurants, bars, and stands are a new trend that allows owners, chefs, and guests to try new food and restaurant concepts and creations. Pop-up restaurants can be anything from a beer garden only open for the summer to a sit-down restaurant in an unconventional location that's briefly open for a month or two. Below are some of the qualities of a pop-up food concept:
Operates temporarily from a few hours to a few months
The location varies from shipping containers and old unused buildings to outdoor spaces and rooftop gardens
Creative, contemporary concept
May include counter service, food stand or food truck service, or full table service
Depend on technology and social media to spread the word
$$-$$$
11. Ghost Restaurant
Ghost restaurants are also known as virtual restaurants or delivery-only restaurants. Ghost restaurants minimize overhead costs, so owners and chefs can focus on efficiency and developing quality culinary creations. They have more flexibility to alter their menus, as they don't need to change physical copies and only need to update their online websites. Most ghost restaurants have the following features:
Delivery only
Partner with third-party delivery services, like Grubhub or UberEats
No brick-and-mortar location
Range of food types
Strong website and social media presence
$$
Restaurant Categorization Factors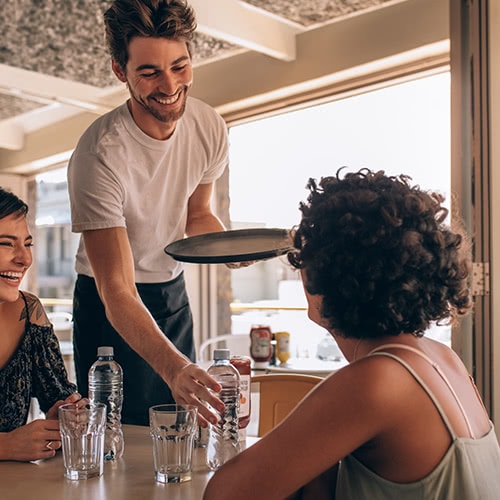 We can distinguish restaurants from one another by a variety of elements. Below are the broadest and most common factors people use to categorize restaurants:
Formality Spectrum.The decor of a restaurant, along with how guests are expected to dress, determines how casual or upscale an eatery is. In addition, table service versus counter service and the attentiveness of the servers are also indicators.

Fine dining: high-end decor, formal dress, full table service, and attentive servers
Casual restaurants: relaxed atmosphere, casual dress, full table service, counter service, or less formal servers

Price. Restaurants fall under a price range of inexpensive to quite pricey. Google uses dollar signs to denote the average price of a meal at its business listings, providing a convenient way to look at restaurant pricing:

$ inexpensive $$ moderately priced $$$ pricey $$$$ priciest

Food. Restaurants further differ as a result of each establishment's type, quality, and presentation of food.

Type of Food: Menus may be based on a cuisine from a certain region, or they may solely feature innovations from the chef. Other restaurants might devise menus based on specific types of food, as pizzerias and steakhouses do, or according to certain diets, like plant-based ones.
Quality of Ingredients: Quality relates to what the ingredients are, where they're from, and how they are prepared. For example, a restaurant may solely utilize fresh, local, and organic ingredients. On the other hand, an eatery might use processed food made with preservatives. A restaurant might employ a made-to-order, deliberate preparation process, or it may prepare large quantities quickly in bulk.
Presentation of Meals: Some restaurants feature highly aesthetic dishes with garnishes, whereas other restaurants utilize a more modest, simple presentation. Some restaurants only serve food in disposable take-out items and others serve on the finest dinnerware.
It's possible to distinguish restaurants from one another based on common categorization factors. Additionally, restaurants differentiate themselves from one another based on each one's unique brand.
Restaurants Have Fixed or Flexible Categorization Factors
Some types of restaurants have fixed factors, while others are subject to change. For example, fine dining establishments are almost always formal and pricey, whereas fast food and casual restaurants are usually more affordable options with laid-back environments. On the other hand, a family style restaurant or a pop-up restaurant might be casual and moderately priced, but you may also find one that is upscale and pricey. Restaurants are usually conceptualized by the way they employ the different elements, but many of these elements do partner together often.
As the restaurant industry continues to grow, new concepts and innovative takes on classic restaurant types are bound to come to light. If you're looking to start a restaurant, consider the original spin you can take on existing restaurant styles. With new restaurants opening all the time, your unique restaurant brand, decor, and ambiance can bring any type of casual or upscale eatery to life.