Types of Restaurants
Last updated on 5/31/2023
If you're planning to open your own restaurant, there's one important question to ask yourself from the start - "What type of restaurant?" Determining the type of restaurant you want to open plays into your concept, your brand, and your overall business strategy. We'll outline the different kinds of restaurants so you can decide which type matches your business goals.
Click below to learn more about the styles of restaurants:
What Is a Full-Service Restaurant?
When categorizing types of restaurants, they are divided into three service styles: quick service, full service, and fast casual. Full-service restaurants (FSRs) provide table service to guests and employ a server staff to take orders and deliver food. Quick-service restaurants (QSR) provide counter service or drive-thru service only. Fast casual restaurants lie somewhere between full service and quick service.
Recently, the line between FSRs, QSRs, and fast casuals has become blurred. The pandemic and staffing shortages have changed the way many restaurants approach their service style. Delivery-only, mobile order-and-pay, and robotic servers are methods being used by operations that used to be completely full-service. As you read about the most common restaurant types, keep in mind that the way you approach your service style is completely up to you.
Different Types of Restaurants
There are many types of restaurants, from mom-and-pop diners to upscale fine dining establishments. We'll explore 12 of the most popular types of restaurants and what makes them unique.
1. Fast Food Restaurants (QSR)
Fast food restaurants are the original quick-service restaurant. In the industry, they are often just referred to as QSRs. A defining factor of fast food businesses is that the menu can be prepared very quickly, usually taking only minutes. Many ingredients are precooked or frozen and only need to be reheated. Orders are served packaged in disposable food wrap and takeout boxes. This style of mass-produced cuisine is called "fast food".
Why Open a Fast Food Restaurant?
Fast food restaurants have the highest profit margins of any restaurant type on our list. You can skip expenses like dinnerware and flatware that are associated with full-service dining. Fast food kitchens rely on select equipment pieces, usually microwaves, deep fryers, and flat-top grills, so you can avoid costly equipment and repairs. Lastly, many fast food restaurants are chains or franchises, which means you can take advantage of existing brand power and forego advertising costs.
Here are some common characteristics of fast food restaurants:
Service Style - Counter service and/or drive-thru service
Menu - Limited menu options like burgers, sandwiches, fries, and soft drinks
Interior - Casual, functional dining spaces that are easy to clean
Examples - Burger King, McDonald's, Taco Bell
Price $
---
2. Casual Restaurants
A casual restaurant offers full-service dining, where guests are seated and waited on by the server staff. But unlike more formal dining rooms, casual restaurants provide roomy, comfortable seating and a laid-back atmosphere. Menus contain comfort foods and items that are tried and true. You won't find experimental cuisine and trendy decor at a casual restaurant. Diners, mom-and-pops, and many popular chain restaurants are considered casual dining restaurants.
Why Open a Casual Restaurant?
Casual dining restaurants occupy over 30% of the US market share, making them one of the most popular types of restaurants. Menus are moderately priced, and promotions like happy hour deals and coupon campaigns are common. The affordability and accessibility make casual restaurants appealing to families with kids. You'll most likely see tables turning over quickly in a casual restaurant, which leads to greater sales.
You can expect these characteristics from a casual restaurant:
Service Style - Full service
Menu - Classic menu items, comfort foods, large portions
Interior - Neutral decor, comfortable booth seating
Examples - Olive Garden, Red Lobster, Applebee's
Price $$
---
3. Fast Casual Restaurants
Fast-casual eateries combine the quick service of a fast food joint with an elevated menu of healthier, less processed food options. Build-your-own menus are a common fast-casual concept, featuring sandwiches, wraps, or burritos that are prepared fresh to order. Ordering, payment, and food pickup are all performed at the counter. Self-serve drinks and coffee stations are common. Some fast casuals may perform limited table service by delivering orders, but there is no serving staff.
Why Open a Fast Casual Restaurant?
There is a rising number of fast-casual restaurants that cater to people looking for a quick bite that's healthier than fast food but more affordable than sit-down, casual restaurants. These types of restaurants are high-volume operations, but they employ a smaller staff than a full-service restaurant. The money you save on labor costs can be used for other things like menu ingredients, advertising, or building maintenance. With a fast-casual, you can also provide a hybrid guest experience with off-premise and on-premise dining options.
Most fast-casual restaurants have the following characteristics:
Service Style - Counter service or limited table service
Menu - Sandwiches, subs, salads, wraps, or burritos
Interior - Contemporary but casual
Examples - Panera Bread, Chipotle, sweetgreen
Price $-$$
---
4. Contemporary Casual Restaurant
Contemporary casual restaurants offer sit-down table service just like a casual eatery, but they have an elevated theme, a trendy menu, and picture-worthy decor. Many contemporary restaurants feature global or fusion cuisine, gluten-free and vegan options, and eco-friendly practices. These upscale casual restaurants are independently owned or part of a small regional chain. For younger generations, a contemporary casual restaurant is usually a top choice when dining out.
Why Open a Contemporary Casual Restaurant?
If you have a vision for a trendy hotspot that is still affordable for many diners, then a contemporary casual restaurant is the right concept for you. These restaurants provide an upscale feel and a high-quality menu that is more accessible than fine dining. This style of restaurant allows you to play with food trends and try out different types of cuisine. Not only that, but you can also express your creativity through the restaurant decor and tablescapes. It's not practical to use fancy, mismatched dinnerware in a casual restaurant, but it's expected in a contemporary setting where diners are snapping pics left and right.
Service Style - Table service, mobile order-and-pay, QR code menus
Menu - Trendy cuisine, farm-to-table, global flavors, diet-inclusive options
Interior - Thoughtful, vibrant decor that stands out in a photo
Examples - Seasons 52, Earls Kitchen + Bar, Iron Hill Brewery
Price $$-$$$
---
5. Fine Dining Restaurant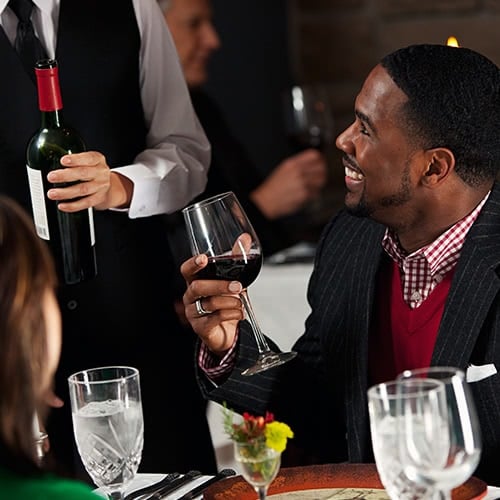 Fine dining restaurants occupy the peak position when it comes to formality and price. The style of fine dining service is an age-old tradition with many rules and nuances. There are extra little touches that you won't find in any other type of restaurant, like when a server "crumbs" the table to remove any crumbs from the tablecloth. Even guests are expected to follow a dress code when dining out at an upscale establishment. This gives fine dining an exclusive feel and makes it a treat reserved for special occasions, such as an anniversary, a birthday, or a wedding. A fine dining menu will feature items that you wouldn't eat every day, like caviar, steak tartare, or foie gras.
Why Open a Fine Dining Restaurant?
The fine dining tradition continues to live on, despite the upheaval of the pandemic. Diners have come back to restaurants with a renewed appreciation of the finer things in life. Fine dining represents the best that restaurants have to offer, the finest foods, the highest level of service, and the most elegant decor. Opening a fine dining restaurant makes you part of that longstanding tradition. Many fine dining establishments are opened by chefs or foodies who want to share their love of fine cuisine. But this type of restaurant requires a strong commitment and a more expensive investment than the other restaurant types on our list.
These are common characteristics of a fine dining restaurant:
Service Style - Full table service with strict etiquette rules
Menu - Pricey, exclusive items and prix fixe menus
Interior - Elegant, sophisticated decor
Examples - Ruth's Chris Steak House, The Melting Pot, The Capital Grille
Price $$$-$$$$
---
6. Cafe or Coffee Shop
Coffee shops and cafes occupy a special place in the hearts of many consumers. They're often associated with rituals like buying that first cup of coffee on the way to work, gathering with friends to chat, or waiting for the return of a beloved seasonal drink. Many cafes are now co-working spaces too, so remote workers can enjoy their favorite coffee drink while working on their laptops. Cafes and coffee shops feature a drink-heavy menu that focuses on coffee and tea, but they may also have a bakery case and offer small, easy-to-prepare breakfast and lunch items.
Why Open a Coffee Shop?
The investment cost to open a small coffee shop is lower than a full-service restaurant, and you won't need to employ a large staff. The demand for specialty coffee drinks continues to grow, and the markup on coffee is high. A specialty drink like a cappuccino or blended beverage can be marked up as much as 80%, meaning you'll make a large profit.
Cafes and coffee shops have the following attributes:
Service Style - Counter service and/or drive-thru service
Menu - Coffee, tea, and small menu items
Interior - Small seating areas, trendy decor, relaxed atmosphere
Examples - Starbucks, Tim Hortons, Dunkin'
Price $-$$
---
7. Specialty Drink Shops
Specialty drinks shops that sell bubble tea, smoothies, or fresh juices are becoming more popular and widespread. The beverage industry is growing, and coffee and tea aren't the only drinks in the spotlight anymore. Smoothie shops and bubble tea shops offer a menu of customizable drinks with many flavors, toppings, and add-ins to choose from. These types of restaurants usually occupy a small storefront with little to no seating. Customers place their orders at the counter and drinks are prepared with specialty beverage equipment.
Why Open a Specialty Drink Shop?
Just like coffee and tea, the markup on specialty drinks is very high. The investment cost for starting a smoothie shop or juice bar is lower than a full-service restaurant. There are also franchise opportunities that allow you to take advantage of an established business model.
Service Style - Counter service and/or drive-thru service
Menu - Coffee, tea, and small menu items
Interior - Small seating areas, trendy decor, relaxed atmosphere
Examples - Tropical Smoothie, Jamba Juice, Kung Fu Tea
Price $-$$
---
8. Buffet Restaurants
The next type of restaurant on our list is the all-you-can-eat buffet. A buffet restaurant operates differently than other eateries. Instead of a menu, buffets are distinguished by self-serve food stations where guests can fill their plates as many times as they like for a flat price. Instead of cooking dishes to order, buffet cooks prepare large quantities of dishes that can be held in salad bar stations or hot food stations. Because of this, you won't find delicate dishes at a buffet. But you will find a large variety of comfort foods that fill guests up quickly.
Why Open a Buffet Restaurant?
Since buffets give out so much food, it can be hard to understand how they turn a profit. It's true that buffet restaurants operate on a very thin margin, which means that the majority of each sale goes to pay for food costs. If you plan to start a buffet, managing your food cost will always be a concern. But these types of restaurants make up for the high cost of ingredients in other ways. A buffet restaurant operates with a very small staff, usually, just a few cooks prepare most of the food ahead of time. Buffets also rely on volume to make a profit. Some all-you-can-eat restaurants can seat hundreds of guests. The daily sales add up when foot traffic is so high.
Below are common characteristics of a buffet:
Service Style - Limited table service, self-service
Menu - Buffet stations with comfort foods
Interior - Large dining rooms, group seating
Examples - Golden Corral, Old Country Buffet, Shady Maple Smorgasbord
Price $$
---
9. Food Trucks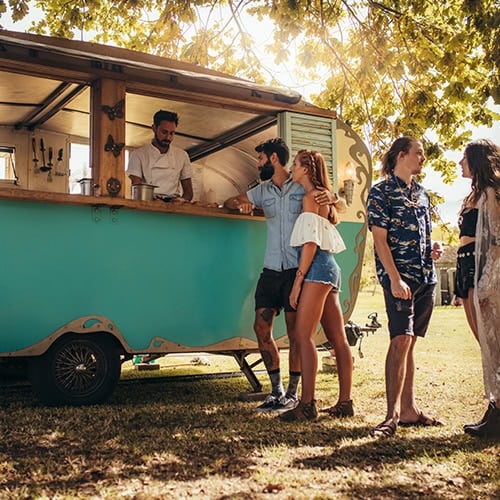 Food trucks started as a trend, but they've become a mainstay in the foodservice industry. What's not to love about mobile restaurants that can bring popular foods to businesses, events, parks, and even residential neighborhoods? Food trucks are compact kitchens on wheels. They offer a select menu that usually focuses on one type of cuisine, but they do it well. Guests order and pay at the window, then pick up their meal when it's ready. Busy food trucks might use online and mobile order-and-pay options to speed up their service.
Why Open a Food Truck?
If you're ready to get started in foodservice, there are many advantages to opening your own food truck. A smaller kitchen, less equipment, and few employees make food trucks a less expensive investment than other types of restaurants. They also offer a way to test out your concept and menu before opening a full-service operation.
Many food trucks share the following characteristics:
Service Style - Window service
Menu - Small menus with a theme
Interior - Small kitchen spaces with select pieces of equipment
Examples - Grilly Cheese, Fired Up Grill, Nacho Average BBQ
Price $-$$
---
10. Concession Stands
Sometimes forgotten on the list of restaurant types, concession stands and snack bars are viable foodservice businesses. A concession stand booth usually occupies a very small space with just enough room for a service counter, some light equipment, and occasionally a small kitchen area. Some concessions take the form of mobile carts or kiosks that can be operated by one person who serves customers and prepares orders. You'll find concession stands inside ballparks, theaters, and amusement parks. Boardwalks, festivals, and outdoor events are also prime locations for selling concessions.
Why Open a Concession Stand?
The cost of starting a concession stand is even lower than a food truck. A small investment and low overhead make concessions an appealing first business or side hustle. You can even get started with just a folding table and some select pieces of concession equipment. Snow cone machines, popcorn machines, and hot dog rollers are affordable options that allow you to make dividends on popular snack foods.
Service Style - Counter service
Menu - Usually one type of food item, like cotton candy, popcorn, or hotdogs
Interior - No interior
Examples - Thrasher's French Fries, Dippin' Dots, Nathan's Famous
Price $
---
11. Pop-Up Restaurants
Pop-up restaurants, bars, and stands are a newer business model that allows owners, chefs, and guests to try out new food and restaurant concepts. A pop-up business occupies a temporary foodservice space for a short period and tests out a menu. Some pop-ups continue to use the same method and "pop up" for events or on a monthly basis. Other pop-ups end up growing into larger businesses, sometimes food trucks, bars, or sit-down restaurants.
Why Open a Pop-Up Restaurant?
Starting a pop-up is like dipping your toe into the ocean of foodservice. It doesn't require the same commitment associated with a brick-and-mortar business, but it allows you to test out a concept to see if it works. If you've never run a restaurant before, a pop-up is also a great way to see if you have what it takes. You can work out the kinks with a pop-up, and then, if the sales are rolling in and you want to take your business to the next level, you can grow into a different type of restaurant.
Below are some of the qualities of a pop-up food concept:
Service Style - May include counter service, food stand or food truck service, or full table service
Menu - A small menu with select options
Interior - Temporary seating spaces and decor that can be removed easily
Price $$-$$$
---
12. Ghost Restaurants
A ghost restaurant, also called a ghost kitchen or virtual brand, is a restaurant that operates without a storefront. Essentially, a ghost restaurant is just a kitchen. All sales are performed digitally and food orders are usually delivered. There is no guest interaction at the business location. A ghost kitchen may even support multiple brands or concepts. Virtually, each brand has its own identity and menu, but inside the ghost kitchen, all orders are prepared side by side. Pete's Pizza and Tina's Tacos appear to be two different restaurants with different websites, but the menus are both being prepared in the same satellite kitchen.
Why Open a Ghost Restaurant?
When comparing the cost of opening a ghost kitchen to a full-service restaurant model, you're going to save money in several areas. No storefront means that your square footage needs are much smaller and your rent and utilities will reflect that. You'll also require no front-of-house staff, no dining room furniture, and no outdoor signage. You will, however, need to invest in your digital presence through your website, social platforms, and third-party delivery services. The demand for delivery continues to grow, which makes a ghost kitchen a smart business opportunity for the right entrepreneur.
Ghost kitchens share a few common characteristics:
Service Style - Online and mobile ordering only
Menu - Menu items that work well with delivery
Interior - Kitchens only
Examples - Wow Bao, Guy Fieri's Flavortown Kitchen
Price $$
---
As the restaurant industry continues to grow, innovative solutions to foodservice challenges are producing new business concepts. There are more types of restaurants than ever before and a variety of opportunities for those who want to break into the industry. Start small with a concession stand, food truck, or pop-up restaurant, and grow your business into something large over time.
---