How to Start a Brewery
Last updated on 12/09/2020
Breweries are popular with a variety of customers, whether they're a casual beer drinker, a craft beer enthusiast, or just looking for a place to spend Friday night. As the demand and popularity of beer continues to rise, so does the interest in new breweries. If you're considering opening a brewery of your own, we've compiled a list of steps and tips to help guide you through the process and successfully open your own business.
Shop All Brewery Equipment
Click any of the tips below to read the section that interests you:
Continue reading to learn about how to open your own brewery!
---
1. Write a Brewery Business Plan
A business plan is one of the most important steps for starting any business. Not only does it act as a roadmap that guides you through the process of opening your business, but it is essential for securing funding from investors. A good business plan includes detailed information on your concept, market, business structure, and financial situation.
For additional information on this topic, consider reading our piece on how to write a restaurant business plan.
2. Choose a Brewery Concept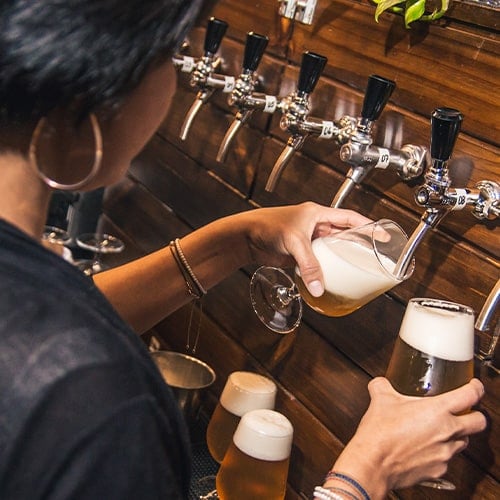 Your concept is what defines your brewery. It influences everything from how customers will identify you as a company, to the messaging you target in advertisements, to the type of employees you'll hire. To identify your brewery concept, you'll have to choose a name, identify your brand, and determine what type of brewery you want to operate.
Naming Your Brewery
Choosing a name for your brewery can be a daunting task, not just because there are so many options to choose from, but because your choice will define your company for years to come. As you go through the process of choosing a name for your brewery, keep in mind that a good name will share the following traits:
Original: The first and most obvious step in choosing a name for your brewery is making sure that it isn't already taken. Additionally, be careful not to choose a name that is too similar to an existing name. Not only will this help you to protect yourself and secure a trademark, but it can help to avoid lawsuits from other brands who might think you've infringed on their intellectual property.
Memorable: Choose a name that your customers will remember. A good starting point is to aim for a name that's easy to spell and pronounce. Furthermore, choosing a name that rolls off the tongue and is fun to say can help to make your name memorable.
Reflective: The name you choose should reflect your company. Try to create a list of what distinguishes your brand from others, or what defines you as a company. For example, if your brewery is located in Boston, you might choose something that reflects the culture of New England
Broad: Your brewery's name should be able to have broad appeal and lend itself to a variety of branding opportunities, themes, and products. Choosing a name that is too specific can limit the number of opportunities you have, and by extension prohibit growth.
Identify Your Brand
Identifying a brand is an essential part of establishing yourself as a brewery. Your brand can help you to connect with potential customers, identify target markets, hire employees, and strategize the direction of your business.
To identify your brand, start by determining your company values. Understanding what matters to your company and employees is a key part of your branding. Once you've done this, you can discover your target audience and the emotion behind your products.
It's not enough just to identify a brand and move on. Once you've determined your values, key demographics, and emotional impact, you have to make an effort to create continuity. This means following through on your promises and acting in accordance with the values of your company. Doing so will allow you to truly establish yourself in the industry, within the community, and with your employees.
Choose a Type of Brewery
The increased demand for beer has lead to innovation in the industry, and by extension, a variety of brewery types. Though they differ in size, scale, and impact, each brewery serves a specific function and can be effective given your goals.
Nano Brewery: As its name suggests, a nano brewery is the smallest type of brewery. There isn't a set amount of beer that a nano brewery is allowed to produce until they officially scale up to micro-sized.
Microbrewery: A microbrewery is defined as a brewery that produces less than 15,000 barrels of beer annually. These types of breweries are typically independently owned, and sell the majority of their products onsite rather than through beer distributors.
Brewpub: A brewpub is a hybrid between a restaurant and a brewery. Most of their beer is brewed for the purpose of being sold to customers at their bar.
Taproom Brewery: Taproom breweries are professional breweries which sell beer onsite and through distributors, yet don't offer restaurant services to guests. Often times, the taproom will be attached to the brewery itself.
Regional Brewery: A regional brewery is defined as a brewery that produces between 15,000 and 6,00,000 barrels of beer per year. Breweries which exceed this level of output are recognized worldwide.
Contract Brewing Company: A contract brewing company hires other breweries to produce their beer. The hiring company retains the responsibility of marketing and distributing the beer while the company they've hired is responsible for production and packaging.
3. Determine the Cost of Starting a Brewery
Because there are so many different types of breweries, the cost of opening your own can vary quite a bit. Several factors including how much beer you plan on producing, the possibility of serving food and maintaining a dining room, and the size of the property you'll be operating in can influence the price of your brewery. Below, we've listed the estimated costs of a brewery's various expenses.
Brewery Equipment Cost: The amount you pay for brewing equipment ultimately depends on the size of your brewery and whether you buy it new or used. You can purchase brewing equipment with the smallest capacity for $100,000 or less if you buy it used, or pay up to $1 million or more for a brand-new, 30-barrel system.
Furniture Cost: Depending on the style and level of quality you're looking for in your brewery, the price of. restaurant furniture in your restaurant can range from as low as $4,000 to as high as $15,000.
Rent or Mortgage Payments: When you decide on retail space to operate your brewery out of, take into account how much space you'll need. It's essential to have enough space for your utilities and brewing equipment. Additionally, if you plan on operating a taproom, make sure there is enough space for guests to comfortably dine. Regardless, the cost of retail rent is determined by square foot and can range from anywhere from $10/square foot to as high as $30/square foot.
What Is the Average Cost of Starting a Brewery?
In total, the cost of opening a brewery can range from as low as $250,000 to upwards of $2 million. However, for a standard brewery, it's reasonable to expect that value to fall between the range of $500,000 and $1.5 million. The average cost of opening a brewery is dependant on a number of factors which vary based on your concept, location, needs, and preferences.
4. Secure Brewery Funding
A key step in opening your brewery is to secure funding. While you may have money saved up, chances are you'll still have to seek additional funding. Consider the following options as ways to acquire extra capital and continue the process of opening your brewery:
Self-Funding: As was mentioned above, it's possible to fund your brewery, at least in part, with your own money. However, due to the high cost associated with acquiring equipment, permits, and other expenses, you'll likely have to look for additional funding from outside sources.
Investors: One possible source of funding can come through investors. With a good business plan and a strong meeting in which you pitch your plan to an investor or group of investors, they may consider giving you money to fund your brewery. Keep in mind that once they've invested, they'll have a vested interest in your business and will likely want to stay informed.
Loans: A variety of loan opportunities exist for people interested in opening a business. Among them are traditional bank loans, small business loans, and equipment loans.
Crowdfunding: Crowdfunding is a relatively new yet effective method of securing funding. Websites such as GoFundMe let supporters donate money towards your brewery, allowing you to set funding goals and provide updates on business development.
5. Apply for Permits and Licenses
To legally own and operate a brewery, or any business that produces or sells alcohol, you'll have to apply for a liquor license. Depending on your production and serving needs, you have the option of applying for a limited license, which allows you to sell specific types or quantities of alcohol, or a full license.
Cost of Liquor Licenses
The cost and availability of liquor licenses can vary depending on what state you live in. In some instances, acquiring a license can cost you as low as $3,000, yet in others, it can cost upwards of $400,000. Additionally, many states require an application fee to be considered for a liquor license. In some states, such as Pennsylvania, there are only a set number of licenses in circulation, meaning that you may have to apply for a transfer or pay higher costs to acquire one.
Cost of Restaurant Licenses
Since many breweries choose to serve food as well as beer, you may want to investigate the cost of restaurant licenses and permits. A food service license certifies that your business meets all regulations and standards and has been deemed fit to serve food to customers. As with all fees, the amount you have to pay can vary depending on a number of factors. Nevertheless, it's safe to assume the cost will fall somewhere between the range of $100 and $1,000.
Back to Top
6. Choose a Brewery Location
Choosing a location for your brewery represents a significant investment. Therefore, you must consider a variety of factors to make the best decision for you and your brewery's future. Consider the following details as you search for a location to start your brewery:
Zoning: Your brewery location will be determined by local government zoning regulations. In most cases, breweries can only be located in zones designated for industry. Nevertheless, these regulations can vary depending on where you are, so check in with your local government before making a decision.
Brewery Requirements: You won't be able to run a successful brewery if you choose a building that doesn't fit your needs. For example, if you plan on producing a large amount of beer, be sure to find a building where you'll be able to efficiently carry out production.
Building Space: Be sure to find a building that has enough space for you and your staff to comfortably work. Key factors to consider include storage space, space for equipment and machines, and possible dining areas for guests. Additionally, find a building that has adequate parking spots for your employees, guests, and yourself.
Safety Precautions: As with any business, the most important thing to consider is safety. Make sure the building you choose will pass safety inspections and allow you to safely carry out day-to-day operations.
7. Buy Brewery Equipment
A key step in starting a new brewery is investing in the right equipment and supplies to start brewing beers and serving customers. While the quality and amount of equipment you need will vary depending on the size of your business, there are a few essential categories of equipment and supplies that you'll have to buy before you can get to work.
Beer Brewing Equipment: You can't start brewing beer if you don't have the right equipment. Be sure to invest in fermenters, boiling equipment, and brew kettles to make sure you're ready to start making your own brews!
Beer Bottling and Packaging Supplies: Bottling and packaging supplies can help to simplify the packaging process and make sure that every customer is satisfied with their order. Commonly used bottling and packaging supplies can range from equipment such as growler fillers to simple packaging products such as labels and beverage shippers.
Keg Tapping, Dispensing, and Serving Equipment: If you plan on serving beer on-site, make sure you invest in your own keg tapping, dispensing, and serving equipment. This can include beer dispensers, tap towers, nitro infuser boxes, and pump keg taps.
Refrigeration Equipment: It's essential to invest in refrigeration equipment to keep your brews cool and refreshing. Depending on the size of your brewery, your refrigeration equipment can range from countertop bottle coolers to walk-in refrigerators.
Keg Storage: Keep your brewery organized by shopping for keg storage products. Consider investing resources into keg racks to improve your storage capacity and stay organized. Additionally, purchase hand trucks and drum handling equipment to safely and efficiently transport kegs throughout your brewery.
Beer Making Accessories: While they may not be required for the brewing process, beer making accessories can make your brewing experience easier and help you to further customize your brews. Consider buying your own test strips and meters, stock pots, and portion scales to upgrade your brewing experience.
Beer Glasses: Keep your brewery stocked with a variety of beer glasses to accommodate any new brews you might plan on introducing. Examples of the different types of beer glasses include Belgian beer glasses, pilsner beer glasses, and IPA beer glasses.
Beer Ingredients and Flavorings: Stock your kitchen with a variety of beer ingredients and flavorings to make sure you have everything you need to customize your brews. This includes honey, cocktail bitters, wood chips and chunks, liquid malt extract, and a variety of other products.
8. Create a Draft List and Menu
Once you've acquired equipment and established what kind of brewery you want to open, you'll have to create a draft list and menu. A balanced draft list allows your guests to choose from a variety of beers and helps you to showcase your products. Consider keeping at least one of each of these types of beer characteristics on tap:
Light: The definition of a light beer varies depending on where you are in the world. In general, it's described as a pale beer that features has a reduced alcohol content or amount of calories. Additionally, light beers typically feature a lower amount of carbohydrates.
Malt: Malt beers often feature a rich combination of flavors, often with a hint of sweetness or nuttiness. Despite what their rich flavors may suggest, malt beers come in a variety of colors and alcohol percentages.
Roast: Roasted brews are often dark in color, are made from highly roasted malt grains, and are distinguishable by their rich flavors and deep colors. Common flavors of roasted brews include coffee and cocoa.
Tart: Tart brews, as their names suggest, feature a sour, almost acidic taste. While many tart beers are lighter in color, it's possible for them to have medium or even darker shades. Their earthy and sometimes fruity taste differentiate them from other brews.
Hoppy: A hoppy beer is defined by it's prominent sweetness, bitterness, flavor, and aroma. You're likely to get the most intense flavors in hoppy beers, with the most common being pine, herbal, and fruity.
High IBU: IBU stands for International Bitterness Units scale, and exists to measure a beer's bitterness. A beer with a high IBU will be more bitter than one with a lower IBU.
High ABV: ABV stands for Alcohol by Volume, and is a standard measurement to assess the strength of a beer. A higher ABV means that your beer is more alcoholic.
Brewery Menu
When creating your menu, it's important to choose foods that pair well with beer. Consider adding the following foods to your menu if you plan on serving food in your brewery:
French Fries
Onion Rings
Nachos
Wings
Mozzarella Sticks
Sliders
Chips and Dip
9. Advertise Your Brewery
Before you open your new brewery, it's essential to start advertising your new business to increase public awareness and drum up excitement for your grand opening. The cost of marketing can vary depending on which forms you use, but in general, the average small business spends 1-2% of their annual revenue on advertising.
Consider using the following forms of advertising as you establish a marketing campaign for your new brewery:
Print Advertising
Billboards and Signage
Radio Commercials
Television Commercials
Online Advertising
Additionally, depending on your location, you may have the opportunity to enter into a beer festival. Events like these allow a variety of breweries to showcase their brews for a large number of people, and often feature music, entertainment, and food.
10. Host a Soft Opening
Once everything is in place, it's time to prepare for your grand opening. Before you officially open your doors to the public, consider hosting a soft opening. Not only does this allow you to continue generating excitement for your new brewery, but it allows you and your staff to prepare for what a normal work day will be like.
Though it may seem like an intimidating task, the process of developing and opening your own brewery is possible to complete as long as you have a strong plan, stay prepared, and are ready to work hard. Follow the steps and tips outlined above to guide yourself through the process and successfully open your new brewery!
Back to Top
---