Fine Dining Etiquette for Servers
From customer service and sommeliers, to place settings and posture, there are many rules and standards that are expected to be followed when working in a formal dining environment. Though some of these etiquette practices may seem like common sense to some servers, such as smiling and being polite, others may be unfamiliar to new employees who aren't used to working at formal restaurants or banquets. Though the rules may differentiate from place to place, these fine dining etiquette tips should serve as a basic guideline when providing patrons with the best meal, service, and atmosphere possible. Whether you're serving dinner at a fine dining restaurant, wedding reception, or upscale event, these etiquette tips will help ensure you act professionally in any formal foodservice setting.
Types of Table Service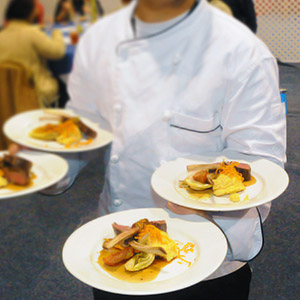 Depending on the event or meal being served, the type of table service will vary. Formal dining at restaurants will be different than at a buffet or catered wedding reception, but all service types aim to serve patrons quickly, efficiently, and with great care.
American - The most common style of restaurant service; Customers first choose options from a menu, and entrees are then cooked and plated in the kitchen before being served. Servers should use descriptive adjectives when explaining menu items to patrons, and have extensive knowledge of different flavors found on the menu. Successful servers are able to anticipate when to bring items to the table before they are requested. When serving a la carte, guests are given a menu and can choose pre-selected items, which works best in settings where there may be budget constraints, or when planning is required beforehand such as weddings.
Family-Style - Guests serve themselves from large platters presented on the dinner table. Dishes and trays are then passed from the left to the right. Servers will generally be present for the beginning and end of the meal to set up and then clean up the table.
French - This type of service requires adequate space since food is prepared tableside for guests on a cart called a gueridon. Cooked foods such as steak, beef wellington, or bananas foster are prepared on a hot plate, or rechaud on the tableside cart.
Russian - This style of service is the most personalized since food is carved or garnished on a cart beside a guest. Unlike the French style, all food is first prepared in the kitchen, and then carried into the dining room on decorative platters. Make sure to warn guests of hot plates or beverages.
Butler - Also known as "flying serving"; Food is presented on a tray by wait staff, and the guests helps themselves. Butler service is often associated with appetizers and hors d'ouerves at cocktail parties or events where there is no sit-down dinner. Servers at these types of events should continue to refill trays in the kitchen as soon as they are empty.
English - Commonly found in private dining rooms, English style service features a waiter or waitress individually serving each guest from a large platter, starting with the host. This style stems from English manor houses where the head of the house would do the carving, and then servants would distribute the portions.

Table Etiquette
Setting the Table - Fine dining restaurants require a lot more attention to detail than just taking an order and delivering food. Common side work procedures will often include arranging table settings for the next set of patrons, polishing flatware, and folding napkins into suitable designs. Formal dinner settings can include up to 20 pieces of dinnerware for just one guest, and with so many plates, utensils, and glasses, it can seem confusing as to what to place where. As a general rule of thumb, flatware is set from the outside of the dinner plate to the inside, since this follows the progression of a formal meal.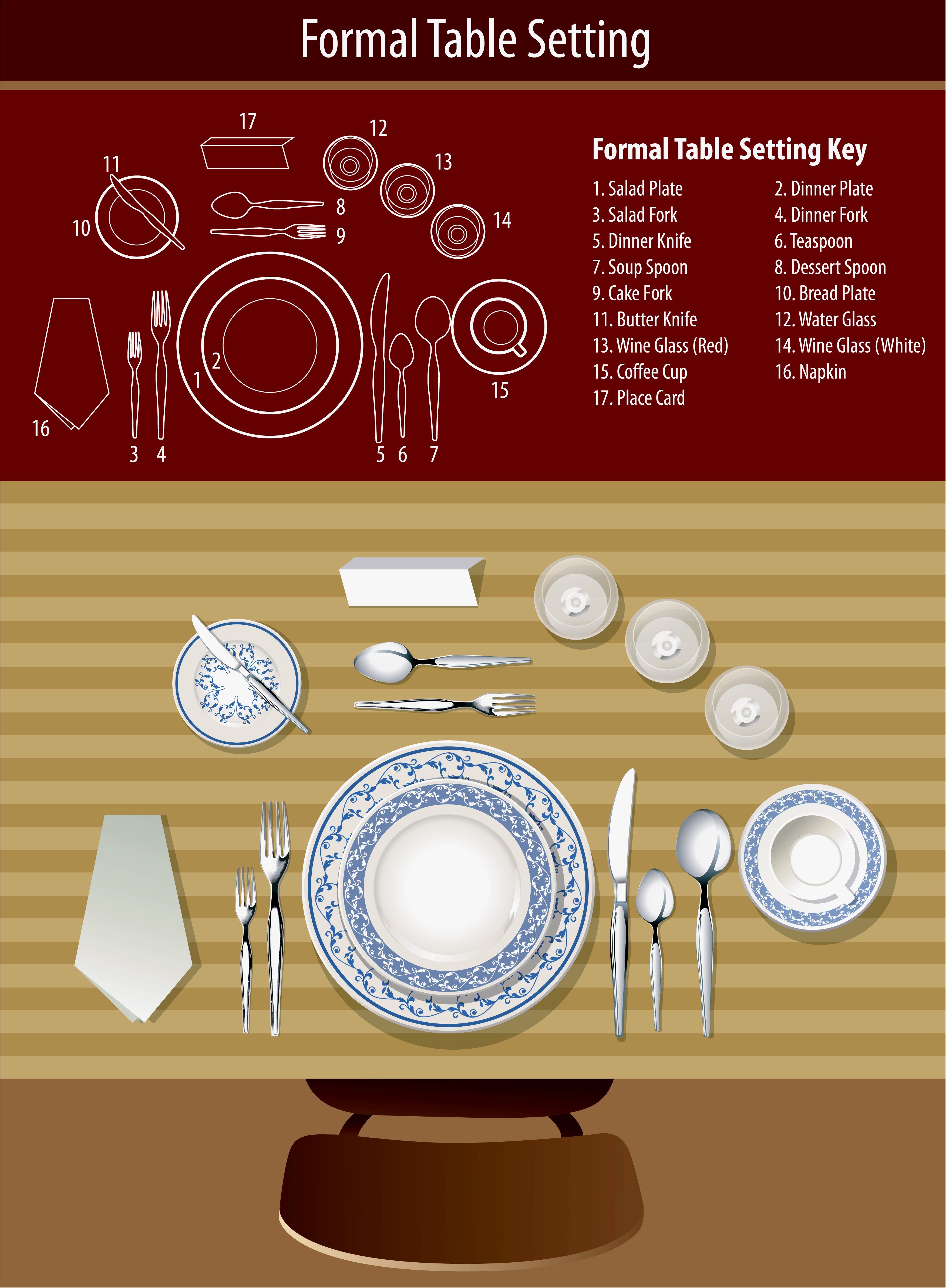 Table settings are always arranged for right handed people. In a clockwise direction you'll find the following: Wine and water glasses, spoons, knives, charger and dinner plates with the napkin placed on top, dinner forks, bread plate and butter knife, and ending with the dessert spoon and dessert fork. There may be additional pieces such as cups and saucers, or specialty utensils like seafood forks depending upon the menu. Don't be alarmed it you see up to 4 beverage glasses for one person's place setting. Glasses should be arranged in a diagonal or square pattern to the right of the dinner plate, and are comprised of glasses for water, white wine, red wine, and a champagne flute for occasions that require a toast.
It's important to make sure the tabletop is symmetrical to create an aesthetically pleasing backdrop for your customers to enjoy. Until employees learn where to place plates, napkins, and cutlery, rulers can be used to measure the distance between the edge of the table and the dinnerware, to make sure all tables in a restaurant stay consistent.
TIP -

Always make sure tablecloths are free of wrinkles and stains, and seams should be faced down. Allow the same amount of overhang on each side of the table.

TIP -

When setting the table, hold glasses by the stem and cutlery from the middle to minimize the appearance of finger prints.

Serving the Table - Most upscale dinners will include 5 courses, encompassing an appetizer, soup, salad, entree, and dessert. Many formal restaurants practice the open hand service method, which means that a server's arms are never to be crossed in front of a guest, and food is always served from the guest's left side. Plates should be rotated when being served so the protein of a dish is facing the guest, as opposed to a vegetable.
TIP -

When serving wine, never hold a wine glass by the bowl, always the stem. Wine will stay cooler longer if the heat from your hand isn't pressing against the bowl of the glass. Make sure to use a cloth napkin when pouring wine to wipe the excess drips from the mouth of the bottle.
Clearing the Table - There are some signs to gauge when customers are done with their meals in fine dining restaurants. Napkins will be put back on the table, and cutlery is often placed in a vertical position on top of a patron's dinner plate. If customers need to get up from the table to use the restroom, or make a phone call, napkins are placed on the chair to indicate the meal is not yet finished. Removal of plates should always be conducted from the right of the guest, as this is industry standard. For meals with multiple courses, empty glasses and plates should be cleared prior the arrival of the next course.
Important Tips to Remember:
Ladies are always served first

Never eat, drink, or chew gum in front of guests

Always exhibit proper posture- Do not slouch, cross your arms, or leave your hands in your pockets while on service

Press uniforms to eliminate wrinkles, creases, and make sure they are free of stains or excess food.

Only use employee entrances and exits during formal functions
Do not engage in informal conversations with guests