How To Handle a Staffing Shortage
Restaurants that survived the pandemic are now faced with widespread staffing shortages. Many foodservice workers were forced to leave their jobs because of pandemic shut-downs, and now restaurant owners are struggling to fill open positions. With turnover rates at an all-time high, how can restaurant owners cope with the latest challenge? Paying a higher wage is the answer on everyone's lips, but we want to provide some practical advice for businesses that are already feeling a tight squeeze on their payroll account.
Check out our tips for handling a labor shortage at your restaurant:
1. Limit Your Menu
The more menu items you offer, the more labor is required to receive, prep, and cook ingredients. Try creating a smaller menu to reduce the strain on your employees while you're experiencing a labor shortage. Start by analyzing your current menu and pinpointing your most popular dishes. Keep the frequently ordered items that your restaurant is known for, and remove the items that only get ordered once in a while. It also helps to eliminate any menu items that require extensive prep work and multiple cooking steps.
You can even save labor by adding pre-cooked or prepared foods to your menu. There are many high-quality soups, sauces, and appetizers that taste like scratch-made and can reduce prep time for your understaffed kitchen. Turn to canned and frozen fruits and vegetables and you can skip the time-consuming prep that goes along with fresh produce.
2. Reduce Your Hours
It's not time to return to your original hours of operation just yet. With a limited number of employees on board, you'll need to continue with reduced hours until you are fully staffed again. This could mean choosing to open later than usual, or eliminating a breakfast or lunch shift altogether. Identify the busiest, most profitable hours for your business to stay open. It's better to reduce your hours to accommodate a smaller staff than to stay open longer with fewer employees. Working with a skeleton crew compromises your service level and could lead to customer complaints.
3. Limit Your Dining Capacity
Diners are lining up to get seated at their favorite restaurants, but one of the best ways to stay efficient with a small staff is to limit your dining room capacity. Controlling the number of tables and covers per table you serve helps you deliver the same level of service even when you're short-staffed. Section off part of your dining room and place signs on each table that state, "Closed While We are Under-Staffed." Close the less desirable seating areas and keep the popular booths and tables open.
Stagger your reservations to help servers and kitchen staff keep up with the number of tables. If your seating is first-come-first-serve, work with your host staff so they know not to seat several tables at once. By staggering seating for just a few minutes, it gives other staff members time to catch up.
4. Improve Your Recruiting Methods
Recruiting tends to be neglected in the restaurant industry. Newspaper ads and help wanted signs may attract a small pool of candidates, but you can increase the number of applicants by beefing up your online presence. If you are actively recruiting new employees to solve your labor shortage problem, these are some ways you can increase your hiring success rate:
Create a LinkedIn Company Page - LinkedIn is the world's largest professional networking platform. When you create a business profile and take advantage of recruiting features, you gain access to a pool of talented chefs and restaurant management professionals.
Use Job Search Websites - Job search technology has become extremely refined in the last decade. Websites like Indeed and ZipRecruiter make it easy to create searches for candidates who have the experience and qualities you're looking for.
Improve Your Online Application Platform - Many job seekers expect to perform the entire application process online. An outdated application form that doesn't load properly and has too many unnecessary fields will stop applicants in their tracks. If it's too hard to complete the application, they won't bother. Test out your application platform yourself to make sure it's user friendly.
5. Cross Train Your Staff
When you're working with a lean crew, it makes sense to cross train your team to perform multiple functions. That way, if a team member has some downtime, they can pitch in to help someone at a different station. Your host staff can help the server staff by taking drink orders or bringing baskets of rolls when they seat a new table. If a server walks by the checkout station and notices a customer waiting to pay, they can cash out that customer right away instead of forcing them to wait.
There's no rule that says you have to keep front-of-house and back-of-house tasks separated. On busy days, it can be tough for dishwashers to keep up with the demand for clean glassware and silverware. Train every team member to use the dishmachine, and show them where to put away clean dinnerware. Every time an employee drops off soiled dishes at the dish station, they can pick up clean dishes to put away. If your whole staff gets used to this type of teamwork, you'll accomplish more with less.
6. Make Culture a Priority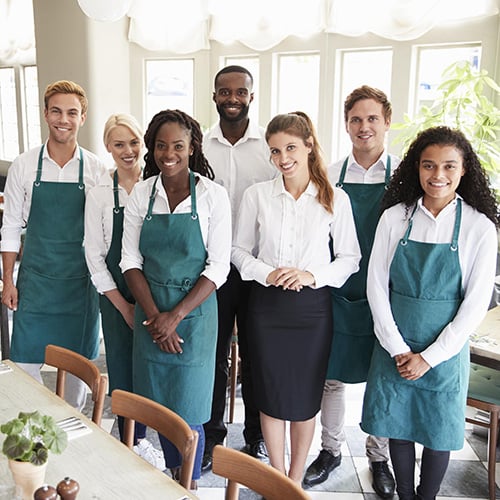 When you're short-staffed, it's even more important to make sure your best employees stick it out with you. They're doing extra tasks, working extended hours, and dealing with impatient customers. They might be coming in to work every day of the week to help you get through the tough times. It's crucial for your business that you make work culture a priority for the team you currently have.
An easy way to improve your culture and create a happier work environment is to provide a staff meal. Make a commitment to feed your employees every day. Instead of tossing out extra food at the end of the shift, send your staff home with the surplus. It seems like a small thing, but to your overworked staff, a guaranteed meal is a serious morale-booster.
7. Remove Time-Wasting Processes
One of the best ways to identify time-wasting processes is to go straight to your employees. They are the experts because they perform the same duties shift after shift. It's very likely they already have ideas that can speed up operations and make tasks more efficient.
Start asking yourself, why do we do things this way? If the only answer is "This is the way we've always done it," you might need to consider making changes. Don't hold on to outdated methods just because they're familiar. Take a serious look at your operations and eliminate the time-wasting processes.
8. Consider Restaurant Automation
When you see the term restaurant automation, it might bring to mind images of complex robots that cook and serve food in place of human employees. But restaurant automation doesn't just equate to robots. It actually includes any processes that minimize human labor. Basically, restaurant automation is meant to make work easier for your staff members. When you experience a shortage of employees, automated processes can help you save your greatest resource (your restaurant staff) for the most important tasks.
These are some restaurant automation options that help to streamline processes so your staff can focus on guest experience:
Online Ordering - Online ordering is a form of automation you're probably already using. It frees up time for your staff and eliminates lengthy phone calls.
Reservation Software - No one wants to stop what they're doing to take a reservation phone call. Reservation software is much more efficient and takes the human labor out of the equation.
Employee Scheduling Software - Creating employee schedules is time-consuming and tedious. Let a computer program do it for you and save your managers some precious time.
Inventory Management - Managing your inventory with a software program is more accurate than doing it by hand. You can free up time for other important things, like calling out orders for the kitchen or walking the dining room floor.
Hybrid POS Systems - Toast POS systems feature a suite of options that can make your job a lot easier. Tableside order and pay software allows your customers to order from their mobile phones, which means they don't have to wait for a server to take their order. This saves time for your staff and increases guest satisfaction.
9. Alert Your Customers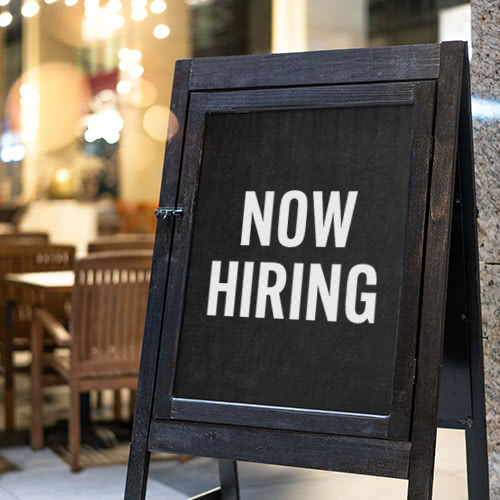 Don't just assume that customers know about the struggles you're facing. It's important to maintain a dialogue with your customer base about your current situation. If you prepare each customer for the fact that wait times are going to be longer than normal, it won't come as a shock.
Post signs at your entrance, add a notice to your menus, and update your website and social accounts to let your guests know you are open for business, but things aren't going back to pre-pandemic levels of service just yet. Orders might take longer to prepare, guests might have to wait longer to be seated, and your menu might look a little different than what they are used to seeing. Most people, especially your loyal customers, will be understanding.
If you have the means to raise your wages and offer sign-on bonuses, that's a sure-fire way to reduce your staffing shortage. But if your sales have suffered and you need a cost-effective solution, try some of our suggestions. Most everything on our list of labor shortage tips is free. You just need to put in the effort and make a committment to create changes.

Posted in:
Management & Operation
| By Michale LeRoy