How to Start a Food Truck
Last updated on 4/12/2021
The popularity of food trucks has grown so rapidly over the past few years that some cities are now known for their food truck scene. What used to be considered a food risk has become foodie trend across the globe. If you are wondering how to start a food truck business of your own and what the cost is to start a food truck, check out the following steps and tips to help you get the ball rolling.
Shop All Food Truck Supplies
Learn how to open a food truck by following these 9 easy steps:
How Much Does It Cost to Start a Food Truck?
The average cost to start a food truck can be anywhere between $70,000 to $130,000. Depending on legal fees, customization, state, and niche, a food truck owner can end up paying as little as $10,000 for their business or as much as $250,000. There are several variables that can impact your cost at the end of the day.
---
How to Open a Food Truck
Starting your own food truck is much less complicated when you break it down into steps. We've create a food truck opening list to guide you through the process.
1. Research Your Food Truck Scene
Before committing to starting up a food truck, you'll want to make sure that your idea will stand out against the existing market. Start by researching your city for the following:
Existing food truck businesses and concepts
Existing restaurant concepts
The average demographic of the population
Space where food trucks can stop and sell their products
Busy street times where commuters can become customers
Be sure to find out if there is a demand in your city for the food truck concept you'll be interested in presenting.
---
2. Choose a Food Truck Concept
You'll want to cater to the interests of the population of your city with your food truck, however, you'll want to share your interests and passions through your business as well. After doing your preliminary research, choose a food truck concept that merges your unique style with the concerns of the community. From there you can select a name and logo that properly reflect the heart of your business. Your concept, name, and logo should exhibit the following attributes:
Be unique and memorable
Be descriptive and attention-grabbing
Clearly express your intentions without being too specific so that it can allow for growth
A well thought-out concept and a visually appealing logo can make a major impact on customers and whether or not they choose to shop from your truck.
---
3. Write a Food Truck Business Plan
Once you have your concept established, it is time to get started on your food truck business plan. Writing a food truck business plan is an excellent way to work out the details of your business before you begin investing into it. This is also the document you would present to potential investors, so it is important to lay out your vision and financial plan carefully. The sections of a food truck business plan should include the following:
An Executive Summary: This section should establish your company's identity, lay out your goals, and depict what kind of food you want to sell and why.
A Company Description: List why you would like to start up a food truck and how your business is different from the competition in this section.
A Market Analysis: Use this section to explain which demographic your truck would cater to and who your target audience would be.
An Organization and Management Plan: Lay out the employee ranks and your internal structure in this section to show a clear business organizational system.
A Service or Product Line Description: You'll want to provide your menu details and options for seasonal or future menu alterations.
Marketing and Sales Strategies: Provide your advertising plan and different marketing tactics you plan on using to spread the word about your food truck.
A Funding Request: Clearly identify where the funding for your truck will come from and how much you will need to get your business started.
A Financial Projections: Here you'll show your investors the projected growth and financial plan for your company's future in the next 5 years.
An Appendix: In this final section, you can add any additional information that did not make it into the plan, like photos, logo design, and blueprints.
For more information on how to write a food truck business plan, check out our business plan resource.
---
4. Get Funding for Your Food Truck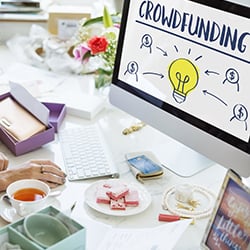 Your business plan is your first step toward requesting funding for your truck. Considering the costs involved in opening a food truck, it is likely that you will need a loan to get your business off of its feet. That funding and startup savings can come from a variety of places:
Community sponsors
Personal investors such as friends and family
Crowdfunding such as Kickstarter
Small Business Administration microloans
Rollover of Business Startup (ROBS) from a retirement account
Opening a business credit card
Equipment loans and financing programs
---
5. Get Food Truck Licenses and Permits
After you have established where your funding will be coming from, you'll need to explore what licenses are needed to start a food truck. Food truck permits and licenses can vary from state to state and even city to city, so it is important to check with your local jurisdiction like the Chamber of Commerce, Health Department, and the Department of Motor Vehicles (DMV) office to find out their requirements.
To open a food truck, you will also encounter many of the same licenses and permits required for restaurant businesses:
Business License
Employer Identification Number
Food Service License
Employee Health Permit
Additionally, you will most likely need the following food truck specific permits:
Mobile Food Facility Permit
Zoning and Parking Permit
As you work with your DMV to establish your parking permits and registration, be sure to ask about parking restrictions and limits in your city, along with where overnight parking is permitted.
---
6. Buy A Food Truck
Considering that the largest portion of your startup budget will go to your food truck vehicle, it is important to select one that will serve your business well. There are a few aspects to consider when choosing the vehicle that will become your food truck, such as the following:
Deciding whether you want to lease or own your truck
Deciding whether to select a new or used vehicle
Choosing a reputable food truck dealer
Selecting what customizations you will need for your truck
Additionally, it is important to purchase insurance for your truck and business to cover any physical damage and liabilities that may occur. Once you acquire a food truck vehicle, you may need to finalize your inspections and permits in order to become street legal.
For more information on the process of buying a food truck, take a look at our in-depth food truck purchasing guide.
---
7. Purchase Your Food Truck Equipment and Supplies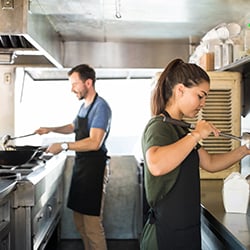 With a truck in your possession, the next step is to furnish your space with food truck equipment and supplies. These items will be essential for producing your products and keeping your truck operating efficiently.
To stock your food truck you will need:
Cooking Equipment - Grills, ranges, fryers, microwaves, toasters
Warming and Holding Equipment - Countertop food warmers, soup kettles, fry dump stations
Food Prep Equipment - Work tables, chef knives, cutting boards, cookware, kitchen utensils, kitchen thermometers
Serving Equipment - Disposable take-out supplies, food trays, napkins, cups, plastic cutlery
Refrigeration Equipment - Prep tables, undercounter refrigeration, ice machines
Janitorial Equipment - Handsinks, compartment sinks, floor mats, sanitizing chemicals, trash cans, recycling bins, floorcare products
For a full food truck equipment checklist, check out the one in this helpful resource.
---
8. Choose a POS System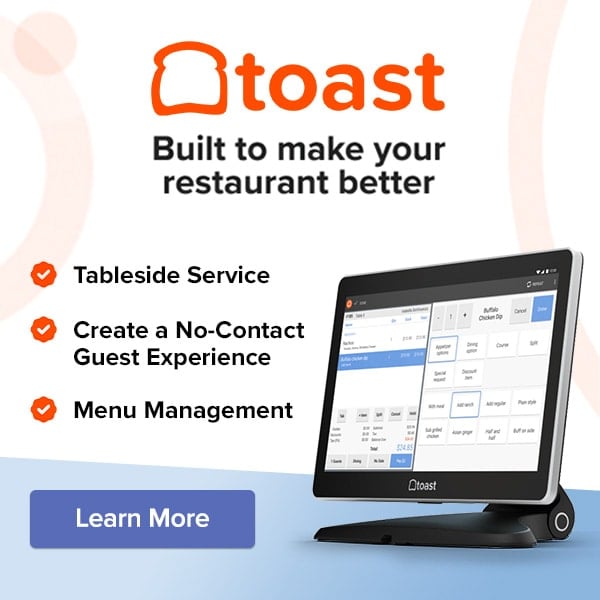 When you're operating a food truck, chances are you will also need a mobile Point of Sale (POS) system. These systems allow you to take credit card payment directly from your truck but may require internet access.
Many food trucks choose to take a cash-only route in order to not depend on internet access; however, customers are less likely to have cash on them, which can limit your customer base. This is leading food truck owners to select POS systems that allow them to accept both cash or credit.
Toast POS systems are ideal for food truck environments because they can be set up with mobile order and pay options. This means your customers can order and pay by phone, freeing up your time to focus on preparing orders. No more pens, paper, or receipts.
For help selecting the right mobile POS system for your truck, feel free to explore our POS resource.
---
9. Invest in Food Truck Marketing and Advertising
Because your food truck won't have a permanent physical address, advertising and marketing for your food truck plays an essential part in its success. There are various marketing tactics you can use to boost your brand awareness in the public eye.
Here are just some food truck marketing ideas:
Make your eye-catching logo highly visible. Place it on your truck, on flyers, and online.
Design a bold menu board. You will want to make sure that your menu board is legible, appealing, and clearly showcases your food.
Create a website that features your regular locations, photos, and an "About Our Company" section.
Create social media accounts where customers can be notified about events, see pictures, and interact with your business.
Find unique locations for your food truck. At first you will want to explore various neighborhoods to find where your business best fits. Once you have determined excellent locations, visit them regularly to establish name recognition with your customer base.
Be featured at community events like catered parties and local food truck festivals. These events will make customers more familiar with your business.
Sell merchandise with your logo or slogan on it. You can offer t-shirts, travel mugs, and stickers for customers to purchase at your truck or online.
You can find more food truck advertising and marketing tips with this resource.
---
Pros and Cons of Opening a Food Truck
Food truck businesses certainly present a unique set of advantages and challenges that are important to consider before you move forward with your business.
Advantages of Opening a Food Truck
Mobility. With a food truck, you're able to move your establishment from place to place, ultimately expanding your customer base beyond one location and increasing your advertising potential.
Flexibility. You have the flexibility of bringing fresh food directly to events and festivals without renting equipment. Additionally, food trucks have a greater sense of flexibility when it comes to adjusting their menus and schedules.
Tax deductions. Food truck owners are able to deduct various expenses on their taxes that are not available to standard restaurant owners, like the truck itself and rental fees for truck storage.
Challenges of Opening a Food Truck
Competition. With the food truck market booming, it can be difficult to break through and generate a concept that will stand out from the masses.
Long hours. A food truck can require many hours of maintenance, location scouting, cleaning, event booking, and more.
Zoning laws. It can be difficult for food truck owners to stay up to date with zoning restrictions and local ordinances regarding where they can park their truck and how long they can remain at a single location.
---
Opening a food truck can definitely be a challenge, but by following the steps above you are sure to get started on the right foot towards establishing a successful business.
---