How to Start A Concession Stand
Last updated on 6/20/2022
Concession businesses have lower startup costs than both restaurants and food trucks, making them a great way for entrepreneurs to get their start in the foodservice industry. They're also an ideal business model for operators who specialize in one niche menu item. While your concession stand's location will determine its ongoing success, starting a concession stand requires a unique menu, corresponding equipment, and a thorough business plan. Read on to learn how to start a concession business and determine if it's the right off premise dining model for your concept.
Shop All Concession Supplies
Click any of the tips below to learn about starting a concession stand:
What Is a Concession Stand?
A concession stand, sometimes referred to as a snack bar, is an area where guests can purchase food, drinks, and snacks. They can often be found inside movie theaters, amusement parks, and stadiums. While some establishments own and operate their own concession stands, others contract with third parties. Common foods sold at concession stands include hot dogs, popcorn, and pretzels.
How Much Does a Concession Stand Cost?
The cost of acquiring a concession stand varies by the size of the unit and whether you're purchasing a used cart or having one built from scratch. A new, medium-sized concession stand will cost between $11,000 and $21,000 to build. A new stand won't contain any equipment, which increases your startup costs.
You can purchase a used and equipped concession stand for between $6,000 and $45,000. The price range for used concession stands is so wide because it reflects both minimalistic, older stands and lightly used stands stocked with premium equipment.
How to Start a Concession Business
From writing a solid business plan to marketing your concession stand, we walk you through each step of starting your concession business. For additional financial planning advice, check out our guide to profit and loss statements complete with an interactive spreadsheet.
1. Develop A Concession Stand Concept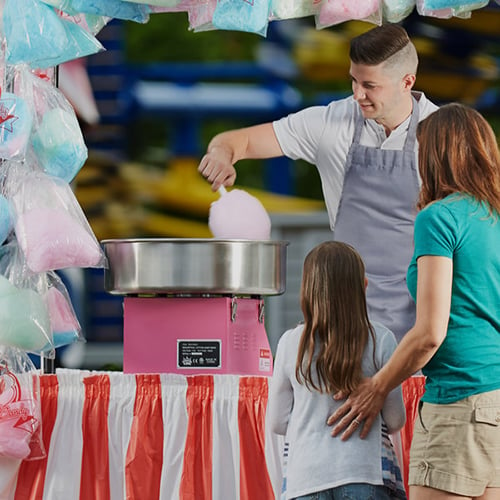 Your concession stand concept and menu determine what size cart you need, how much startup money you'll require, and the ideal location for your concession stand.
Concession stand menus can offer everything from pre-made snacks to creative and gourmet cuisine. The needs of a simple prepared foods stand differ from a concession stand that sells fresh, gourmet waffles.
---
2. Write a Concession Stand Business Plan
Once you have a general idea of what kind of concession stand you want to operate, you need to develop a business plan. Your business plan acts as the blueprint for your concession stand's growth trajectory and helps you make the right investments without wasting time or money. A solid business plan is also what you'll use to gain outside funding for your business venture. It gives both you and your investors a clearly defined look at your concession stand's financial status, concept, target audience, and business structure. We have a comprehensive guide on how to write a business plan that walks you through each step of the process.
---
3. Get Funding for Your Concession Stand
With your business plan in place, you'll know how much money you need to start your concession stand. While you may launch a small, simple concession stand on your own, a larger concession business with a complex menu may require outside financing. We provide a list of potential places where you can seek funding below:
Investors: You can use your business plan to pitch your concession stand concept to investors.
Loans: There are small business loans, equipment loans, and leasing opportunities, and traditional bank loans available to business entrepreneurs.
Crowdfunding: "Crowdfunding" allows a large group of people to invest small amounts of money into a business. It typically takes place on websites like GoFundMe, where you can set your concession stand funding goals, attract investors, and update them on your progress.
---
4. Purchase a Concession Stand
With your business plan and funding in place, you can purchase a concession stand that meets your scale and budget. You'll need to consider whether you want a stationary, short range, or trailer concession stand. This will affect what kind of stand you purchase, where it's located, and even what laws apply to it.
If you have a great location where you can reliably set up shop, like a stadium, then an inexpensive stationary concession stand is perfect for you. However, if you want to vend at multiple street corners spanning a few blocks, you'll need a short-range cart. To cover more distance and change locations frequently, invest in a concession trailer or consider whether a food truck better suits your needs.
Types of Concession Stands
There are three different types of concession stands: stationary concession stands, mobile concession stands, and concession trailers. Each concession business model reaps the benefits of their target audience's spending patterns. Stationary concession stands conduct their business in short bursts of high output. Short range carts experience slower and steadier sales. Trailer concession stands can serve events and a steady stream of returning customers. However, while the trailer model combines the benefits of stationary stands and short-range carts, they are more expensive to purchase and operate.
Stationary Concession Stands: Stationary concession stands are small, have fixed locations, and don't provide space for a lot of equipment or ingredient storage. They typically sell one prepared menu item or pre-made snacks.
Mobile Concession Stands: Designed for short-range use, mobile concession stands often have a home location where vendors prepare their food before adding it to the cart, which typically contains a holding unit.
Concession Trailers: Concession trailers offer long-range mobility, are powered via gas or generators, and have space to create a compact kitchen complete with countertop warming equipment and undercounter storage.
Back to Top
---
5. Get the Required Licenses and Permits
Like any business, you need licenses and permits to operate a concession stand. We provide a few of the common licenses and permits, but please check with your local ordinances to make sure you align with their stipulations.
Food Manager Certification
Food Vendor License
Sales and Use Tax Permit
Employer Identification Number
If you operate a mobile concession stand, check with your local drivers' license department to see if you need a commercial license for your concession stand.
---
6. Choose Food Storage and Preparation Equipment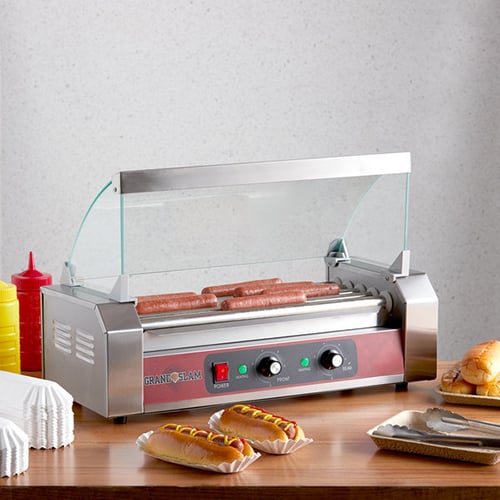 Your menu determines what concession equipment you require. To power the equipment, it's best to use a generator or a container of propane to keep everything operational throughout the day. It's also important to note that some equipment — particularly gas-powered equipment — requires special hookups like gas connector hoses. To prevent overcrowding and heating, we suggest using undercounter or half height appliances.
Some concession stands cook their menu off-site at a commissary kitchen and equip their carts with a few warmers. However, you may run out of food fast, which could hurt your reputation and customer retention. You can address this challenge by hiring additional staff to replenish and transport goods.
Concession Stand Equipment
The perfect concession equipment list balances tools for storing pre-cooked food at food safe temperatures and appliances for preparing raw food. As you form your list, evaluate your space and make sure you don't overfill it. Having spare room maintains a safe working environment for employees enclosed in the small, hot space.
While your exact equipment needs are defined by your menu, here are the most common concession business appliances:
---
7. Select Your Concession Stand Supplies
The equipment you choose will determine what kitchen tools and serving products you need. Tongs and turners are great all-purpose tools, but some appliances may require fryer baskets, ladles, or cutlery. You'll also need cups, bowls, trays, and other common disposables to serve your customers.
While the exact supplies may vary, almost every concession stand requires these items:
---
8. Hire a Concession Stand Staff
Once your concession stand is established and you have acquired the necessary permits, you'll need to hire a staff. The number of employees you'll need to hire depends on your expected output and how much you offer on your menu. For example, a concession stand that offers a limited menu in a small venue may not require many employees to function, while stands that serve a large number of people and offer several different foods can require a larger staff.
How Much Do Concession Stand Workers Make?
A concession stand worker, or concession attendant, typically makes somewhere between $15,000 and $35,000 per year. This can vary depending on several factors including how often they work and where the stand is located. It's important to note that concession stand workers are typically paid hourly, with wages ranging from as low as minimum wage to as high as $18/hour.
---
9. Market Your Concession Stand
Thanks to social media, you can begin marketing your concession business before you open. Post pictures of your menu items as you practice your recipes. Use Instagram polls to engage with your target audience and find out what flavors would convert them into customers. For example, if you're a gourmet popcorn concession business, ask your followers whether they'd rather try a Bloody Mary or Nashville hot chicken inspired popcorn mix.
Back to Top
---
Compact, accessible, and convenient, a concession stand is a unique foodservice model that has the potential to turn major profits. Concession stands are most successful in areas with sports stadiums and regular events. Save our guide as a reference to help you start your concession business.
---
---