In the restaurant industry, table turnover rate is tricky to master: you want to seat as many parties per meal service as possible, but you don't want to make your customers feel rushed or unappreciated. Most casual restaurants aim to turn each table three times throughout a dinner service, or once every hour and a half. While this sounds simple enough, it can be difficult to achieve when you're dealing with "campers," or diners who continue to stay seated at their tables long after they've paid their checks. This type of customer can negatively impact a restaurant's flow-through rate, which ultimately lowers profit. To help maximize table turnover in your restaurant without coming across as inhospitable, be sure to follow some of our tips below.

Fine Dining Vs. Casual Dining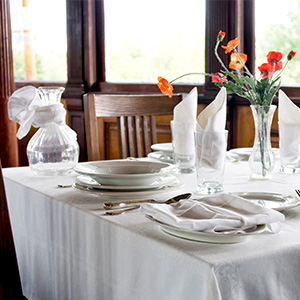 One of the biggest factors to consider before putting any of the tips below into action is whether you own a casual or fine dining establishment. While most casual restaurants focus on higher flow-through rates, white tablecloth businesses are more concerned with customer experience. Please note that most of these tips apply mainly to casual dining establishments, but they can still be modified and used in your fine dining restaurant to maximize table turnover rates.
1. Have an Organized Seating System
One way to maximize table turnover is to have an organized seating and reservation system. In order for this to happen, there has to be great communication between servers and hosts. As soon as a server collects the check and signals the busboy to start clearing off tables, they should alert the hosts that their table will be opening up very shortly. This will allow the host to gather the next party in line and have them ready to be seated almost immediately. The sooner hosts can get customers to their tables, the less time those tables will sit empty. To help improve your seating system and get customers seated more quickly, follow some of the tips below:
Pre-assign tables to guests waiting in line, so as soon as they open up, guests can be seated.
Have a waiting area near the host or hostess stand, so hosts can easily find customers as soon as they're ready to be seated. There's nothing worse than calling a party's name multiple times, just to find they're waiting outside.
Accept only walk-in customers, so you don't have to deal with no-show parties who made reservations.
2. Keep Your Serving Staff On Schedule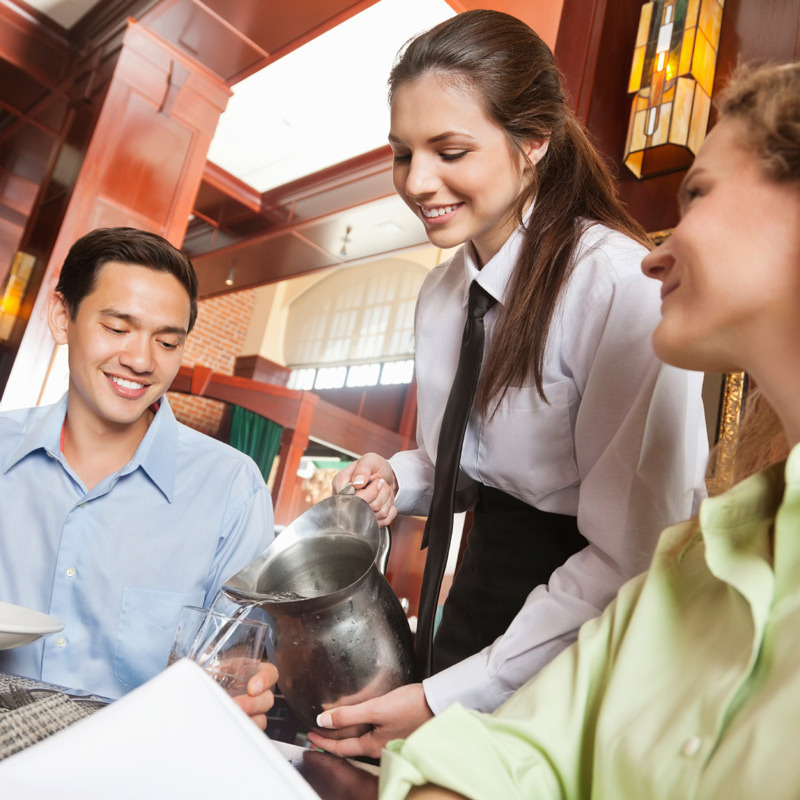 Another way to keep each party's dining experience around the one and a half hour mark is to keep your serving staff on schedule. If a server doesn't show up to a table right away, they've already added time to that table's occupancy. Even worse, nothing's more aggravating for hungry customers than waiting a long time for their server to come over and introduce themselves, let alone take their orders. We've provided some tips below that will help keep your staff on schedule throughout the entire meal:
Require servers to arrive at their tables within the first minute guests are seated.
Take drink orders immediately, and bring out water promptly.
Ask guests if they've dined at the restaurant before. If not, go over the entire menu. If they have, then simply ask if they need a refresher of the menu or if they know what they want. Then, you can simply go over the specials.
If a large party is seated, consider having more than one server assigned to the table.
Clear off plates as guests finish their meals rather than waiting until they've left.
Assign more than one busboy per table to get the remaining dishes cleared quickly.
Keep pre-rolled silverware and clean dishes ready, so tables can be reset quickly.
Drop the check off before customers have to ask for it. By placing the check on the table as guests are finishing up their dessert, they won't have to wait and flag you down when they're ready.

If customers continue to stick around long after their check has been paid, and there's a long line of waiting customers, it is okay to politely ask them to continue their conversations at the bar, so you can seat another party with reservations.
3. Use Technology to Your Advantage
Although paying the check signals the end of a meal, it's oftentimes a lengthy task. Servers have to collect credit cards, run them back to the register, print out receipts, and deliver them back to the table. This doesn't even include the time-consuming tasks of splitting the check at the last minute or using gift cards. Even after you've delivered the receipts to the tables, customers still tend to take their time writing out their tips and chitchatting. To help expedite this process, consider investing in a mobile POS system, like Ziosk, iPad, or Square, if it's within your business's budget. By using upgraded technology devices, servers can run credit cards and complete checks right at the table in front of their customers or let customers pay when they're ready to leave.
4. Update Your Dining Room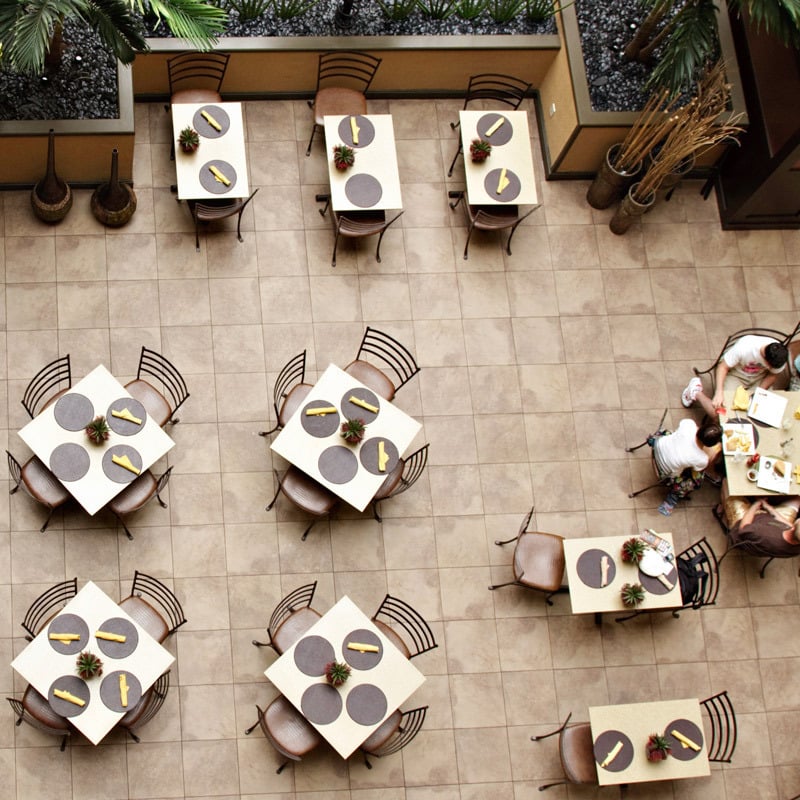 If your restaurant is really struggling with turning tables, then consider rearranging your restaurant. Placing tables and chairs in the center of the dining room, away from corners and walls, will encourage customers to eat more quickly. Since the middle of the room is often the busiest and most hectic spot in the restaurant, guests will naturally eat faster. Additionally, patrons tend to linger for a longer period of time if they're seated on furniture that's anchored to the ground, like booths. It could be beneficial to seat parties you believe won't rack up a large check at smaller tables and chairs rather than in booths. It's important to note that this is most common in casual restaurants where people are paying for quick service and convenience.
Another update you can make to your dining room is changing its interior color scheme. Bright colors, like red, yellow, orange, and green, raise an individual's heart rate and blood pressure. This excites them and subconsciously encourages them to eat faster, which results in quicker turnover rates. To adjust your establishment's color scheme, consider painting the walls a vibrant shade, using bold upholstery, adding pictures and accent pieces, or serving meals on brightly-colored dinnerware.

5. Make Your Menu More Compact
While many restaurant owners believe that offering a larger menu will make customers' decisions easier, it actually makes them more difficult. When individuals are given an overload of choices, it stresses them out and takes them longer to find something they like. Instead, offer a smaller menu that includes only your most popular options. Feel free to switch up the menu with the seasons or offer three unique specials every week. The point is, the quicker your guests decide what they want, the faster their orders will be put in. This leads to shorter dining times and higher flow-through rates.
By making simple changes to the routines of your servers and hosts, or by updating your dining room layout or menu, you'll be able to get customers in out and the door in a timely fashion without making them feel rushed or unwanted.