How to Start a Coffee Shop
Last updated on 8/18/2021
The coffee industry is experiencing a period of growth as many of the younger generations become interested in not just coffee, but high-quality gourmet coffee and house-roasted beans that they can only get from a coffee shop. As a result of increased interest in coffee, it's a great time to consider opening a coffee shop or cafe. If you're interested in starting a coffee shop but don't know where to begin, refer to this article because we will detail the most important steps you need to follow to set up your business.
Shop All Coffee Supplies
For more information on a specific part of the cafe opening process, you can use the links below to jump to the section.
11 Steps to Start a Coffee Shop
Starting any kind of foodservice business, from a restaurant or buffet to coffee shop or catering company, is complex. Fortunately, we broke the coffee shop process down into 11 easy-to-follow steps that can help simplify the process for you.
1. Conduct Research
Before you even decide that you want to pursue opening a cafe, you should conduct thorough research. Research will tell you if there is a need for good coffee shops in your area, if you'll be able to compete with existing businesses, and if you'll be able to afford owning a commercial business in your given location. You should pay specific attention to competitor research and see if coffee shops in the area are franchises or independent, as an independent business may be able to compete with big chains, but not necessarily with other independent coffee shops.
Additionally, if you don't have experience in the foodservice industry or owning a business but you're interested in starting a coffee shop, we suggest talking to other business owners in your area. That way, you can get their advice before you start writing a business plan. They may be able to provide valuable input on whether or not the job is right for you.
2. Choose a Concept
Once you've decided to start a cafe, you can begin thinking about what your coffee shop's concept will be. Your concept is the unifying theme of your cafe, and a good concept will give your business a competitive edge over other coffee shops in the area. Here are a few things to think about when choosing a concept for your cafe:
What is your target demographic? Are you intending to create gourmet coffee for millennials or do you want your coffee shop to appeal to busy office employees that just want a cup of hot coffee and a bagel?
What are customers in your area willing to pay? You may be passionate about opening up a gourmet cafe, but if you're located in a primarily working-class neighborhood, it may be hard to convince customers to pay $6 for coffee.
Do you want to offer food? If you want to add food to your menu, are you going to buy the food pre-made from a bakery or make it in-house from scratch?
Will you offer sit-down service? Do you expect most customers will get their orders to go, or do you want to make your coffee shop a welcoming environment for customers to work and relax?
Additionally, when considering which demographic to target, other coffee shops may choose to cast a wide net. Alan Butts from Coffee Crossing in New Albany, Indiana says, "most of our customer base is between 16 and 50, but it makes sense to us to make every effort to have the widest possible appeal."
During this stage, you can also start planning what your coffee shop's name will be, what your menu will look like, and what style of decor you want. Having a strong and well-conceived concept will help set your cafe up for future success.
3. Find a Source for Your Coffee Beans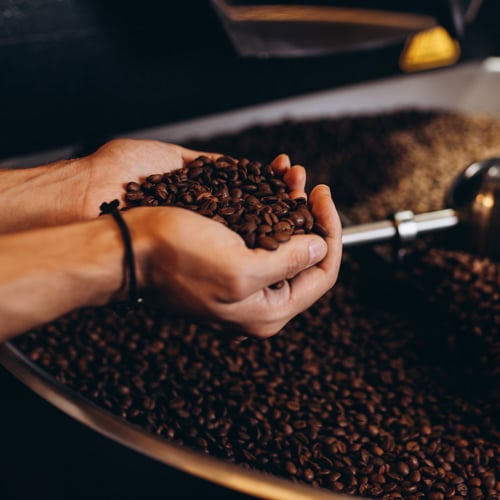 Serving high-quality coffee is the most important aspect of running a coffee shop, so finding a good source of coffee beans is a must. Many coffee shops purchase their coffee beans wholesale from a coffee roaster, and you should be specific when looking for a roaster to source your coffee beans.
We spoke with Tommy Lowery of Village Coffee in Troy, Alabama about how they source their coffee beans. He said, "we have been using a private roaster for 14 years, but we have been looking for a location to begin roasting our own products." When asked about the qualities he looks for in coffee, he said, "First, you must have a quality product with quality beans. We looked for a roaster that only roasted Arabica beans. Secondly, they have to have a price point that allows the shop to maximize their profits, and finally, you need a certain amount of variety."
Here are some other important things to consider:
Do you like their coffee? If you don't like the roaster's coffee, then chances are your customers won't either.
How much does quality matter to you? High-quality beans can be expensive, resulting in higher drink prices that may scare away some potential customers.
Where is the roaster located? Buying from a roaster in your area is a great way to interest customers while also supporting a local business. Plus, a local roaster may have brand recognition in your area that one farther away may not.
Is the coffee fair trade? Fair trade promotes the ethical pay and treatment of coffee producers, and it's a fast-growing movement. If you're interested, look for coffee roasters that have fair trade certification.
What types of coffee and flavors appeal to you? Does the coffee roaster have the types of coffee that you want to serve?
4. Write a Coffee Shop Business Plan
A solid business plan is necessary for any type of foodservice operation to succeed. Your business plan will help you finalize your concept, plan your ownership structure, project your finances, create your menu, and list your competitive research. Not only will this help you going forward, but a coffee shop business plan is also necessary when looking for funding to start your cafe.
There are seven sections in a standard business plan:
Executive Summary
Company Overview and Description
Market Analysis
Business Offerings
Management Plan and Ownership Structure
Marketing and Advertising Strategy
Financial Projections
We created a guide to help you through the process of writing a business plan. While this guide focuses on bakery business plans, the same logic and advice apply to coffee shops and any type of business plan.
5. Get Startup Loans
The next step is to get startup capital for your new coffee shop. Starting a coffee shop is costly, so you need to be sure that you have enough funding that you can afford all of the equipment and supplies that your business needs. Additionally, it typically takes a new operation 6-12 months to become profitable, so your initial funding should be able to cover operating costs until your business can support itself.
There are a few different paths you can take to get funding for your coffee shop, such as traditional commercial loans, business lines of credit, and small business loans. Make sure to research all of the available options thoroughly before you make a decision.
How Much Does it Cost to Open a Coffee Shop?
When looking for funding, you may be wondering how much it costs to open a coffee shop and how much money you'll need to get started. The total price of opening a coffee shop will depend on a number of factors, the most important being your location. It can cost anywhere from around $100k to over $600k to open a coffee shop depending on the size and location of your business.
According to Katelyn Reed of Strange Brew Coffeehouse in Starkville, Mississippi, "Our most recent store opening included a full renovation, equipment purchases, furnishings, stock, etc., and ran right around $250k." But, she agrees that the price can vary, "We have done stores where we purchased a building and opened for $600k, and we have done smaller stores that budgeted no more than $150k. So, really there is a range that can work for everyone."
We also talked to Kelly Kieke from Speakeasy Coffeehouse in Quitman, Texas about the experience of opening a coffee shop. Before opening, the building needed renovations, which added to the cost. According to Kieke, "With the purchase and updating of the building, equipment, furnishings, and products, I spent around $130,000."
Alan Butts from Coffee Crossing in New Albany, Indiana operates multiple stores, the first of which opened 15 years ago. He says, "Our first store, 15 years ago, we opened on a shoestring. We were able to do a lot of the buildout ourselves and got it open for about 125k. I have opened a store every year for the past 3 years and $275-300k is more what one would expect today."
6. Find a Commercial Space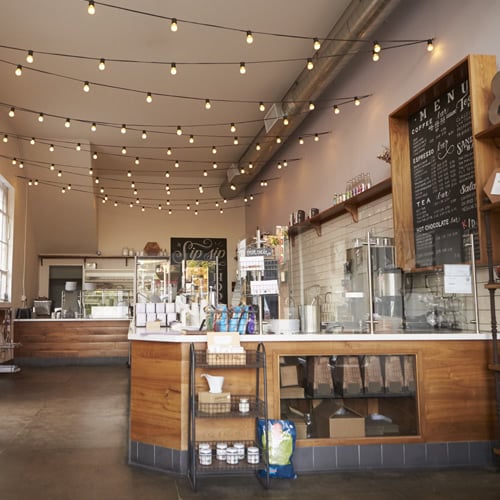 Finding the right commercial space for your cafe is essential, and a good location can ensure that your business sees a steady flow of customers coming in. When looking at potential spaces, be sure to complete a location analysis. A location analysis factors many things into account, such as:
Demographics
Proximity to Your Target Demographic
Distance from Suppliers
Competition
Crime Rates
Regulations and Zoning
In addition to where the location is within your city or town, you need to consider the space itself.
Is there ample room in the kitchen?
Are there necessary gas, drain, and water lines already installed?
Is there any foot traffic on the street?
Is the front-of-house area large enough to create a comfortable meeting or co-working space?
Once you find the perfect location, we suggest hiring a lawyer to help with negotiations and to make sure all the necessary paperwork and regulations get filled out.
When choosing a space, you should not only consider the location but the physical space itself and whether it's conducive for a coffee shop. For Kelly Kieke of Speakeasy Coffeehouse, the right ambiance and setting were essential: "I purchased my building for the coffeehouse. It was built in 1922 and has a lot of character. We decided on the name of the business when we found out there was a speakeasy tucked away on the second floor during the 1920s and 30s."
7. File for Permits and Licenses
There are many permits and licenses your new coffee shop needs before you can start selling to the public. The licenses that your business needs and how to obtain them may differ by city and state, so check with your local government to ensure you have all of the paperwork in order. Additionally, waiting for approval on your permits will take time, so be sure to plan ahead and give yourself ample wait time.
8. Design a Layout
Creating an optimal design for both your front- and back-of-house areas is essential for both your efficiency and your customers' comfort. We'll break down how you should get started designing the layouts you're going to use in your new cafe.
Designing the Front-of-House Layout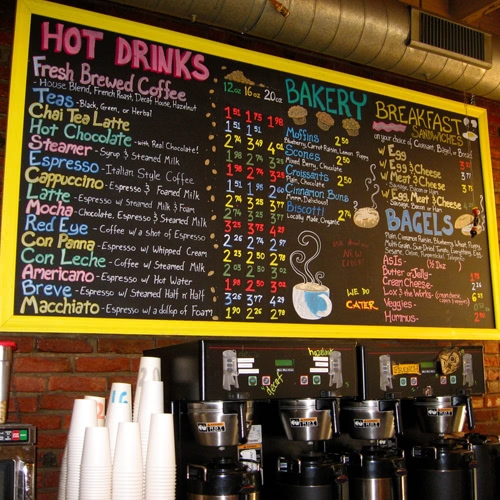 When designing your front-of-house area, think of what kind of atmosphere you want to create. Do you want to offer privacy to appeal to people doing work or holding meetings? Or would you prefer an open concept that feels airy and modern? Either way, consider the size of your space and how you can maximize your seating.
Be sure to also consider your color choices and the style of furniture you use, and how they will affect your customers. Dark colors will make the space feel more intimate, lighter colors feel more inviting, and bright colors increase customers' appetites. Additionally, if you're going for a contemporary aesthetic, your furnishings should match that style.
Designing the Back-of-House Layout
Behind the counter at coffee shops tends to be crowded, making efficiency and flow crucial. When designing how you'll set up your back-of-house, consider what stations there will be and how orders will flow. This process will start with the order being taken, then prepared, then served, and then the equipment will be cleaned. Additionally, consider if your coffee shop is going to be serving food and where food equipment will fit into your layout.
9. Order Your Coffee Shop Equipment
High-quality coffee equipment is essential for any cafe or coffee shop that wants to succeed. While some types of equipment may vary from shop to shop, there are a few pieces of equipment that every cafe will need. We put together a list of essential coffee shop equipment, so it's easy to remember exactly what you need when starting your cafe.
Coffee Shop Equipment List
Airpots
Espresso Machine
Coffee Grinder
Hot Water Dispenser
Reach-in Refrigerator
Ice Machine
Bakery Display Case
3 Compartment Sink
Frothing Pitchers
Frothing Thermometers
Tea and Coffee Mugs
Espresso Cups
Cup, Lid, and Straw Organizers
Aprons
This is just a list of some of the equipment a standard coffee shop will need. If you're looking for a full list of coffee shop equipment, we created a PDF that you can access by clicking the button below.
Check Out Our Coffee Shop Equipment List
10. Hire and Train Your Staff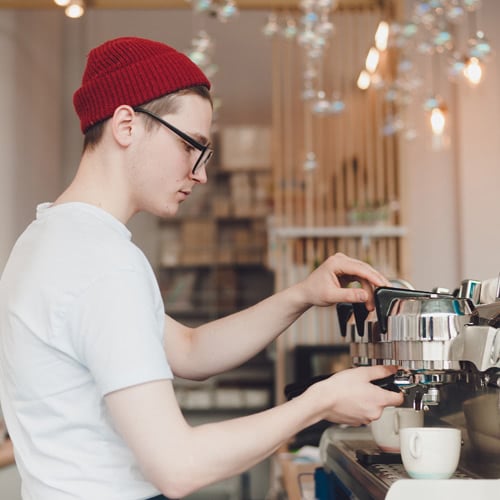 Excellent customer service is important for the success of your new cafe, so be selective when hiring staff. Additionally, consider what level of experience you want job applicants to have. Think about your management style and whether you want to train fresh employees yourself or look for experienced baristas instead. Both Katelyn Reed from Strange Brew and Tommy Lowery from Village Coffee agreed that the most important characteristic to look for in a barista is a great personality and the ability to greet customers with a smile.
When training your employees, you want to teach them how to make the beverages correctly, but it is also helpful to teach them about the coffee itself and its flavor profiles. Some customers may be interested in learning more about your coffee selection, and your staff should be able to answer their questions and make suggestions.
Additionally, you can also consider bringing in an outside professional to train your employees on the finer points of coffee and brewing. For example, Kelly Kieke of Speakeasy Coffeehouse uses an outside trainer: "Fortunately, when I first started out, my roaster offered a trainer to come and teach us the science of it all. I still have the trainer come to refresh our skills on a regular basis. The coffee culture is always changing and growing, and I find it beneficial to stay on top of the newest trends and hype."
11. Open Your Coffee Shop
After writing your business plan, finding a location, and outfitting it with equipment and staff, you're ready to finally open your cafe. Before you officially open, be sure to advertise your new coffee shop on social media and in local publications to drum up interest. Additionally, offering discounts or specials on your opening day can help encourage customers to stop in and potentially become repeat customers.
As with other types of foodservice establishments, coffee shops need a steady stream of regular customers to maintain profitability. There are three main components to running a successful coffee shop and gaining a loyal following:
Friendly and knowledgeable staff
Good-quality coffee and beverage selection
Welcoming atmosphere with comfortable decor
You can also implement some other tactics to keep customers coming back to your cafe, such as offering loyalty cards or adding coffee and meal breakfast combos to your menu.
With increased interest in not just coffee, but high-quality coffee made by professionals, now is an excellent time to consider opening a cafe. The most important thing to keep in mind when starting a new coffee shop is to stay organized and follow your business plan diligently. Then, after opening, begin working on building a loyal base, and your new coffee shop will be set up for success.
---
---