Environmental Analysis for Your Restaurant
Before You Start
Did you think you had found the perfect location for your restaurant, only to discover that there is no parking nearby, or that another restaurant with a similar menu is already established in the neighborhood? By performing an environmental analysis before your purchase a property, you can help identify the many factors that tie into such an important decision in order to help you find the best location for your business.
Depending on the type of restaurant and the socioeconomic demographics you are targeting, the criteria for a great location may change, but we're here to look at some of the basic principles (like parking and how to regard the competition) that can be applied to most foodservice businesses. There are a lot of things to consider, but these basic principles can help you get a better understanding of what it takes to make up the ideal location.
If your restaurant is already up and running, it is still important to be aware of what is going on around you, so keeping up with economic and demographic changes in your area by performing an environmental analysis every few months is still important. Many of the same basic principles can be applied to analyze your current location to see if there are any changes you can make to optimize it.
Why is Location So Important?
Choosing a good location for your business might be the single most effective thing you can do to succeed. Of course, you'll need a great product, too, but opening your business in the right spot will help your product succeed. While hiding on a little-traveled side street or back road might sound romantic, it won't allow your business much visibility. Setting up shop near an area with a lot of vehicle traffic and foot traffic puts your name out to a lot more people and offers you the opportunity for a lot more cheap marketing. Once you have found a good location, add a creative name and perhaps a little stylish landscaping and you'll be drawing customers off the street in no time.
What is a Target Demographic?
Simply put, a target demographic or target market, is a specific grouping of consumers that you market your products toward. Demographics can be defined by economic status like income level and property ownership, or by age groups like 18 to 49, 55+, etc. Demographics can be further broken down by gender. A combination of all of these factors creates the best demographic picture to help determine how a certain location would affect your business.
The Big Picture: What Are Some Important Factors to Consider?
Demographics: Once you have determined who you will be marketing to (women over 40 or people with income over $50,000, perhaps?) you'll need to do your research to find out where the people who match your target market live, work, and shop. The U.S. Small Business Administration offers access to much free government-provided demographic data that you can use to help your research along. For established businesses, still complete demographic research every so often to keep abreast of changing trends and maintain your high standards of success.
Labor Costs and the Minimum Wage: Labor costs are often the largest item in a budget. Once you have considered salaries, benefits, and taxes, personnel may be 50% of your budget or more! Since that is the case, consider the minimum wage, expected salaries, and where your employees are coming from while you decide on location. Many areas in the United States conform to the national minimum wage, but some states have set a higher minimum wage. Plus, the amount your employees expect to make and the availability of prospective employees will change based on geography and demographics.
Access: You could have the best burgers in the tri-state area, but if a patron has to cross a four-lane highway or walk five blocks from the nearest parking garage, they might choose to visit your more accessible competitors instead. When looking at a restaurant location, consider the amount or accessibility of nearby parking, ease of access by car, foot traffic, and surrounding traffic patterns to make it as easy as possible for customers to visit your establishment. If you already have great access and parking, be aware of any roadwork, construction, or other changes that may affect access and parking.
Proximity to Suppliers: Shipping costs and delivery fees can sometimes be more than the cost of the original supplies! Figure out where you will be sourcing your food and supplies ahead of time to minimize these costs as well as any headaches that may occur when receiving shipments. WebstaurantStore has warehouses in several locations throughout the United States so that you will receive shipments as quickly as possible and at the lowest possible shipping cost.
Competition: Being too close to established competition can be a double edged sword. On one side, watch what geographical factors help your competition succeed and analyze whether you can employ them as well. Being near your competition may help with business marketing, too. On the other side, however, it also follows that if you start up your business close to the competition you may have a tough time gaining a foothold in the community. Even after you have started off well, continue to watch the area to see what your competition is doing that you can capitalize from, and also be aware if new restaurants with the same target demographics move in to your area.
Visibility: Though you want to be careful not to place yourself in the position of losing customers because traffic is too heavy near your restaurant, you also want to ensure that you are visible to drive-by and foot traffic. Is your prospective location near a busy road or downtown street? For existing restaurants, is there a way to increase your visibility to passing consumers by altering your landscaping or signage? Check out our article about how to attract diners with your outdoor restaurant sign for some ideas and products that can help make you more visible in your community.
Future Growth: With growth comes more customers, more employees, more equipment, and more food to store and prepare. Consider whether your location will be able to provide adequate seating, parking, storage, and prep areas if (and when) your business grows.
Health Regulations and Zoning: Different cities, and even different areas within cities, often have very different health, zoning, and business regulations. Looking at your prospective location's zoning and other regulations prior to setting up shop is a good way to find out what to expect and avoid snags later on.
Safety / Crime Rates: Extra insurance, exterior lighting, and loss of customers due to safety concerns can spell disaster for your budget, so it's important to recognize and address the issues of safety and crime rates early on. Examine the area to find out what the crime rate is and then find out what added responsibilities and safety measures may be necessary prior to purchasing or leasing your new restaurant location. That way, you won't be surprised by any extra costs.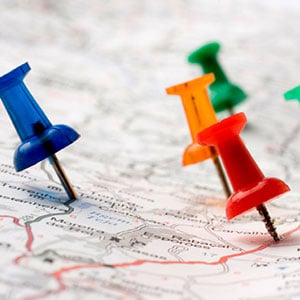 Should I Obtain Professional Research?
Depending on the size of the business, original financial outlay, and the level of risk involved, professional demographic research and location analysis might be in order. Once you have determined what you are looking at in terms of a location, it is a good idea to consult a local real estate professional for help in finding the right place. It is also recommended to call in a lawyer to help you negotiate a lease. If you are looking for more resources for your local area, consider contacting a local Small Business Development Center for assistance.