WebstaurantStore / Food Service Resources / Blog
Winter is Coming: Preparing Your Restaurant for Colder Weather
It's inevitable: every winter, foodservice profits drop due to cold weather and snow. If your restaurant is located in an area that receives frequent snow during the winter months, you're sure to have experienced a decline in sales. Cold weather and snow keep many potential customers indoors between December and March each year, and making up these losses can seem impossible. However, there are several things your business can do to avoid the winter blues. For tips and information on preparing for and combating the big freeze, check out the recommendations and advice below.
Pump Up Your Marketing
Carefully crafted marketing campaigns are an effective way to increase your business volume and sales during the winter season. You could try offering specials during these months, such as 2 for $20 deals or free appetizers and desserts. While you may initially lose money this way, your profits will ultimately increase as more customers learn about and begin taking advantage of your deals.
Another way to improve sales over the winter months is to spend more time on social media marketing. For example, you could engage with customers via Instagram or Twitter by posting pictures of special drinks and meals, or offering complimentary appetizers to the first 25 patrons who "like" your posts. Other non-social media-related options include adding hearty, winter-themed menu items, decorating with winter-themed decor, and devising creative holiday cocktails.
Use a Delivery Service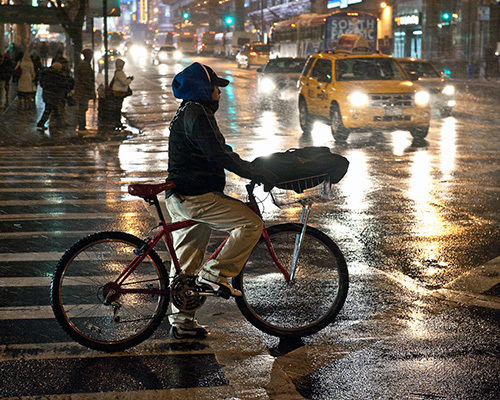 One way to get your food to hungry customers is by using a 3rd party delivery service. You can do this by hiring a third-party company or by having your own front-of-house employees drive food directly to your customers' doorsteps. Delivery, of course, hinges on how bad the roads are, and you should never endanger lives just to make a profit. However, if you make a lot of money via deliveries, you might consider purchasing a four wheel drive vehicle to use when delivering food in inclement weather.
If your restaurant is located in an urban area, you could also have your delivery people walk or ride bikes. If you live in the countryside or less-populated areas, you might use a snowmobile, jet ski, or all-terrain vehicle, although most businesses may find these options a bit extreme.
Prepare for Inclement Weather
If your restaurant is located in an area where snow, ice, and other bad weather is common, be sure to invest in a generator. Power outages not only keep customers from patronizing your business, but can also lead to large quantities of spoiled food. Your restaurant should also have your heating system inspected by an HVAC technician, which will ensure things are operating safely and effectively. You can also ensure customer safety by keeping sidewalks and parking lots clear of snow and ice.
Winterize Your Outdoor Spaces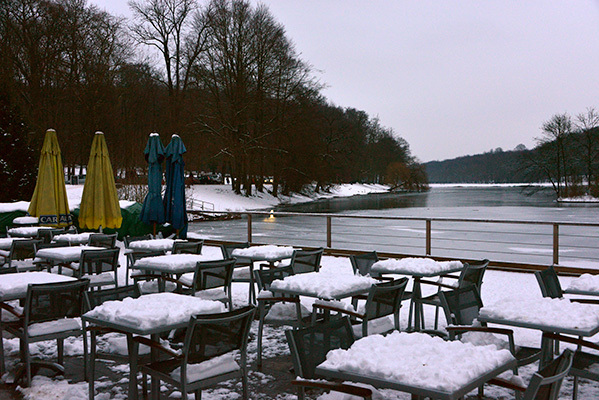 Follow these steps to prepare and protect your outdoor areas during the winter.
Clean Your Furniture
Before you close up your restaurant's terrace for the season, be sure to clean all of your furniture. Pay special attention to fabric elements, as they can become moldy if not properly cleaned. To prevent this, try vacuuming each cushion and umbrella, and then cover them for storage in a dry area.
Plastic furniture can simply be washed with soap and water and stored indoors, while wicker and wood furniture should be treated with oil before storing.
If you use metal tables and chairs, be sure to check for rust and paint scratches after you clean them. Small rust spots can be scraped and painted over, but if a piece has large rusty patches, consider replacing it.
Power Wash Your Patio
After all of your furniture and cooking equipment is cleaned and put away, wash your patio floor with a power washer or hose. This step will make it easier to clean again in the spring and will help to remove any debris from your busy summer.
When you are finished, clear the hose of any water and turn off the outdoor tap to help keep pipes from bursting. This is also a good time to cover any exposed pipes in your building with foam insulator.
Protect Against Pests
To prevent pests from entering your restaurant in attempts to get out of the cold weather, make sure that any outdoor vents are properly covered with mesh. Also consider trimming plants and shrubbery around the patio, as small animals love to burrow in the shelter of bushes and flowerbeds.
Consider Staying Open
An outdoor patio makes for a unique atmosphere that customers enjoy, even in the winter months. If you provide the proper heating and amenities, you can turn your patio into a winter dining destination. Plus, keeping outdoor areas open and comfortable for guests will set you apart from competitors with closed terraces in the winter.
Regardless of the type of business you own, properly preparing for cold weather and incorporating innovative strategies to keep customers coming back is essential to the success of your establishment.

Posted in:
Management & Operation
|
Seasonal
| By Nora Fulmer