Restaurant Labor Laws
Last updated on 2/19/2021
To protect workers and employers, there are a series of employment and restaurant laws all restaurant owners must abide by. These laws, set by the United States Department of Labor as well as state and local governments, are designed to provide a safe, healthy, and fair workplace to create restaurant employee rights. In this guide, we outline some of these key restaurant labor laws, including policies on wages and tipping practices, the employment of minors, and occupational health and safety.
Shop All Bookkeeping Supplies
Click any of the restaurant labor law sections below that interests you:
Restaurant Wages and the Fair Labor Standards Act
Many restaurant labor laws come from the Fair Labor Standards Act (FLSA), an act originally signed by Franklin D. Roosevelt in 1938. This act explains the standards set for full-time and part-time workers in the private sector and federal, state, and local governments. The FLSA establishes minimum wage, overtime pay, recordkeeping, and child labor standards for businesses in the foodservice industry to aid in restaurant employee rights. Below are the FLSA requirements:
Minimum revenue for subjection: An establishment's annual gross sales must total at least $500,000 to be subject to FLSA rules and regulations
Minimum wage requirement: Entitles non-exempt workers to the federal minimum wage of $7.25 per hour unless an individual state's law requires a higher wage
Deductions and minimum wage: Deductions for cash shortages, required uniforms, or customer walk-outs are illegal if they drop the employee's wage below the minimum wage
Tips and minimum wage: Tips may be considered part of wages, but the employer has to pay no less than $2.13 an hour and also make sure that the tips and wages add up to at least the minimum wage
Overtime: Employees who work overtime are to be paid one and one-half times their regular rate of pay for each hour over 40 hours per week
Overtime and tips: Tipped employees who work overtime are to be paid one and one-half times the applicable minimum wage, not one and one-half times $2.13
Youths and minimum wage: Youth employees under the age of 20 may be paid a minimum wage of no less than $4.25 an hour during the first 90 days of their employment
Restaurant Tips and Bookkeeping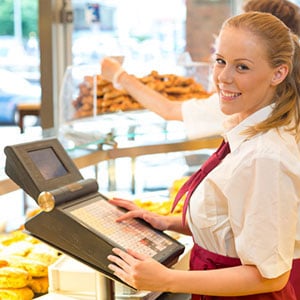 While the FLSA outlines parameters for legal wage and tipping practices, ensuring that your servers are earning at least minimum wage with tips can sometimes cause bookkeeping complications. Depending on the size of your staff and the volume of your customers, tracking your employees' tips can be a daunting task. Here are some things to keep in mind:
If tips are not accurately counted or reported, employers could face fines related to improperly distributed pay.
Carefully consider which pay strategy works best for your establishment.
Failure to comply with federal wage laws could result in legal action from employees and potentially cost your business more time and money than a fair wage practice would.
For more information on the minimum cash and tipped wage in your state, check out this data from the United States Department of Labor.
Employing Youths or Minors
Under FLSA guidelines, there are several provisions that business owners must follow in regards to employing minors. Each age group below has its own requirements to properly follow restaurant labor laws:
13 years old and younger - Minors that are 13 years old or younger may not be employed unless employment falls under an approved exception. Parents or guardians may employ their own children in non-hazardous occupations under this exception. To learn more about minor employment exceptions, visit the U.S. Department of Labor website.
14 and 15 years old - These minors may be employed in non-hazardous occupations for no more than 3 hours on a school day and 18 hours in a school week. Hours may not begin before 7 a.m. or end after 7 p.m. Outside of school hours, they may work 8 hours on a non-school day and 40 hours in a non-school week. Hours are extending to 9 p.m. from June 1st to Labor Day.
16 and 17 years old - Minors that are 16 or 17 years old may perform any non-hazardous job for an unlimited amount of hours.
Hazardous vs. Non-Hazardous Jobs for Minors
There are both hazardous and non-hazardous duties in every food service establishment. Minors under the age of 18 are not permitted to perform any hazardous tasks, which includes coming into contact with cooking equipment that could potentially cause an injury. However, there are several non-hazardous jobs that minors can perform safely to stay in line with restaurant labor laws. Here are some examples of hazardous and non-hazardous job duties:
Hazardous
Using bakery equipment
Operating meat-processing equipment
Operating or maintaining power-driven equipment like slicers, grinders, mixers, etc.
Non-Hazardous
Cashier and bagging duties
Dishwashing
Light-duty cooking
The Occupational Safety and Health Act (OSHA)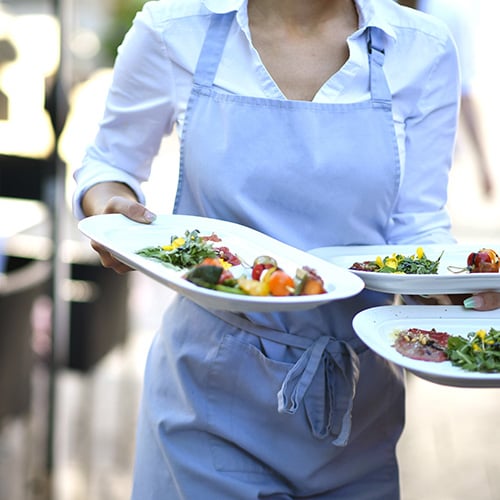 OSHA was passed in 1970 to create healthier, safer working environments through training, outreach, education, and assistance. OSHA requires that all employers:
Provide a hazard communication program for employees
Train employees properly to prevent accidents
Provide necessary protective equipment
Have access to a first aid kit
Display posters from the Department of Labor or their state labor department that inform employees of their protections and rights (example seen to the right)
OSHA-Approved State Plans
OSHA also permits states to submit their own safety plans for approval. These plans are monitored by OSHA and must be successful at protecting employees and preventing accidents.
The following states have plans that cover both private sector and state and local government workers:
Alaska
Arizona
California
Hawaii
Indiana
Iowa
Kentucky
Maryland
Michigan
Minnesota
Nevada
New Mexico
North Carolina
Oregon
Puerto Rico
South Carolina
Tennessee
Utah
Vermont
Virginia
Washington
Wyoming
Connecticut, Illinois, Maine, New Jersey, and New York operate under an OSHA-approved plan that covers state and local government only. All other states operate under a federal OSHA-approved plan that covers most private-sector workers but no state or local government employees.
The Equal Employment Opportunity Commission
This commission reviews cases of discrimination and enforces the federal laws that make it illegal to discriminate against job applicants or employees based on the following:
Race, color, religion, sex (including pregnancy), national origin, age (40 or older), disability, or genetic information
A complaint about discrimination on an employee's behalf
Laws Enforced by the EEOC
You are required to display a poster with information about federal employment discrimination laws so that it can be seen by all employees. Here are some laws that are enforced by the EEOC that may be relevant to your restaurant workplace.
The Equal Pay Act of 1963 - makes it illegal to pay different wages to men and women if they perform equal work in the same workplace.
Title VII of the Civil Rights Act of 1964 - outlaws discrimination based on race, color, religion, national origin, or sex. The law also makes it illegal to retaliate against someone for filing a charge, complaining of, or taking part in a lawsuit or investigation of discrimination. Title VII also forbids discrimination based on sexual orientation or gender identity and these protections apply regardless of state or local laws.
The Age Discrimination in Employment Act of 1967 - protects people 40 and older from discrimination based on age.
Sections 501 and 505 of the Rehabilitation Act of 1973 - makes it illegal to discriminate against a qualified person with a disability in the federal
The Pregnancy Discrimination Act of 1978 - outlaws discrimination because of pregnancy, childbirth, or a medical condition related to childbirth.
Title I of the Americans with Disabilities Act of 1990 - makes it illegal to discriminate against a qualified person because of a disability in both the public and private sectors.
Sections 102 and 103 of the Civil Rights Act of 1991 - permits jury trials and monetary damage awards in intentional discrimination cases.
The Genetic Information Nondiscrimination Act of 2008 - makes it illegal to discriminate against employees or applicants based on their genetic information that might identify family members, disease information, or disorders and conditions in the family's medical history.
---
Refer to this guide to ensure that you are following all of the necessary labor laws in your restaurant. Failure to uphold these regulations could result in fines or legal action, so restaurateurs must familiarize themselves with these policies to run a safe, fair, and legal establishment.
---