WebstaurantStore / Food Service Resources / Blog
5 Benefits of Hiring a Third-Party Food Delivery Service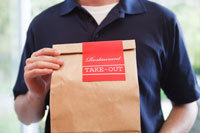 In the first half of 2014, nearly $4 billion was invested in food-related tech companies. Among those businesses were third-party food delivery services like Caviar, Dashed, Postmates, and DoorDash. Companies like these partner with restaurants to provide customers with a platform to browse menus, place orders, and have food delivered to their doorstep by a third-party courier. Whether the costs of maintaining your current delivery service are too high or you're looking to expand your business to new markets, hiring a third-party delivery service could be beneficial for you. If you're considering these services, check out the benefits we've listed below:
1. New Customers
By adding your restaurant's menu to any of these sites, it gives new consumers easy access to your food options. Your business may be out of the way for many people, so they haven't had the chance to stop in. With a third-party meal delivery service, your new customers can try out your meals without having to travel far. Ordering food online for the first time also motivates customers to come into your actual establishment, since they've now had a taste of your food.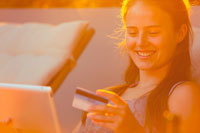 2. Caters to Your Customer's Needs
We've all had days where cooking was the last thing we wanted to do, but we also didn't feel like grabbing fast food. A food delivery service provides a convenient way for customers to order food without having to sacrifice quality. Not to mention, most of these third-party sites can be easily accessed through mobile apps, so they can order meals with a simple push of a button.
3. Cut Down on Costs
One of the most alluring aspects of a third-party delivery service is how affordable it is. Instead of spending money on gas, a vehicle, insurance, and an employee, you simply pay the company of your choosing and they take care of the rest. Some companies, like grubHub, only charge for the orders they deliver, so you don't have to pay an expensive monthly fee.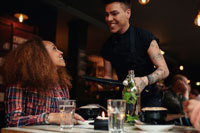 4. No More Administrative Tasks
Imagine a packed Friday night in your restaurant: your dining room is loud with the sound of guests chatting, dishes clanking together, staff members yelling, and on top of it all, your take-out phone is ringing. Most third-party systems convey order information to you electronically, so your employees don't have to worry about answering the phone and taking long orders. Since these businesses have their own couriers, you also don't have to stress about the safety of your staff while they're out on delivery.
5. Increased Revenue
As mentioned above, offering your menu to people who may not have been familiar with your food opens your business up to a whole new audience, which in turn increases sales. Restaurants that hired grubHub saw their monthly take-out revenue grow by an average of 30 percent over the first year. Hiring a service like this could be especially useful to businesses that may currently offer delivery service, but are struggling to find success with it.
With a third-party service, not only can you make yourself available to new customers, but you can also cut down on costs and administrative tasks. So whether you're looking to start a take-out service in your establishment or trying to improve your current system, hiring a third-party service could benefit your business.