Preparing for a Health Inspection
Last updated on 4/17/2019
Health inspections can be a frustrating and stressful experience, but it's important to remember that health inspectors don't come knocking to shut down your operation. Health inspections are held to make sure food products are handled and prepared according to state and local regulations to protect the public. Once you understand the food codes and have a plan in order for cleaning your restaurant, health inspections become a routine experience.
We also created a health inspection checklist for restaurants that you can use for your self-inspections. Click the button below to download the PDF.
Download Health Inspection Checklist PDF
You can also use the links below to jump to specific sections within the article:
What to Know Before a Health Inspection
Health inspections are usually conducted between 1 and 4 times a year, so it is important that your operation is always ready. Before your health inspection, it is important to know about the various regulatory agencies that create and enforce the food safety standards. Once you understand the regulations, there are some steps you can take to ensure your establishment is up to snuff for your inspection.
Common Health Code Violations
There are a few mistakes and health code violations that many restaurants make. Keep an eye out for these mistakes to keep your health inspection score high:
Not following food safety temperatures: If your food is held in the temperature danger zone (between 41 and 135 degrees Fahrenheit) for too long it becomes susceptible to bacteria. Ensure that you're maintaining your food's temperature properly.
Improper food storage: Prevent cross-contamination by storing food items properly. In your refrigerator, you should place your produce at the top and raw meat at the bottom.
Poor personal hygiene: Your kitchen should have easily accessible handwashing stations that are well stocked with hand soap and paper towels. Additionally, make sure that you have disposable gloves and hair nets on hand.
Poor kitchen sanitation: This is one of the most common health code violations. When cleaning, instruct employees to clean and sanitize all of your equipment and work spaces thoroughly so they're clean of any dirt, residue, and debris.
Cross contamination: Cross contamination can lead to food illnesses and it's a very serious health code violation. Using color-coded cutting boards, enacting strict cleaning procedures, and using disposable gloves can all help you avoid violations.
What Roles Do Regulatory Agencies Have in Health Inspections?
In the U.S. there are several regulatory agencies, such as the FDA and state and local health departments, that create and enforce food codes that foodservice establishments must follow.
The FDA Sets Food Codes
The FDA monitors domestic companies and firms who produce, package, transport, and handle food in the U.S. The FDA has limited direct involvement with restaurants, bars, or grocery stores, and instead sets codes and regulations that are enforced by state and local health departments. One of the most important documents created by the FDA is their food code. The food code sets model regulations that state and local health departments use as a reference, or in many cases, adopt as legal requirements.
Who Inspects Restaurants and Enforces Food Codes?
Restaurants are inspected by either local or state health departments depending on the location. Each state has its own health department that oversees its restaurants and other foodservice establishments.
Depending on the state, it can have anywhere from 1,500 to 50,000+ restaurants. As a result, many states create municipal or local health departments to regulate densely populated areas. These local health departments are responsible for creating and enforcing their own food codes as well as state health department regulations.
ServSafe Offers Training for Food Safety
ServSafe is a training program administered by the National Restaurant Association that offers certifications in food safety management, food handling, and alcohol service. A ServSafe food safety management certification is required in 30 states. Additionally, in 9 states employees must be able to demonstrate food safety knowledge, and the requirements differ between counties in the remaining 11 states. Check the ServSafe website to find your ServSafe test scores, check the requirements for your area, or sign up for classes.
How to Prepare for a Health Inspection
One tool to prepare for a health inspection is a HACCP (Hazard Analysis and Critical Control Points) plan. The HACCP system identifies the points in the cooking process where the risk of contamination is the greatest. Once the hazards have been identified, you can take action to prevent possible contamination.
In addition to HACCP plans, here are some steps you can take to perform your own inspections:
Always keep an eye out for key safety issues, including cross-contamination, personal hygiene, and internal temperature requirements.
Consult your local health department to find out what regulations and forms are being used so that you know exactly what they'll be looking for.
Conduct self-inspections at random, unannounced times. Health inspections can occur at any time, so all of your employees must be equally prepared.
After your self-inspections, review the results with your employees and discuss the corrective actions for any possible violations.
Ask employees safety questions about tasks they're performing to ensure they're prepared for any inquiries that might come from the health inspector. For example, ask them what color food storage containers they should store poultry, seafood, and vegetables in to prevent cross-contamination.
Continue to monitor food preparation and storage, even after your self-inspection. Keep your managers updated on the latest food safety developments so that they can ensure compliance when you're not around.
What to Do During a Health Inspection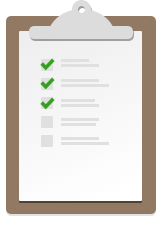 Once the inspector arrives, it's time for your establishment to shine. But, it's not as simple as giving the inspector full access to your operation and hoping for the best. There are some things you should and should not do during the inspection.
During the Inspection, Do...
Verify the inspector's credentials. The inspector should offer this to you voluntarily, but if they don't, ask. If you're still not sure, call your local health department for verification to avoid being scammed by someone looking for free business information.
Follow the inspector so that you can see any restaurant violations first-hand. It is important to note that you can correct some violations on the spot. These violations will be recorded as fixed on the spot, but to potential customers that is more appealing than an out of compliance mark.
Sign the inspection report. This does not indicate that you agree with the findings, but it is instead evidence that you received a copy.
Ask for an explanation if you don't understand a violation. You can't correct the problem if you don't know what it is.
During the Inspection, Don't...
Refuse an inspection. That will only delay things as the inspector will return shortly with an inspection warrant and likely a less than pleasant attitude.
Offer the inspector any food or beverage. Be cordial and pleasant, but anything beyond that could be misinterpreted as bribery to influence the inspection report.
What to Do After a Health Inspection
After the restaurant health inspection is completed, your operation will be given a score. If you were following the inspector during your inspection, your score should not come as a surprise. In order to understand your score and its effect on your business, you should learn about the restaurant scoring systems. Once you understand your score, you can begin to fix any possible violations.
What Are the Health Inspection Scoring Systems?
There are two main restaurant grading systems: points-based systems and letter grade systems. Which system is used depends on the local or state health department that is conducting the inspection. Health violations in restaurants are categorized as critical and non-critical or as high-risk and low-risk depending on the department.
Points-Based Systems
Points-based systems are usually scored on a 100 point scale. Health inspectors determine the score by the number and severity of the violations.
General Points-Based Scoring
Score
Condition
Violations
90 or higher
Good

One or two low-risk violations

May have one high-risk violation

80-89
Adequate

Several low-risk violations

May have one high-risk violation

70-79
Needs Improvement

Multiple low- and high-risk violations

69 or lower
Poor
Many low- and high-risk violations
Letter Grade Systems
Letter grade systems are usually scored as A, B, or C to represent the restaurant's food regulation compliance. In most cases, inspectors tally up points depending on the number and the severity of the health code violations in restaurants and then convert the number to a letter grade. The letter grade system is intended to simplify the scores, so they are easily understood by consumers.
General Letter Grade Scoring
Letter Grade
Condition
Violations
A
Good

Few or zero low-risk violations




May have one high-risk violation

B
Adequate

Multiple low- and high-risk violations

C
Needs Improvement / Poor

Many low- and high-risk violations
Fixing Your Health Violations
Poor health inspection results can be damaging to your business, especially because it is now easier for customers to find and understand health inspection violations. If your establishment has several low-risk or any high-risk violations, here are some steps you can take to fix your violations:
If your establishment receives a poor health inspection score, you can schedule a re-inspection in 5 - 45 days. This will give you time to correct the violations.
Figure out how each violation occurred and how you can prevent it from happening again.
Just like with your own self-inspection, review any violations and their proper corrective action with your staff.
You may appeal a violation if you have reason to disagree with it. Call your local health department, so you can speak with the inspector's supervisor.
Some operators approach health inspections with anxiety or frustration, but health inspections are potential learning opportunities that are meant to reduce the spread of food-borne illnesses and ensure the safety of your customers. There are many steps you can take to prepare your establishment for your restaurant health inspection, such as training employees to avoid health code violations, knowing your local food codes, becoming ServSafe certified, and conducting self-inspections.