How to Hire Teenagers, High School Students, and College Students
Hiring teenagers, high school students, and college students is necessary for restaurants looking to expand the pool of workers to choose from, creating a solution to the ongoing staffing shortage affecting the restaurant industry. Furthermore, hiring young people brings in new ideas and creates a staff with a variety of different points of view. Learning how to find and retain the right young employees is difficult due to the usual generational gap between hiring managers and teens, but it is an important part of growing your business and diversifying your staff. If you're looking to integrate young adults into your establishment's workforce, check out this guide on how to hire teenagers, high school students, and college students.
How to Hire High School Students
Hiring high school students presents a different challenge than traditional restaurant recruiting because high school students have different values and experiences. High schoolers are likely to have little to no work experience and prioritize earning extra spending money rather than making career-based job choices. If you're looking to hire high school students at your establishment, here are some things to consider:
---
How to Hire College Students
One key difference between hiring college students and high school students is that most college students have more work experience. Additionally, college students value relevant work experience, mentorship, and the acquisition of transferable skills rather than just money. When trying to hire college students, consider doing the following to make the process easier:
Tuition Reimbursement
One of the best ways for your business to attract college students is by providing tuition reimbursement as an incentive. Tuition reimbursement is when an employer agrees to help pay a pre-determined amount of money towards an employee's education. When a college student completes a course or degree, your company will reimburse them an agreed-upon amount, with no cap on the contribution. In today's world, tuition prices are high and student loans can be crippling, so offering tuition reimbursement is a great way to attract quality workers and invest in the future of your business.
Work Scholarships
Work scholarships are also a great way to attract college students, offering them the potential to receive flat payments towards their education. In most cases, only a few high-achieving workers are eligible for a work scholarship. The potential of receiving a scholarship towards tuition costs provides an incentive for young workers to take a position with your business and excel at their work.
---
Gen Z in the Workforce
The young workers that make up today's high school and college students come from the generation known as Generation Z. Young adults from this generation possess a variety of unique qualities, prioritizing valuable and interesting work experiences over salary expectations. Gen Z also wants clear expectations from their job and values quality communication, meaning it is critical that you clearly outline responsibilities and keep employer-employee communication channels open. Gen Z is unlike any other previous generation, and as they get older and continue to enter the workforce, employers need to learn how to cater to the generation's wants and needs to attract the best employees.
---
Job Postings for Teens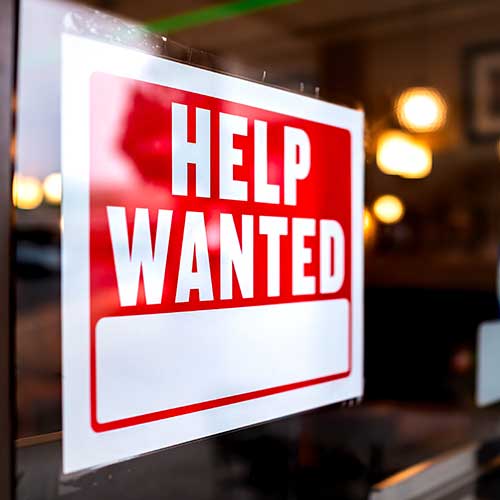 To attract teens to your restaurant, you have to create an attractive job posting to get their attention. A job posting intended for teens shouldn't be long or complicated and should focus on the positives of the job. Furthermore, it should be easy to find and access, something that can easily be achieved through platforms such as LinkedIn and Indeed. Casting a wide net and making your job postings easy to understand results in more applicants to choose from.
Employee Referral Programs
An employee referral program allows current employees to refer prospective workers to their employer, giving your business access to more quality young workers. If the referred candidate is hired, the referrer will typically receive a monetary bonus. Additionally, a referral program has the potential to make employees feel like they are contributing to the future of the business and create a positive work environment filled with compatible workers.
---
Entry Level Jobs for Teens
In restaurants, there are a handful of jobs that are perfect entry-level positions for teens and young adults. There is a common misconception that some entry-level restaurant positions are easy to grasp, but they require extensive training and a specific set of skills. However, these positions are still great for teens as they teach several transferable skills and serve as a great way to launch a career in the industry. When you're looking to fill jobs with young workers, here are some of the first positions you should consider:
---
How to Retain Young Employees
The best way to ensure that you have quality young employees is to retain your young workers that excel at their job. The more high school and college workers you retain or have come back for seasonal employment, the less time and effort you'll have to spend on hiring new employees. To retain employees and reduce turnover, you have to provide incentives and new experiences to ensure they don't pursue other job opportunities. Here are some ways you can provide quality workers with benefits to entice them to stay with your business.
---
Understanding how to hire young adults and students is a great way to introduce new ideas and points of view to your staff. Not only do young adults have a youthful perspective, but they also have valuable information on how to use technology and social media platforms which can be a boost to your restaurant. Some restaurants may view hiring young adults as a risk at first due to their lack of experience. However, if training is handled properly, young adults and students can offer a lot and improve several areas of your restaurant.
---

Posted in:
Management & Operation
| By Kevin Singhel