Tip Pooling Laws
Last updated on 5/01/2019
While customary in most service environments, tipping, and more specifically, the dispersion of tips, is often not as black and white as your patrons would expect. Between tip pooling and tip sharing, employee agreements often ensure that supporting staff receive their fair share of tip earned in the establishment. But what is "tip pooling" and "tip sharing," and is it legal? This article will cover all you need to know to ensure your business remains in compliance while financially compensating staff accordingly with earned tips.
What is Tip Pooling?
Tip pooling is the collection of all (or a portion of all) the tips collected from directly tipped staff to be put into one large "pool." From here, tips are redistributed among a larger group of employees. Tip pooling ensures that all staff members are fairly compensated for their work, especially when there are multiple services being rendered and single points of payment. Consider this example:
In a busy coffee shop, one person is in charge of taking drink orders, several people are in charge of preparing the orders, one person is in charge of delivering the orders to the customers, and another person is in charge of bussing the tables after the customers leave. Tip pooling would ensure that all parties, from the order taker to the busser, receive their fair share of the tips.
What is Considered a Tip?
A tip, or gratuity, is money given to an employee by a customer or client that is in addition to the cost of the bill for the service that was provided. Before you can attempt to understand tip pooling laws, it's important to understand what can and cannot be considered a "tip." Here are some examples:
Cash Tips
Is it a tip? Yes
How much? In all states, 100% of the cash tip is considered the employee's property
Check Tips
Is it a tip? Yes
How much? In all states, 100% of the check tip is considered the employee's property
Credit Card Tips
Is it a tip? Yes
How much? Some states mandate that the employer give the employee the full tip indicated by the customer, other states allow the employer to subtract the credit card company's processing fee from the tip before presenting to the employee
Service Charges
Is it a tip? No
How much? N/A
If it's considered a tip, it belongs to the employee, not the employer. Employees cannot be required to give their tips or any part of those tips to the company, unless as part of a valid tip pooling policy. And, even when tip pooling occurs, the employer cannot be part of the pool; only employees may participate.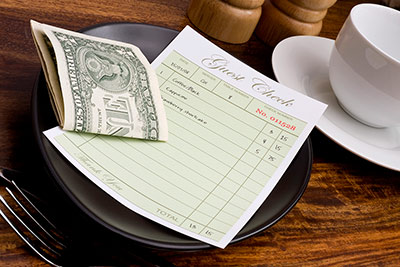 When it comes to service charges (mandatory service charges for large tables of diners, private parties, and catered events), the employer is not obligated to give any of this money to the employee – it is part of a contract, not a voluntary tip, and therefore, employees have no legal right to that money.
Tip Pooling vs. Tip Sharing
Unlike tip pooling, tip sharing (or "tipping-out") doesn't involve an equal distribution of tips between employees, but rather a set distribution rate (percentage), generally recommended by the employer. These rates are normally a percentage of tips, sales, or category receipts. Tip-out policy should be defined to distribute the pre-set percentage of funds to support staff, separately and apart from the pool participants.
Employees to Include in Tip Pooling
Below, we explain which types of employees to include in tip pooling and sharing and who is generally excluded from tips.
Tip Pooling
Employees who customarily and regularly receive more than $30 per month in tips
Examples:
Bellhops
Bussers
Counter personnel
Service bartenders
Servers
Tip Sharing
Employees who do not customarily and regularly receive tips
Examples:
Bakers
Chefs
Cook
Dishwashers
Janitors
Excluded from Tips
Supervisors or staff members with supervisory responsibilities
Examples:
Banquet managers
Beverage managers
Catering managers
Dining room managers
Food and beverage managers/directors
Foodservice directors
General managers
Kitchen managers
President/CEO
Facts About Tip Pooling Laws
The legality of tip pooling varies by state and local parameters, but there are some common threads to tip pooling policy set forth by federal tip pool regulations. As of the beginning of 2018, tip pooling laws saw some changes that fall in favor of serving staff and their compensation. We have listed out what you need to know about tip pooling and the amendment changes that will benefit tip pooling overall.
In general, tip pools are legal when designed by employees themselves, and with distribution based on the level of service or amount of customer contact.

Employees cannot be required to pay more into the pool than is customary and reasonable, and the employee must be able to keep at least the full minimum wage.

All tip pooling policies that pertain to tips should be recommended and not mandatory unless specifically approved by your state.

In some states, employers must compile a written tip pooling policy between staff and management in order to legally offset minimum wage with tips received.

The Labor Law does not require employers to compensate employees for monies wrongfully withheld by a participant.

Owners of the business are not allowed to ask employees to share any tips with the employer, supervisors, or managers.

The new policy states that "back of the house" employees can now be added to proper tip pooling arrangements, if all employees are paid the full minimum wage for their state.

Due to the updates for the FICA tip credit, employers are bound to choose whether they would like to claim tip credit or not on their taxes.
Now, with your newfound knowledge of tip pooling, you can ensure if you as the employer, your current employer, or future employer handle tip pooling the legal and right way.
---