How to Create a Profitable Patio Space
Last updated on 6/12/2020
Whether you live in warmth all year long or you're looking to take advantage of the summer sunshine, consider transforming your unused or wintry outdoor space into a profitable patio destination. Outdoor dining areas range from simple sidewalk space to lavish poolside bars. To make the most of the beautiful weather, you can learn how to build a patio bar or revamp your current patio to provide guests with outdoor dining options. Take into account the following restaurant patio ideas and considerations to transform your space into a profitable addition for your bar or cafe.
Shop All Restaurant Patio Furniture
Restaurant Patio Laws and Regulations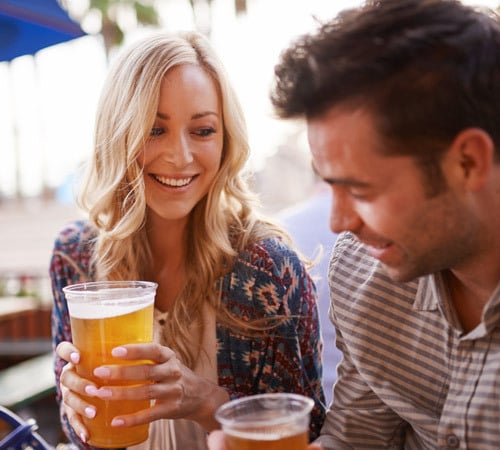 Before you begin designing your dream patio destination, it's imperative you take into consideration any local, state, or federal regulations regarding patios at restaurants or bars. Since permits and guidelines can vary by state or county, be sure to get in contact with your local township to learn what permits you must receive before you begin service.
Here are a few regulatory issues to learn more about when opening your patio:
Can you make your outdoor patio dog-friendly?
Is smoking allowed?
Can you serve alcohol or offer guests BYOB service?
What permits do you need to add electric and plumbing to your outdoor patio?
What are the noise ordinances in your area?
Outdoor Dining During Coronavirus
If you're starting to reopen your restaurant after the coronavirus quarantine, using your outdoor space can be a great way to get your customers back to your business. Be sure to check with your local jurisdiction about their outdoor dining rules and permits before you create an outdoor patio dining area.
Here are some ways cities are adapting to aid their local businesses in their reopening efforts, while keeping customers 6 feet apart:
Expediting or waiving outdoor dining permits and sidewalk licensing fees.
Allowing businesses to convert parking lots, full sidewalks, and even streets into dining spaces so tables can be spaced 6 feet apart.
Closing streets to vehicle traffic so pedestrians have more walking space away from outdoor dining patios.
Relaxing liquor laws and allowing for alcohol to be served and consumed beyond a business's property line.
Allowing for tents and canopies to be set up in parking lots and over sidewalk spaces.
Allowing for barriers to be added to separate diners from pedestrians.
While COVID-19 is still a threat, here are some ways you can keep your customers and staff safe while they are using your patio:
Section off the area to separate the space from passing pedestrians
Position tables 6 feet apart
Provide your staff with PPE supplies
Stock up on coronavirus supplies to keep your space clean and staff protected
Use paper menus and disposables
Offer clear directions to bathrooms and hand-wash stations that customers can use while they dine
Sanitize tables between each diner
Designing a Patio Layout
While patios are perfect for outdoor dining, take into account everything you want to include before you begin buying furniture. You can use this space strictly for seating and dining. Or, get creative with additions designed to make an inviting and interactive atmosphere.
You could transform part of your patio into a cozy lounge with fire pits and couches. Or, if you're looking to offer live entertainment under the stars, you'll need to designate a space for hosting house bands, DJ's, or open mic nights.
While adding atmospheric elements to your patio reduces the amount of people you can seat, it can create a memorable experience guests will want to visit often. A smaller seating section also creates exclusivity. This can build demand and excite guests looking to enjoy the warm weather outdoors.
Implement a Full-Service Patio Bar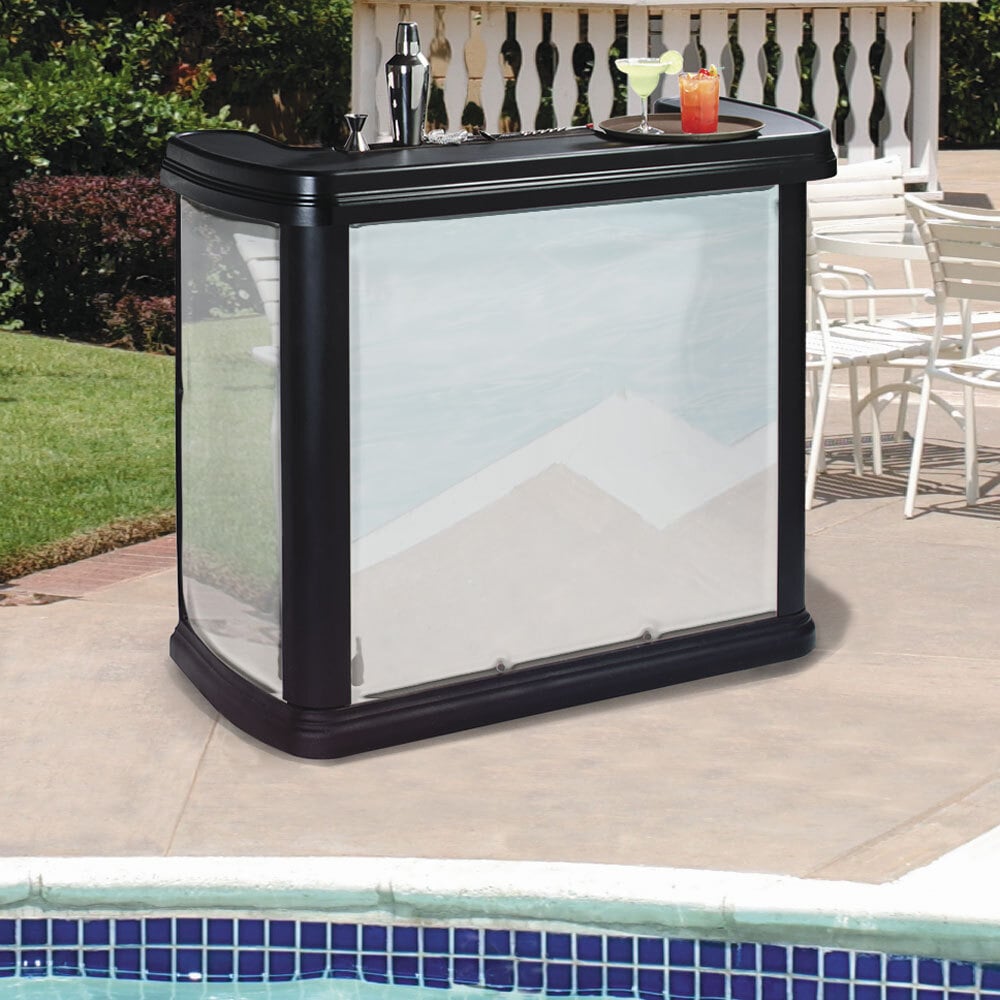 You may wish to create an outdoor bar station to offer full bar service to patrons dining on your patio. While this may also take away from seating, cocktails can be a high profit menu item perfect for enjoying on a warm summer night. If you don't have the staffing or space for a full bar, create a station to pour and serve several beers, ciders, or wines on tap.
Having a bar directly on your patio eliminates the need for guests to break away from the ambiance every time they want to order a drink inside. When customers are able to watch bartenders produce hand-crafted cocktails for other patrons, it can boost impulse sales and encourage guests to stay longer.
Outdoor Patio Cooking
If you have the room for it, bring kitchen equipment onto your patio including grills, pizza ovens, and outdoor smokehouses. The intoxicating smell of barbecue on the grill or margarita pizza fresh from the oven will entice customers walking by and encourage patrons to spend more on food.
Cooking in front of guests also encourages food transparency, an ongoing trend designed to bridge the gap between food sourcing, preparing, marketing, and serving. Guests can see their entrees prepared right in front of them, providing visual confirmation that what they're getting is fresh and contains wholesome ingredients.
Prepare for Inclement Weather
Nowhere is immune to inclement weather. Here are a few tips to prepare your patio for weather that may not be conducive to outdoor dining:
Stay vigilant with wiping down tables and chairs right after a rainstorm
Equip your patio with heaters for chilly summer nights or to extend your outdoor dining season
Offer plenty of shade by using umbrellas or deck covers
Place fans along the roof line to encourage airflow and keep guests cool
Implement an evacuation plan in case of dangerous or extreme weather
The weather can be difficult to predict in the spring and summer months, so if you're offering outdoor seating, you should be prepared for every situation.
Prevent Pests from Invading Your Patio Space
Similar to inclement weather, pests are inevitable. It's important to prevent, prepare, and react quickly to avoid dangerous or unsanitary situations. Unlike your indoor dining area, you must be wary of more than just mice and ants when seating guests outdoors. Common outdoor pests include birds, flying insects, gnats, squirrels, and even stray or wild animals.
Bugs are attracted to sugars and sweets, which can make your outdoor bar especially susceptible to an invasion. Stay diligent with your cleaning routine when it comes to spilled drinks or ingredients. Ensure fresh fruit is stored away in containers with secure lids, and keep juices covered when possible. If that's not enough, equip your bar with the proper bug zappers or sprays to rid your patio of bees, wasps, mosquitoes, and flies.
Animals may be attracted to the smell of food, whether it's being cooked outside or simply served to a guest. They may start encroaching on your dining area in hopes of finding food scraps or trash. Be quick to clear away uneaten food after guests have gone and sweep the floors for fallen debris. If animals become a continuous problem, call a reputable pest control company to discuss your options.
Choosing Patio Furniture and Decor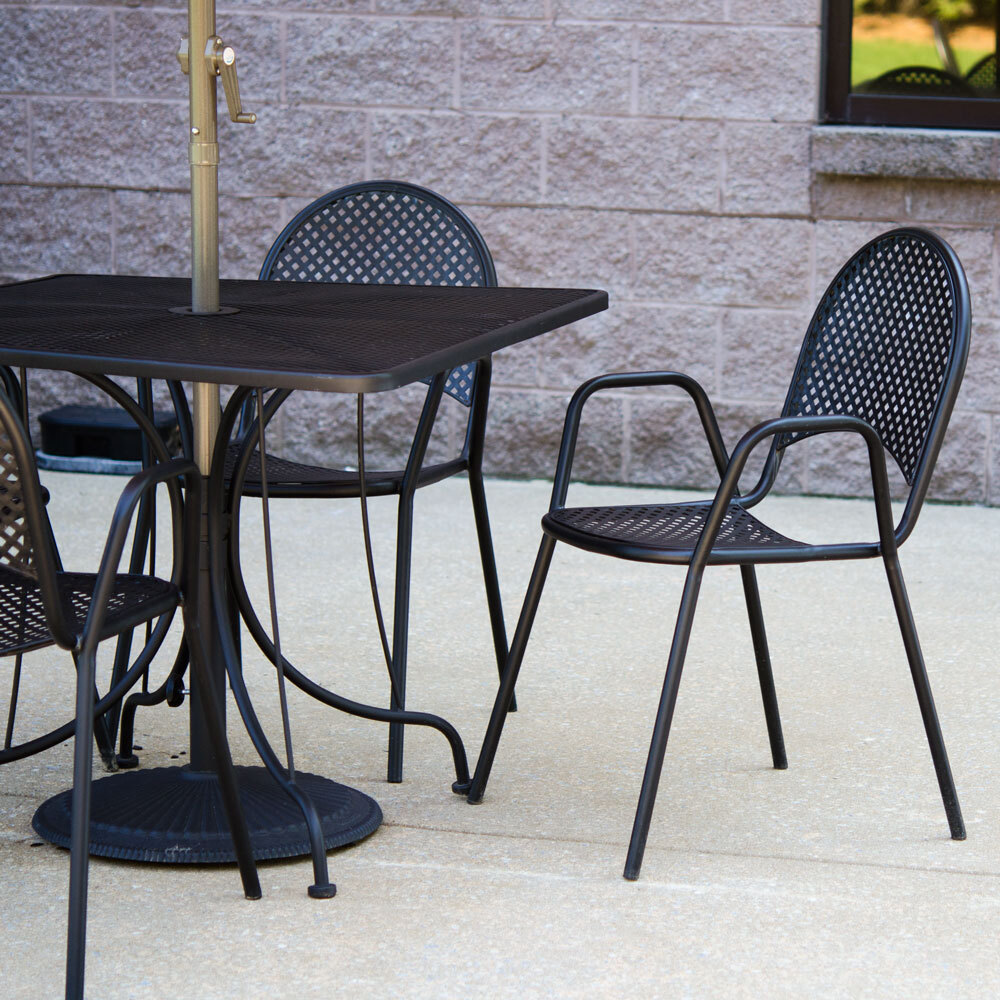 Use furniture, shading, and lighting to capture the ambiance of your restaurant patio design. Do you want to use rustic wooden picnic tables and benches, or do you prefer a charming set up with metal chairs and seat cushions? Whatever furniture you decide on, keep it in line with the concept of your restaurant.
Here are a few tips for creating the right atmosphere for your patio:
Create a secluded, private space by separating your patio from the public with a fence, planters, or dividers
Keep your patio dining area away from crowded areas to create a quieter, more intimate setting
Attract customers from the street with brightly colored flowers, canopies, and other visible decor
Make your patio noticeable at night with stringed lights or lighted signage
Ensure the ground is level or choose furniture to compensate for slight variations
Store furniture cushions in a dry, secure space overnight or during rain
Advertise Your Patio Space
Your patio space is only profitable if you can get people to come and enjoy it. Right before warm weather hits your area, start to ramp up your marketing online and in person to get customers excited about your outdoor space.
One of the easiest ways to advertise your patio is to attract diners with an outdoor sign. If your patio is next to the street or on the sidewalk, it'll be easier to draw in customer attention with signs and decorations. Place signs and lights on the sidewalk outside your business, at your entrance, or even inside your restaurant so guests waiting to be seated will know there's an outdoor dining option.
If you plan it right, an outdoor bar or restaurant space can bring in new customers during the warmer months. Opening an existing patio bar or starting a new one will also boost your profits with extra drink sales. Remember to give guests a fun, comfortable atmosphere, and pair it with delicious food and drinks. The combination will keep customers coming back all summer long.