Best Types of Patio Heaters
Freestanding Patio Heaters
If you don't need to install your patio heater permanently or want the versatility to move a heater from one spot to another, a freestanding unit is an ideal choice. These models don't typically require mounting brackets and most of them use portable propane tanks for power, although natural gas models are also available. Keep in mind that each freestanding heater has its own control so your staff can turn on only the ones that are needed at any given time.

Since they are easy to move around, freestanding heaters are great for community festivals, hotel events, and parties at country clubs. There are four types of freestanding patio heaters.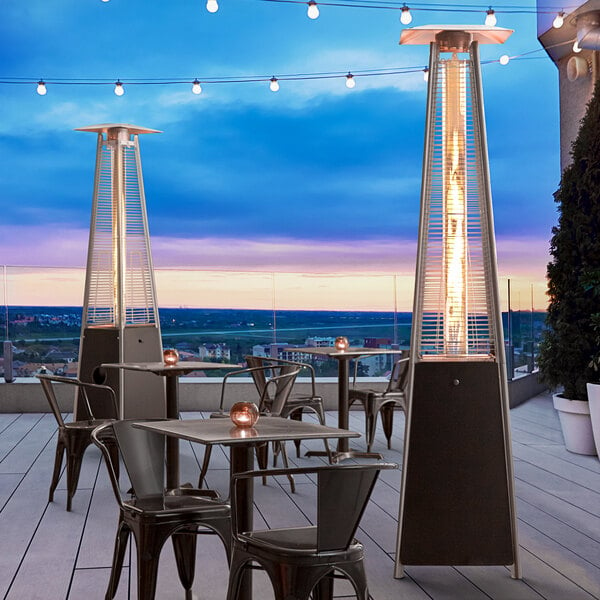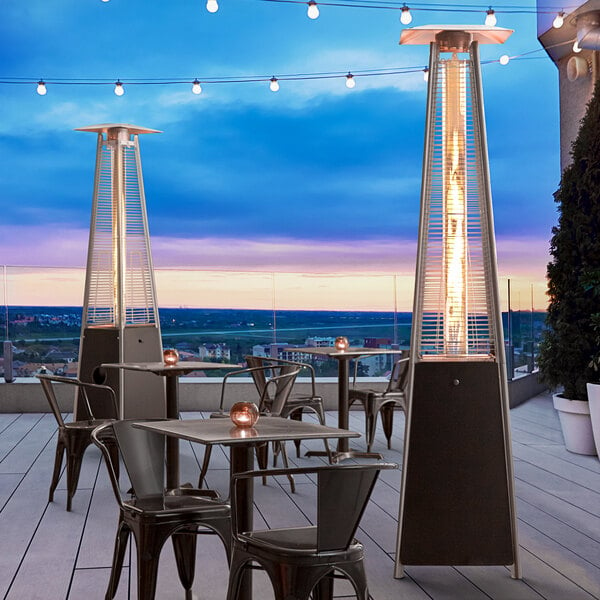 Pros
Pleasing appearance
Provide ambiance
Ideal for small spaces
Mid-range prices
Cons
Least efficient
Heats the least amount of space
Little to no wind-resistance
Non-directional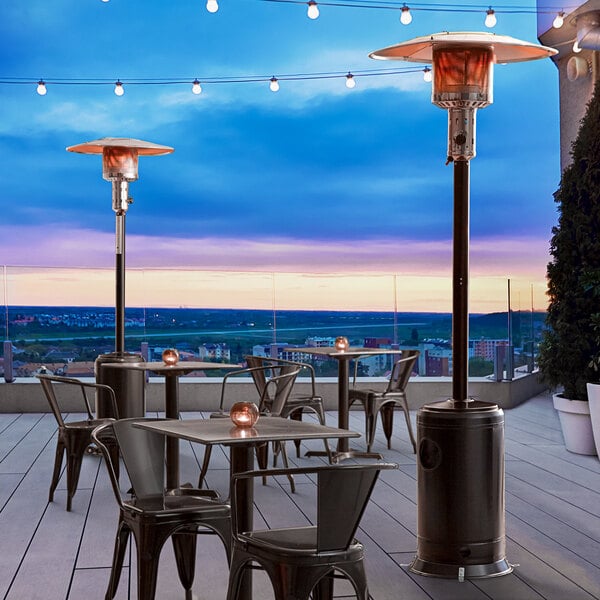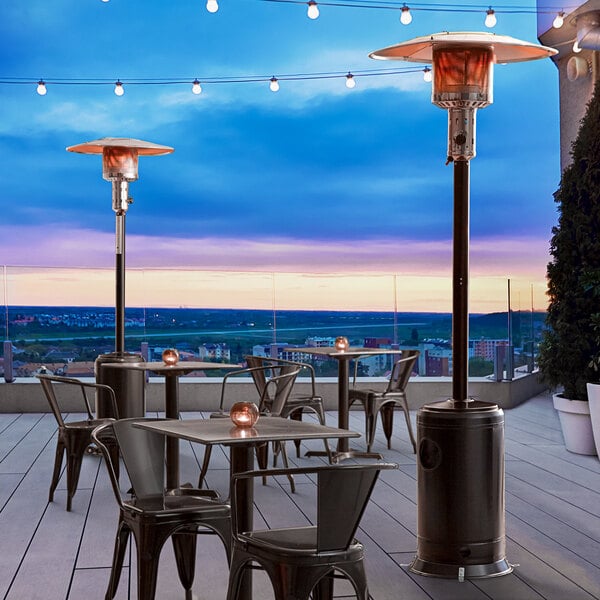 Pros
Pleasing appearance
Different sizes available
Ideal for small spaces
Great for areas where guests are standing or walking
Least expensive to purchase
Cons
Not very efficient
Heats a small amount of space
Little wind resistance
Easy to tip or knock over
Non-directional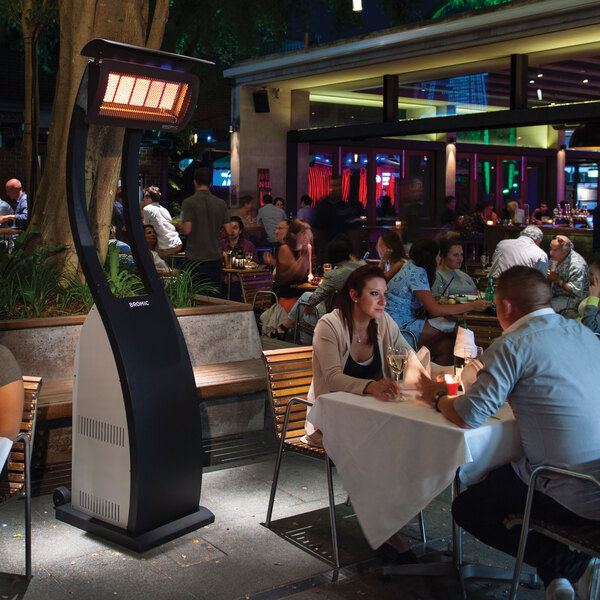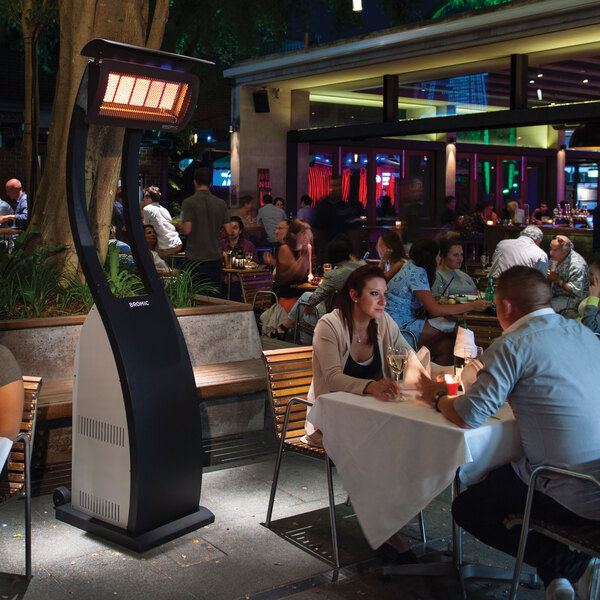 Bromic Tungsten Smart-Heat
Pros
Chic, modern appearance
Black color blends in with surroundings
Greatest wind-resistance
Most efficient
Heats the largest area - 180 sq. ft.
Anti-tilt structure resists tipping
Directional heating
Doesn't need to impede walkways
Cons
Most expensive up front
Larger footprint than other types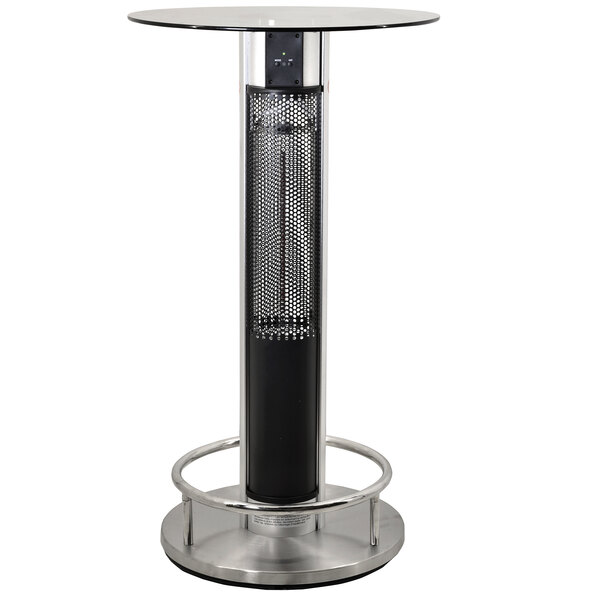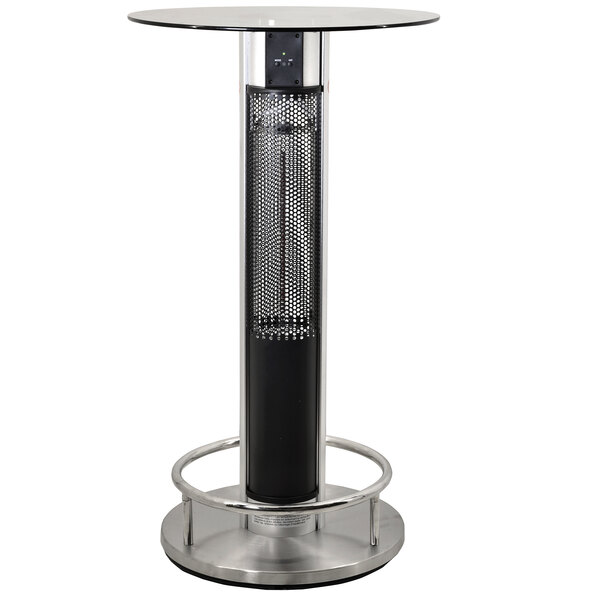 Pros
Adds table space
Keeps customers warm without taking up extra space
Chic and modern design
Safety shutoff in case of tipping
Still functions as a table even when turned off
Cons
Does not heat the upper air
Not very efficient or wind resistant
Non-directional
Small coverage area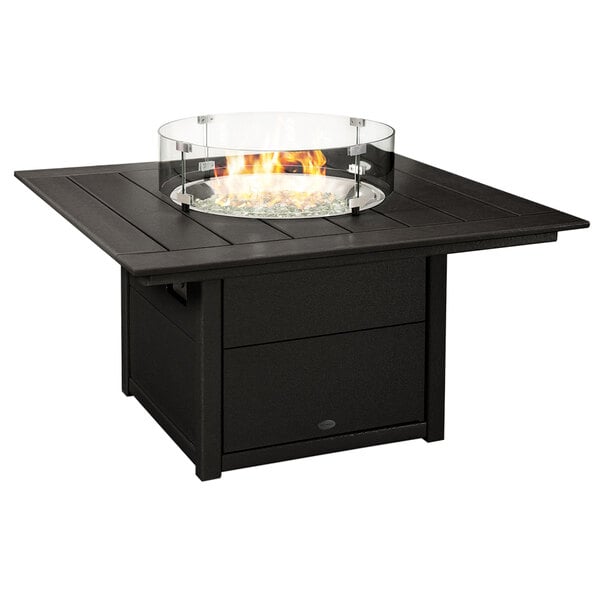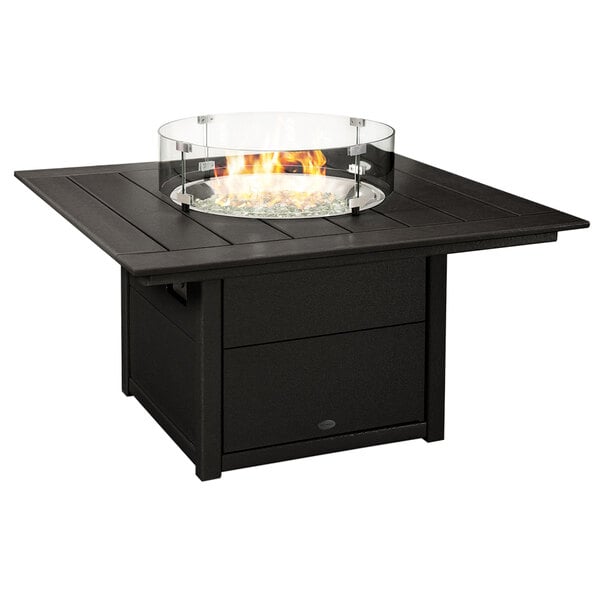 Pros
Pleasing appearance
Provide warm ambiance - not intended for cooking
Add rustic appeal
Provide a small amount of warmth
Cons
Only warm small areas
May require greater clearances and special installation
Wall or Ceiling Mounted Patio Heaters
For permanent installation on patios and decks, wall or ceiling mounted heaters may be your best choice. By strategically placing permanent heaters, you can provide consistent heat directed precisely where it is needed. Heaters mounted above customer areas don't take up any floor space so you'll have more room for tables and chairs, as well as room for customers and staff to walk.

Some permanently mounted heaters have more control options so that you can operate them remotely. Also, many wall mounted heaters can be linked together to create zones that can be easily controlled with the touch of a single button.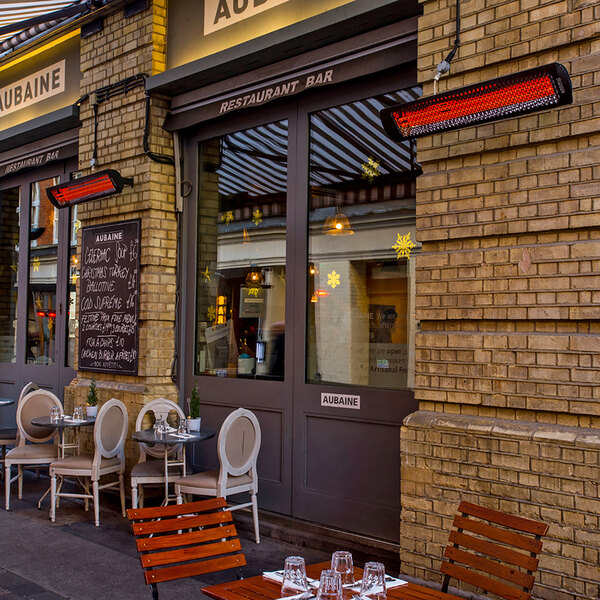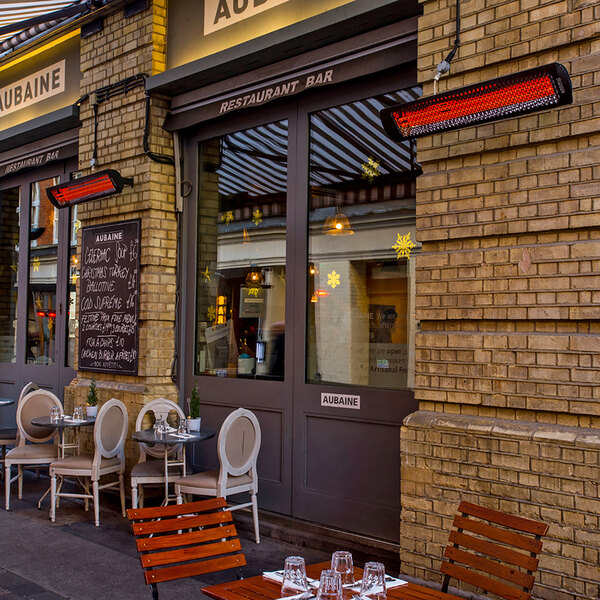 Pros
Mount out of the way of traffic
Allow more space for tables
Typically more efficient than freestanding units
More control options
Less obtrusive
Cons
May be more expensive
More complex to install
May require professional layout / design / installation
Not portable
Patio Heater Power Type - Electric, Natural Gas, or Propane?
Make sure you choose a power type that best fits your location and the utilities you have available. Also, keep in mind that electric and gas units each have different mounting and ventilation requirements.
There are many considerations when choosing between electric, natural gas, and propane patio heating options. For example, in a rural location, you may not have access to natural gas so electric heaters might be the best option for you. If your business already uses natural gas for cooking and indoor heating, this fuel type may be the best choice for you because it is readily available and often less expensive than electricity. The choice between an electric patio heater, a natural gas patio heater, and a liquid propane patio heater is usually easy to make, but read on for additional pros and cons of the different fuel types!
---
Outdoor electric patio heaters provide heat from a renewable energy source, while providing heat instantly and with no wait time. Analyze the list of pros and cons for electric patio heaters.
Pros
Requires smaller clearances
Flush mount models are available for recessed installation
Greatest wind resistance
Available with multiple heat level settings
Cons
Most expensive to operate
Another alternative to fuel your outdoor patio heater is with natural gas. Learn all about the pros and cons of a natural gas patio heater.
Pros
Least expensive to operate
Available with greatest BTU outputs
Available with greatest coverage areas
Cons
Requires larger clearances
Less wind resistance than electric
Only 1-2 heat level settings
Cannot be recessed
Lastly, learn about patio heaters that run on propane. Just like electric and natural gas patio heaters, propane patio heaters also have pros and cons.
Pros
Generally used for portable heaters
Convenient and versatile
Cons
Requires larger clearances
Less wind resistance than electric
Only 1-2 heat level settings
More expensive to operate than natural gas
Cannot be recessed
Benefits of Outside Patio Heaters
Make the Most of the Seasons
Extend your patio seating season! Since spring and fall can be cool in many climates, a lot of restaurants can only use their outdoor spaces during a few of the warmest months. By properly heating your patio or deck area with a system of outdoor heaters, you can make those spaces comfortable for customers to use earlier in the spring, later into the autumn, and even potentially during the wintertime if you choose to make your patio a destination for winter dining.
Open Earlier, Stay Open Later
Even in warm climates, customers may become chilly sitting outside after sunset. By adding patio heaters to your space, you can ensure more available seats for the dinner rush - boosting your profits over the long term! Or, if you open early in the morning for breakfast, you can allow customers to comfortably enjoy the sunrise from your deck.
Increase Revenue and Profits
When you make your outdoor seating areas usable for several more hours each day and for several more months in each year, that adds up to a substantial increase in profits for your business. While the upfront costs of installing patio heaters may seem daunting, you can make up those expenditures and get a return on your investment very quickly with the increase in revenue.
This table lists an example calculation that demonstrates how much additional yearly revenue your outdoor spaces could generate. To see what the additional revenue could be for your business, simply follow this formula and use the revenue information from your own restaurant.
How Much Could My Revenue Increase?
How much revenue does each seat generate per shift (in dollars)? x How many additional shifts will your patio operate per day? x How many additional days per year will your patio operate? = Estimated Total Additional Revenue per Year
Example: 40 x 50 x 1 x 60 = $120,000
What to Look for in a Restaurant Patio Heater
Outdoor Heater Controls
Most freestanding patio heaters will have the controls mounted on the unit itself. If you choose to go with a system of wall or ceiling mounted heaters, though, there are some additional options that you can choose from! When you are shopping for a patio heater, pay attention to what control options are offered. Also remember that there are often different controls available for single stage and two stage units. Some of the common control choices are shown on this table with their benefits and drawbacks.
On Unit Control
A single control for each patio heater, mounted on the unit itself. Usually a simple on/off toggle.
Pros
Super simple to use
Allows you to turn on only the heaters you need
Less expensive
Cons
May be difficult to reach for some employees
Requires each unit to be turned on manually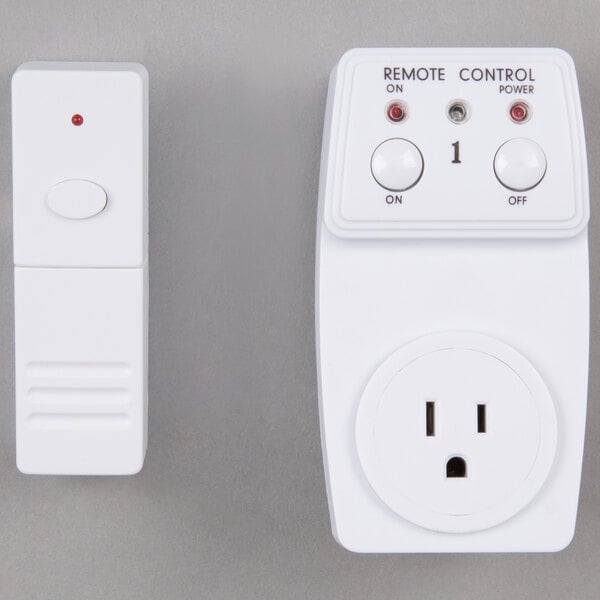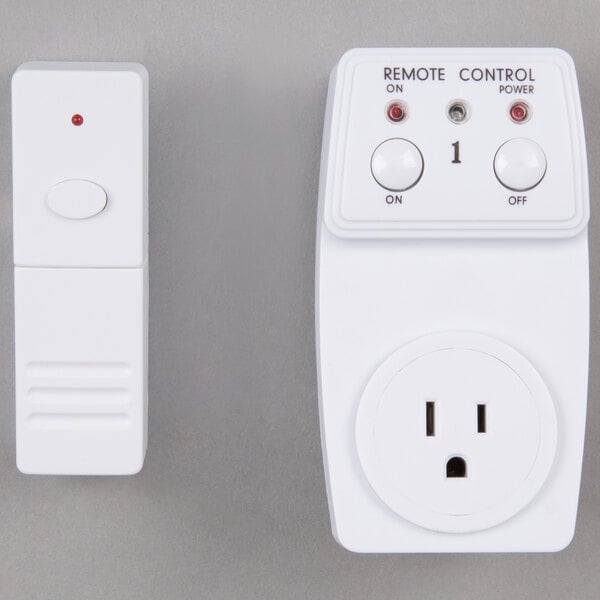 Simple Remote Control
Works like a ceiling fan remote. Wired and wireless controllers are available that send a signal to turn the heater on or off.
Pros
Easy to use
Different versions can be permanently mounted or handheld
Can be placed where it is easy for employees to reach
Cons
In some cases remote controls are not designed for single heaters
Multiple remotes may be required for multiple zones of heaters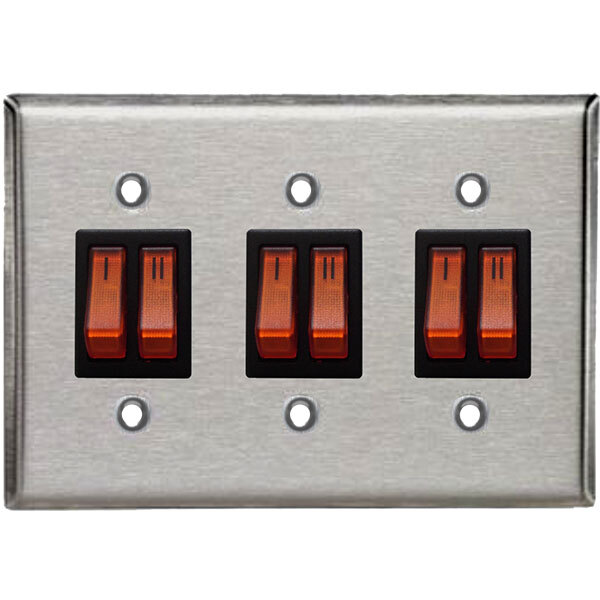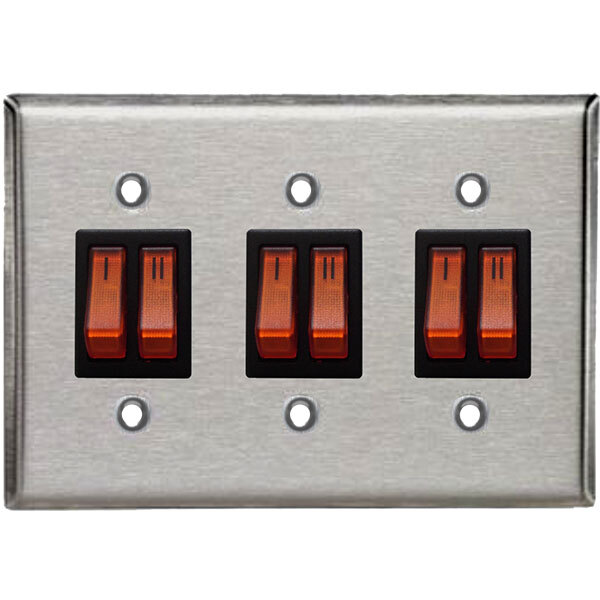 Remote Control with Zones
Allows heaters to be set up in zones for greater control over which heaters are turned on, and when.
Pros
Only turns on the heaters that you need at any given time
Can be mounted at a location that is easy for employees to reach
Cons
More expensive and complex to set up and operate
Not available on all patio heaters / systems
Patio Heater Materials
Coastal environments can be particularly harsh on any metal or wood furniture and equipment that is used outdoors. This is something you already know if your business is near the water! To make sure your patio heaters last as long as possible, consider purchasing units made of marine grade type 316 stainless steel if your business is located in an area where salt water corrosion is an issue.
Pros
Durable and weather-resistant
More colors available
Cons
Coating can be damaged or scratched
May corrode quickly in harsh coastal environments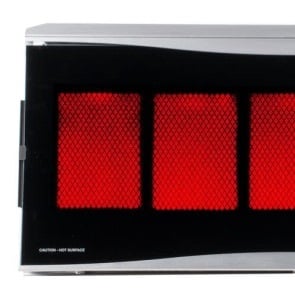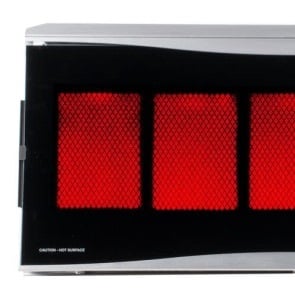 Pros
Durable and weather-resistant
Sleek and professional
Cons
Some models have a more industrial appearance
May corrode quickly in harsh coastal environments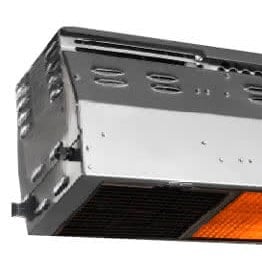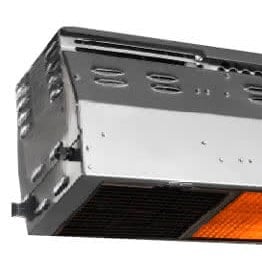 Marine Grade 316 Stainless Steel
Pros
Designed to resist corrosion in harsh coastal conditions
Cons
Some models have a more industrial appearance
Most expensive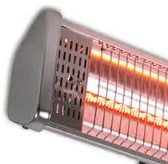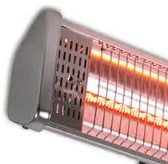 Pros
Generally corrosion-resistant
Less expensive for mounted units
Cons
Less durable than other models
More industrial in appearance
How to Design a Patio Heating System
Laying out your patio heater system can be tricky, so knowing the dimensions of the space, the clearances available, and the amount of coverage you need is important.
Do It Yourself
If you only need to heat a small space, it is easy to choose the patio heaters yourself. When you are deciding what patio heater will best suit your business, there are a few questions to ask yourself:
How much area do you need to heat? Small spaces may benefit from freestanding heaters while larger areas can be heated using wall mounted heaters with the correct coverage area. Know how much space you have to heat and double check the math to be sure the heaters you choose will be up to the job.
What is the weather like at your location? If it is usually a bit breezy, you may want to invest in infrared patio heaters which have better wind resistance. Or, you may need to use additional heaters to make up for the challenging ambient conditions on your patio.
How much will the patio heaters be used? If they will only be used infrequently, you may not need to invest in an expensive system of wall mounted heaters as freestanding units may do the job.
What utilities are available? If electrical connections or natural gas plumbing are not available in your outdoor space, your options may be limited to propane-operated heaters.
Ask an Expert
If, however, you need to create a system of patio heaters to warm a large outdoor space the process can be a little more complicated. You might want to consult with the installer or a professional designer to make sure that the system of heaters you choose is properly suited to your space and that the heaters are placed in the right positions. Many patio heater manufacturers also offer consultations and free resources to help create the perfect outdoor heating solution for you.
Safely Using Outdoor Heaters
Indoor vs. Outdoor Use
While some electric patio heaters may be approved for use inside, most electric models and all gas models should only be used in open, outdoor, well-ventilated areas with a minimum of combustible surfaces nearby. Be sure to check your local building and fire codes to make sure that there are no restrictions on the use of outdoor heaters in your municipality.
Clearance from Flammable Materials
While you want to be sure that your patio heater puts out enough heat and is close enough to the area you wish to keep warm, it's also important to remember that the patio heater itself will get hot. Placing a patio heater too close to flammable materials like wood, cloth, or paper can be dangerous.
Plus, be sure not to allow furniture or other items to come into contact with the heater to protect your furnishings and prevent damage to the heater itself. Most outdoor heaters have specific requirements for installation in locations that are near combustible surfaces.
If you need to hang your heater from a wooden patio overhang, mount it to a sided exterior wall, or place it near non-metal patio furniture, be sure to consult the specification sheet and manual for the unit you choose. Make sure that your location can accommodate the clearances recommended by the manufacturer. In some cases, an additional shield or heat deflector may be required. Additional commercial patio heater parts and accessories are also available for proper installation and maintenance of your new outdoor heating system.