How to Buy a Food Truck
Last updated on 5/15/2019
If you're reading this article, then you're most likely considering starting a food truck business, which means you're going to have to buy a food truck. The process of buying a food truck can be an expensive, time-consuming task that involves a lot of communication between buyers and manufacturers. In order to make the task less intimidating, this article guides you through the purchasing process, from making the business plan to choosing special features for your food truck.
Shop All Food Truck Supplies
If you're looking for information about a specific part of the process of starting a food truck, you can use the links below to jump to the correlating section.
How Much Does a Food Truck Cost?
A food truck costs anywhere from $50,000 to $250,000 after customization and legal fees. Most businesses tend to stick closer to the $70,000 to $130,000 range.
With that being said, you're most likely going to need to apply for financing or a loan. Before heading to your bank, you should know your credit score and have an idea of what kind of permits and licensing requirements will add to the cost of purchasing your truck.
Starting a Food Truck

First and foremost, it's important to understand the financial obligation you're getting yourself into. The best thing to do is start by writing a business plan for your food truck.
Writing this plan involves a lot of research. You need to know who your target market is, your city's local ordinances, parking permit regulations, and what type of equipment your menu requires. While starting a food truck business is oftentimes much cheaper than opening a restaurant, it still comes with a hefty price tag.
Once you've been approved for a loan, you can finally determine your budget and start shopping. When buying a food truck, you're typically presented with three options: buying new, buying used, or leasing.

Buying New Vs. Buying Used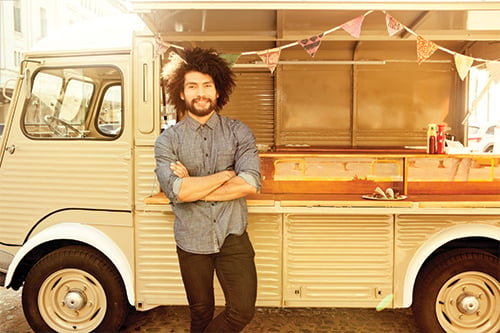 One of the biggest and toughest decisions you'll have to make when buying a food truck is whether to purchase it new or used. While there are advantages and disadvantages of each choice, it ultimately comes down to what your budget is and how much you can afford up front. We'll go over the pros and cons of each choice, so you can make a decision that best suits the financial status of your business.

Advantages of Buying a New Food Truck
New trucks can be customized to meet your very specific needs.
The risk of costly breakdowns and major repairs is greatly reduced.
You don't have to worry about whether or not the previous owner took care of the truck.
New trucks are likely to come with great warranties.
They look new, fresh, and clean.
Disadvantages of Buying a New Food Truck
New trucks are costly, so you need proper funding.
A longer lead time may be required for the manufacturer to customize your brand new truck.
If you quickly outgrow the size of your truck, you may not have the proper funds for renovations or a new truck since you spent so much up front.
Advantages of Buying a Used Food Truck
Used food trucks are initially cheaper than new trucks.
All retrofitting is already done, so you can see if the kitchen layout works for you.

Buying used eliminates the complex task of figuring out what equipment to purchase.
There are fewer choices to make.
Disadvantages of Buying a Used Food Truck
There is a higher risk for costly repairs and maintenance.
There's no peace of mind knowing that the previous owner took care of the truck.
Life expectancy of a used food truck is much lower than that of a new truck.
Many vendors are skeptical of customizing used food trucks, since they don't know what type of work was previously done to them.
Leasing a Truck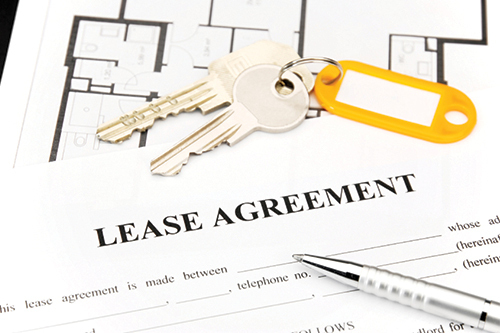 Another option to consider when buying a food truck is leasing. This route is ideal for individuals who are new to the foodservice industry or for those who are experimenting with the food truck business. Leasing allows truck owners to make smaller payments over time, which gets them the brand new, higher-end truck they want without the large initial cost. Additionally, since purchasing the actual truck is the most expensive part of the food truck business, it makes sense for some entrepreneurs to eliminate a huge initial payment.
One disadvantage to leasing a truck is the uncertainty of what happens when the lease runs out. If your food truck business is doing well, but your lease expires, then you're going to need to quit the business or find a new truck to purchase immediately. If you decide to lease a truck, first see if your agreement has a lease renewal or lease-to-own option.

Where To Buy Your Food Truck
Now that you know your budget and have decided whether you want to buy new, used, or lease, it's time to find a reputable food truck dealer. While it is an option to purchase from private parties and sites like Craigslist or Ebay, it's important to recognize that a lot of risk is involved. When making a purchase this large, you want to know every detail about your future food truck.

If looking through the classifieds isn't the option for you, then consider purchasing your food truck from a reputable manufacturer like Prestige Food Trucks, Cruising Kitchens, or FoodTrucks.net. These dealers offer a selective inventory of food trucks, and most offer leasing options, as well. You'll also be able to fully customize your food truck when purchasing from any of these sites.
Another option is to check out a site like Food Truck Empire, which provides a list of reputable dealers and can help you find a dealer by state. Also, many food truck owners have said that they went to the owner of their favorite truck and asked where they purchased theirs from. Be sure to also inquire about how well the truck runs and if they'd recommend the company they bought their truck from.

Making Your Food Truck Inquiry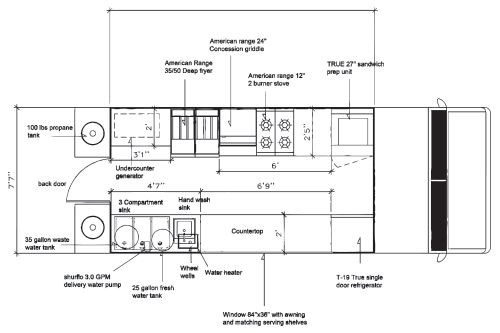 Customizing your food truck can be the most stressful but also the most intriguing part of making your purchase, and if you go with a reputable manufacturer, then they'll surely take most of the stress off your shoulders. Jeremy Adams of Prestige Food Trucks provided some great insight on how a typical purchasing process goes:

A customer will call or email the company they want to purchase from with an inquiry.
The customer receives a response back that typically asks them what their equipment needs and budget are, what city they'll be operating in, and what type of food they'll be serving.
Once this information is provided, a company will usually send out custom blueprint options to which customers can make any adjustments.
After this is completed, a company typically works on a 2-3 month lead time before shipping the food truck. Many manufacturers will ship nationally or internationally.
Once a customer receives their purchase, they must obtain any permits needed before they can hit the streets selling their specialty cuisine.
It's important to realize that a lot more communication goes into the purchase than what is listed above, but this gives you a general outline of the process. Now, let's get into the more complex details of having your food truck customized.

Customizing Your Food Truck
When making a purchase this large, you should have a solid idea of the food truck equipment you'd like to install. The main factor that determines the layout of your truck is the cuisine you're offering. While the most common items to be included in a food truck are flat grills, countertop fryers, food warmers, refrigerators, and freezers, each truck will differ. For example, a food truck specializing in pizza would need a pizza oven and possibly an extra generator or propane tank, whereas a coffee truck would benefit from having an extra supply of hot water. Be sure your layout provides enough space for other food truck supplies, too.
Size
Size is another factor to consider when purchasing a food truck. You need to make sure you choose a vehicle that's large enough to accommodate your kitchen layout, ingredient storage needs, and staff members. Many companies can transform anything, from step van chassis and sprinter vans to passenger vans and RVs, into a fully functioning food truck.

Gas Vs. Diesel
You will also need to decide whether you want to go with a gas or diesel engine for your food truck. There are many pros and cons to each type, so it ultimately depends on your personal preference. Overall, many food truck owners prefer a diesel engine because of how powerful it is, but you have to be prepared for that slightly larger initial investment.
While gasoline is cheaper than diesel fuel, diesel has a greater fuel economy. Gas engines will run more quietly and have a less noticeable odor, whereas diesel engines provide you with unmatched power. If properly maintained, a diesel engine can easily go for 300,000 miles. Also, when maintenance is required, gas engines are typically cheaper; however, since diesel engines tend to last longer, you'll get a better resale price if you ever decide to sell your food truck.

Special Features
Finally, when customizing your food truck, you get to pick the special features that will make it your own unique restaurant on wheels. Whether you're adding special equipment to the interior of the truck to make food prep more efficient, or you're adding aesthetic details to the exterior to make your truck more visually appealing to customers, you're sure to find a dealer that can work with your vision. Check out some of the great accessories you can add to your truck below:
Security awning. This locking security awning will protect the contents of your food truck when not in use. This awning is usually a sliding piece that covers windows, doors, and any external TVs, speakers, or other devices to protect them from vandalism. This awning also matches the design of the rest of the truck and can be used to provide extra branding space.




Flat Panel TV. Add a flat panel television to the exterior of your food truck so you can market your menu, specials, locations, and other important information. Or, use it to play music.




Speakers. By adding on speakers, you can play some tunes to keep your long line of customers entertained.




Retractable awning. Give your truck a more intimate feel by adding on a manual or electric awning. These items also provide shelter to your customers who are waiting at your serving window. You can even find longer awnings that will protect patrons in line from the rain, snow, or brightly shining sun. Additionally, an awning creates a slight sound barrier that allows workers to hear customers' orders more clearly.




Misting system. This feature is perfect for the summer months or for food trucks in areas where the climate is hot year round. These units are typically installed above the exterior serving window to keep customers cool while they wait.




Vinyl wrap. Many businesses have designers who work with clients to create their own personal logo or image. This is then transferred onto a vinyl wrapping that goes around the entire truck for branding. These wrappings can include graphics, menus, business names, and any other advertising materials, and they will include the proper cutouts for windows and serving windows.




Perforated window film. Window perforation allows your logo or decal to continue onto the exterior of your windows. This allows customers to see the image, but also enables employees to still see clearly out the window.




Dual-service. Many truck owners want to have service stations on both sides of the truck so they can maximize volume and service.
Buying a food truck involves a lot of research, time, money, and communication, but if you follow the steps outlined above, the process will be easier, less time-consuming, and run more smoothly. And, remember, starting a food truck business requires a lot of money up front, but if you are successful, then you're sure to profit.