WebstaurantStore / Food Service Resources / Blog
Liven Up Your Bar or Restaurant with Live Music
Are you looking for a fun event that can bring more customers and revenue to your business? If so, consider hosting live music events at your bar, restaurant, or cafe. While you may already have a good restaurant play list, it's important to change up your entertainment routine with live music to give your customers something new to look forward to. Whether you're planning to book a pop cover band or a small acoustic set in your bar or restaurant, here are some things to consider.
Benefits of Hosting Live Music
Before you consider booking live entertainment for your restaurant, bar, cafe, or other establishment, it's important to know the benefits. First, and most importantly, good live music entices your customers to stay longer and spend more money on drinks and food. Many businesses that have booked creditable entertainment have brought in increased profits from drink sales, and it's even been proven that higher sound levels from music lead to increased drink consumption. Additionally, hosting a band in your venue livens up the atmosphere, which entices potential customers walking by to come in. You can also draw in a new customer base, since the band's local fans will most likely show up for the event.
What to Consider Before Booking a Band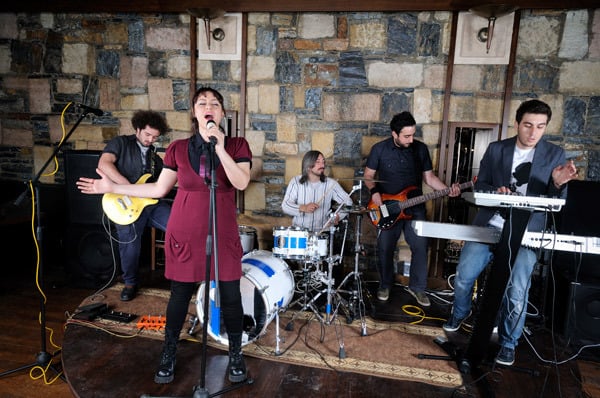 While it may seem easy to find a band, book them, and have a successful and profitable night, there are a lot of factors to consider beforehand. Without proper planning, you could book a band that drives your customers away, or you could schedule an event on the same night as another bar's and have no customers show up. There are also certain legal factors that you should be aware of to ensure your business is covered against any lawsuits. Before you jump head first into booking a band, be sure to ask yourself the following questions:
Do you have ample floor space to accommodate a band?
Does your establishment have the proper lighting and sound equipment?
Do you have a valid music license for live music?
Does your insurance cover the musicians, DJs, and any other possible liabilities?
Will the noise from the music disturb neighboring businesses or residents? Be sure to know your local noise ordinances to avoid fines.
Is your budget large enough for the band you want?
Finding a Band for Live Music Night
When choosing a band, individual artist, or other music performer for your event, it's important to do the proper research. You want a band with a good reputation, so you know they're going to show up, act professionally, and deliver what your customers want. To find a reputable band, consider checking out some shows at your local music venue, if you have the time. You can also use social media to follow band's pages and build relationships with them. Local bands are great targets, because they're usually cheaper and looking for places to play. You can even contact local colleges, because they often have music students looking for ways to get their name out to the community.
How to Make a Profit by Hosting a Live Band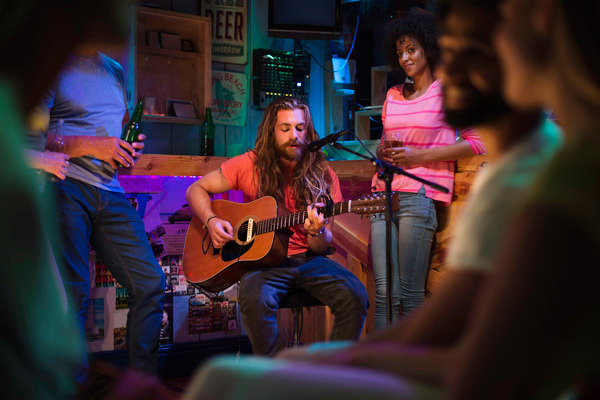 If you've done the research and have decided you want to book a band, then consider some of the tips listed below:
Choose a genre that complements your establishment's personality, so your customers stick around for the entire set. For example, coffee shop owners might choose a singer-songwriter, whereas a bar operator may want a rock and roll cover band. The style of music you choose also depends on your establishment's regular clientele. If your business attracts an older crowd, a classic rock band may be more suitable, whereas a downtown bar with a younger crowd may book an Indie alternative band.
Have a clear contract written up and signed by all parties.
Charge a reasonable cover at the door and use wristbands to show that individuals have paid or are over 21.
Keep free tickets on hand for journalists and promoters. If the event gets good reviews and press, then your business' name will get more exposure.
Do a sound check before the event starts to clear up any technical issues.
If you're hosting more than one band, have the first act go on within thirty minutes after the doors are opened and put the most popular band on last, so customers stick around.
Keep in contact with the band's manager throughout the night, so you know where they are if an issue arises.
Whether you're looking to host open mic night once a week, live bands every Friday, or special events for holidays, these tips are sure to help you bring in more profit. Just remember that while the first few attempts at hosting live music in your restaurant may be difficult, the task of finding and bringing in better acts will get easier as you get a few events under your belt.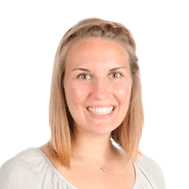 Posted in:
Advertising & Marketing
|
Management & Operation
| By Ashley Kufera