BYOB Meaning
As the restaurant industry thrives, BYOB restaurants continue popping up, especially in areas where beer, wine, and liquor licenses are hard to come by. But that doesn't mean all BYO restaurants are the same. In fact, many have their own regulations on what patrons can bring in, and some charge fees depending on the type of restaurant and the restaurant's existing alcoholic beverage selection. Below we dissect the meaning of BYOB, the different types of BYO operations, and we offer tips on how to run a successful BYO eatery.
What Does BYOB Mean?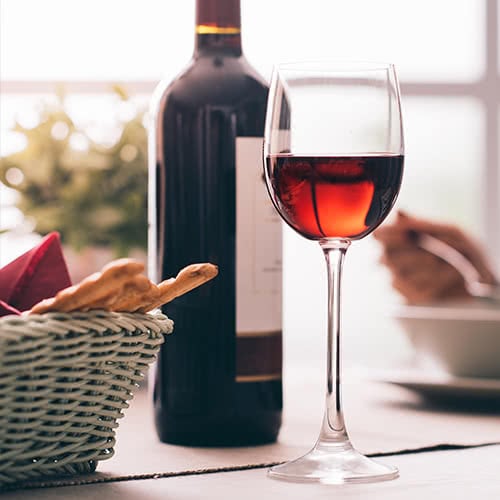 BYOB is an acronym that usually stands for "bring your own bottle," though in some instances the second "B" may refer to "beer" or "booze." The term BYOB is used to describe restaurants or events at which guests are encouraged or allowed to come with their own alcoholic drinks.
Some restaurateurs or party hosts might shorten the acronym to "BYO" to avoid specifying a type of alcohol. Frequently, a BYOB restaurant policy refers to a bottle of wine, but some restaurants permit patrons to bring other types of alcoholic beverages. On the other hand, a BYOB or BYO party policy usually signifies any beverage of choice.
What Is BYOB?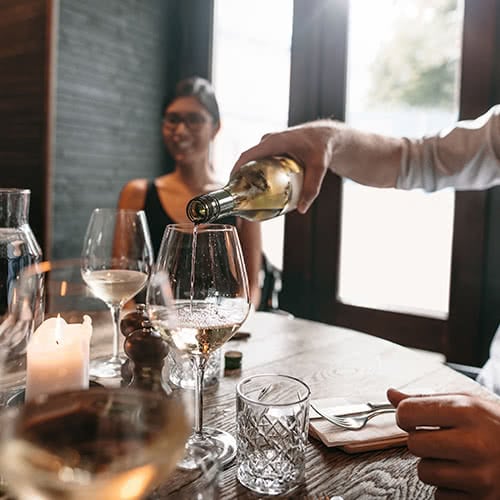 If a restaurant or party is BYOB ("bring your own bottle"), this means that guests are free to bring their alcoholic beverage of choice with differing limitations according to the restaurant or event. Below are in-depth descriptions of BYOB customs.
BYOB Restaurants
BYOB restaurants are typically those that do not have a license to sell alcohol, so the establishment permits guests to bring their own drinks. Occasionally, a restaurant will have an alcoholic drink menu yet still promote itself as a BYOB restaurant. This may happen at restaurants that have a limited liquor, beer, or wine selection or that offer some drinks, such as beer and cider, but do not offer a wine selection.
Non-BYOB Restaurants that Allow Guests to BYO
Numerous restaurants that have full alcoholic drink lists still might permit guests to bring in their own alcohol. In these cases, a corkage fee is almost always included. In addition, guests usually follow certain corkage fee etiquette, such as calling ahead to check with the restaurant, offering the sommelier a taste, and tipping on the corkage fee. This is because it is considered a courtesy for these restaurants to allow guests to bring in their own bottle. Read more about corkage fee policies below.
BYO Policies Differ Based on Licenses and House Rules
Some states do not allow BYOB establishments to exist without a liquor or beer and wine license. So, if you are interested in starting your own BYO eatery, check with your local laws. In addition, while the type of alcohol that guests are allowed to bring into a restaurant is first governed by laws, it is then up to the restaurant to decide what patrons can bring in.
House Rules Determine the Type of Alcohol that Can Be Brought In
According to house rules, for example, a restaurant might permit guests to bring in wine but not beer or liquor if they offer it on their menu already. Other situations include different restaurant concepts. For example, a Mexican restaurant might operate with a "bring-your-own-tequila" policy and supply margarita mixes and limes while prohibiting guests to bring in other types of alcoholic beverages.
BYOB Parties and Events
When in the context of a party, hosts may tell their guests the party is BYOB or will paraphrase to BYO (simply "bring your own") to let guests know they can or should bring their own beverage of choice. In these cases, the rules are naturally more flexible because they are usually not referring to public operations.
Corkage Fees at Non-BYO and BYO Restaurants
Below are explanations for the typical corkage fee policies at BYOB restaurants as well as restaurants that do not promote themselves as a BYOB.
Corkage Fees at Non-BYO Restaurants
Restaurants usually require guests to pay a corkage fee when they already offer their own wine as a way to offset the costs required to run a wine program. These costs may include having sommeliers on staff in addition to the operating expenses of having wine stocked. In these cases, the average corkage fee ranges from $10 to $40 per bottle, though the price may be higher or lower depending on the type of restaurant and the wine brought in.
Corkage Fees at BYO Restaurants
For the most part, corkage fees at BYOB restaurants are either low or non-existent. Since most BYOB restaurants do not utilize the same labor and cost as restaurants that already offer a drink program, corkage fees are not a necessity for operation, though some restaurants still require guests to pay a fee.
BYOB Tips for Restaurants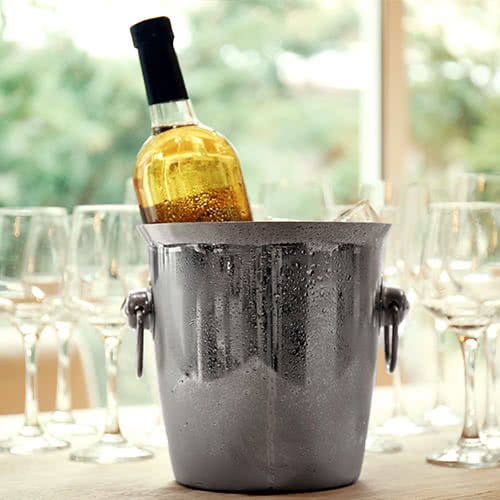 To run a successful BYOB operation, restaurants must follow the local laws and regulations, and guests should feel comfortable to enjoy their beverage and meal. Below are tips to ensure a smooth BYOB experience at your restaurant.
Check with your local and state laws and regulations to determine if and how you can operate a BYOB restaurant.
Decide on your unique house rules. This includes whether or not you will sell alcohol and what types of drinks patrons are permitted to bring in.
Be sure to provide guests with appropriate glasses to pour their beverage in. You may decide to give all patrons a standard wine glass, or you may prefer to stock up on a variety of glasses. The diversity of glasses (ex: champagne flutes, red wine glasses) that you offer may depend on your existing beverage list, the monetary capabilities of your restaurant, and if your restaurant is low- or high-end.
Offer to open guests' wine even if it comes with a twist-off top. Equip every server with a corkscrew and ensure your staff is trained to properly open both wine and champagne.
Provide guests with a wine bucket or extra ice if requested.
Ensure that guests know you are a BYOB restaurant by posting it on your social media channels and on your website. Otherwise, guests may feel disappointed upon arriving to see you do not offer a drink menu.
Know the nearest liquor store. In the event that a guest did not know you were BYOB beforehand, they may decide to grab a bottle to enjoy during dinner. Be sure your staff is able to point them to the nearest location where they can pick up an alcoholic beverage.
The amenities that you choose to provide your BYOB guests will likely depend on the formality of your restaurant, your unique brand, and whether or not you include a corkage fee. Regardless of how much beverage service you provide, every guest should feel comfortable to relax and enjoy a meal at your eatery.
As customers look for ways to continue eating out while saving money, BYOB practices are increasingly popular. If you're not looking to convert to a full BYOB establishment, consider offering a BYO policy once a week or on a slow day to bring in customers, promote your eatery, and increase overall sales.

Posted in:
Management & Operation
|
Bars & Breweries
| By Hannah Herrera