Food Truck Insurance Types and Costs
Last updated on 11/18/2020
If you're looking to start your own food truck, one of the most important business steps is investing in insurance. Without the right insurance or proper coverage, your food truck is at risk of costing you thousands of dollars or putting you out of business entirely. In this resource, you'll get an idea of how much food truck insurance might cost and which insurance types you may need to purchase to ensure that your mobile business is protected.
Click on the headings below to learn more:
Food Truck Insurance Cost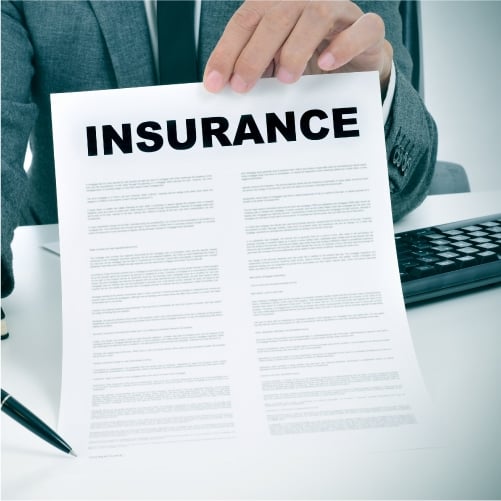 The average cost of food truck insurance is approximately $2,000 - $4,000 a year but could vary depending on the coverage option you choose and your provider.
Below is a food truck insurance average cost breakdown:
General Liability Insurance: $300 - $800 Premium Cost (for $1,000,000 Coverage and $0 Deductible)
Commercial Auto Insurance: $1,500 - $3,000 Premium Cost (for $250,000 Coverage and $500 Deductible)
Contents Insurance: $300 - $1,000 Premium Cost (for $25,000 Coverage and $500 Deductible)
Workers' Compensation Insurance: $1,000 - $1,500 Premium Cost (for $1,000,000 Coverage and $0 Deductible)
Here are some of the factors that can impact food truck insurance rate:
Provider
Business size
State policies
Intended neighborhood (crime rates can increase insurance rates)
Risk factors (cooking equipment are higher risk than refrigeration)
Value of equipment (the higher the price of the equipment, the higher the rate)
Replacement cost coverage versus cash value coverage
Employee payroll
Coverage amount (minimal, average, high)
Deductible options
What Type of Insurance Is Needed for a Food Truck?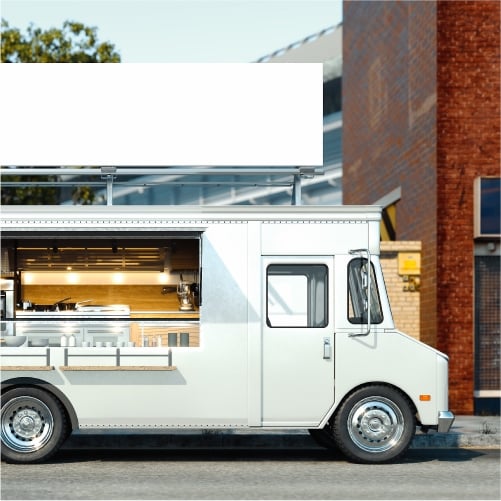 When buying a food truck, it is important to consider the types of insurance you'll need to fully protect your business and vehicle from liabilities, theft, and collisions. The following insurance types are necessary for mobile food businesses including food trucks, ice cream trucks, and catering trucks.
1. General Liability Insurance
Food truck general liability insurance is necessary to protect your mobile business from incidents and accidents involving third parties while your vehicle is stationary but open for business.
General Liability Coverage:
Product-related lawsuits such as those involving foodborne illnesses, food poisoning, burns from hot food, cuts from glassware or metal utensils, and contaminated food with debris or allergens.
Premise-related lawsuits including customer slip and falls on pavement, ice, or sitting water around your food truck, as well as any other injuries to customers or passers-by on your premise.
Advertising lawsuits, such as personal injury, libel, and slander in marketing campaigns (intentional or unintentional).
Property damage lawsuits and fines like those involving damage caused to someone else's building or property by your truck.
Legal fees and representation in court if you do get sued, regardless of the outcome.
Does Not Cover:
Employee-related incidents
Auto accidents
Incidents while your truck is driving from location to location
Most vendors, landlords, and commissary kitchens require food truck owners to have a minimum of a $1,000,000 general liability policy to do business together, and they will often ask to be listed as an additional insured on your policy.
2. Commercial Auto Insurance
Commercial auto insurance is required for all vehicles used for business purposes to protect from liabilities and damage in transit. The policies included in commercial auto insurance protect your vehicle from physical damage to the unit and items permanently attached to your vehicle by bolts, plumbing, and gas lines.
Commercial Auto Coverage:
Collision coverage (damage to the vehicle and permanently fixed items resulting from a collision with a barrier or other vehicle)
Liability coverage (Injuries to others while the vehicle is in motion, damage caused to property while in transit)
Comprehensive coverage (Not-at-fault incidents including theft, fire, vandalism, nature, and weather-related damage)
Does Not Cover:
Injuries and damage caused by your vehicle while stationary
Personal auto policies are sometimes used for smaller vehicles. Be sure to ask your policy provider and local jurisdiction before selecting a personal policy over a commercial policy.
3. Contents Insurance
Contents insurance covers the items that are in your food truck but not permanently fixed to the unit. Contents insurance is often labeled as contents coverage insurance or business property insurance. Business owners have the option to choose between an actual cash value policy (which would provide the cost of the product minus depreciation) and replacement cost value (which covers the cost of a new product). Replacement policies will come with a higher premium than actual cash policies.
Contents Insurance Coverage:
Damage to items caused in a collision
Vandalized items
Stolen items
Items that are not stored in the truck
Items damaged by weather or fire
Does Not Cover:
It is important to pair commercial auto insurance with contents coverage to ensure that all of your food truck belongings are protected by your insurance.
4. Workers' Compensation Insurance
Workers' compensation is needed to protect your employees with wages and medical benefits if they get ill or injured at work.
Workers' Comp Coverage:
Employee slip and falls on the job
Employee job-related illnesses
Employee medical care, expenses, medication, and rehabilitation if they were to get hurt on the job
Employee long-term or permanent disability payments
Death benefits to family members of employees that experience a work-related death
Does Not Cover:
Liabilities involving customers
Non-work related injuries or illnesses
Workers' compensation is a legal requirement by OSHA in most states for food trucks and is highly recommended in the remaining states to ensure that your business is fully protected.
---
How to Get Food Truck Insurance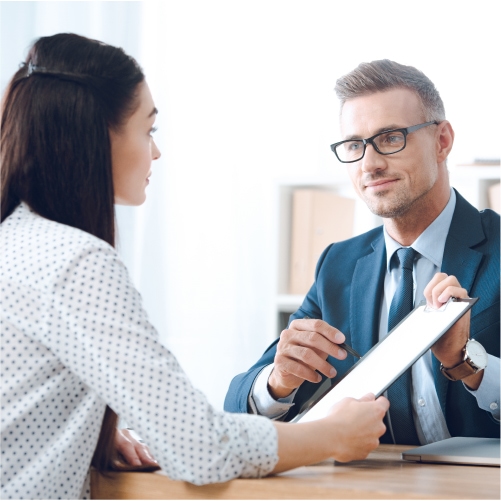 As you draft your food truck business plan, you'll also want to begin your search into finding the right food truck insurance for your business.
1. Research
Research what insurances are required in your state and township to legally operate a food truck. Visit insurance company websites to get an idea of the coverage options they offer. If possible, chat with other food truck owners in your area for advice on which insurance companies and coverage options they selected.
2. Do a Business Assessment
Compile a list of your assets with their value, payroll records, truck registration, and employee driving records. By gathering your important documents and records before you shop for insurance, you'll be able to get a more accurate quote to help you make your decision.
3. Get Quotes
Reach out to various insurance providers with the same information and records to more easily compare direct quotes. You may want to check with 3-5 providers to get an idea of the options available in your area. You can also use a broker to contact providers for you and present the information in a way that is easy to understand and compare.
4. Review Quotes and Purchase
Layout the quotes side by side and choose the provider that provides you with the most coverage within your budget. Complete the insurance purchase with your intended provider.
5. Reassess at Renewal
You'll need to renew your insurance policy either annually or semi-annually. In the period between purchasing and renewing your insurance, make sure that you and your staff are following safety protocols closely to keep your premium down. At renewal, bring up coverage needs or instances where your budget is overextended with your insurance agent to make adjustments to your policy.
---
Where Do I Get Food Truck Insurance?
Most insurance companies that provide auto insurance will have the policies required to protect your food truck business. It is important to explore a few provider options to ensure full coverage will be provided to you. You may receive a discount for bundling insurance policies with one company, but you can use multiple insurance companies to purchase different policies for your truck.
The following are some insurance providers that offer food truck insurance and quotes:
Progressive Commercial
Farmers Insurance
Insure My Food Truck
Freeway Insurance
Bolt Insurance Agency
---
Food Truck Insurance FAQ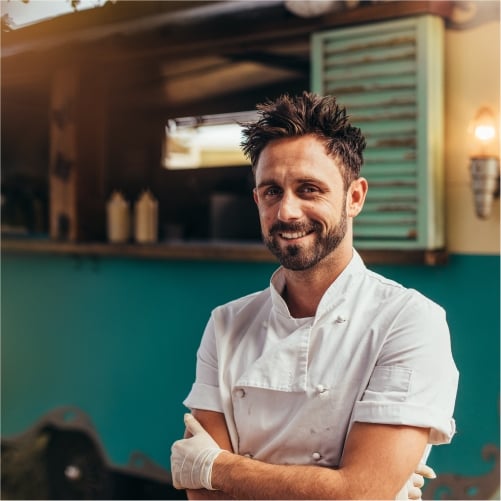 Below are some common question food truck owners have before investing in insurance:
What Are the Most Common Food Truck Claims?
The following are the most common claims encountered by food truck owners:
Theft - Because food truck owners typically keep valuables and equipment on their trucks and trucks are typically left on the street overnight, they are a frequent target for break-ins and theft
Fire - Since food trucks carry and use cooking equipment, they are more likely than other vehicles to be involved in a fire-related incident
What Are the Least Common Food Truck Claims?
The least common food truck claims have to do with foodborne illnesses and food poisoning, even though food is the main source of income for a food truck. It is important to still take food safety precautions to avoid insurance risks and illness among your customers.
Do Food Trucks and Food Trailers Use the Same Insurance?
Food trucks and food trailers may have some insurance policies that overlap. Since a food trailer is towed by a vehicle, the trailer and vehicle will need to be separately insured while food trucks would only need one auto insurance policy for their vehicle. An extended commercial auto and property coverage is typically needed to ensure that food trailers are fully protected from collision damage and liabilities. Be sure to ask your provider for more information about how to protect your mobile food business properly.
How to Keep Food Truck Insurance Premiums Down
To keep food truck premiums down, your goal as a business owner should be to keep claims down. Here are some precautions you can take to keep your rate down:
Hire the best staff. Do background checks, request driving records, provide thorough training, and get your employees ServSafe Certified.
Implement safety and cleaning protocols. Ensure your truck is cleaned regularly to reduce pests and possible illnesses by providing clear rules and cleaning schedules along with safety tips.
Perform regular preventative maintenance. Check on your equipment regularly and perform repairs and cleaning on a daily, monthly, and quarterly schedule to make sure filters are clean, gas lines are clear, and oil is changed out.
---
Your food truck is important to you. Be sure that it is protected from liabilities, collisions, and other threats by covering it with comprehensive insurance to provide you with peace of mind and a successful business in the long run.