Food Handling Certification: How to Obtain a Food Handling Certificate
When it comes to keeping your food safe, becoming a certified food handler is just as important as proper storage. Knowing the principles of safe food handling is critical to the success of your business and the health of your customers. Unsanitary handling can lead to food contamination, foodborne illness, lawsuits, and other problems that have the potential to harm the reputation and bottom line of your restaurant. We'll answer all your questions including what the process is like for obtaining a food handler's permit, the duration for which your certificate is valid, and the importance of each type of food handling certification. To keep your customers safe and your health inspectors happy, the first step is to implement a HACCP plan. The next is to have your staff earn their food handling certifications. Keep reading to learn more about different organizations that offer certifications for you and your employees.
What is ServSafe?
ServSafe is one of the most popular food safety courses in the United States. Because of its dedication to making sure every foodservice business properly stores, handles, prepares, and serves food in a streamlined process with minimal room for error, ServSafe should be your first stop on the road to implementing positive food handling habits in your establishment. Empowering each employee with a certificate for food handling is easy thanks to ServSafe's food handling certification program. It's designed in particular to teach the basics of food safety, hygiene, contamination, temperature, and cleaning.
How do I obtain Servsafe's food service handling certification?
First, you must get the necessary training materials as outlined by Servsafe.
The online course and exam fee for food handlers is $15. This does not include the price of study materials.
Interested employees should attend a training class either in-person or online.
The Servsafe exam must then be administered by an instructor endorsed by ServSafe.
Once exams are graded, your proctor will alert you to the status of your certification.
If you achieved a score of 75% or higher, you've passed the exam and will receive both a large certificate for framing and a smaller, wallet-sized proof.
Your certification is valid for 5 years, at which time you will be required to become recertified.
What is a State Food Safety certification?
Thorough and popularly endorsed, State Food Safety is supported by the most health departments throughout the United States. Their food handling certification differs on a state-by-state basis. This allows employees and managers to learn the specifics about health regulations in their area. Their thorough teachings and compliance with many state or county regulations make the State Food Safety certification an excellent option for employees wishing to obtain a food handling certificate.
How do I obtain a food handler's license through State Food Safety?
The course takes approximately 2 hours to complete and utilizes interactive materials that make the learning process easy while presenting information in manageable sections.
Courses start at $10 but may have additional Health Department fees depending on your state.
Your test is customized to ask relevant questions about your specific state or area.
Requirements to pass vary state-by-state, but you will typically need to have a score of 70% - 80% to receive a certification.
For those who may need it, most course options include 2 test attempts.
Certification cards are valid in most locations for 2 years, but this may vary state-by-state.
What are Food Handler Classes?
Food Handler Classes offer online training, resources, and exams designed to provide the user with the knowledge they need to handle food safely. They provide materials and exams tailored to every state's specific requirements, which includes educating the user on local ordinances and regulations. Food Handler Classes offer the convenience of online courses and exams, but still provide you and your employees with the skills and knowledge needed for competent food handling. Food Handler Classes are ANSI Accredited, and in some states you are even able to earn an ANSI ASTM E2659 certificate as a part of your Food Handler Classes certification.
How do I obtain a restaurant food handler certification through Food Handler Classes?
Courses and exams are $7, but this may vary state-by-state.
Choose the course designed for your state or corporation to ensure you're receiving the right information on local regulations.
Course material is designed to take less than 2 hours to study start to finish, and you will have up to 60 days to finish the material once you've started.
You'll be given 120 minutes to complete the exam, and you must score a 70% or higher to pass.
Upon successful completion, your certificate will be available immediately to print or download.
Your certification is valid for 2-3 years, depending on the state.
What is the National Registry of Food Safety Professionals?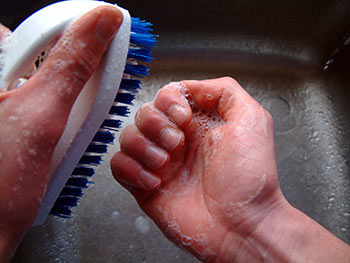 The National Registry of Food Safety Professionals is a nationwide organization that offers dozens of different courses and exams for food service professionals. Their food handling course is available both online and in person. It includes an overview of safety, information on hygiene, a unit on food temperature, and even a breakdown on pests. These topics, along with several others, create one of the most comprehensive exams that your employees can take. ANSI certification is also available through the National Registry of Food Safety Professionals for those in Arizona, California, Illinois, and New Mexico.
How do I obtain a certification through the National Registry of Food Safety Professionals?
Online course materials and the exam are available for $12.95.
Once you begin the program, you will have 30 days to complete the course and assessment.
To pass, you must obtain a 70% or higher on the 40-question exam that may be taken online or in a classroom.
Your certificate is available to print online. You will receive a copy for yourself, a wallet-sized version, and a copy for your manager.
This certificate is valid for 5 years, at which time you'll need to retake the exam.
Is a food handler's card a professional license?
The answer to this question varies based on your local county or state regulations. Depending on the program you choose, the food handler card you receive may be seen by the state as an acceptable form of proof that you are capable of following health regulations when serving food to customers.
Be sure to pick a program above that best suits the needs of your local health ordinances and provides you or your employees with adequate food safety knowledge and training. So long as you keep your staff up to date, certified, and compliant, your employees will have all of the knowledge they need to make sure your restaurant is clean, sanitary, and ready for business.