Food Safety Guidelines Overview: The Complete Guide to Restaurant Food Safety
The best approach to keeping your reputation intact and your customers coming back for more is to practice proper restaurant food safety in your establishment. Nothing can ruin a restaurant's reputation faster than negative sanitation and safety reviews. Plus, food safety is imperative for ensuring the health of customers and staff, as well as maximizing the longevity of your fresh foods. Follow these restaurant food safety tips to keep your customers safe and coming back for more of your delicious food.
What Is the Difference Between Food Safety and Food Sanitation?
While both food safety and sanitation are key factors to the overall success of your business, it's important to understand the difference between the two.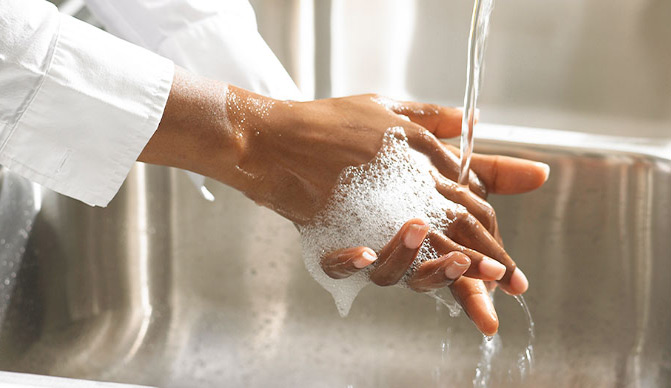 Food Safety Overview
Food safety refers to the ways in which food is prepared, cooked, chilled, served, and overall handled. It is during these processes that improper food handling or a lack of food knowledge can lead to the spread of dangerous germs, bacteria, and allergens.
Food Sanitation Overview
Food sanitation refers to the overall cleanliness and maintenance of your kitchen, equipment, or facilities. Keeping your kitchen and equipment clean and properly cared for keeps your health inspector happy and kitchen operations running smoothly. Disregarding the cleanliness of your facilities can lead to food contamination, dangerous working environments, failed health inspections, and equipment malfunctions.
Restaurant Food Safety Guidelines
There are several important factors that contribute to overall food safety success. Along with developing and implementing a HACCP plan, you can incorporate this information into your trainings and daily practices to ensure your food stays safe for consumption every step of the way.
What is Cross-Contamination?
Cross-contamination occurs when harmful bacteria, allergens, or other microorganisms transfer from one object to another unintentionally. Though often invisible to the human eye, the results of this process can be extremely dangerous or deadly to unsuspecting consumers.
Raw meat, poultry, seafood, and eggs are often sources of dangerous bacteria, such as salmonella and other contaminants. Keeping a watchful eye on employees and implementing preventative measures can mean the difference between safe food service and a life-threatening outbreak.
How to Avoid Allergic Reactions
Here are some tips for how to avoid allergic reactions in your foodservice establishment.
Never prepare an allergen-free meal with the same cutlery used on normal dishes.
Use designated allergy-safe products in your kitchen.
Train staff to properly handle allergy requests from patrons.
Ensure staff members are aware of the "Big 8" common food allergies: milk, fish, soybeans, tree nuts, peanuts, eggs, shellfish, and wheat.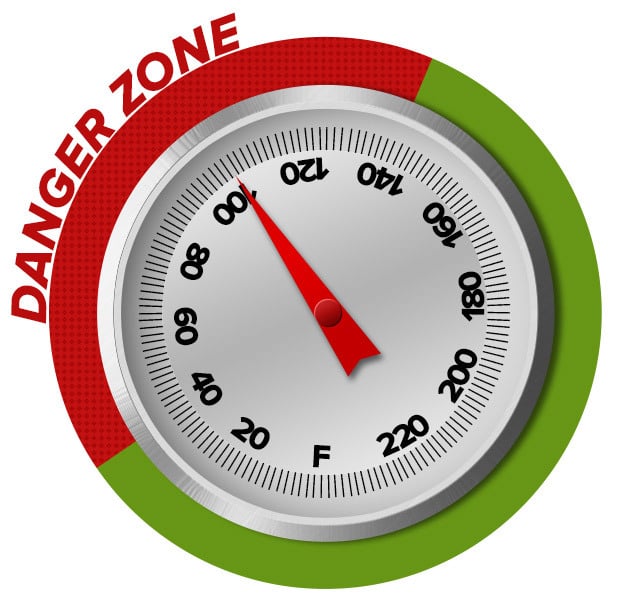 Keeping Foods out of the "Danger Zone"
The danger zone refers to temperatures between 41 and 135 degrees Fahrenheit. For time- and temperature-sensitive foods such as meat, poultry, eggs, and dairy, it's imperative that you keep internal temperatures either above or below the danger zone.
Cold foods should be stored or held at below 41 degrees, while hot foods need to be held 140 degrees or above. As a general rule, these temperature sensitive foods should not stay in the danger zone for more than 2 hours. During this time, dangerous bacteria can grow and spread rapidly.
How Can You Practice Food Safety in Self-Service Areas?
While employees of your restaurant or buffet may have adequate food safety knowledge, it's safe to assume your patrons will not. Because of this, self-service areas are especially susceptible to contamination.
Frequently clean and sanitize surfaces including serving utensils, food storage containers, sneeze guards, and countertops.
Provide flatware, napkin, and straw dispensers designed to dispense single-use items.
For added sanitation, provide packets of wrapped flatware to reduce the chance of contamination.
Assign employees to monitor guests and take corrective action in the event that unsafe practices have occurred.
Restaurant Food Sanitation Guidelines
Another important way to keep your operation running smoothly is to ensure your equipment and kitchen are properly cleaned and cared for. Keep the following in mind when it comes to keeping your establishment safe for employees and customers.
Pest Control for Your Commercial Kitchen
Pests including mice, cockroaches, ants, and flies not only stir up fear in guests, but they can spread harmful diseases to the food in your kitchen. They can carry and transmit diseases including Salmonella and Listeria or contaminate food and liquids. Having rodents or insects present in your establishment could not only turn off your customers, but it could also cause you to fail a health inspection.
It's important to educate yourself and your employees on what pests are most prevalent in your area and the ways in which you can prevent them from invading your space. You must clean and sanitize surfaces regularly to prevent pests from inhabiting them. These crucial areas include dining and food prep areas, storage areas, trash cans, and floor drains.
Utilize Proper Sanitation Techniques
Sanitizing and cleaning all surfaces, including prep areas, cutting boards, and equipment, should be an important part of your food safety regimen. This process removes food residue, dirt, and invisible germs from surfaces that may come in contact with food. Create and implement sanitation procedures for employees to follow on a daily, weekly, or monthly basis. The following is one example of a simple procedure to use in your establishment that can help keep your work surfaces sanitary.
First, scrape and clear the area of debris or leftover food.
Next, clean the surface with hot soapy water.
To avoid chemical contamination, rinse the surface with water and a clean cloth.
Clean the area with a sanitizing wipe or other professional sanitizer.
Allow the area to air dry.
Aside from sanitizing products, heat can be used on things like flatware to effectively sanitize. For this, however, it's recommended you soak the items you are sanitizing in water that's at least 171 degrees Fahrenheit for a minimum of 30 seconds. Or, you can run items through a high-temperature dishwasher, as long as they are dishwasher safe. Additionally, other common chemical sanitizers include chlorine, iodine, and quaternary ammonium compounds.
Keep your restaurant's reputation intact and reduce the spread of foodborne illnesses by practicing good food safety habits. Implementing programs that ensure employees both prevent and react appropriately to food safety issues should be an important part of your food service establishment.