HACCP Training
What is a HACCP plan?
Every finished product you serve to your customers goes through a number of steps from field to table, from growing, harvesting, and shipping to receiving, prepping, and serving. In each one of these steps, potential food safety hazards that might sicken or injure the final consumer are present. However, with careful planning, these hazards can be prevented, reduced to safe levels, or even eliminated altogether. That's where having a HACCP plan comes in.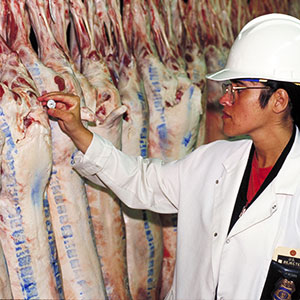 HACCP, or Hazard Analysis & Critical Control Points, is a system that allows restaurant operators to recognize where in their process food is at risk for coming into contact with biological, chemical, or physical contaminants. The main goal of this food management system is to control these risks and prevent contaminants from causing foodborne illness. While there are many safety management plans to choose from, HACCP is widely used and focuses on seven basic principles that were established by the National Advisory Committee on Microbiological Criteria for Foods.
One important thing to keep in mind is that a HACCP plan must be tailored to an individual business' menu, customers, equipment, processes, and operations. Rather than taking a one-size-fits-all approach, HACCP plans should be written as dynamic, site-specific documents in order to be most effective.
Important Definitions
Biological Contaminant: Often invisible living organisms that may cause illness (bacteria, viruses, pollens, etc.)
Chemical Contaminant: Substances not naturally found in food that may cause illness (acrylamide, benzene, dioxins, melamine, etc.)
Control Measure: Any action that can be taken to prevent, eliminate, or reduce a food safety hazard
Control Point: Any step at which biological, chemical, or physical factors can be controlled
Corrective Action: Procedures followed when a critical limit is not met
Critical Control Point (CCP): An essential step in the process where control can be exercised to prevent, reduce, or eliminate a food safety hazard
Critical Limit: A maximum/minimum level to which a biological, chemical, or physical factor must be raised/reduced to in order to prevent, reduce, or eliminate a food safety hazard
Deviation: Failure to meet a critical limit
Hazard: Biological, chemical, or physical contaminant that is likely to cause illness or injury if not controlled
Hazard Analysis: The process of gathering and analyzing information on hazards associated with the food under consideration to decide which are significant and should be addressed in the HACCP plan
Monitor: To carry out a system of observations and measurements to judge whether a CCP is under control and to produce an accurate record for future use in verification
Physical Contaminant: An extraneous object or foreign matter that may cause injury or illness (bone, string, hair, etc.)
TCS Food: Food that requires time and temperature control for safety
The Seven Principles of HACCP
Principle 1: Conduct a Hazard Analysis
The first step in implementing a HACCP plan is to evaluate potential hazards in the way food is processed in your operation. Some processes common to all types of restaurants are:
Prepping and serving without cooking (salads, fruit, cold cuts)

Prepping and cooking for immediate consumption (grilled meats)

Prepping, cooking, holding, cooling, reheating, and serving (chili, soup, sauce)

Prepping and storing (potato salad, coleslaw)
Looking specifically at TCS food, identify where in these processes biological, chemical, or physical hazards are likely to occur.
Example: Raw chicken breast is often prepped, grilled, and served in the same day. The potential danger with chicken is that bacteria may be present in the finished product if it is not cooked correctly. Bacteria are a potential biological hazard.
Principle 2: Determine Critical Control Points (CCPs)
Find the specific steps in the process where the hazards identified in principle one can be prevented, removed, or reduced to safe levels. These steps are the critical control points, or CCPs.
Example: Cooking raw chicken breast is the only step where bacteria can be eliminated or reduced to a level safe for consumption. Therefore, cooking raw chicken can be identified as a CCP.
Principle 3: Establish Critical Limits
For each step identified as a CCP, you need to establish minimum or maximum limits that must be met to remove or reduce the hazard to a safe level.
Example: In order to kill bacteria, raw chicken breast needs to be cooked to an internal temperature of 165 degrees Fahrenheit for 15 seconds. This minimum of 165 degrees Fahrenheit for 15 seconds is the critical limit, and this critical limit can be met by cooking the chicken breast on the grill about 10-15 minutes per side.
Principle 4: Establish Monitoring Procedures
After establishing the critical limit, it's important to figure out the best way for your employees to check them. A good place to start is to identify who is responsible for measuring the critical limit and how often it should be noted. This serves several purposes, including bringing the process back into control if a deviation occurs, tracking the process to show regular deviations, and providing documentation for verification. To ensure that the CCP is under control, critical limits should be consistently met.
Example: The best way to monitor the chicken is to use a cleaned and sanitized probe thermometer to record the temperature at the thickest part of the chicken breast. Each piece of chicken cooked on the grill must meet the minimum internal temperature of 165 degrees Fahrenheit for 15 seconds.


Principle 5: Establish Corrective Actions
If a critical limit isn't met during the process, it's called a deviation. When a deviation occurs, your staff needs to have the tools and knowledge to take corrective action so that contaminated food never reaches the end consumer. The steps for corrective action should include determining the cause of the deviation, correcting it if possible, and documenting it. They should be laid out before a deviation ever occurs.
Example: If, after checking the chicken breast with the thermometer, it is found that the food is not up to temperature even though it was cooked for the full 15 minutes per side, then the chicken must continue to cook until it has reached the critical limit of 165 degrees Fahrenheit for 15 seconds. This additional cooking time should be recorded.
Principle 6: Verify That the System Works
A HACCP food safety management system is only beneficial if it works. So, to verify that the system is working as intended, it's important to reevaluate and revise it periodically. This is the step where all of the monitoring charts, records, analyses, and other documentation come into play to help you determine whether or not your plan successfully prevents, reduces, or removes food safety hazards.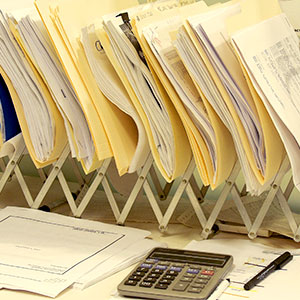 Example: In this step, a manger might review temperature monitoring charts after each shift change to ensure that the critical limit for the chicken breast was met every time it was prepared. Looking at the documented temperatures over a period of time can also help your staff identify trends and adapt their entire process to further prevent food safety hazards.
Principle 7: Keep Accurate Records and Documentation
Developing procedures for accurate record-keeping is the final stage of implementing a HACCP plan. By standardizing who documents what and how long records are kept, you will be more organized and be able to effectively respond to food safety hazards throughout the cycle of food within your business. A few examples of documents to keep are: temperature logs or other monitoring forms, notes about when corrective action was taken, information about the maintenance and service performed on equipment, and supplier information such as shipping invoices and specification sheets.
Example: The temperature monitoring charts, notes about corrective actions, and receiving invoices for the chicken are kept for six months. Specification sheets for the grill and the maintenance performed on it are kept for a year. In the event of any problems, this information can be used to support and verify the HACCP plan.
Where can I get my HACCP certification?
Since its development in the 1960s by the Pillsbury Company, HACCP has exploded as a preferred method for managing food safety on all levels of the food supply chain. That being said, large corporations such as food manufacturing plants are the primary market for receiving a HACCP certification. Independent restaurant owners and their workers don't generally become HACCP certified, but implementing a HACCP plan for use in day-to-day operations can make a big difference in promoting food safety within your organization. If you'd like to learn more about HACCP, check out some of these great resources: