Leasing a Food Truck
Last updated on 5/19/2021
Whether you're just getting started in the food truck business or looking to expand your current operation, leasing a food truck is an excellent way to achieve your goals. Leasing opens up a variety of options and opportunities to grow your business and develop a successful business model. Below, we'll explain what it means to lease a food truck, the different types of leasing options available to you, and how to negotiate your own food truck lease.
Click any of the tips below to read the section that interests you:
What Is a Food Truck Lease?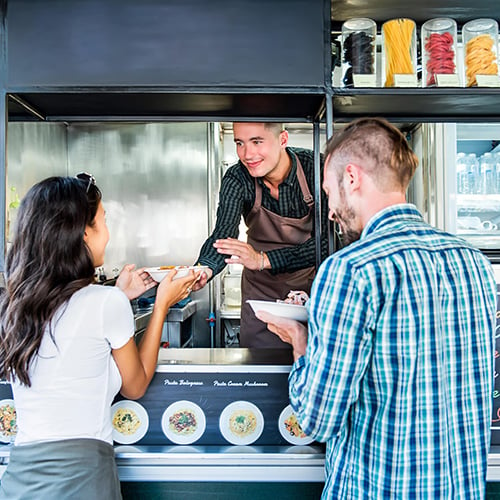 A food truck lease is an agreement that allows you to rent a food truck for a specific time period at a fixed monthly rate. The duration of the lease and how much you pay are dependent on several different factors, however most leases last two to three years. Leasing a food truck allows you to start a food truck business without assuming the financial risk associated with buying your own. Additionally, many leases allow you to build towards owning the food truck yourself.
Advantages of Leasing a Food Truck
Leasing a food truck instead of purchasing one can lead to multiple advantages that aid you through the process of establishing your business. Not only does a lease offer added flexibility when starting your business, but it also provides you with a clear timeframe as to how long you will be paying. Some of the most helpful advantages of starting a food truck lease include:
Decreased cost: In general, it can cost between $100,000 and $200,000 to buy your own food truck and equipment. In some cases, that figure can be even higher. By comparison, leasing a food truck often costs somewhere between $2,000 and $3,000 per month.
More accessibility: For those who don't have the benefit of being able to buy a truck in full, leasing a food truck allows you to secure one without paying a high amount upfront. Though many leases still require some kind of down payment, this option is much more manageable than buying a truck out of pocket.
Customization: Some food truck leasing companies will work with you to customize your truck. This allows you to ensure the truck matches the theme of your business as well as the services you provide.
Disadvantages of Leasing a Food Truck
Despite all the advantages they bring, there are aspects of leasing a food truck that can prove difficult to manage in certain situations. While the advantages typically outweigh the disadvantages, it is important to review them to develop a full understanding of what it means to lease a food truck. Below, we'll investigate some of the most common disadvantages of leasing a food truck:
Truck returns: If you choose to sign a shorter lease or forgo lease to own options, you may find yourself rushing to find a new food truck as the end of your lease agreement nears. This can be particularly stressful if you've already chosen not to renew. For this reason, you must plan far ahead in the process of leasing your truck to ensure your business doesn't have to temporarily cease operations.
Lack of ownership: Just like renting or leasing property, lack of ownership presents certain limitations. For example, you may not be able to change the layout or add on to your truck without permission of the leasing company. Furthermore, certain terrains or enviornments may be off-limits to your truck to avoid damage. Before you sign any documents, be sure that both parties are on the same page as to how you can use your truck.
---
Food Truck Leasing Companies
In recent years, many companies have been founded to help prospective food truck businesses achieve their goals. Companies like Roaming Hunger, Mobi Munch, and Prestige Food Trucks each offer different solutions and plans to help get your food truck up and running. Some companies will even help schedule business opportunities such as catering events and aid you in starting a website for your truck. Partnering with one of these companies can open the doorway to many opportunities for your business.
---
Types of Food Truck Leases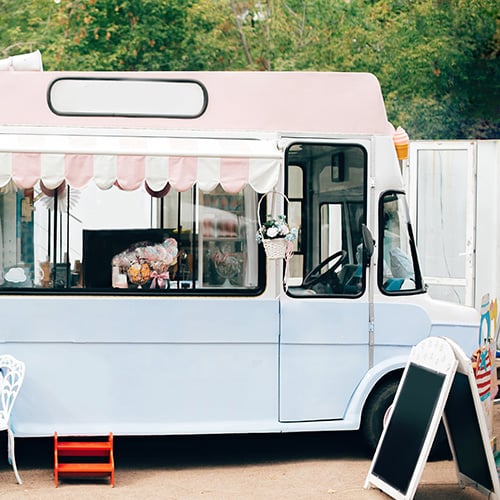 There are typically two main types of food truck leases, known as traditional and lease to own options. Each option can offer a variety of benefits depending on the context of your business, making it vital that you understand the key differences between them. Below, we'll investigate both options:
Traditional Food Truck Leases
In a traditional lease, you pay a set amount of money each month for the duration of the lease. Once your contract is up, you can either renew the leasing agreement or choose to go in another direction. One benefit of a traditional lease is that if you realize your truck doesn't fit your long-term needs, there is an easy way out at the end of the contract. Additionally, these types of leases can often be shorter than their counterpart, giving you the flexibility to do what is best for your business.
Lease to Own Food Trucks
Also known as rent to own food trucks, lease to own food trucks allow you to put your monthly payments towards a goal of ultimately owning a truck. Lease to own food trucks often require a higher down payment, however, they can be advantageous for those aspiring to own a truck. These types of leases often give you options to customize the truck, while some even allow you to work hand in hand with designers. For those who aspire to own a truck but can't afford it in the short term, a lease to own option can be the perfect compromise.
---
How to Lease a Food Truck
If you're new to the leasing process or have never started a business, chances are you're unfamiliar with what it takes to lease a food truck. To successfully secure a lease and get your food truck business started, adhere to the following steps:
1. Create a Food Truck Business Plan
Your first step in securing a food truck lease should be to create a business plan. This allows you to show leasing companies that you have a roadmap to guide you through the process of starting your business. To write a successful business plan, it is essential to include information on your concept, market, and structure. To learn more about this topic, check out our article on how to write a restaurant business plan.
2. Prepare Financial Information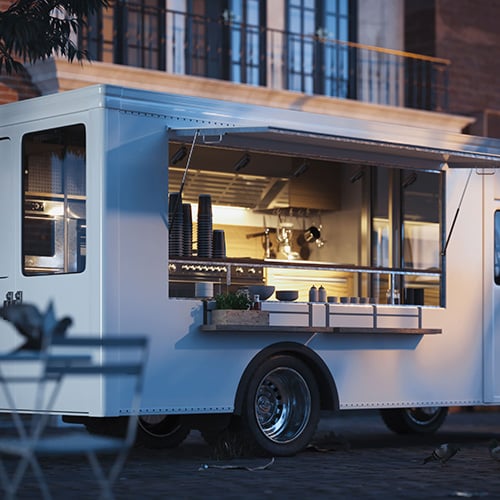 As you create your business plan, remember to include detailed information regarding your financial background. Whether you're applying for a loan, lease, or rental agreement, chances are you'll have to show proof that you are responsible with your money and will be able to make payments on time. Some of the most commonly asked questions include:
What is your credit score?
How much financial capital do you currently have access to?
How much money can you put down?
Have you had previous financial troubles or bankruptcies?
3. Negotiate and Finalize Your Lease
With your business plan and financial information organized, it's time to negotiate your lease. There are multiple options available to you, making it important that you choose the lease that best fits your specific needs. Negotiations can be a back-and-forth process and can often involve multiple parties including yourself, the leasing company, and any lawyers hired to read over the lease. Be sure to ask questions about the lease to make sure you fully understand what you're about to sign.
4. Insure Your Food Truck
In most cases, the person or company leasing their property to you will require some kind of insurance. In some instances, the lease can even be terminated if you fail to provide proof of insurance. Insurance protects both the leaser and the lessee if the truck is damaged. Each company will have different preferences as to the minimum requirements of the insurance, meaning that you should take extra care to read through your leasing agreement.
Back to Top
Despite seeming like a complicated process, leasing a food truck can be an advantageous experience which helps to establish and grow your food truck business. By building an understanding of what it means to lease a food truck, the advantages and disadvantages associated with it, and how to lease your own, you can ensure that the leasing process goes smoothly and set your food truck business up for success.
---