6 Tips to Winterize Your Food Truck
Winter can be a difficult season for food trucks. Customer habits change and fewer people are willing to wait outside for food, contributing to a loss of revenue during the season. As a result, many food trucks shut down until spring. Despite the cold weather and decrease in interest, there are still ways to keep your food truck successful after the temperature drops. As more businesses adopt a mobile food business model, we've developed six winter food truck strategies to make the most of the colder months.
Click below to skip to the food truck tip that most interests you:
6 Food Truck Tips to Prepare for Winter
There are several things you can do to prepare your food truck for winter. If done correctly, you'll be able to stay active, maintain a steady stream of customers, and form new business connections. By adhering to the list below, you'll be able to ensure your business stays profitable during the winter.
1. Winterize Your Truck
Icy conditions and low temperatures can pose a significant challenge to food truck owners. For that reason, it's important to have a plan if inclement weather occurs. Adhere to the tips below to keep your truck, employees, and guests safe.
2. Offer Expanded Services
If you live in an area where winter weather prohibits your food truck from functioning normally, there are still several ways that you can make money. By offering the services below, you can increase profits and even expand your brand during the winter.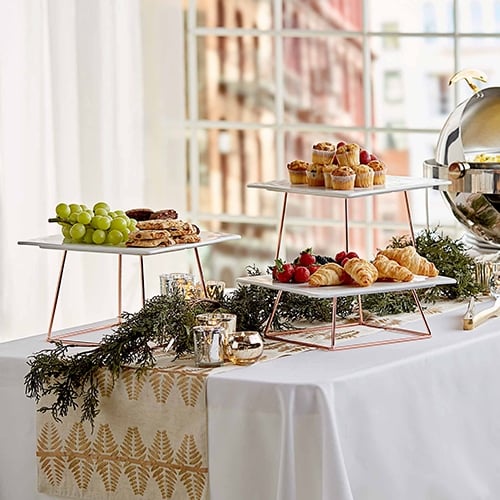 3. Sign Up for Local Events
While the winter doesn't offer as many event opportunities as the spring and summer, there are still plenty of ways to stay engaged in the community. With careful planning and communication, you can keep your food truck in the public eye year-round. Some common examples of winter event opportunities are included below:
Back to Top
4. Partner with Local Businesses
Partnering with local businesses and organizations allows you to make connections and explore new business opportunities. Not only does this keep you in business, but it can also result in long-term arrangements. In the section below, we've included some common examples of food truck partnerships: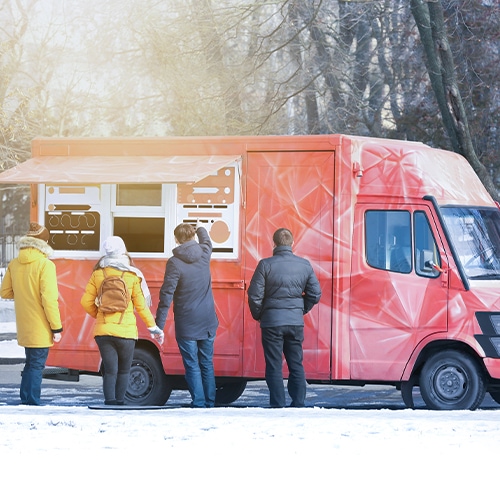 5. Offer Seasonal Deals
The slow winter season is an excellent time to try out new dishes. When you're designing new recipes, try offering menu items that are seasonally appropriate and festive. Take advantage of the tips below to transform your food truck's menu and merchandise.
6. Find a Regular Location
On days when the winter weather isn't as harsh, some people choose to go out for lunch or walk around the town. To prepare for that, your food truck should find a spot with consistent foot traffic. Adhere to the tips below to find a successful location for your food truck this winter: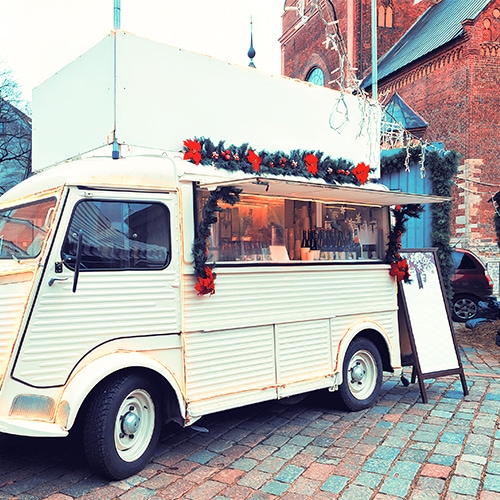 Once you've found your spot for the day, be sure to post on your food truck's social media accounts to keep loyal customers updated. If maintaining a regular spot in winter weather proves too challenging, try heading to a city or state with warmer weather. You'll need to arrange housing for you and your truck for the season and acquire the appropriate food truck licenses and permits for that state, so be sure to run a cost-benefit analysis before hitting the road.
Back to Top
---
Choosing Which Winter Truck Tips to Implement
Before you begin to implement the tips above, it's important to take a step back and analyze your truck and your local area:
What Are Your Strengths?
Take a moment to consider what makes your truck stand out. Whether you bake the best cupcakes in town or have exceptional customer service, your strengths are the key to devising a successful winter strategy.
How Are Other Food Trucks in Your Area Preparing?
One of the best things about the food truck industry is the strong sense of community among owners. Communicate with fellow food truck businesses to find out what they plan on doing in the winter months. This helps to generate additional ideas and inspirations for what path your business should take.
Talk to Your Guests
Since your guests are the ones waiting in line for your food, find out what you could offer that would make braving the freezing temperatures worth the wait. This can be done simply by having a conversation with your regulars or by sending out a survey via email. You can even offer paper surveys on-site and provide incentives to fill them out.
Back to Top
---
Winter is the most difficult season for food trucks, but this doesn't mean that your food truck needs to shut down for the season. By changing your menu, working with local businesses, and searching for events and catering opportunities, you can keep your business open! So, instead of hibernating during those chilly winter months, take heed of these six tips to boost your food truck profits year-round.

Posted in:
Food Trucks & Concessions
|
Management & Operation
|
By Richard Traylor
The information provided on this website does not, and is not intended to, constitute legal advice. Please refer to our
Content Policy
for more details.