How to Cater a Wedding with a Food Truck
Food Truck + Wedding = A Perfect Marriage
With its gourmet-style flavors, made-to-order selections, and ability to be mobile, food trucks are rapidly becoming one of America's newest guilty pleasures. Oddly enough, the popularity of this street food craze has also won over the hearts of many brides and grooms looking to add something unique to their "big day." More and more couples are now using food trucks to cater their weddings, instead of hiring a traditional catering company. Couples are looking for more inexpensive ways to serve food to their hungry guests, and food trucks are emerging as a new leader.
With a few concepts and ideas to take into consideration, you can quickly transform your food truck into an experience that brides and grooms will remember for the rest of their lives. Understanding basic food truck and wedding knowledge, creating services to help you stand out, and generating new ways to market yourself will help you succeed in catering a wedding with your food truck.
Did You Know?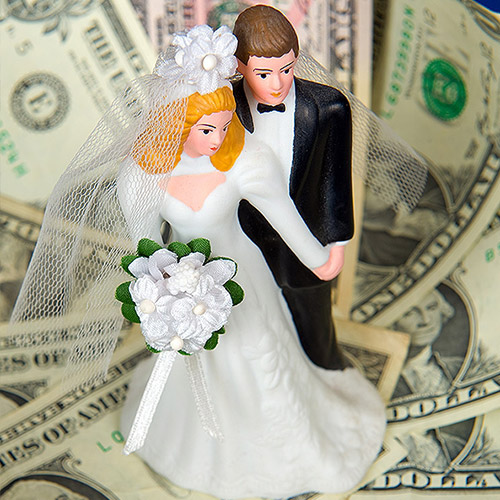 The wedding industry is valued at $53.4 billion in the USA
Average price of a wedding = $28,427
Average number of guests at a wedding = 138
Average price per person for a wedding using a traditional caterer = $63
Average price per person for a wedding using a food truck = $10
Number of guests a food truck can serve at a given time = 50-75


Why Clients Should Choose a Food Truck on Their Wedding Day
Making your food truck stand out is of great importance when wanting to gain new clients, especially in the competitive wedding industry. One way in which you are already leaps and bounds ahead of your competition is by being cheaper than traditional catering methods to begin with. Your food truck is already able to serve large groups of people quickly, and your added mobility allows you to reach venues where traditional kitchens are not available. When meeting with potential brides and grooms, remind them of how your food truck is different than other catering options, such as:
Food trucks are perfect for outdoor weddings, especially in the spring and summer months when outdoor weddings are most popular.
The added excitement that a food truck brings gives wedding guests something to do between the ceremony and reception, instead of just waiting. Guests can start mingling with others and can be served right away, whereas with a sit-down catered reception guests are served all at the same time.
Food is cooked on-site and made-to-order, exactly how guests want.
Food trucks give wedding guests MORE variety of food to pick from compared to a single plated meal from a standard catering company.
No hassle cleanup.
Food is often fresher and the amount of food that goes to waste is nearly non-existent since guests get to pick what they want and how much.
Introduces guests to a modern take on buffet service.
Food trucks can provide that "late night snack" for guests to enjoy after many hours of celebrating and dancing.


Creative Services That Will Make Your Wedding Food Truck Stand Out
In order to thrive in the cut-throat food industry, you need a product that will make you stand out from your competition, and the same goes for your food truck. Remember that you are not just providing a meal to your clients, but rather a service. A few simple ideas will allow clients to think of you as more than just a food truck, but a modern gourmet buffet on wheels.
Get Personalized
Offer to use containers or boxes that the happy couple can personalize with their picture or monogram and place wedding favors into. For example, if your food truck specializes in cupcakes, place cupcakes in personalized boxes that guests can enjoy hours after the party has ended. Even offer to play music from your truck, and let the couple pick what they'd like their guests to hear.
No Need to Wait in Line
In case guests might be waiting in line, set up decorative tables with tablecloths (using the wedding colors), candelabras, and picture frames of the bride and groom beside your food truck. Set some of your food truck specialties there so guests can grab something without waiting to order. It's always a nice touch to provide trash cans, utensils, and napkins so guests will have everything they need to enjoy their meal.
"Showered" with Love
In the event of bad weather, such as sudden rain showers, have an adjustable roof or awning attached to your truck so guests can feel more comfortable while getting their food.
Display the Wedding Menu
Instead of using the same menu board that your truck typically uses, create a personalized menu board so your clients' guests can see what options they have to choose from for ordering. Craft a large sign using the bride and groom's colors, names, and even designate a special hashtag so as guests take pictures using Twitter or Instagram, your food will be displayed on social media, such as #Kate&MattWedding. This will give you free instant marketing, and enables the wedding guests to do the work for you!
Eat, Drink, and be Married
To prevent your clients (and yourself) from getting too overwhelmed with the menu planning process, create special wedding packages for brides and grooms to choose from. This acts as a guide, and keeps couples focused so they don't demand things that are out of your control. For example, design wedding packages to feature a cocktail hour, main course, dessert, and late night snack. Even develop some special diet selections such as vegetarian, vegan, or gluten free choices so all guests can enjoy.
Before the "Big Day"
Just like with any traditional catering company, meeting with your clients prior to their wedding is a must when organizing such a big event. Meeting beforehand will greatly diminish the amount of concerns and worries that both you and your clients might have before the wedding day.
Tastings
Request that clients book a tasting with you so they can taste your food, make suggestions, and give you an idea as to what they like.
Permits
Make sure clients understand that they are responsible for all permits regarding food trucks prior to their wedding day. Be advised and aware about any ordinances or parking laws so the logistics will run smoothly.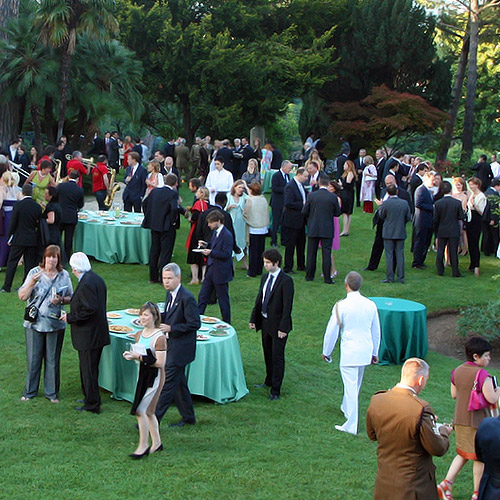 Attendance
When planning your client's menu, make sure your truck can handle the number of guests who will be attending the wedding. You will want to be able to handle the capacity and volume of food that needs to be prepared inside your truck, and you also don't want to end up running out of food, or have a long line of guests waiting to be served.
The Bottom Line — Make Money & Gain New Customers!
Catering a wedding isn't just about giving the bride and groom a unique feature at their wedding, it's also important to remember that this is a way to gain new customers and make money. Your food truck is more than just a moving business, but rather an advertisement for your company. Staying connected through technology will allow you to reach a broader market, and also remain relevant in today's modern world. Here are some tips to help market yourself: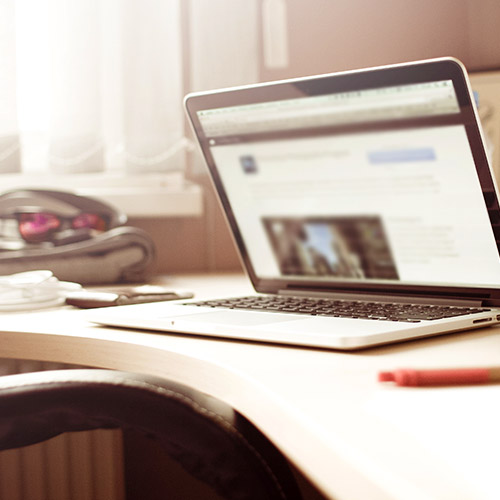 Create a Website
Showcase your work so future customers and clients can see what you have to offer before they even taste your food. During weddings take pictures of the event and create a portfolio for future clients to see. Design a website that not only features information about your food truck, such as the menu and contact info, but also add a special catering section, especially for weddings. A FAQ page can help educate clients about the wedding catering process, and questionnaires and request forms will help you gain new clients easily with just one click. Ask that clients provide information such as their wedding date, location, theme, amount of people attending, preferred set-up time, whether there are any parking limitations, and also ask how clients heard about you!
Use Social Media
Want a free way to advertise your business to a large scale audience? Social media is a great tactic to take advantage of and connect with customers. Hand out business cards at weddings with information about your website, Twitter, Facebook, Instagram, and other ways in which you are able to connect. One wedding could bring you over 200 future customers! The more followers, "likes," and comments you generate with customers will allow you to build a solid reputation in the community.