How to Start a Catering Business
Last updated on 7/21/2022
Catering businesses are often an ideal, flexible alternative to opening and operating a restaurant. They allow you the creative freedom of running a foodservice operation without standard hours or a rigid schedule. Plus, catering companies often require less startup capital and financial risk than a full-service restaurant. If you're considering starting a catering business, keep reading to learn more about this foodservice segment.
Shop Catering Supplies
Click below to learn how to start a catering business:
What Is a Catering Business?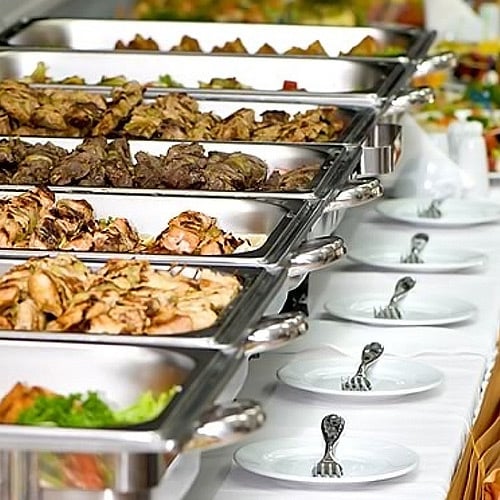 A catering company is a business that prepares food for special events, often creating a multi-course menu that suits the needs of the patron and event space. The food is either prepared on-site or transported to the location and served throughout the course of the event schedule.
How Much Does It Cost to Start a Catering Business?
To get your business off the ground, you can expect to spend somewhere between $10,000 to $50,000 between equipment, licenses, transportation, and marketing. The investment can certainly pay off if successful. Catering businesses can make around $30,000 to $80,000 annually.
Pros and Cons of a Catering Business
Before you begin buying equipment or drafting a business plan, it's important to understand what makes a catering business unique.
Pros
Operating a catering business requires much less financial risk and burden than opening a restaurant while still offering you creative freedom. Many caterers can easily rent a space or equipment. Forego staff if your operation is on the small side and reduce food waste by cooking for a predetermined headcount.
Cons
Catering an event often puts you and your food in a less controlled environment than a restaurant. When you own a restaurant, you're preparing food in the same kitchen every night and serving in the same dining room. With catering jobs, you're either preparing food in a rented kitchen or on-site. During the event, you and your food are at the mercy of the venue space, their amenities, the weather, and staff you may not work with often.
---
Starting a Catering Business
We've compiled the top 8 steps to help you learn how to start a catering company:
1. Choose a Concept
Creating a solid concept or theme can enhance the marketability of your catering business. Try to focus your concept on something you're interested in or, better yet, passionate about. Do you have a specialty you'll serve or will you be catering to a particular dietary need? Menu concepts can include options like brunch foods, casual sandwiches, desserts, finger foods, comfort food, or any idea that gives your business direction.
Identify Your Target Audience
It's also important to consider what type of catering business you're interested in pursuing and the capacity you'll be capable to cater to. These are just some of the target audiences that may be interested in hiring a catering company:
Corporate events: conferences, cocktail parties, staff meetings
Social gatherings: weddings, galas, charity events, birthday celebrations
Personal uses: cooking a meal in someone's home for a small gathering or date night or preparing a meal kit ahead of time that clients can take home and reheat later
Research the Area
When choosing your theme, it's important to think about the demographic you'll be serving, how you plan to price your services, and if you can access the equipment needed to sustain your theme. In your location analysis, you'll want to take stock of the competition in your area to ensure that your niche will be well accepted in the community you have chosen. As part of your research, you can contact potential customers who are likely to hire caterers, like wedding planners, event coordinators, and conference centers, to see what they look for when working with catering companies.
Gain Exposure and Experience
Like any business venture, it takes a certain level of experience to successfully execute a start-up. Consider working for an already established catering company prior to opening your business. While researching what you'll need and how to operate is helpful, it won't compare to the hands-on experience and guidance gained through a working professional.
If working for a catering company isn't doable, volunteer to plan small-scale events for people you may know. Host a holiday party for friends and family or prepare a church luncheon for a small crowd. Operating on a smaller scale first allows you to find and fix potential problems and gain honest feedback from a forgiving crowd.
2. Write a Catering Business Plan
A compelling business plan helps organize your dream into tangible segments that will allow your investors to understand and support your vision. We've added the most common points you'll want to include in your catering company business plan.
Executive Summary - This section will recap the details of your business plan, so it is often easier to write it last.
Company Overview - In this section, you'll present your company mission statement with the goal of expressing why you would like to start a catering business.
Concept and Menu - Explain your concept, what sets you apart, and what niche you will be filling with your menu selections here.
Management and Ownership Structure - Create a game plan for what your management structure will look like, whether that means you're managing alone or you'll have managers operating under your supervision.
Staffing Needs - Outline how many employees you'll need to start off with and how many you plan to hire in the future as your company grows.
Competitor Analysis - Here, you'll want to share your research on the competitors in your area and who your target customers will be.
Advertising and Marketing - Provide your marketing ideas in this section including social media plans, website layouts, and events you will attend to locate clientele.
Financial Summary - Finally, you'll need to provide a breakdown of your financial expectations, including start-up costs, overhead expenses, and profit margins.
3. Acquire Catering Business Licenses and Permits
Before you cater your first event, you must apply for the proper permits and ensure your kitchen and staff are well aware of food safety practices and regulations. Be sure to check the rules and regulations with your local jurisdiction to acquire all of the appropriate permits and licenses you'll need for your catering business.
List of Common Catering Permits
General Business License - Every business in the United States is required to acquire a business license to operate.
Employer Identification Number - To receive a tax ID number and hire employees, an EIN is needed. This is issued by the IRS.
Food Handler Permit - A food handler permit shows that you and your employees are familiar with and practice safe food handling practices in your business.
Caterer Permit - In some states, a catering permit is needed along with a food handling permit, allowing you to distribute food safely as a certified catering company.
Home Occupation Permit - If you are starting or operating your catering business out of your home, you'll need a home occupation permit to legally certify your home as the headquarters of this business.
Health Permit - To receive a health permit, a health inspector will need to visit the location where you prepare your food to deem your location and practices safe for handling food.
Catering Business Insurance - You'll want to protect your business from potential "what if's" with general insurance options. These usually cover accidents, auto incidents, workers' compensation, and property damage.
Liquor Licenses - If you're offering bar services, you must come up with a safe serving plan to ensure your staff is serving responsibly.
Plan for Potential Problems
A little planning can go a long way when it comes to unexpected foodservice emergencies. Think about common obstacles you could encounter with your catering business, and work with staff to establish a response plan.
Potential problems could include:
Inclement weather at an outdoor event
More guests to feed than you had expected
Shortage of staff
No access to power
4. Create a Menu
Create your menu for your catering business before you begin to look at workspaces and equipment. Figuring out what types of food you'll be cooking means you can decide what equipment, appliances, and space you'll need to successfully prepare your offerings.
While it's important to stay true to your theme and concept, you need to offer a menu with the versatility to accompany a wide range of tastes, preferences, and dietary restrictions. Create a selection of offerings that are, for example, gluten-free, vegan, dairy-free, or low-carb. And if your menu items are especially spicy, be sure to offer a few more manageable options as well.
Once your menu is established, determine how you'll price your items or event packages. It's important to have a sample menu prepared and pricing figured out before meeting with your first potential clients.
Test Your Menu
Try testing your menu concept and dishes in small, no-pressure scenarios, similar to how a restaurant would host a soft opening. Gather friends and family together, or offer to cook for a small gathering or fundraiser in your community.
Be sure to ask for candid feedback from your guests. You can even provide everyone with a pen and paper to write their thoughts down anonymously. Once you've successfully served your crowd and received feedback, it is important to keep tweaking your recipes. Practice making them over and over again while focusing on efficiency, taste, and presentation.
5. Find a Suitable Working Space
Many states have laws and regulations in place to prevent caterers from operating out of their home kitchens. If you choose to do so, you'll most likely need to make immense modifications to your home and receive approval from local governing authorities. Instead, most caterers start by renting out kitchen space or finding a building to make their own.
If you're just starting out or operating at a low volume, your most economical option would be to rent a commercial kitchen space. This is ideal for those working one or two days a week or for only a few hours at a time.
For high-volume operations or those looking to make this a full-time business, you'll want a place you can have access to 24/7 with more storage and customizable equipment. If you want to offer tastings for potential clients or sell your goods to the public, you'll need to rent space with a separate storefront area from where you do your cooking or baking.
6. Buy Catering Supplies and Equipment
Next, you'll want to customize and stock your space with supplies and equipment that are conducive to your cooking. Focus on what equipment will be most beneficial for preparing your menu items. For example, if you're focusing on desserts, you'll want to equip your kitchen with extra ovens. And if your specialty is Southern comfort food, more fryers are a must.
A complete catering supplies checklist will help you stock up on the appropriate inventory to help your business be successful. Here are just some of the supplies you may need:
Table Settings - Dinnerware, flatware, charger plates, napkins, tablecloths, and glassware
Display and Decor - Table numbers, dessert stands, cases, candles, and centerpieces
Disposable Catering Supplies - Paper napkins, plastic cutlery, appetizer plates, cocktail picks, and foil pans
Transport Supplies - Insulated pan carriers, glass racks, coolers, and food storage boxes
Cooking and Holding Equipment - Induction cookers, portable grills, holding cabinets, and outdoor burners
Serving Equipment - Serving trays, chafers and fuel, serving utensils, and food pans
Beverage Supplies - Beverage dispensers, coffee urns, coffee airpots, and ice
Furniture and Seating - Folding tables, folding chairs, cocktail tables, bars, canopies, and tents
Janitorial and Cleaning Supplies - Garbage cans, cleaning towels, disposable gloves, and handwashing stations
7. Choose Your Staff
Finding the right staff members to help prepare and serve your offerings can be a challenging task. When choosing staff and introducing them to your business, be sure to consider the following:
Decide whether your operation is large enough to hire additional employees
Begin with a temp agency until you can grow your business
Create a dress code or provide uniforms
Offer adequate training in serving protocols and food safety
8. Make a Marketing and Advertising Plan
Once you've laid the groundwork for your business, it's time to market your catering business. Start by figuring out who your target audience is and go from there. This can be determined based on the type of catering operation you plan on running. For example, if you're interested in social gatherings, you can showcase your menu at bridal expos and contact event planners.
Other marketing strategies include:
Create a memorable logo that embodies your theme
Print out your menu or pricing info to hand out to potential clients
Create a website and social media accounts to connect with customers
Form relationships with corporate event coordinators and venue holders
Offer tastings at local fairs or charity events
If you're looking for the creative freedom of running your own business without the financial undertaking of operating a restaurant, catering could be an enticing option. And with proper planning using the steps above, your business will be off to a good start. No matter what type of catering you decide to do, be sure to create a mouthwatering menu and dynamic concept future customers will flock to.
---
---