Catering Supplies Checklist
Last updated on 8/21/2021
Catering an off-site event requires organization and planning. Accounting for supplies and catering equipment before your staff steps onto the delivery truck ensures no items are left behind. We've made a catering checklist to help you prepare for your event and set your employees up for success. If you're just getting started in the catering business, this is a good introduction to the items you'll need for a full-scale, off-site event.
Click below for a downloadable catering checklist template:
Download our Catering Checklist PDF
Table Settings
The style of the event will dictate the types of items you'll need for table settings. Upscale weddings and events require more items to complete a table setting, including cloth napkins, charger plates, and stemware. A simple picnic or barbecue may only require dinner plates, water glasses, and flatware.
Tablecloths
Napkins
Dinnerware
Flatware
Charger Plates
Glassware
Salt and Pepper Shakers
Water Pitchers
Shop All Tabletop Supplies
---
Display and Decor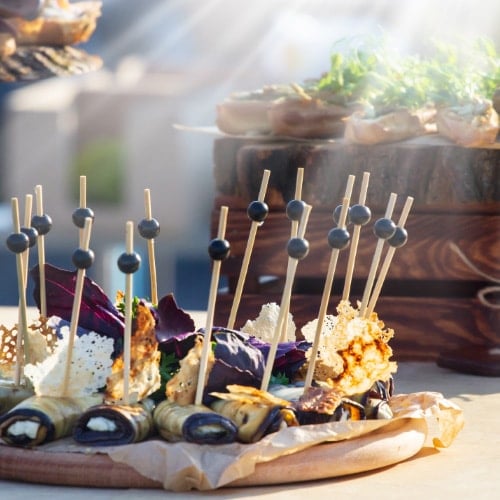 By providing some simple decor rental items to your clients, you can increase the total balance of the event invoice. Many customers would much rather pay your catering company to rent simple items like vases and table numbers than seek out a separate rental company. Don't forget display risers and display stands that allow you to highlight your dishes and take advantage of vertical space on your food tables.
Risers
Cakestands
Cupcake Towers
Candleholders and Candles
Centerpieces
Vases
Table Numbers
Chalkboard Signs
Shop All Display and Decor Supplies
---
Disposable Catering Supplies
Incorporating disposable catering supplies can be cost-effective and convenient for your clients. Using porcelain dinnerware and traditional glassware requires you to reload the soiled dishes back on the truck, and you'll most likely have to charge a dishwashing fee. With disposable cutlery, plates, and drinkware, you can spare your clients the fee, eliminate the risk of broken dishes, and cut down on cleaning time.
Plastic Cutlery
Paper Napkins
Plastic Drinkware
Appetizer Plates
Cocktail Picks
Foil Pans
Aluminum Foil

Shop All Catering Disposables

---

Transport Supplies

You need catering transport supplies to get your prepared meals off-site without losing temperature. This is why insulated food pan carriers are a caterer's best friend. They can be loaded with food pans of various sizes and used to keep food hot or cold. Use outdoor coolers to haul drinks and ice. For dry ingredients, use food storage boxes and totes.

Insulated Food Pan Carriers
Glass Racks
Outdoor Coolers
Food Storage Boxes, Lugs, and Totes


Shop All Storage and Transport Supplies




---

Cooking and Holding Equipment

If you plan to set up chef action stations for your event, you'll need to bring the required equipment and cookware. Induction cookers are a great choice for crepe, omelette, or stir-fry stations because they're compact, portable, and put off no ambient heat. For outdoor catering events, set up grill stations with portable outdoor grills.

Induction Cookers
Portable Grills
Outdoor Burners
Holding Cabinets



Shop All Cooking Equipment

---

Serving Equipment

You've spent a lot of time planning your event, but you can't always be there in person to handle every detail. Set up your staff for success by providing everything they need to put your vision into place. Lighters are sometimes an afterthought, but they're crucial to getting your chafers set up with fuel. Extra uniforms and aprons ensure that every member of your staff looks clean and presentable.

Serving Trays
Tray Stands
Chafers
Chafer Fuel
Serving Utensils
Food Pans
Server Aprons and Uniforms


Shop All Smallwares and Serving Supplies

---

Beverage Supplies

Using insulated beverage dispensers allows you to transport hot and cold beverages off-site and maintain a constant temperature for serving. If you're setting up a coffee station and you want something more elegant, coffee chafer urns are attractive and functional. Don't forget to bring plenty of ice because you can usually use more than your initial estimate.

Ice
Beverage dispensers
Coffee Chafer Urns
Coffee Airpots


Shop All Beverage Service Supplies




---

Furniture and Seating

You can make your catering business a one-stop shop by offering table and seating rentals to your clients. It gives your customers peace of mind to know their event is being handled by one company instead of shopping around for individual rentals. You'll also need display tables for your food stations, as well as canopies or tents for outdoor catered events.

Canopies / Tents
Folding Tables
Folding Chairs
Benches
Cocktail Tables
Bars


Shop All Furniture

---

Janitorial / Cleaning Supplies

You'll most likely be in charge of all trash removal for your off-site events, so bring the required garbage cans, recycling cans, and liners. Don't forget to consider portable handwashing stations for locations without sinks or water hookups.

Garbage Cans
Handwashing Stations
Hand Sanitizer
Cleaning Towels
Disposable Gloves



Shop All Janitorial Supplies



---




Use our catering checklist to account for all the items you need to set up an off-site event. There's nothing worse than arriving at the venue and realizing you've left something important behind. Following our guidelines ensures every item arrives safely to your destination so you can keep the focus on your food and service.