How to Start a Home Bakery
Last updated on 4/30/2021
If you want to start a baking business but owning a storefront isn't for you, operating a home bakery can be a great alternative. Starting a home bakery is also a good option for those looking to get started in the restaurant industry, and bakers at home due to coronavirus.
Usually smaller in scale than retail or wholesale bakeries, home bakeries allow bakers to sell products that are made in their own homes. But there is more to starting a home baking business than just making bulk batches of cookies in your personal kitchen. To learn more about what it takes to open a home bakery, keep reading.
Shop All Bakery Supplies
How to Start a Bakery Business from Home
Before you open your home bakery, there are some key factors that you need to consider. In this guide, we'll walk you through your first steps, beginning with researching legalities and ending with home bakery marketing strategies.
Use the following links to navigate and learn more about a specific aspect of opening a home bakery:
Home Bakery Laws
The most important step before opening a home-based bakery is to make sure that home bakeries are legal in your area. The laws surrounding home bakeries vary greatly from state to state, so you must do your research before investing in your home baking business. Before you begin, be sure to visit your state's Department of Health website to see what is legal under laws that are often referred to as "cottage food laws."
What Are Cottage Food Laws?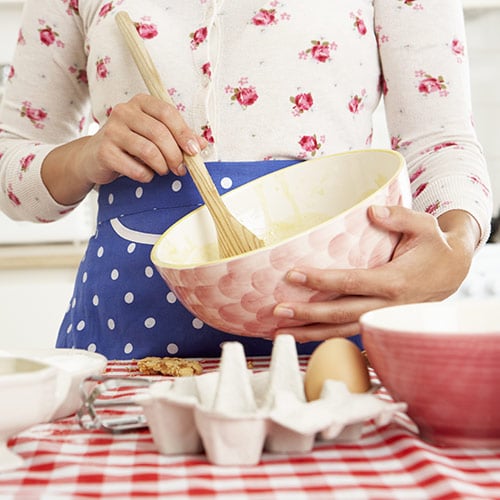 Cottage food laws regulate whether or not you can produce low-risk foods in your home for sale. Often, these foods include certain baked goods, candies, pickled products, dry goods, and canned foods. Cottage food laws are designed for very small businesses, with many states putting a cap on how many thousands of dollars in revenue your business can make while still considered legal.
Not only do these laws limit your sales and what kinds of foods you can make, but they also limit where you can sell your products. Many states specify legal venues, which may include farmer's markets, events, roadside stands, online, or even your home.
This being said, some states have strict limitations on these venues. For instance, what may be legal to sell at a farmer's market in one county may not be legal in a neighboring county. Each time you sell your goods at a new venue, be sure to research whether or not it is prohibited first.
Additionally, home bakeries may be restricted in certain jurisdictions even within states where they are legal. It is imperative to check your local zoning laws so that you are not fined or shut down for opening a baking business in an area that is zoned for residences.
Certifications, Licenses, and Health Requirements
Once you know that your state and jurisdiction will allow you to open a home bakery, you must look into what kinds of certifications, licenses, and health precautions are required. Some states do not require licenses for small-scale businesses under cottage food laws, but some states do mandate that you acquire certification and a business license.
Changes to Your Kitchen Layout
Depending on your home kitchen's current layout, you may need to make adjustments before your bakery can be opened for operation. Check with your state's laws to see if any changes are mandatory, which may include the following:
Installing additional sinks
Creating separate food storage and food preparation areas from your personal kitchen area
Adding a sprinkler system
Updating your ventilation system or hoods
Health Inspection Considerations
Your state may also require owners of home bakeries to pass health inspections. These visits from Health Officers could assess everything from the equipment you use and your means of storage to employment practices and sanitation methods. Inspectors may also be on the lookout for prepared goods and ingredients being stored or served at proper temperatures.
Food Safety Certification
Another certification you may be required to obtain is a food safety certificate. There are many state-approved food safety courses available that educate you in proper food handling, storage, and preparation techniques to avoid the risk of cross-contamination and foodborne illness.
While many states have numerous laws surrounding home bakeries, with the proper research and qualifications, you can open a safe and legal operation.
Costs: Initial and Ongoing Expenses
The next step in opening your home bakery is to come up with a thorough business plan. As you write this plan, you'll have to consider your startup costs as well as your financial projections. Below, we list some expenses that you can expect as you prepare to open your bakery:
Home Bakery Startup Costs
Renovations
Kitchen equipment
License fees
Insurance
Beginning inventory or ingredients
But just because there is a lot of required cost for starting your small business, that doesn't mean you can't follow a few tips to help save and cut down your spending. Here are some helpful pointers for saving your new business some money:
Purchase smallwares, hand tools, and other bakery supplies in bulk online to save money.
Buy your ingredients in bulk from farmer's markets or wholesale retailers rather than from grocery stores.
Take note of how much gas you're using. Try to limit your trips to replenish ingredients and supplies, and if you're planning to deliver goods, decide how large of a radius you'd like to serve.
Start with crowd-pleasing recipes to make your first sales. As time goes on, experiment with more unique products to keep your customer base intrigued.
After you've tallied your startup costs, apply them to your financial projections. To make financial projections for your bakery business plan, you must outline your ongoing costs and compare them to the success you expect as a result of your market research. Below, we explain how to find the target market for your home bakery.
Home Bakery Market Research
Your target market, or the population you are catering to, is one of the most important aspects of your business plan. With various types of bakeries to choose from, you have to find your niche while also complying with the product and venue restrictions that your state has in place.
Here are some example target markets and suggestions for best capturing their business. Before you try to sell to these markets, be sure to check that they are legal venues within your home bakery's jurisdiction.
Offices or Corporate Buildings
This market may like to serve food at their frequent meetings in the morning and afternoon hours. For these customers, you can deliver your baked goods on serving trays for easy sharing.
Products for the Office or Corporate Building Market
Assorted muffins
Small pastries
Bagels
Doughnuts
Schools
From fundraiser events to PTA meetings and class parties, schools often have gatherings where your products could be served.
Products for the School Market
Assorted cookies
Brownies
Decorated cupcakes
Restaurants
If you live in a town full of family-style diners or other busy restaurants, then these establishments could be a great target market for you. Many restaurants want to serve dessert options, but they may not have the time or space to produce them.
Products for the Restaurant Market
Cakes
Cheesecakes
Pies
Nut Breads
Seasonal specials
Regional desserts: cannoli, tiramisu, baklava
Health-Conscious Customers
Perhaps you live in a young, active, up-and-coming neighborhood. Your target customers may have gluten-free diets or want low-calorie treats to suit their busy lifestyle, and so this market is the perfect opportunity for you to offer unique dessert alternatives.
Products for the Health-Conscious Market
Granola
Flourless cakes
Nut breads
Trail mixes
Be sure to clearly label any allergens that may be present in your baked goods. Additionally, it may be a good idea to label items that are vegan-friendly.
Marketing Your Home Bakery
To get your bakery business off the ground, you need to make sure that your market knows you're open for operation. Here are some ways you can market your home baking business.
Word of Mouth
By actively engaging yourself within your residential community, you not only market yourself, but you build relationships with customers. If these customers are satisfied with the consistent quality of your baked goods, they will return for more business and spread the word of your bakery.
Online Marketing and Social Media
Develop a website or create a Facebook page for your bakery. Tweet about upcoming specials and post pictures on Instagram of your products to gain followers who could become your customers.
Sell at Local Events or Venues
In this case, the quality of your products will speak for itself. The more that you make your quality baked goods visible at your venues of sale, the more you'll build a customer base who may contact you for special orders.
If you want to start a home baking business, there are several rules and regulations that you need to research before you begin investing. Check with your state and local governments to see if home bakeries are legal in your area, and then find out what kind of licenses are required. Once you have all legal matters sorted out, it's important to do market research and choose your business's niche. As you start your new home bakery, refer to this article for guidance through the opening process.
---
---