Hiring Seasonal Employment for Your Restaurant
Whether your outdoor patio is packed in the summertime or you're able to attract customers to your bar during the winter holidays, planning for busy spikes is essential for a business owner. Instead of stretching your staff too thin, consider hiring seasonal help to handle the annual influx of guests. Follow these guidelines to stay on top of your busy season without compromising service or quality.
What Is a Seasonal Job?
Seasonal jobs are created at different times of the year when there is an increase in demand for products or services that certain industries provide. A great example of an industry that sees an increase in seasonal work is the restaurant industry. This industry is known to bring more customers through restaurant doors around the holidays and in the spring and summer months due to an increase in travel and nicer weather.
Considerations Before Hiring Seasonal Employees
Before jumping right into the hiring process, ask yourself these questions to determine whether seasonal employment is the right solution for your establishment.
Are We Busy at the Same Time Every Year?
If year after year you experience an increase in business around Mother's Day to Labor Day or Thanksgiving and New Year's Day, this is a good indication hiring seasonal employment could be beneficial. Additionally, if your establishment runs any special holiday marketing promotions, then you may want to hire seasonal employment to handle the influx of new customers your holiday campaigns bring in.
However, there's a big difference between a steady growth in customers and encountering a busy season. If your restaurant seems to experience busy times consistently throughout the year, it may be time to expand your full-time staff. You likely won't need just servers, because hiring chefs and bartenders is important for seasonal hiring as well.
Do I Have the Time to Train New Staff?
Taking the time to properly and thoroughly train seasonal employment can be time-consuming. Despite only being seasonal hires, the staff is still expected to know everything about the job, ranging from restaurant cleaning practices to how to use a fire extinguisher. Although it may be an unappealing process for a short-term situation, it's important to remember that every staff member, whether full-time or seasonal, represents your company to the customer, and a compromise in customer service could cost your reputation.
Do I Understand the Legal Impact of Hiring Seasonal Workers?
Restaurant owners may not realize that seasonal employees could be eligible for certain benefits such as unemployment. Because this varies state by state, it is recommended you check your local regulations before bringing on new staff members. Similarly, contact your insurance company about coverage for seasonal employees and find out how this may impact your current rates.
How Many Hours Does a Seasonal Employee Work?
The number of hours that a seasonal employee works is based on a part-time schedule but will vary depending on how many other seasonal workers you are planning to hire and how many individuals you currently have on staff year-round. To give your employees a fair amount of hours, evaluate the increases in sales or foot traffic your business has seen during busy seasons to help guide you through deciding how many people you should hire during busy seasons.
How to Hire Seasonal Employees
Once you've decided that seasonal help will be beneficial for your business, there are several factors to keep in mind when beginning the hiring process. Since these seasonal staff members are only on board for a few months out of the year, it would be a waste of time to interview, hire, and train someone who didn't work out.
Consider the following as you begin your candidate recruitment process.
Begin the hiring process early. You'll want to start listing your open positions 3-4 months before your busy season. If you're looking to fill positions for the holiday season, begin posting job descriptions toward the end of the summer. It takes time to create interest, interview applicants, and properly train new hires.
Keep expectations clear in the job description. State in the title of the job posting that this is seasonal work only. An example would include "Host / Hostess (Part-Time, Summer Only)." Within the job description, list out all duties you expect the candidate to perform, including any labor-intensive tasks, sidework, and challenges involved.
Identify candidates who have the potential to become permanent, full-time employees. Instead of simply filling a temporary position, consider whether or not you could recruit a candidate as a full-time employee. This could save time and hassle when it comes to filling a full-time position in the future or once the season is over.
Look for quick learners with positive attitudes. While hiring employees with relevant experience is usually preferred, identifying candidates who learn quickly and present positive attitudes can be equally as rewarding. Seasonal workers may need to learn some skills on the job, so a willingness to do so can go a long way.
Get referrals and recommendations from current exemplary staff members. Your staff knows what you expect of your employees. Because of this, they can make valuable connections between you and potential new hires who they believe are qualified for the job.
Target the right applicants. Seasonal work is ideal for high school kids and college students looking for summer jobs. Or, market your business to recent college graduates who need time to figure out their next move. Teachers looking for extra cash during the summer and retirees also make great candidates for seasonal hire.
Training Seasonal Help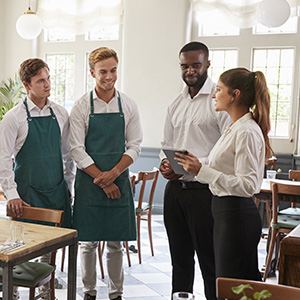 Training seasonal help should be the same or very similar to how you train permanent staff members. Although it's for a shorter period of time, these temporary servers, hosts, or bartenders are being paid to represent your company name and are expected to offer the same level of customer service as full-time staff.
It is recommended you train all seasonal staff members at once to save time and ensure consistency. You'll also want to make blended teams of veterans and new hires so that your seasonal staff has a resource to go to for help at all times. Or, consider promoting a server to a full-time restaurant manager to create permanent leadership roles for more consistent training.
Being thorough in your interview process should ensure that you find candidates who have good interpersonal skills and who demonstrate the ability to interact well with customers and fellow staff members. During their training period, promote the best benefits of the job to motivate and excite staff. For example, if your seasonal staff is expected to work a lot of weekend hours, remind them about the potential for great tips.
How to Retain Employees
Once you've acquired top-notch new hires, it's important to keep them from quitting mid-season. A sudden loss of employees can leave you understaffed and out of time to begin the hiring process over again. Along with taking the time to properly and thoroughly train seasonal hires, there are a few precautions you can take to keep staff happy during their time with your restaurant.
1. Offer Seasonal Incentives or Bonuses
Offering bonuses or incentives for those who complete the season may seem excessive, but it's a highly effective method for retaining seasonal help. Giving your staff an extra reason to stay can make or break you from having a smooth season compared to a hectic one. Along the way, offer incentives that will make your employees happy and deter them from quitting. Ensuring that you retain a well-trained and capable staff throughout your busy season is well worth the labor costs.
2. Create a Positive Work Environment
Eliminate any rivalry or tension between your temporary and full-time staff by encouraging seasonal employees to participate in company activities and programs. Making sure your temporary staff feels welcomed is a simple way to ensure employee retention and shouldn't be overlooked.
3. Respect Employees' Personal Schedules
Whether it's the summer months or the holiday season, it's important to remember your seasonal staff is working at a time others may normally have off. They'll want to enjoy the warm weather or seasonal activities as well, and you need to provide clear expectations about how many days or hours they can expect to work each week. Providing a solid work schedule ahead of time will also give your employees a chance to plan activities or appointments around the days they work, which will help minimize the number of people calling off.
Having too many employees on the clock during a slow day takes away from your restaurant's profits and can hurt your bottom line. Because of this, seasonal hiring can be advantageous for business owners during busy seasons and can help to prepare your restaurant for the winter season.

Posted in:
Management & Operation
|
Seasonal
| By Rachel Jenkins