Full Course Meals Explained
Full course meals are celebrated in various cultures, each with a distinct array of food and traditions. These meals have a fascinating history, shaped by the ever-changing trends in cuisine across different regions. In the Western world, a full course meal often invokes images of extravagant dinner parties or indulgent dining experiences at upscale restaurants. However, serving full course meals requires understanding the number of courses included in a traditional full course meal and the composition of each course. This resource provides essential information about full course meals in Western culture and explains the typical sequence of meal courses.
Click below to learn more about full course meals:
What Is a Full Course Meal?
A full course dinner is a meal featuring multiple courses. The basic full course meal consists of three or four courses. They begin with precursors to a main dish, such as an amuse-bouche, followed by the main course(s), and conclude with sweets, coffee, and tea.
Full course meals frequently occur at someone's home, a venue, or a restaurant. They take place in the afternoon or evening for a special occasion. In both upscale restaurants and casual eateries, guests can opt for a full course meal by ordering multiple dishes to come out at separate times. While a traditional full course meal may be more complex than quick service, it is still commonly enjoyed by groups of friends at celebratory events. The more ambitious tasting menu includes up to 20 courses and extends over a long period.
What Is a Meal Course?
A meal course is a single or set of food items served at a specific point in a meal sequence for culinary and digestion reasons. Common courses are an appetizer, main course, and dessert. Some cultures a grains or pasta course, followed by a meat course, then a seafood course. An average meal consists of one or more meal courses.
How Many Courses Are in a Meal?
Many meals only contain one course. The most basic full course meal consists of 2 or 3 of the following courses: an appetizer, a main dish, and a dessert. However, meals can feature up to 12 or more courses.
---
Sample Sequences for Up to 12 Meal Courses
A common and logical sequence for your full course meal is to start with light plates, continue with richer dishes, and conclude with small and delicate items. Below are sample full course meal sequences, but you can choose which meal courses you plan to include on your menu.
12 course meal: A 12 course dinner menu includes an hors d'oeuvre, amuse-bouche, soup, appetizer, salad, fish, first main course, palate cleanser, second main course, cheese course, dessert, and mignardise.
10 course meal: A 10 course dinner menu includes an hors d'oeuvre, soup, appetizer, salad, fish, main course, palate cleanser, second main course, dessert, and mignardise.
9 course meal: A 9 course dinner menu includes an hors d'oeuvre, soup, appetizer, salad, fish, main course, palate cleanser, dessert, and mignardise.
8 course meal: An 8 course dinner menu includes an hors d'oeuvre, soup, appetizer, salad, main course, palate cleanser, dessert, and mignardise.
7 course meal: A 7 course dinner menu includes an hors d'oeuvre, soup, appetizer, salad, main course, dessert, and mignardise.
6 course meal: A 6 course dinner menu includes an hors d'oeuvre, soup, appetizer, salad, main course, and dessert.
5 course meal: A 5 course dinner menu includes an hors d'oeuvre, appetizer, salad, main course, and dessert.
4 course meal: A 4 course dinner menu includes an hors d'oeuvre, appetizer, main course, and dessert.
3 course meal: A 3 course dinner menu includes an appetizer, main course, and dessert.
Back to Top
---
12 Course Meal Menu
Below are explanations of the courses in a 12 course meal and dish suggestions for each stage.
Course One - Hors D'Oeuvres: Since this course is typically served during cocktail hour or as guests arrive, hors d'oeuvres are hand-held finger foods that are easy to eat.
Goat cheese crostini with fig-olive tapenade
Zucchini fritters
Shallot and pancetta tortilla crisps
Course Two - Amuse-Bouche: This can be translated from French to mean "amuse the mouth" or to generally please guests' palates with a small, flavorful taste. Frequently, this might stimulate the appetite or hint at upcoming flavors in the next meal course(s). Restaurants use this as a complementary item chosen by the chef.
Sweet potato chips with goat cheese and caviar
Caprese bites with basil vinaigrette
Pea soup served in a shot glass or espresso cup
Course Three - Soup: As with all your courses, one classic idea is to relate your soup course to the season. Avoid soups that are too hearty so guests don't fill up for the rest of the meal.
Melon and basil gazpacho
Pumpkin sage bisque
Tuscan white bean and roasted garlic soup
Course Four - Appetizer: In many parts of Europe, this course is called the "entree" because it introduces the main stages of the meal. It is usually served on serving trays or small appetizer plates and features small cuts of meat, seasonal vegetables, starches, and sauces.
Charred broccoli with shishito peppers and pickled onions
Mushrooms stuffed with Pecorino Romano, garlic, and bread crumbs
Candied carrots with honey, cumin, and paprika
Course Five - Salad: This course is usually an assortment of raw vegetables with a flavorful dressing. Some restaurants in parts of Europe serve salad after the main course, but it is also common to serve salad before it.
Garden salad with lettuce, tomatoes, onions, and tart vinaigrette
Chopped Thai salad with peanut dressing
Greek salad with olives, lettuce, red onions, and feta cheese
Course Six - Fish: This dish is a flavorful light protein before the main courses.
Grilled salmon with a soy sauce marinade
Lemon garlic tilapia
Crispy trout with a parsley-caper vinaigrette
Course Seven - First Main Course: The first main dish is often white meat, such as chicken, duck, or turkey.
Spicy Thai basil chicken
Roasted duck with an orange-ginger glaze
Deep-fried turkey with a honey bourbon glaze
Course Eight - Palate Cleanser: This is like a reset for your taste buds. Palate cleansers remove residual flavors from the mouth before the next course.
Sorbet (lemon, melon, or mint)
Prosecco
Water with lemon
Course Nine - Second Main Course: Typically, the second main course is red meat, such as premium beef and lamb, or game meat such as venison.
Stuffed lamb breast with lemon, ricotta, and oregano
Grilled flatiron steak with rosemary potatoes
Herb-crusted venison medallions
Course Ten - Cheese Course: Create a platter of different cheeses and items to accompany them.
Include a variety of cheese textures and flavors, such as aged, soft, firm, and blue cheeses
Choose a selection of breads and crackers
Provide companion items, such as jams, chutneys, spicy mustards, caramelized onions, candied nuts, and pistachios
Course Eleven - Dessert: Usually accompanied by an after-dinner drink such as a glass of dessert wine, coffee, or tea, this is a sweet and decadent course.
Rich flourless chocolate cake with a glass of sweet port wine
Lemon creme brulee with dry white wine
Fruit tarts and berries with champagne
Course Twelve - Mignardise: Many restaurants offer mignardise to conclude the meal on a sweet note. This tiny, bite-sized dessert pairs with tea, coffee, port, brandy, or scotch.
Miniature butter madeleine biscuits
Small pieces of chocolate
Bite-sized macarons
Back to Top
---
How to Create a Full Course Meal Menu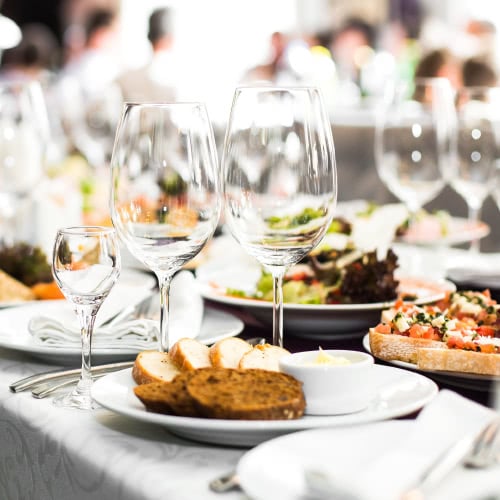 Preparing a full course meal can seem daunting, especially for a large crowd. However, if you follow a central theme or cuisine when deciding what will be on your menu, it is much easier to come up with your dishes. Below are some tips for creating your menu.
Choose a theme: Before creating a full course menu, decide on a theme, cuisine, or set of flavors to base your meal around. This preparation makes it easier to decide on a menu and ensures continuity throughout the courses.
Decide on a season or region: Consider basing your full course meal on the season, or feature cuisines from one or several regions.
Build around the main course: Whatever theme you choose for your meal, ensure it can provide a solid main course, and work the rest of the courses and theme elements around it.
---
Tips for Serving a Full Course Meal
How you serve or enjoy a full course meal is up to your discretion and can be as casual or formal as you prefer. Below are some tips to curate a full course meal and information on traditional etiquette.
Provide water and wine: As you begin serving your full course meal, provide a goblet of water and a glass of wine for each guest.
Pay attention to table setting: Each course requires distinct dinnerware and silverware, so set your table based on the number of courses in your meal.
Remember utensil etiquette: Guests will use the outermost utensils first and work toward the plate as the courses progress.
Remove plates: Before moving on to the next course, remember to remove the dishes from the previous course.
Be prompt: Don't wait too long between serving each course.
Know when to clear plates: According to traditional etiquette, staff should clear each plate from the right side of each guest before serving another to the left side of each guest.
Ask guests to pass their dishes: If you do not have servers at your dinner party, have guests pass the dishes from the left so they can serve themselves with their right hand.
Choose a charger plate: Many table settings will have a charger plate that acts as a base setting for dinnerware. The dish is only cleared when dessert is served.
Back to Top
---
When serving a meal, the options for potential courses are endless. Whether you prefer to get creative or stick to tradition, you can showcase as little as one course or go all out with as many courses as you want. Full course meals are perfect for hosts, chefs, and restaurants to showcase their skills and flavors, providing a delightful and indulgent dining experience that guests will remember.

Posted in:
Catering Tips
|
Holidays
|
Kitchen & Cooking Tips
|
By Hannah Herrera
The information provided on this website does not, and is not intended to, constitute legal advice. Please refer to our
Content Policy
for more details.